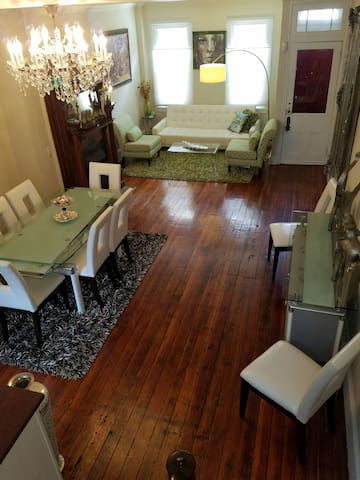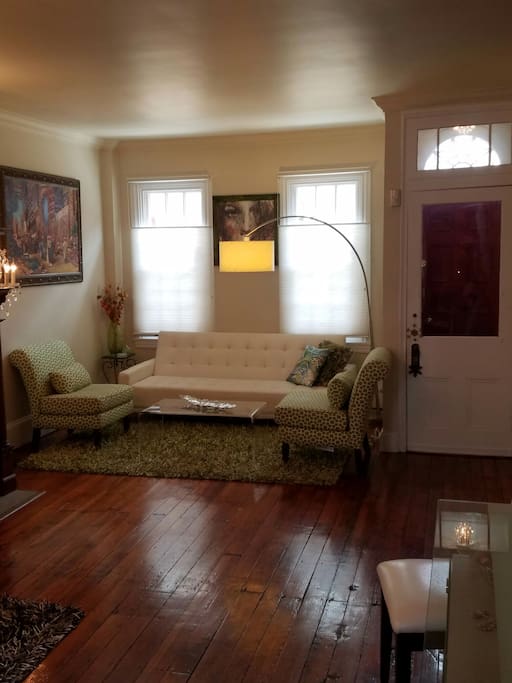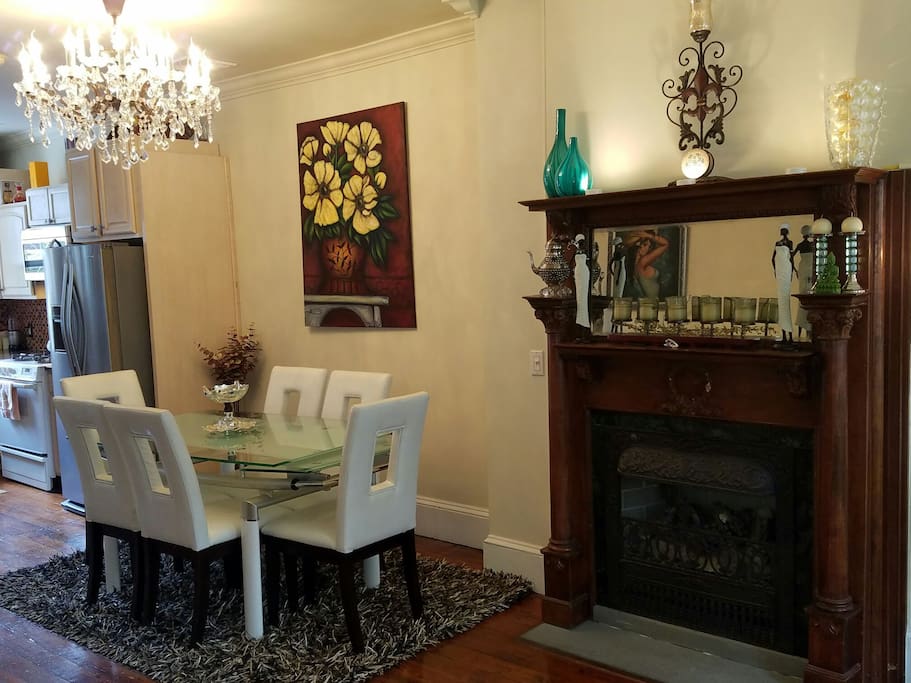 顶级邻里。从Kimmel中心直接对面 - 从3 flrs欣赏到Kimmel中心和艺术之都的景色。中点Btw Rittenhouse Sq&Washington Sq,步行10分钟。地方舒适,优雅,温馨的氛围,中心城市的心脏 - 安静的一扔一扔所有的行动。你会走到中心城的任何地方。 卧室和浴室在硬木成品地下室。 *充分利用整个房屋(4个层次)除了我在镇外,还有二级水平。 *欢迎长期逗留!
Top neighborhood. Directly across from Kimmel Center-- luxuriates a view of Kimmel Center & Ave of the Arts from 3 flrs. Midpoint btw Rittenhouse Sq & Washington Sq, 10 min-walk to either. Place is comfortable, elegant, warm ambiance, heart of Center City-- quiet st & a stone-throw away from all the action. You'll walk everywhere in Center City.
Bedrooms & bath in hardwood finished basement.
*Full use of entire house (4 levels) EXCEPT FOR 2nd LEVEL WHEN I'M IN TOWN.
*Long-stays are welcome!
房源
注意 - 一间卧室是封闭式的,第二间卧室位于另一间卧室外的开放空间。
N.B.-- One bedroom is closed-in and second bedroom is in an open space directly outside of the other bedroom.
其他注意事项
关于物业的一些注意事项使您的住宿舒适: -kitchen垃圾桶坐在水槽旁边的下柜中。 - 再循环箱位于冰箱旁边的下柜中。 填充肥皂的水洗海绵必须直立,海绵在顶部,否则所有洗碗皂都会泄漏出来。 - 垃圾处理开关位于水槽下方柜体的右上角(看起来像灯开关)。一次打开几秒钟时,必须运水,否则会中断。 - 每次淋浴时,打开风扇定时器(20-30分钟),最大限度地减少蒸汽剥离浴室油漆! - 小型手吸式吸尘器位于地下室走廊的壁架上,为了方便起见,轻轻拾起。如果需要,大型吸尘器位于地下室浴室后面的机械室内。 - 在地下室浴室下面的柜子里的吹风机。 室内钥匙打开/锁定前后(金属门)。请确保两个门都被锁定在任何时候。盗贼不断在城市漫游。 (里面的木门,金属门后面,一直保持解锁。) 入住愉快! :)
Some notes about the property to make your stay comfortable:
-kitchen trash bin sits in the lower cabinet next to the sink.
-recycling bin sits in the lower cabinet next to the fridge.
-dish washing sponge filled with soap must be left standing upright with the sponge at the top, otherwise all dish washing soap leaks out.
-garbage disposal switch is in the upper right corner of the cabinet underneath the sink (looks like a light-switch). Must run water while turning it on for a few seconds at a time, or will break.
-please turn on the fan timer (20-30 mins) every time when showering to minimize steam peeling off bathroom paint!!
-small hand-vacuum cleaner sits on the ledge in the basement hallway, for light picking up, for your convenience. Big vacuum cleaner is in the mechanical's room behind the basement bathroom, if needed.
-hairdryer in the cabinet underneath the basement bathroom sink.
-house key opens/locks both front and back (metal door). Please ensure both doors are locked at all times. Burglars constantly roam around the city. (The inside back wooden door, behind the metal door, remains unlocked all the time.)
Enjoy your stay! :)
---
---
---
I expect guests to treat my house with respect and care as they would want me to treat their home.
-There is no smoking allowed in the unit at all. If a smoking incident occurs, security deposit will be forfeited.
-Front door and back door must remain LOCKED at all times-- this is critical for maintaining safety and security of the house. If house key is lost, security deposit will be forfeited.
-Guests must keep the house clean and in order (not messy) throughout the entire stay.
-All trash must be picked up and thrown away before leaving. There are trash dumpsters in alleys all around the neighborhood.
-Used towels should be left on the floor of the ground fl bathroom.
-If anything breaks or stops working during stay, please notify me immediately.
-Music must be played at a low volume out of consideration for neighbors.
-All sleeping must take place on beds in the bedrooms. No sleeping on couches allowed whatsoever!
-Only persons mentioned at time of reservation are allowed to stay at the house. Deposit is forfeited and the rental period terminated if there are any unauthorized overnight guests.
---
---
---
Jojo agreed to let me stay at his beautiful home last minute after another host had unexpectedly cancelled on me. He was so kind, and his home was immaculate. It's located downtown, within walking distance of many different areas. I couldn't have asked for a better experience, and I highly recommend this listing!
---
Do not book or stay at JoJo's "entire house" unless you are comfortable being spied on and meant to book a shared room instead of an entire house. We had a nightmarish experience there and strongly caution anyone looking to enjoy time in Philadelphia to avoid booking JoJo's shared home at all costs. JoJo's house is listed on Airbnb as the "entire house" and it looked beautiful, so we booked it for a long weekend and told JoJo it was a weekend that would culminate in my baby shower (I am 7 months pregnant with twins!). My husband, daughter and I flew in from Houston, my mom from Spain and my sister from NYC and were all excited to spend the long weekend as a family together. Despite this listing, JoJo is present at the house during your entire stay and occupies a full floor of the house. This is not a mother in law suit or some other cordoned off part of the building with a private entrance and exit as we assumed given he listed the entire house, but rather one floor smack dab in the middle of the house: as such, JoJo has complete unfettered access to the remainder of the house. Due to the layout, this makes privacy absolutely impossible, as JoJo comes in and out of the house via the first floor which is an open plan with the kitchen, dining room and a sitting room: making that floor obviously unusable to guests. The only "livable" space for guests is the cramped basement, in which both beds are housed in one large room (to call it two bedrooms is incredibly misleading) and a 3rd floor hangout room. The short version of our horrible and deeply upsetting experience: Our entire party arrived as a group after a weary day of travel to be welcomed by JoJo and a friend. JoJo made clear he was staying in the house, but not to worry he would not leave the second floor and that the entire house would be exclusively ours – the dark basement, the first floor (but NOT the second) and the top floor. Despite our shock and dismay at the obvious lack of privacy and inability to enjoy the house, we were excited to all be together and after a fair amount of (what we believed to be) private discussion about how weird and misleading it was to list the house as an entire house we decided to make the best of it. While watching TV in the hangout room, my husband fell asleep on the couch. He looked so tired from traveling all day that I didn't have the heart to wake him up to trudge downstairs to bed. At 2:30am in the morning, JoJo wrote Airbnb an email stating that one of the guests was asleep on the sofa (against house rules apparently for his guests to actually make use of the house they rented) and that other guests were clearly uncomfortable with his...
WARNING: this review was written by an angry guest (Amy) whom I had evicted the day after she arrived because of how disrespectful she was. She was boundaryless, exploited my home/hospitality and took advantage of my kindness. I could go on describing all of the ways this guest violated house rules and has misrepresented me in her untruthful/retaliatory review, but, instead, I will simply draw your attention to the evidence-- all of the other glaring reviews on my listing-- to clearly see that she is the inaccurate outlier with an inauthentic review. Worst guest experience for me as a host! Painful! I'm thankful that the far majority of guests whom I have had have been wonderful, respectful and mature people. Thankfully, this painful experience was an exception.
---
It's exactly what's pictured on the profile. We came here with our 2 kids, ages 10 and 12 for a 3 night, 4 days vacation. The place is parallel to Broad St, very close to everything (within 1 - 2 miles from the places that you would normally visit in Philly). We usually walked to our destination, and just took Uber back because we're mostly tired from the day that we had. Uber ranges from $7 - $11 depending on where we're coming from. The place is very clean, had everything that we need. We used the 3rd floor to hang out, watched TV and played games. There's a parking garage very close to the place.. (2 min walk) where we kept our car. If you take the hop on hop off bus tour, two of the stops (stop # 20 and #21) are very close to the place. There's also a convenience store close by (5 min walk). Jojo was a great host. Met us at check in and gave us suggestions on places that we could take our kids, places for coffee, etc. Would highly recommend this place.
---
Jojo was a wonderful host. His communication was terrific. The place was spotless! Very comfortable environment and good location to get around the city. Thank you again for a great stay!
---
There are countless good things to say about Jojo and his fabulous home. It is absolutely SPOTLESS, well decorated (posh while homey and welcoming) and conveniently located. We couldn't have asked for better accommodations or a better, more communicative and kind host. We were in town for work and had some colleagues over for an evening drink; suffice to say all were envious of our home away from home. Go go Jojo! So many thanks to you for having us.
---
Don't miss out on the opportunity to stay in this beautiful home. Jojo is a wonderful host who is very gracious and accommodating to his guest. The home is located in a great area of town easily accessible to food and entertainment. We were able to walk to all of our destinations. One of our best trips to Philadelphia...we would definitely stay here on our next visit.
---
Jojo was able to help me out with a last minute rental before a holiday weekend. Although there were lots of issues in dealing with Airbnb customer service, Jojo was always great about communicating with me. The neighborhood is in a great location And feels safe. The sleeping area is a little bit odd and maybe better for families with young kids or people who don't mind sleeping in close quarters. The only issue was a few small bugs I saw around but I let him know and he had an inspector in right after we left to see what the issue was. The upstairs hang out room was really nice to have.
---