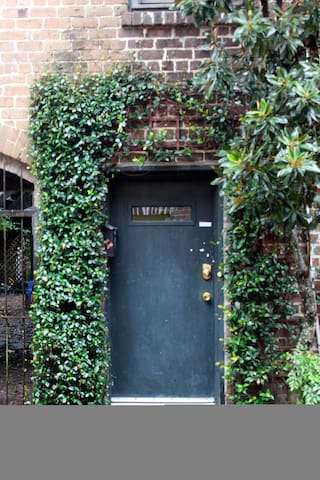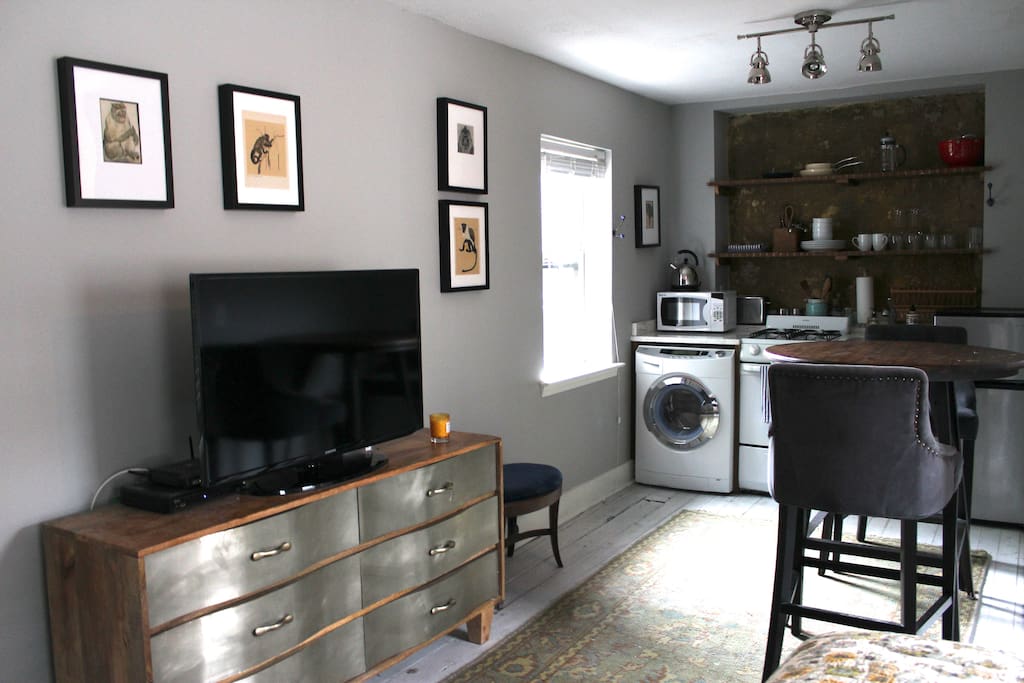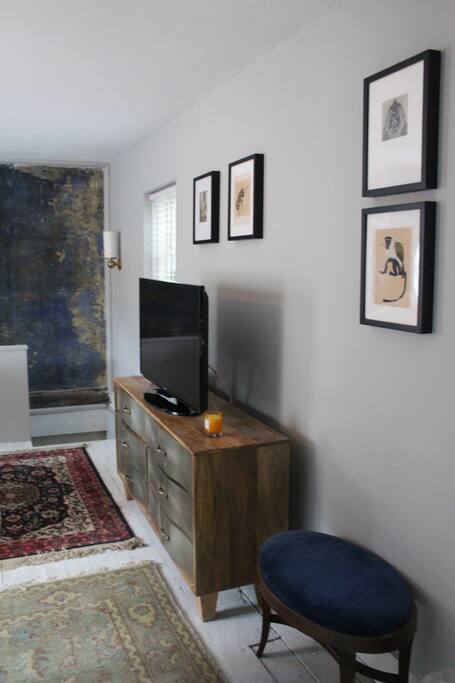 The carriage house is close to the city center, art and culture, and parks. My place is good for couples, solo adventurers, and business travelers. Super cute! Great for the Savannah experience.
---
---
---
- You must wash your own dishes.
- Check in is any time after 4pm and check out is 11am.
- 108 E. Gordon Lane is carriage house. Coner at Drayton. Main house address is 108 E. Gaston.
- There is no parking on Gaston Street on Friday nights due to street sweeper. Just read signs and park on a nearby street.
---
极严60天
旅程开始前的60天之前取消预订可以获得50%的退款。如果在旅程开始前60天内取消预订,该预订将不可退款。
---
---
---
DO NOT RENT !!!! Multiple reasons The entry is fealthy, old dust everywhere, you can see through the thin wall/door where her crew runs in and out. Odor is horrible, moldy, we both woke up with insane headaches. I think her crew operates out of the garage below, VERY NOISY and they are in and out all the time. We spent entire trip no internet or cable, she did respond, asked if we would be there, waited 3 hours for someone, called her back only to get an answering service, said Liberty, our host ,was attending a funeral, she did call back after another hour, still no resolution.
---
Watch out for the gas stove! The kitchen shelves and electric outlet in the corner of the kitchen are difficult to reach. Short people need to stand on tiptoes and lean on the counter and/or stove to reach those items. This can easily result in the stove knobs being turned so that the gas is turned on. Even if not using the stove remember to check the knobs anytime you are working in the kitchen. Once we realized this the last morning of our stay I checked every time either of us reached for something and most of the time the gas needed to be turned off afterward. Liberty's (the agent) Carriage House on 108 Gordon Lane is in a perfect location. Generally the place is well decorated, in good condition, AC works well, and the bed (although small) is comfortable. There are windows on 2 sides so it's bright during the day. The shower works well. However we experienced a number of problems during our stay that nearly ruined our 3 night visit to Savannah. The door to this apartment is on an alley surrounded by trash bins. I counted 25 bins just outside the door. Smell when we arrived was awful. The listing photos show a pretty door surrounded by vines, and a street view with beautiful homes on the right and live oak trees with moss on the left. I was extremely disappointed to find that the place I'd chosen was on this alley as I had several choices that would have been more suitable for us. The pretty street photo is of another street, not Gordon Land. The listing advertised "Free Parking on Premises". This has since been removed. I sent a question about this that wasn't answered more than 24 hrs later. When we arrived I called to find the location of the parking as I couldn't see where to park. Liberty advised us how to pay for parking on the street, or to park in the church parking lot which was clearly marked by a towing company for church parking only. There are steep stairs to the apt. just inside the door. No railing or banister. The height of each step is a bit higher than normal and there is a sharp turn at the top. This was a problem for us as my partner has a disorder that make it difficult for him to climb stairs. We were offered a chance to move but since we were so tired from a 10 hr drive and I had just lugged all our many bags and boxes up those stairs, I decided not to move and to try to make the best of our limited time in the city. All was OK until my partner went to shower the next morning (the 1st time either of us turned it on). When he turned on the shower the head spewed water on the ceiling, wall, and then fell off! The fitting where it screwed onto the...
---
This was my first time booking an airbnb as well as my first trip to Savannah and I was very pleased. The carriage house was in a great location. Cozy and comfortable. Lovely décor. I have no complaints and would most definitely book Liberty's carriage house again on a return trip if available.
---
I'll start with the positives about this airbnb. It's a great location to walk places and get downtown.... on the downside we had trouble finding it to begin with because it is in an alleyway. When we eventually found it we had a little trouble actually opening the door. Soon as we did there was a horrible horrible odor that smelled like moth balls, old carpet and thrift store. We had to buy candles during our first nights stay because the smell was so bad we couldn't even sleep. We tried to spend as little time in the apartment as we possibly could between the smell and the old carpets we couldn't stop sneezing while we were in there. Also it is above a garage and you can hear when the people below are in and out of the garage door it shakes the floor when the garage door opens. You can hear everything from people passing, walking or driving by it's very noisy and it's really hard to sleep. We probably woke up abruptly about 5 times every night because of a loud noise. All in all my fiancé and I are very disappointed we picked this place for our stay in savannah. It was a lot of money and definitely definitely not worth the money we paid. We always choose air bnb when we travel and have never had a bad experience until now.
---
I loved my stay at the carriage house! I lived in Savannah several years ago, and was back in town for a wedding. It was a much nicer experience than a hotel, and you really feel like a local. I didn't have a car during my stay, and it was very easy to walk every where. The space was perfect for a single traveler, but could potentially be a bit small for a couple - in particular the bathroom. It smells a but musty when you first walk in, but nothing that bothered my long-term. The bed was super comfortable, and the air conditioner was very easy to operate. I would definitely recommend this space to a friend headed to Savannah!
---