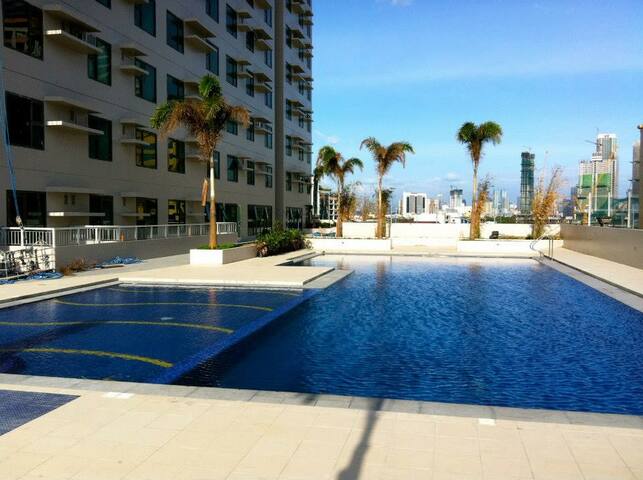 此房源的描述已由谷歌翻译从英语翻译成您的语言,但谷歌翻译并不能保证翻译的准确性。
你会喜欢我的地方,因为邻里,舒适的床,舒适,光线和厨房。我的地方对夫妇,独奏冒险家和商务旅客都很有好处。
房源
- 床由德国皮革覆盖卫生用途和新洗涤的床单
额外费用:(可选)
使用游泳池
清洁的
额外的毛巾
额外的床单或床单
额外的人
其他注意事项
- 床由德国皮革覆盖卫生用途和新洗涤的床单
- 床由德国皮革覆盖卫生用途和新洗涤的床单
- 仅提供本地有线频道
---
---
---
Hi, Kindly tell us what your estimated time of check in on the day of the arrival, your reason of your stay. Have your valid id captured and send it tru airbnb message inbox as we need to print and pass it at the front desk upon before check in.
House Rules / Important Notes:
Strictly No smoking / smell of cigarette. P1000 penalty fee.
Strictly No Animal/s or Pet/s.
No vandalism / no posting anything at the walls or furniture or appliances.
No Visitor sleepover over night - P500 extra charge per person per night
No cooking specially Frying / Grilling inside the room P1000 penalty fee
Stained or Damage or Lost Linen / Bed sheet / Towel/s - P200 charge per item.
Turn off appliances when leaving or not using it to avoid over heating or damage of the item/s.
Incase theres a damage or lost item or water leaks. Kindly inform the host /owner immediately for replacement or fix the item.
Belton Place Condominium, 28th floor , Unit 28A2, Yakal St. cor Chino Roces Ave. (Pasong Tamo), San Antonio Village, Makati City
FAQS (frequently Asked Questions) Transient Guest House / Condo Apartment
Updated: June 15, 2017
Unit Owner / Host: Mr. Melvin Aquino
TABLE OF CONTENTS
SECTION 1: LOCATION / HOW TO GET THERE?
SECTION 2: CHARGES / RATES / RESERVATION BOOKINGS
SECTION 3: ABOUT THE OWNER AND CARE TAKER
SECTION 4: AMENITIES
SECTION 5: THE APARTMENT SPACE
SECTION 6: SECURITY DEPOSIT
SECTION 7: CANCELLATION POLICIES
"QUESTIONS AND ANSWERS" SECTION 1: LOCATION / HOW TO GET THERE?
1.01
Q: What is the address of the Condo Building? and Landmark?
A: address: Belton Place Condominium, 28th floor , Unit 28A2, Yakal St. cor Chino Roces Ave. (Pasong Tamo), San Antonio Village, Makati City
Landmark: Near Cafe Puro Office, TBWA
1.02
Q: How far is the condo unit from the airport? I will take a metered taxi, and how much is the cost?
A: From international airport manila to Beacon, the host recommend to use the skyway, its only PHP 20 for the toll fee. It will take 10 to 15 minutes drive; a metered taxi cost you an estimated amount of PHP 130 to PHP 150. Or use uber or grab app if you may wanted to book a car.
SECTION 2: CHARGES / RATES / RESERVATION BOOKINGS
2.01
Q: How much is the charge of your condo guesthouse / transient?
A: Rates are not constant and it is different depending on the off-season, low season, high season and peak season. To know about the rates, you must contact the owner / host.
2.02
Q: Is it good only for 2 guests?
A: Yes. 2 guests only are allowed to stay in the unit. An additional payment after 2 guest per night stay.
2.04
Q: Do you have parking space for visitors? how much?
A: Yes , 30mins for visitor, one car only. If the guest or visitor of the guest may use the pay parking 24/7 open at the Tiara Hotel, Php 45 for 3 hours, Php 15 exceeding per hour, addition Php 250 for overnight.
2.05
Q: How are we gonna check in? and who am i going to get the room key?
A: Good question. Some guest has different time of check in, to avoid waiting for both parties (the guest and host or unit owner). The passcode of the lock box will be inform the guest on the day and time of their check in (for safety reasons as well and security).
SECTION 3: ABOUT THE OWNER AND CARE TAKER
3.01
Q: How can we trust you? How can you prove that you are the legal owner of the unit?
A: Guest may meet the admin officers of the condo apartment: during office hour's weekdays 8am to 5pm manila time except for holidays and weekends.
Another Suggestion: Guest or friend of the guest can ocular the apartment and set a meeting with the host or caretaker. By appointment only.
3.02
Q: Can I ocular the unit before I check in?
A: Yes the guest can ocular the unit before staying, by appointment only with the host or caretaker. (as long the host, the unit is available and no check in guest). Php 200 ocular fee, refundable if guest will book the unit.
3.03
Q: Can the host / caretaker go inside the unit anytime during our stay?
A: No, unless there is permission from the guest. Or if the guest has medical condition or alone. The owner / caretaker sms or call the guest from time to time, Guest must advice / reply / call in 24hours. Guest safety is very important.
SECTION 4: AMENITIES
4.01
Q: Do you have Cooking wares?
A: None, but the unit has own kitchen, (most hotel has no cooking wares, no cooking policy specially no frying) However, guest may use the electric pot that may use for boiling or heating water. The kitchen has plates, mugs, glasses, spoons, forks, scissors, personal refrigerator, Microwave oven with microwavable plastic packs for re-heating foods.
Guest may buy food or eat outside just a few steps away from the condo building or call any available resto or 24/7 fast food chain for deliveries.
4.04
Q: Do you change the towels, bed linen, blanket, and pillow cover every day?
A: Only one set of linens provided on your first day of check in. However the host have a extra set bed linens and towels (if available). You may ask the host about the rental rates.
4.05
Q: Do you have mini bar / mini market inside your unit?
A: Yes. The items are for sale actually. (if available) yet very affordable. Kindly provide an exact amount.
4.06
Q: Can we use the building amenities?
A: Yes, only the registered guest/s are allowed to use the Swimming pool, fitness gym (6am to 10pm) daily. (If available) (not available during the process of maintenance and cleaning of the facility)
4.07
Q: Is there any breakfast included?
A: None. But you may have your food delivered. Outside the condo building has a lot of fast food and resto nearby as well such as 711, Jolibee, McDonalds, KFC, and many more.
4.08
Q: Do you have washing machine inside the room?
A: None, guest may call or sms the laundry services, its free delivery and pick up for your clothes. Or guest may go to ground floor to drop the items need to be wash, Laundry shop name is "Happy Bubbles"
4.09
Q: Do you have add on's?
A: Yes, here are the following add on's (if available) Essentials, Linens, Towel/s, Cleaning services
SECTION 5: THE APARTMENT SPACE
5.01
Q: Bathroom is shared or private?
A: The apartment has its own private bathroom.
5.02
Q: Is there a housekeeping during our stay?
A: None, the guest can use the basic cleaning materials inside the unit (broom, dustpan and mop). But there's an additional charge for the cleaning of the unit (by appointment / if available).
5.03
Q: Other important house rules / inside the building?
A: No any act of violence, no shouting, no loud TV, no loud music, no house parties, no illegal drugs, no gambling, no pet/s, no smoking, no drilling, no vandalism, no cooking, no grilling. No strangers, no prostitutions, and Visitors are not not allowed for sleepover / shower. If the guest disobey these peace and order rules. Guest can vacate the apartment. Non-refundable.
5.04
Q: Do you have CCTV?
A: common areas, lobby, elevator have CCTV system and tight security.
5.05
Q: Do you have cabinets / drawers / hangers / safety vault?
A: yes only 1 cabinet is available for the guest, with hangers . Other cabinets or drawers are not available.
Safety vault, default passcode is 1234, then press (e) for enter. To change the passcode, kindly press the button at the back door of the safety Vault.
5.06
Q: Can I bring a visitor?
A: Yes, but not allowed to sleepover at the apartment, otherwise extra charges will apply.
5.07
Q: What is the size of the studio unit?
A: the size of the unit is 18 square meter or 194 square foot. Good for 2 guests.
5.09
Q: What if theres a black out?
A: In case of black out or electrical maintenance, the building can provide a generator for the refrigerator and lights, kindly contact the host or maintenance staff to assist and activate the fuze for the emergency generator, If available. Furthermore this kind of event is beyond our control.
SECTION 6: SECURITY DEPOSIT
6.01
Q: How much is the Security Deposit?
A: Rates may vary…Initially security deposit of approximately Php 5000 upon check in and its refundable upon checkout deductible only if the guest has parking dues, availed items of the mini bar, lost key or damaged any property or appliances in the apartment.
6.02
Q: Why is there a security deposits?
A: A security deposit helps to protect the unit apartment during the stay of the guest. Accidentally or intentionally broke or missing any property of the apartment, it will be deducted of the security deposit.
6.03
Q: What if I lost the apartment key or damage the doorknob locker?
A: The Apartment Key is very important, guest must take good care of it, if the guest or broke inside the door lock or lost in any situation. The guest must replace the doorknob to a new one for safety reason for the future guests. Penalty fee of P2000.
6.04
Q: What if I lost or damage your furniture / appliances accidentally /intentionally during my check in?
A: Consider it sold by the guest. All items are in good condition and functioning. Guest must take good care of them as part guest responsibilities in staying the apartment unit. By turning off appliances when not in use; to avoid over heating etc. All prices of the items are with the owner.
SECTION 7: CANCELLATION POLICIES
7.05
Q: What if I never showed up upon my check in to checkout date? No advice / no notice such as sms or call to the owner during the check in dates. Can I still refund?
A: We will cancel your reservation and non refundable. Non re bookable
NOTE: PLEASE ACKNOWLEDGE THE INFORMATIONS AND FAQS ABOUT THE UNIT. IF YOU HAVE QUESTIONS, FEEL FREE MESSAGE THE HOST.
Thank you,
MELVIN "Vino" AQUINO Host
---
---
---
---
Melvin's place is cozy and just about the right size for 1-2 pax :) The location is 5*, very close to Makati Med (where my mom had an appointment) and series of malls where you can enjoy shopping. Melvin was kind enough to let us check in early to leave our bags (we have luggages). Thankfully, no one was occupying the unit in the previous day. Check in process was smooth. And sheets and towels felt clean. Also loved the smell of the room. Thanks a lot for letting us stay in your little yet cozy home :)
---
My family calls me Vino , and im a young at heart businessman who like to travel and explore new cultures. I love new challenges and i respect the main aspect of a relationship. More than 10 years in events industry, i own a some condo units in Makati City. We have also an event venue, apartments and resort pool in the province of Bangued, Abra near Vigan City.
语言:
English、Sign Language、Tagalog