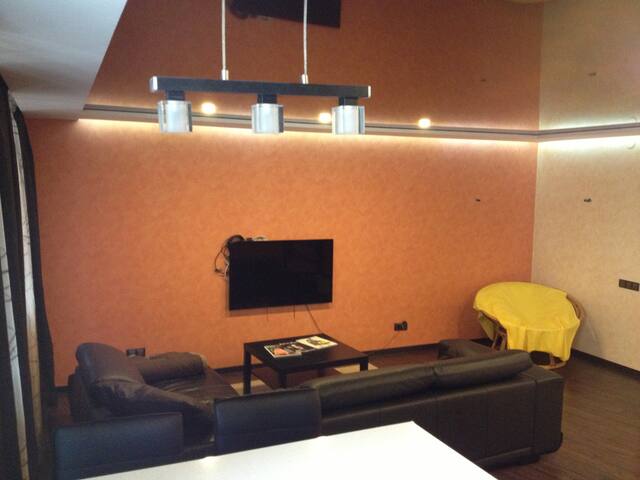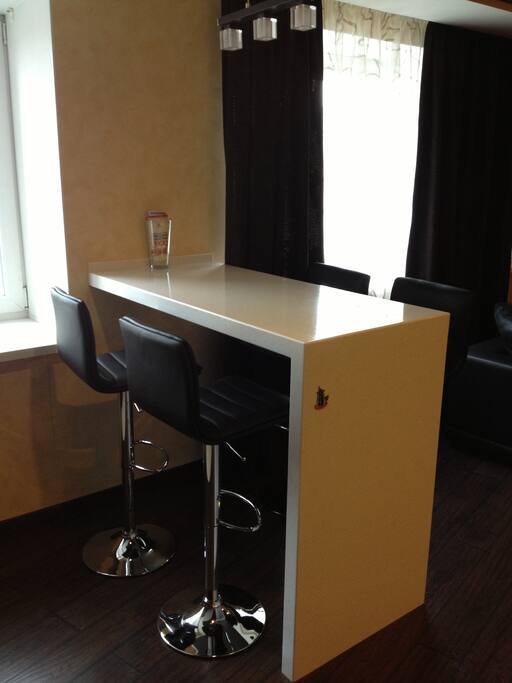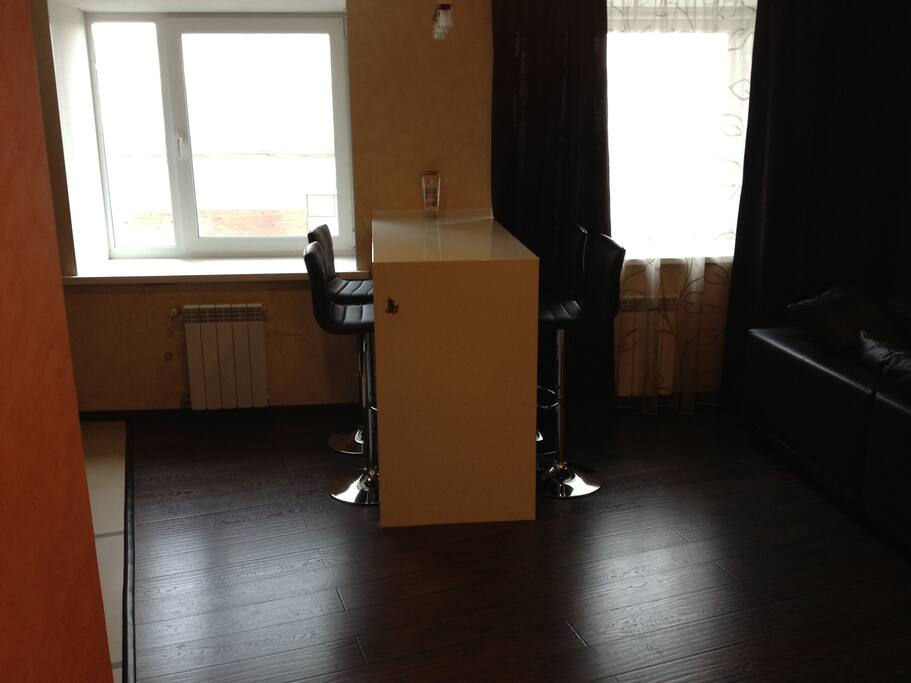 Апартаменты "Комфорт" для 2 или 4 гостей.
房源
This is not a hotel and not a mini-hotel in the traditional sense, we propose a new form of temporary accommodation for the discerning business and leisure travelers. In our apartments you will feel right at home. Our facility is open to those who avoid the bustle of hotels and accustomed to the comfort and service of a higher level, for whom the cozy atmosphere of peace and most important small savings. Transfer from / to the airport, (w / station). Free - Wi-Fi. Cable TV. Location - center of Ekaterinburg. Luxurious and spacious apartments with exclusive designs for those who are accustomed to the highest level of comfort to the surroundings. In this apartment you will be able to solve their problems at the spacious work desk with free Wi-Fi. You will be able to receive guests at the bar in the spacious kitchen or on the comfortable sofa leather in black in the living area. Choose to view the LCD telefizor Sony 52 "one of the 100 TV channels. At night, you can easily get rid of the tiredness of the day by taking a relaxing shower and sitting comfortably on the large bed or couch.
The kitchens are equipped with modern appliances BOSCH (microwave, oven, refrigerator, dishwasher and washing machine). Breakfast bar for 4. Nearby are: Czech beer restaurant "Pan of sour cream" (300 m), a lounge cafe "Del Mare", (300 m). Within a radius of 1 km are located about 10 bars and restaurants. Large supermarkets and grocery stores "Picnic" - 400 m
Apartments are located in the center of the city. The airport is 15 km away., W / d station is 4 km away. Bus stop - 300 m and a shuttle service. Rental bicycles.
---
---
---
Please note: Cancellation Policy: 1 day in advance Payment on arrival: Cash / credit cards Check-in: 14.00 Check out: 12.00. If you are leaving later (18:00), half of the additional cost of one night. If you drive to 6:00 or check out after 18:00 will have to pay for a full day. After the surrender of the apartment, you can absolutely free, to leave your luggage with us until 21.00. In the following, we will take with you a nominal fee of 100 RUB per day. Taxes are included. Check in at the apartment only with passport or equivalent document (military ID for the military or a birth certificate for guests under 14 years). Guests of the apartments have a passport, but have not attained the age of 18 must have a notarized permission from a parent giving consent to his residence. Children under 6 years old - free of charge (without a separate bed)! Every foreign visitor to the time of arrival is obliged to provide all necessary documents for registration. You can not invite your friends to the hotel. We care about the comfort of our guests and do not welcome the presence of strangers in the hotel. Payment is made for the whole stay in our apartment (except for advance payments in advance) at the time of arrival. Forbidden to make noise and disturb other guests in the period from (phone number hidden) relaxation and comfort of our guests, we disable the intercom at night from (phone number hidden) If you are planning to come to us early in the morning - please inform the administrator. Smoking, drinking and drug use in the apartments, stairwells and adjacent to the house site is strictly prohibited! At the Reception apartments have the right to refuse to accommodate guests who come to us in a state of intoxication or pose a threat to other guests or employees without payment of compensation. Pets are not allowed.


---
---
---
в квартире нет ни чая, ни кофе ни даже бутылки с водой, что крайне странно в современных условиях и для этой стоимости. Так же не предоставляют никаких принадлежностей для душа, нет ни мыла , ни тем более геля для душа и шампуня. состояние ремонта довольно плачевное
Сергей, мы благодарим Вас за выбор наших апартаментов. Вы забронировали квартиру за 2.400 рублей, именно такая сумма поступила на наш счет за вычетом комиссий. Это довольно смешная сумма, по сравнению с отелями, за аренду двухкомнатной квартиры 60 кв.м с дизайнерской сантехникой Jacob Delafon, современной кухней оборудованной стиральной машиной, посудомоечной машиной, СВЧ, духовым шкафом, индукционной плитой. Чай, кофе, бутылированная вода, свежий сок в холодильнике, халаты, одноразовые тапочки и многое другое, всем этим мы комплектовали квартиру за (PHONE NUMBER HIDDEN)лей. К нашему сожалению не всем гостям нужен такой развернутый набор услуг и сервис, мало кто готов за него платить, все больше гостей ориентируются на минимальную цену и экономят. Мы всего лишь следуем конъектуре рынка и снижаем стоимость, вычитая из нее не востребованный гостями сервис и услуги. Гель для душа, шампунь, зубной набор и все что Вы перечислили.... все эти вещи есть в наличии, Вы могли воспользоваться ими за весьма скромную дополнительную плату ((PHONE NUMBER HIDDEN).). Желаем Вам интересных путешествий.
---