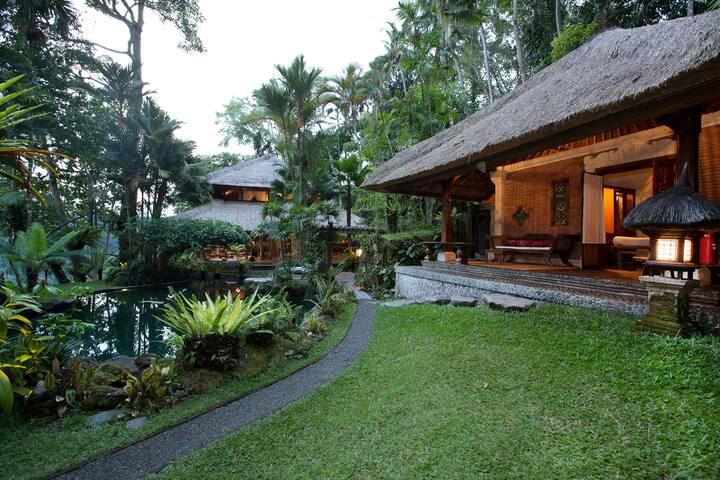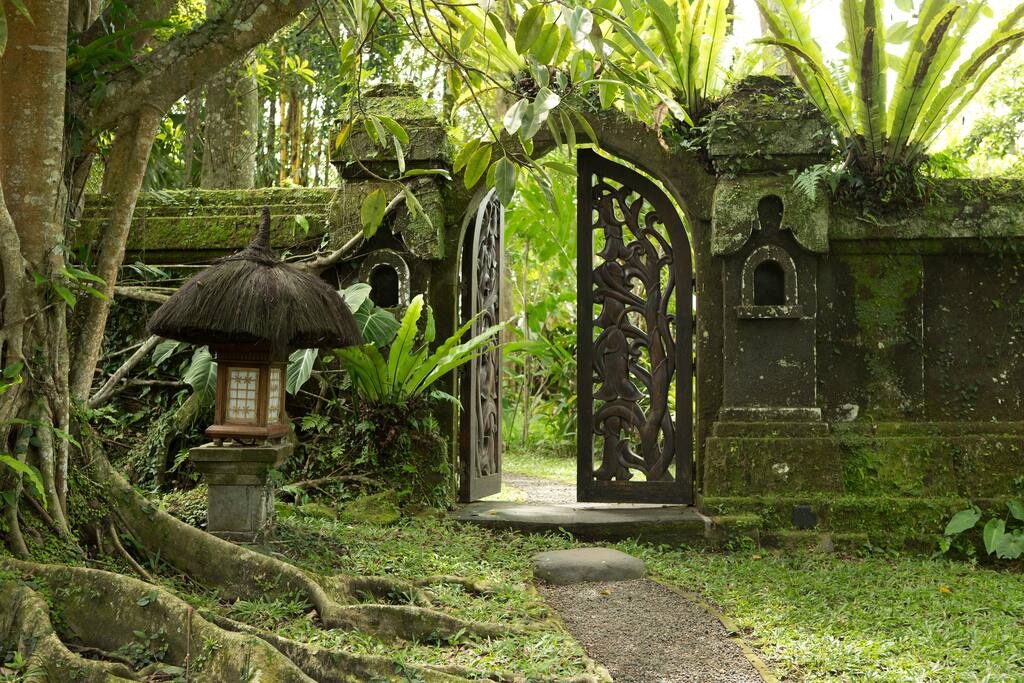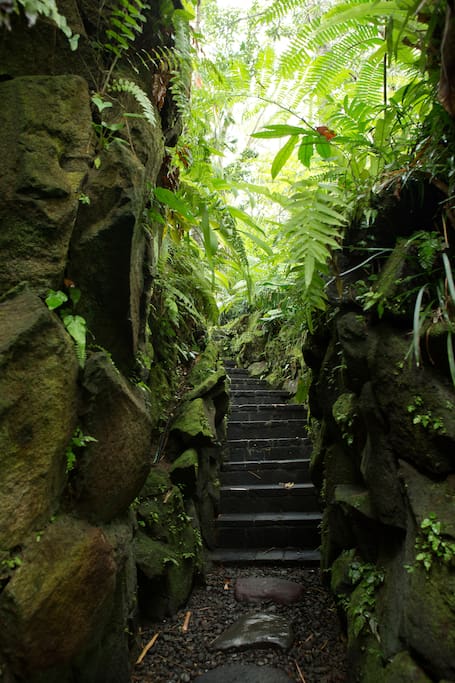 Villa Puri Bayu - Palace of the Wind
Villa Puri Bayu是一个梦想成真的客人谁爱自然,宁静和绝对的隐私。这座古典的巴厘岛豪华别墅经过精心维护,拥有对Ayung河郁郁葱葱的雨林的令人难以置信的日落景观,而我们的5名巴厘岛工作人员的团队照顾了一切。 我们的别墅不适合儿童,也不适合那些在楼梯不平或走路不平的人身上。
Villa Puri Bayu is a dream come true for guests who love nature, tranquillity and absolute privacy. This classical Balinese luxury villa, meticulously maintained, features an incredible sunset-directed view over the lush rain forest of the Ayung River, while our team of 5 Balinese staff takes care of everything.
Our Villa is not suitable for children, or for those who have difficulty with stairs or walking on uneven surfaces.
房源
Puri Bayu意为"风之宫"。这是别墅的完美名称,因为它是距离数百英尺以下的着名Ayung河的清新风的"河口"。 唯一的"噪音"听到的,在宽敞,开放的客厅享受壮丽的景色放松,是河流的一贯冲击,鸟儿的歌声和"浮动"竹叶的流畅的声音。这个地方确实滋养了灵魂。 Puri Bayu由5名巴厘岛人组成,住在邻里,自从别墅建成以来一直与我们合作。我们有一个清洁工,厨师,司机,园丁和保安人员。 进入别墅的复合体,热带生活的气氛令人惊叹。非常高雅,我们整合了在印尼群岛周围旅行的美丽配件。 别墅由两栋建筑组成:主别墅和第二栋别墅。建筑材料和开放式阳台的有机性将每个展馆融入现场。设计和现场规划是经典和永恒的。从露台的景色引导遥远的"锯木",稻田,点缀着香蕉和椰子树。 主楼是一个完全真正的巴厘风格建筑,有两层。楼上是精美木地板的主卧室。除了非常有意义的开放式生活区,这间客房是别墅的宝石。房间三面的玻璃窗可以欣赏到阿ung河和稻田的壮丽景色,平滑的微风流连于一起,让人觉得自己在外面睡觉! 非常大和非常深的游泳池是自然的形状,非常不同于你看到的任何其他游泳池。 卧室配有电视,DVD和连接浴室。 楼下的开放式客厅,享有河流的壮丽景色,邀请客人放松身心。各种休息区都非常舒适,让游客想要呆在家里。 温度很舒服,你甚至不会想到一个空调,但你可能想有一个微风有时...
Puri Bayu means 'The Palace of the Wind'. This is a perfect name for the villa as it is the 'estuary' of the fresh breeze from the famous Ayung River, which is hundreds of feet below.
The only 'noise' one hears, relaxing in the spacious, open built living room enjoying the breathtaking view, is the consistent rush of the river stream, the singing of the birds and the smooth sound of the 'floating' bamboo leaves. This place indeed nurtures the soul.
Puri Bayu is staffed by 5 Balinese who live in the neighbourhood and have worked with us since the villa was built. We have a cleaner, a cook, a driver, a gardener and security staff.
Entering the compound of the villa, the atmosphere of tropical country living is stunning. Very tastefully, we have integrated beautiful accessories which have been collected travelling around the Indonesian archipelago.
The villa consists of two buildings: the main villa and the second villa. The organic nature of architectural materials and open verandas blends each pavilion into the site. The design and site planning are classic and timeless. The view from the terrace leads distant 'sawah', rice-fields, dotted with banana and coconut trees.
The main house is a totally genuine Balinese style building with two levels. Upstairs is the master bedroom with beautifully wooden polished floors. Besides the very specious, open living area, this room is the jewel of the villa. Sliding glass windows on three sides of the room provide a magnificent view of the Ayung River and the rice fields, and with the smooth breeze circulating, it makes one feel like sleeping outside in the nature!
The very large and very deep swimming pool is naturally shaped, quite unlike any other swimming pool you've every seen.
The bedroom is equipped with a TV, DVD and en-suite bathroom.
The downstairs open-plan living room, with stunning views of the river, invites our guests to relax and meditate. The various sitting areas are very comfortable and make visitors want to just stay around the house.
The temperature is so comfortable that you won't even think of an air conditioner, but you might like to have a breeze sometimes...
房客使用权限
我们的别墅是完美的两个客人在主要的别墅,两个在第二个别墅。虽然租赁第二栋别墅需要支付额外的费用,但整个房产只能出租给您。在您入住期间,酒店内没有其他客人,除了我们的工作人员。始终保证绝对的隐私和酌处权。
Our villa is perfect for two guests in the main villa, and two in the second villa. Although there is an additional fee for renting the second villa ,the entire property is only rented out exclusively for you. There are no other guests on the property during your stay, except for our staff. Absolute privacy and discretion is guaranteed at all times.
与房客的互动
我们的别墅护理人员Stephen和Ochie距离酒店有5分钟的步行路程。 Stephen来自加拿大,在巴厘岛生活了15年,流利的印尼语。他的妻子Ochie是印度尼西亚语,流利的英语。任何问题,任何你可能想要做或需要的,可能会要求他们。
Our villa care-takers, Stephen and Ochie, live 5 minutes' walk away. Stephen is from Canada and has lived in Bali over 15 years and is fluent in Indonesian language. His wife, Ochie is Indonesian and is fluent in English language. Any questions, anything you may like to do, or need, may be requested from them.
其他注意事项
Our small, warm-hearted Balinese team has been with us ever since Puri Bayu was built. They all live with their families in their own homes near the property and are there for you whenever you need them. However, they will respect your privacy if you wish to be alone. They do need to come in to prepare your breakfast and clean the house, garden and pool area. If you choose to eat at home, they will do your grocery shopping and cook for you. Please tell our team how 'close' you want them during your stay with us! We want to make sure you feel at home the moment you arrive, get the assistance you need, but Puri Bayu is your place during your stay! Their working hours are 8am-4pm, and a small overtime charge is applied if you need them to be on hand after 4pm.
Please also note that we have one adult cat and 3 kittens. They are immunized, neutered/spayed and are well-loved.
---
---
---
---
不适合儿童(2-12岁)入住,或不能为儿童提供安全的住宿环境
We request that you treat our home as you would yours, and be mindful and respectful of each moment you have.
Due to its open architecture, Puri Bayu is not suitable for small children or people with physical disabilities. The villa is at the top of a ridge which slopes to the river below. There is one house cat that call Puri Bayu their home, he has a a job to do to protect the house as well. Please be kind to him.
Please, no fireworks of any kind without permission from the care-takers, which is the local law and may be subject to fines and police involvement.
No loud noise after 10pm.
Please be kind and respectful to the staff and neighbours. Acting calm, centered and happy are the basic behaviours preferred by the Balinese.
Please note that Staff Hours are 8am - 4pm. If you wish for the staff to assist you after these hours, such as to cook and serve dinner, please note that a small overtime charge will be requested with payment in cash.
Please also note that we have cats on the premises to keep rodents away. We are not able to lock them up during your stay, so please take note of this if you have allergies or concerns.
---
---
---
---
PARADISE FOUND!!! The pictures almost don't do it justice! I can't even describe the magic in this place. It is unlike anything I've ever experienced. Completely open air -- breezy (didn't miss the AC once, you truly don't need it) Over looking the Ubud jungle and river below. It was so peaceful and relaxing it felt like a dream. While relaxing in the hammock one day my husband turned to me and said, "This doesn't feel like real life." lol I had a similar sentiment -- it's surreal how perfect it is. Stop your search -- this place has it all. EVEN KITTENS!!!! There are kittens to play with! GAH!!! A honeymoon + private villa + amazing view + incredible staff + baby kittens to snuggle with all day long = happiness overload. From the very beginning Stephen was very attentive and answered all my questions and addressed all my concerns prior to check in. He even arranged a complimentary transport from Denpasar to Ubud (the driver's name was Putra, who I recommend 100%-- Next time we're in Ubud my husband and I will totally rely on him for some personal tours of Bali, we didn't have time this trip and we regret it!) As soon as we arrived at the Villa we were greeted by the amazing staff -- Mr. Narki (your personal local driver in and around Ubud) took our bags upstairs and Sumini (your personal cook) greeted us with snacks and drinks while she finished up our lunch. Munting and Tagel (two of the housekeepers) introduced themselves and helped with lunch preparation. The staff comes with 24 hour security, a gardener (both of which we didn't see much so I apologize for not getting their names down!), a driver (Narki), a cook (Sumini), and two housekeepers (Munting and Tagel) who also attend to your every need. Every single one of these people is incredible. They are what makes this villa spectacular. Sumini's meals were my favorite. I'm serious. Go ahead and have her cook as many of your meals as possible. My husband and I ate out a few times in the city and each time I'd look down at my plate, heave a heavy sigh, and think, "Sumini's is just so much better" -- she really is THAT good. Apart from being an amazing chef, she handled all my questions and concerns. She called our reservations at restaurants and tours, confirmed our times, made sure anyone picking us up knew directions to the villa, booked at home massages for us, etc. And she usually handled our schedule each morning too. She'd make us an awesome breakfast and then ask about our plans for the day and we'd tell her and then she would contact Mr. Narki and let him know if we needed rides anywhere. Or call whoever we needed. One night we couldn't make a reservation online at a very popular restaurant and she called them up personally and voila! Reservation at 9:40pm confirmed. She...
---
Villa Puri Bayu - Palace of the Wind - is the perfect hide away to just enjoy the tranquility and ease of Bali. The entire team welcomed us very warmly, helped us out with all question and preparred excellent balinese cousin. Also for this reason we would like to once again thank you all for making our stay so special and unforgettable. We can for sure recommend Puri Bayu to all wanting to enjoy beautiful Bali away from typical touristic areas. Thank you all @ Puri Bayu, Carolin & Christian
---
We absolutely loved our time at Villa Puri Bayu. The villa appears to have been built with great care and love with high attention to every detail, and is extremely well maintained. It's location, away from the bustle of tourists in Ubud, was perfect for us and seems to be a great place for R&R. The staff at the villa were very helpful and polite, and a big thanks to Sumini and team! And finally, we really enjoyed the massages that were arranged by the team - they came with an unbeatable view!
---
This is paradise -- as pictured and as described by others, it's an absolutely extraordinary location. The beautiful furnishings, inspiring floor plan and design, the otherworldly view are not to be matched. The staff are helpful and friendly. Local fruits every morning, pool cleaned every afternoon. The communication with Stephen was perfect. The house is cleaned spotlessly every day. There is a nice collection of music and DVDs, all well set up to easily use and enjoy throughout the home, unlike some b&bs. (We did not pay for wifi access but rented our own and that worked well.) We're forced to mention some negatives to be fair, but these are minor compared to what a lovely stay we had. Some concerns are simply about Bali and Ubud as they are -- it was quite damp throughout, the Ubud traffic was a nightmare, there was construction in the distance that was sometimes loud just when we were hoping for a serene moment. There are always bugs and geckos in the house, but some of us liked that and some of us didn't. But none of these are the villa's problems. More specific to the villa, we had a few minor concerns. If this bothers you, you should know: there were roosters around, and guess what the roosters did every dawn. There is a cat in the home, and now kittens, and although we mentioned we were allergic, they were always around. Even with these minor complaints, we highly recommend the villa and will always remember our time there. Every member of the family, of all ages, was so taken by the extraordinary view, the grounds, the home, the pool, the staff service, that we feel great gratitude for having been able to stay there. P.S. Stephen recommends that you do not rent a scooter. That's very good advice. If you do so, you're taking your life in your hands.
Thank you for your honest review, Naomi! The rain is definitely out-of-season, and doesn't appear to be ready to stop until the usually rainy season is set to start. The geckos and cicat vs the bugs and the cats vs. the rats are part of the never-ending cycle of life in the tropics, they do a better job than the chemicals and poison. We're sorry about the roosters and the government project down in the river, and the traffic, oh my gods: mass tourism has arrived, flooding over infrastructure that hasn't changed in the 15 years we've lived here. Still, Puri Bayu's secluded location is one of the escapes from the outside world., and we're glad you'll keep your memories of the time you stayed with us.
---
With a view out across the Ayung River from high up on the valley wall, hidden amongst trees and ferns, and a very long way from the road, Puri Bayu is the perfect place to hide away and relax. Morning yoga looking out over the misty valley below was amazing, as were the evening breezes & sunsets (with cold beer!). The house stays several degrees cooler than Ubud itself, so even really hot days are pleasant there. Sumini and the staff were all super helpful and served up some great Balinese home cooking! Definitely I can see that Puri Bayu has been loved by everyone since it was built.
---
Well I have visited Bali for 24 years. I /we have come with family and alone. Some villas we rented 10-years in a row. This villa goes down as my absolute favorites. It's not a villa for children. The scale is perfect for any honeymooners, single people who want peace and quiet just to read, anniversary couple. Villa does have two bedrooms, which could be good for a second couple or a grown-up child. The Villa architecturally, is the best. I've never seen one better built or better layout!!!! I almost want to keep this a secret from those looking to come to Bali. KimKieler Santa Barbara
---
Traumhafte, einmalige Villa mit atemberaubendem Ausblick über das Ayung Tal. Paradisischer Garten und Pool, jede Blickrichtung bilderbuchreif. Der schönste Ort an dem ich bisher gewesen bin! Die Angestellten kümmern sich hervorragend, und zaubern jegliche gewünschte Speisen (nur die Einkäufe müssen bezahlt werden). Jeden Cent wert, und verglichen mit den umliegenden 5* Hotels sogar preiswert.
---
Husband and Wife. Stephen is from Canada and has lived in Bali for over 15 years and is fluent in Indonesian Language. Ochie is from West Sumatra, Indonesia and is fluent in English language.

We both are the co-founders of Cinta Bahasa Indonesian Language School in Ubud, Bali, Indonesia. We are educated, literate and enjoy intellectual pursuits. Ochie is particularly fond of flowers and roses, and Stephen loves maintaining the garden of tropical fruit trees at their home.

We love traveling and when we are traveling, we want to see the culture, the people, the market, the shops, the gardens, parks, and other lovely things in other countries. We love animals, especially cats :)

We have stayed as Airbnb guests in Bali, Jakarta, Singapore, Bangkok, Chiang Mai, Perth, Sydney, Canberra, Darwin, Amsterdam, Den Haag, Alphen a/n Rijn, Utrecht, Gent and Paris.

We are the Care-Takers of Puri Bayu Villa, which is right near our home and owned, and staffed, by friends of ours.
语言:
Bahasa Indonesia、English