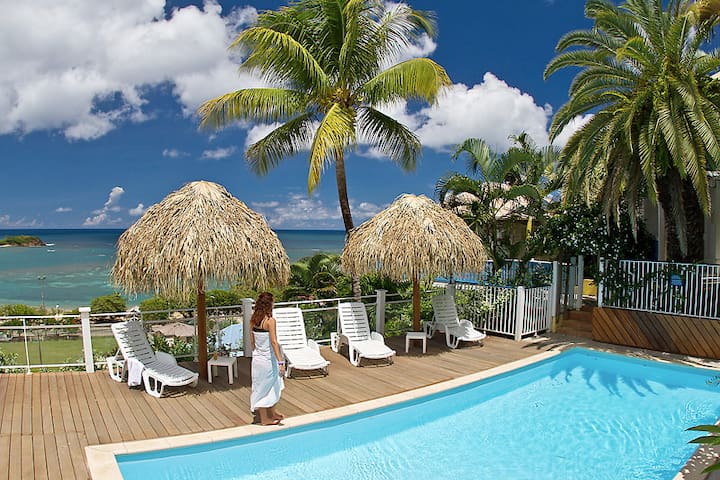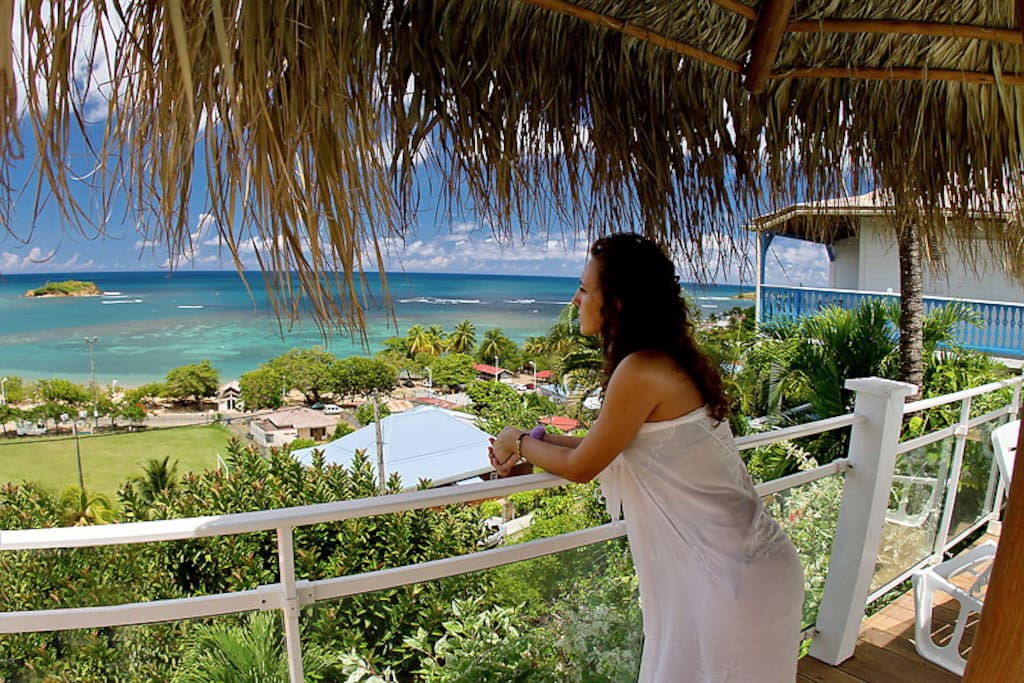 Située en hauteur du petit village de Tartane, sur la Presqu'île de la Caravelle, réserve naturelle de la Martinique, le studio vous attend pour un séjour de détente, et de bien être; pour 2 à 4 personnes dans un cadre paradisiaque. La vue sur la baie de Tartane et sur son îlet vous séduira dès votre arrivée. Vous pourrez profiter des nombreuses plages et balades sur la Presqu'île de la caravelle.
房源
Les studios disposent d'une kitchenette sur la terrasse avec une vue mer.
房客使用权限
la piscine est à partager avec le petit hôtel de 21 chambres.
Elle est presque privative car les clients visitent l'île et sont absents toute la journée la plupart du temps.
与房客的互动
Tout le personnel de l'hôtel le manguier sera à votre disposition pour toutes questions de quelque ordre que ce soit.
Service hôtelier.
其他注意事项
Une taxe de séjour de 0,60 centimes d'euros vous sera demandée par personne et par jour. pour toute personne de plus de 12 ans.
---
Bel hôtel seulement l'itineraire reçu n'est pas trés précis ! Pour les prochains , c'est l'hôtel Manguier , cela vous éviteras de chercher 30 minutes ... Sinon trés propre , calme !
---
My experience here was not too good, that being said, based on everything i've read it seems that most people have a good experience with this unit. The location was a little difficult to find, roughly 45 minutes away from the airport. It's easiest if you just search "Hotel Le Manguier" on (SENSITIVE CONTENTS HIDDEN) maps as that is where these studios are located. It is up a pretty steep hill in Tartane. The view from the unit was absolutely stunning, a large beautiful view of Tartane and the sea. We had some bad experiences with the unit, there were a few large roaches that we had encountered, the "kitchen" does not really count as a kitchen so don't expect to use it, and the shower was missing the door so all the shower water would pour out and make all the floor towels wet. It is also very, very small, I know it appears so in the pictures but really be prepared to have little to no space (which won't be a concern if you're traveling light, but if you're with your lady and she has to do her hair, makeup, and clothes you will be pretty claustrophobic). I was able to come to terms with the host as Brigitte is very understanding, and she explained that the units are treated every month for roaches by a cleaning company, so we just got unlucky. Martinique is a beautiful island though, and anyone who visits will fall in love. Thank you Brigitte.
Thank you Iman for your comment. I am really affected by what has frightened you, namely, an undesirable encounter with, according to you, several cockroaches, which caused your departure because yes, we treat every month and this situation has never been reported to us. We are in the tropics and cockroaches exist well, it is a reality, but they are not at all invaders. We see one from time to time. That's why I'm bored for you. As for our studio, the dimensions of the different villas we rent are indicated on the site AIRBNB and the kitchen is a kitchenette located on the terrace, with something to eat, a hob, a micronde, a fridge, just in front the sea. I wish you continued success and thank you for your experience.
---
The space was a bit smaller than we'd anticipated but the view made up for it. Brigitte was really helpful in providing information/answering my questions about the area. A rental car was definitely needed. Finding the place was a little difficult, especially at night. Tartane has some of the most beautiful beaches and the views/weather made it all worth it!
---
Séjour agréable dans l'hôtel le manguier. Chambre vraiment très petite et différente de celle sur les photos. Belle vue sur Tartane et l'océan. Même si nous n'avons pas vue Brigitte, elle nous a donnée toutes les indications nécessaires.
Merci Jérémy, Il nous reste juste quelques studios qui ne sont pas encore rénovés. C'est nous qui faisons les travaux et le faisons en basse saison. Nos photos sont donc sur les nouveaux studios mais vous avez raison, je viens de mettre des photos plus anciennes. Je suis vraiment navrée que nous n'ayons pu vous installer dans un studio rénové. J'espère que vous ne nous en tenez pas rigueur et que la vue dont vous avez pu bénéficier a pu combler ce désagrément et surtout n'a pas eu d'incidence sur le déroulement de votre séjour , et aussi que notre personnel a su répondre à vos questions en toute gentillesse.
---