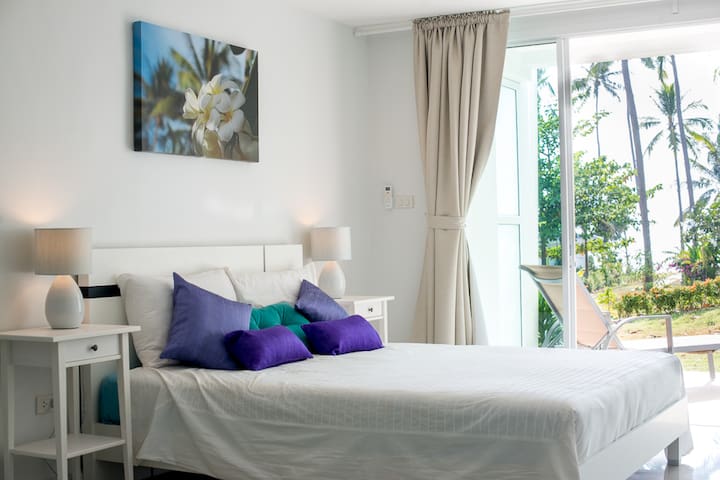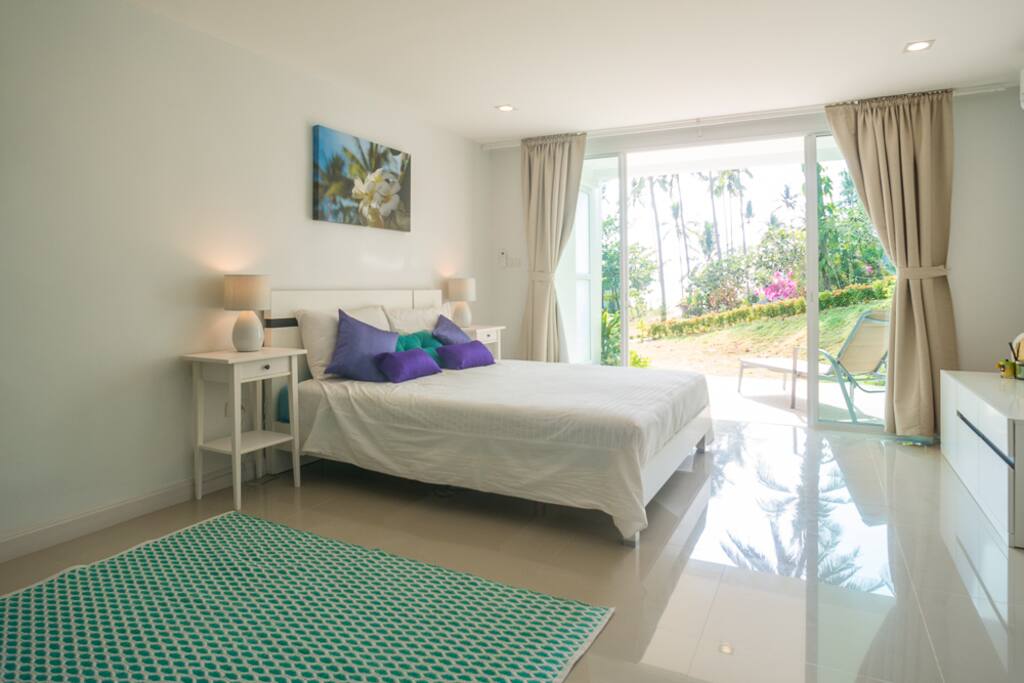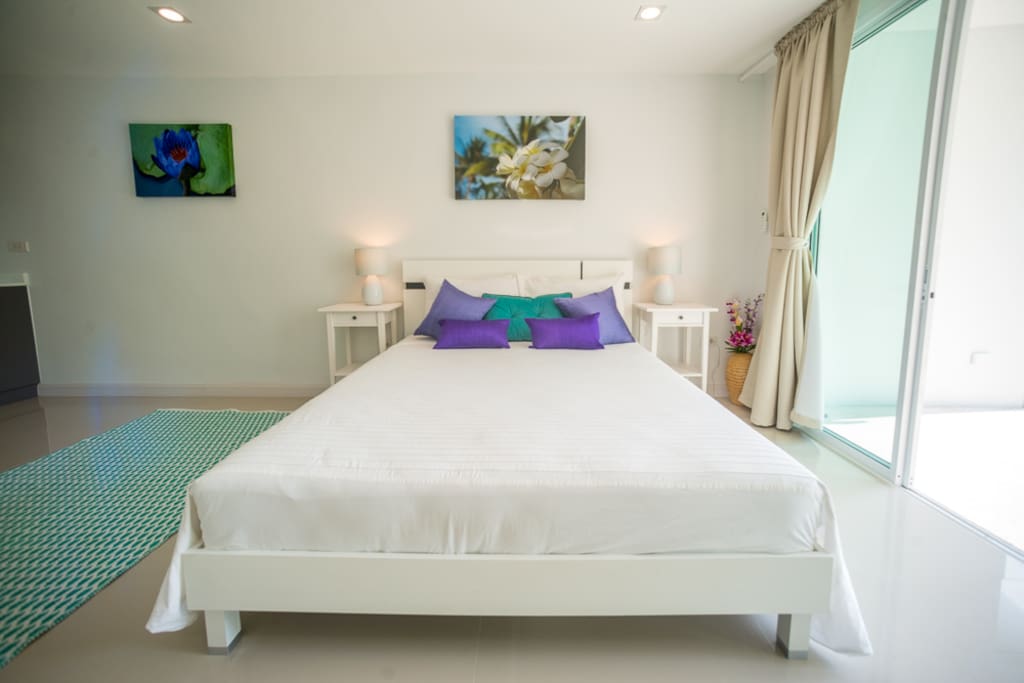 Let me first begin by saying that Nick (the site manager) was wonderful and very communicative and helpful in checking us in and providing us with advice and helping us book a tour. He was great. And Claire was also very communicative, especially with us booking very last minute. The place itself is modern, sleek, and very clean. Very well set up. However, for the price, we expected something much nicer. For this price, we could have gotten a room at one of the many resorts and had much nicer views and better amenities. The listing says that it has beach views, but the main view from the condo is a grass yard which leads to a parking lot, then palm trees, more grass, then finally the ocean. I would hardly call it beach views, which was very disappointing. The beach pictures you see in the listing are taken from the community entrance and from the beach itself, not from the condo. Some positives: - Location is about halfway down the island, which is great for reaching the national park down south and the restaurants/pier up north - Claire's book of recommendations was very helpful - A sweet neighbor cat greeted us outside every morning - Pool is beautiful - Hairdryer is provided - Dishes, cutlery, and a very nice fridge make for a nice vacation home Some other things to note: - Bed is very, very hard - private beach is beautiful but very rocky (not great for swimming) - The front is entirely made of glass and is the only natural light source. Given the fact that you're on the ground floor, you have to choose between privacy and natural light and be aware of the curtains more so than you would elsewhere. - Soap, etc., are not provided, and the shower drain floods - Beach towels are not provided and you are not allowed to bring the other towels outside the house, so bring your own. - Door is extremely difficult to lock. We had to spend several minutes trying to lock it every time we left. Honestly, the place is very nice and beautiful, but considering how far money goes in Thailand, we were very disappointed with it and know if we had booked a resort for the same price, it would have been much nicer. I wasted too much time trying to decide if I was willing to pay for a second hotel to improve our stay and stave off our disappointment. In the end, we didn't want to pay for this place and a hotel, but I wish we had. If you're looking for a modern, private condo, and the list above doesn't bother you, then this would be a great place for you. But we were looking for beach views and a place without the annoyances listed above.
Firstly, thank you Sarah for your nice feedback about Nick's service and also my own. I'm pleased to hear that you found the place 'modern, sleek and clean' and a 'very nice vacation home'; also that the location suited you, that you found the general place and pool beautiful and the recommendations helpful. Your balanced feedback is really insightful. Complimentary or constructive, I always appreciate guests taking the time to provide such detailed reviews. Airbnb is based on such open guest feedback and I'm pleased to say, that is what has allowed us to become such a favourite on Koh Lanta in such a short space of time and has also earned us Super Host status. It's also what allows us to constantly improve and whilst you have also provided some constructive feedback on 3 smaller points in your review, which I always want to know about e.g. no soap in the apartment (which there always should be!), it would have been nice to have been able to address such things during your stay. The other 2 things you mentioned for improvement i.e. the door sticking and the water being slow to drain out of the shower are currently being addressed. However, on the same basis, I need to highlight anything published on Airbnb that is simply incorrect or misleading. Even though you seem to enjoy many aspects of your stay in our apartment, I understand if Coconut Bay was not for you on balance and that you feel a hotel/resort might have been more appropriate. We are clearly a self-catered, apartment option, hence why we appear on Airbnb. Any hesitancy you may have had over picking an apartment over a hotel, I cannot help think you would have felt regardless of which apartment you booked as it sounds like the hotel experience might have been more suitable. If your main priority was to be beach front with direct access onto the beach, as your review suggests, I cannot understand why you didn't make a booking based on that. I often have people enquire with me, asking me many questions in advance, even if the details are already provided in the listing. But I am always happy to answer because if I think they would be better off staying somewhere else, I'm honest with them about that. Unfortunately, maybe because as you suggest, it was a last minute booking, you didn't have the time to research in the depth you normally would. The last thing I want is an unhappy guest or a guest who clearly would be more suited to a different accommodation option. That's no fun for anyone. There is nothing we don't mention about Coconut Bay in our listing, either in the description or our photos. We also don't claim to be anything we are not. This management of expectations is what I think has contributed to us having such happy guests in the past. If there were amenities that you wanted, that are present in a hotel you were considering but which you did not find in Coconut Bay, you would have known this before booking. Private luxury accommodation provides something that no hotel/resort can offer but perhaps our amenities just weren't of value to you. What makes something of greater value to one person, may not be for another. It is up to you to decide which amenities are important to you on a holiday and make your decision in advance based on that. As much as I appreciate you highlighting the positives and feeding back on specific things we can address, I wish for your own sake, more than ours, that you had taken a little longer to check some other details and facts before booking and also posting your review as unfortunately, you seem to have overlooked some of the key information provided in our listing: -You reference the views. We show multiple images from the studio apartment through the large front patio door, out towards the sea. This means all guests know exactly what view they can expect in advance. On arrival, many guests have commented on it being an even nicer view than they had expected due to the photos looking blurry in the distance. -In answer to your comment "The beach pictures you see in the listing are taken from the community entrance and from the beach itself, not from the condo"… Aside from the pictures taken from inside the apartment, clearly showing the view you would have, we also have pictures on the beach (as people want to see up close what that will be like if they are spending lots of time there). We also take pictures from the top of the building to give an overall impression of the space. I have titled each image clearly so people know which part of Coconut Bay an image is taken from e.g. 'Pathway to beach', 'View over Coconut Bay from the top of the building'. I even include 2 aerial shots to show the exact layout of Coconut Bay and where the apartment is positioned in relation to the beach. These are titled: 'The apartment building position within Coconut Bay' and 'Overhead view'. With all of this in mind, I feel very confident that we are going the extra mile to manage guests' expectations. -As you are the 3rd person out of about 40 to mention that you found the bed hard, we are going to provide an option for guests to have a soft 'bed topper' on the mattress. We don't want to put a soft mattress in as we have more guests tell us how comfortable it is. But this way, we help address the subjective nature of bed preference amongst guests. -In reply to your comment: "Private beach is beautiful but very rocky (not great for swimming)". This is really misleading. Coconut Bay is a Bay. It is made so by large rocks on either side of the bay. These do not inhibit swimming but merely create the small protected Bay we have. There is also coral further out which makes for some interesting snorkeling. At very low tide (more so during low tide across a few days each month), it may be harder to get into the sea to swim because of this, granted but people still do. At all other times, guests, including children, seem to spend most of their day in the sea. -"The front is entirely made of glass and is the only natural light source" Correct: the front is taken up by a large patio door providing as much light and access to the view as possible as clearly shown in the multiple photographs on the listing. What is incorrect is that you say that the patio door at the front is not the only light source. There is a 2 metre long window along the side of the studio (up high to ensure privacy) and a frosted glass door at the back, meaning you get light from most angles. -Soap – thank you for that feedback. There should always be soap provided -Shower drain flooding – again, thank you… this should not happen but does sometimes when lots of sand ends up being washed down the drain. It therefore needs clearing out very regularly. -'Beach towels are not provided" – you are correct. We do not state anywhere that they are provided. "You are not allowed to bring the other towels outside the house". This is correct. If the bath towels were used at the beach, they would be damaged, lost and left in poor condition as we did experience before kindly asking guests to now only use them indoors. -"Door is extremely difficult to lock" I am getting this seen to. I'm genuinely really sorry for you that you say you 'wasted too much time trying to decide if I was willing to pay for a second hotel to improve our stay', especially as I think this was all very avoidable had you booked accommodation based on your priorities.
---
A really nice property to stay - much nicer and more homely than the pictures showed and I would definitely recommend this to anyone. Really easy to check in, and Nick was helpful and swift in dealing with an issue with the air conditioning unit when it started leaking water. Claire gave a great list of recommendations of restaurants, cafes and things to do. Unfortunately because we went in the off season, a lot of these had closed until the summer (although there were still enough options for us to visit). The restaurant on site wasn't open so we were unable to visit that. Beach is small and slightly rocky. Unfortunately wasn't very well kept, but again, I think this is likely due to us going in the off season. I would definitely stay here again.
---
I stayed with my spouse and it was a comfortable stay. It's a lovely apartment, very well appointed with all the appliances that one needs. Sea shore is just at a stone's throw. Just a couple of pointers to set the expectations right- it's an apartment in a building with many such apartments, so don't expect a stand alone house. shops and restaurants are almost 500m- 1km away. the locality feels a bit too secluded during late evenings. Claire is extremely sincere with her communication. She was not there but she ensured a very smooth check-in and check-out. As she was not there so I missed the touch of the host, moreover because the complex has a a bit of modern concrete structure.
---
这间大型时尚的一室公寓享有迷人的海滩景色,设有私人阳台和花园,配有高档浴室和厨房以及户外用餐。位于独特的椰子湾,设有私人海滩,还设有一个大型共享游泳池和一间美味的餐厅。这间公寓非常适合夫妇或独立旅客入住。 *厨房包括品牌炊具/滚刀/提取器/冰箱和白色花岗岩表面
This large stylish studio has stunning beach views, a private balcony & garden & comes complete with a high-spec bathroom & kitchen and outdoor dining. Set in the exclusive Coconut Bay, with a private beach, there is also a large shared pool and a fantastic restaurant. Perfect for a luxury get-away, this apartment is ideal for couples or solo travellers.
* Kitchen includes branded cooker/hob/extractor/fridge & white granite surfaces
---
---
---
Strictly no smoking in the apartment. No loud parties, slamming doors, loud music and please be quiet when coming in at night as Coconut Bay is a peaceful place to enjoy a holiday. Those looking for a party would probably prefer somewhere more centrally located in the north of the island. Please the public spaces. No glass or alcohol in the pool - please bear in mind this is a place that children use. Only guests detailed in the booking will be allowed to stay in the apartment. Please note that as an apartment rental vs. a hotel, there is a weekly cleaning service rather than daily service.
---
---
---
---
Currently living between the UK and Thailand, my biggest loves in life are my family including my beautiful 1 year old daughter, traveling to new and exciting places (my favourite being Central America), reading heart wrenching books and eating fantastic food, normally cooked by my husband! Whether it's staying in a boutique hotel or a hidden gem of a home with a fantastic host, I've found that people can make the biggest impact on your travels wherever you go. I'm also particular about the spaces I spend my time in! With a beautiful home in Clapham and a business developing stunning beach side apartments in Thailand, I find that helping guests have an unforgettable experience is hugely rewarding.