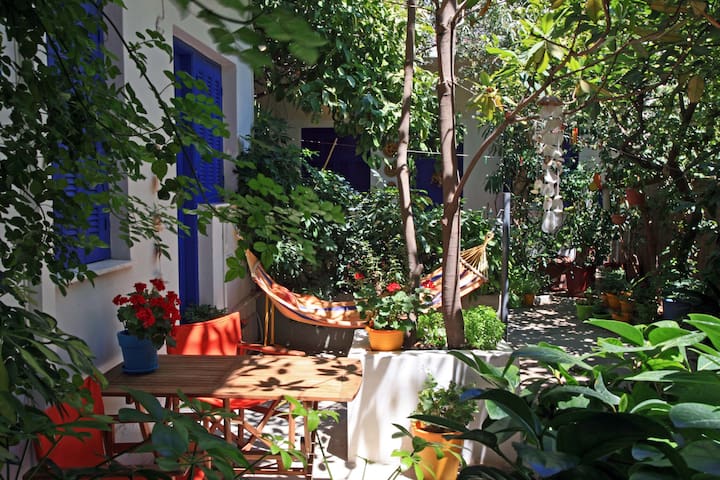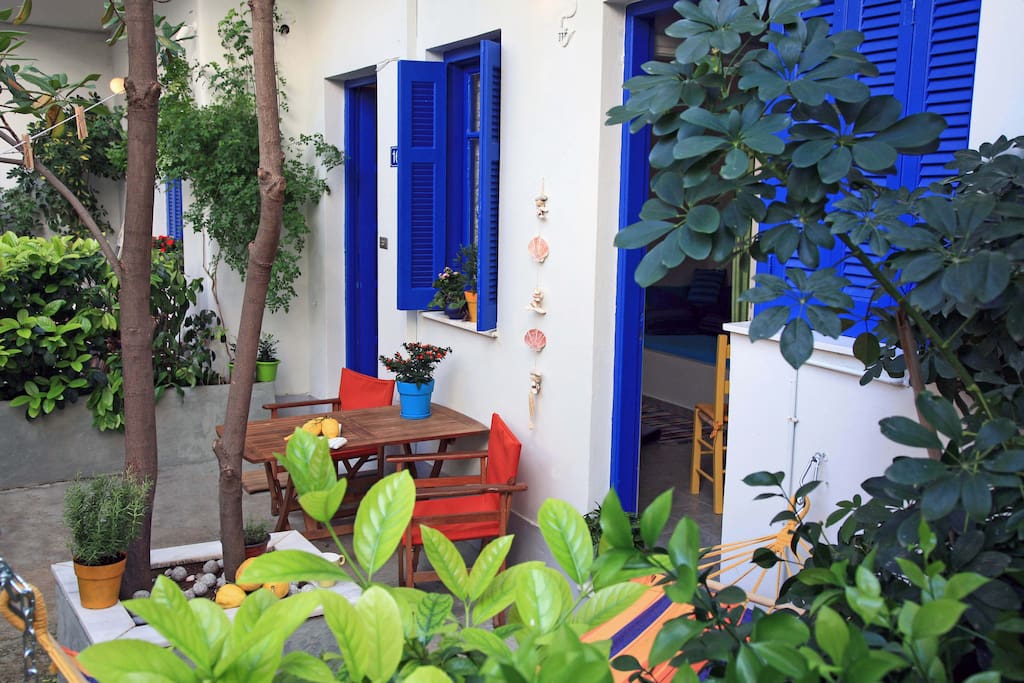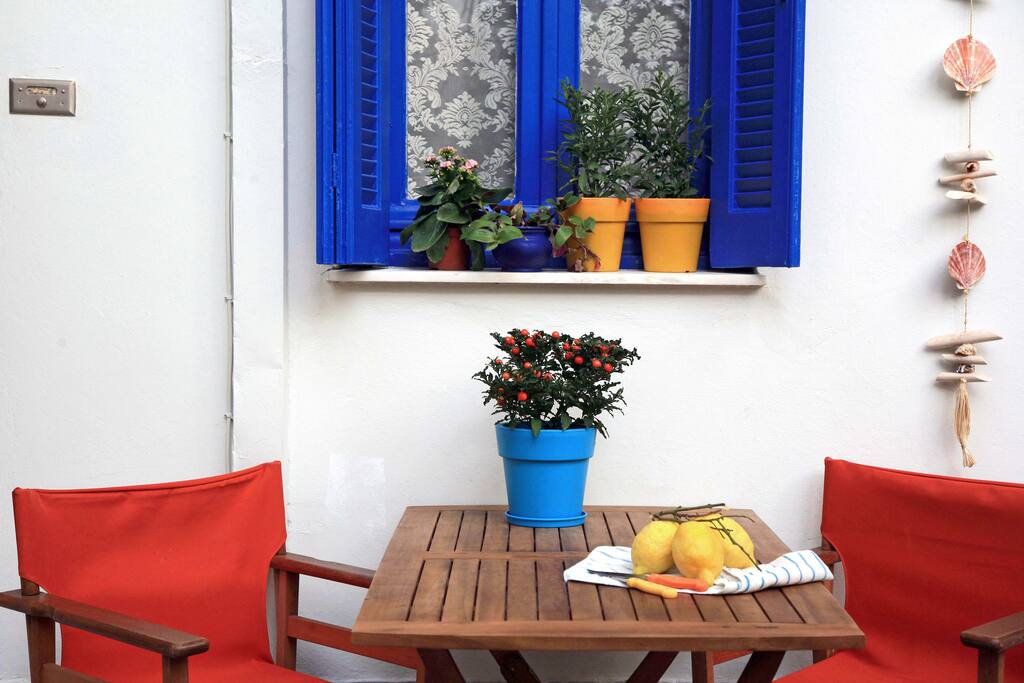 享受这个古老庭院的宁静和"村庄"的氛围。难以相信您是雅典的中心,距离地铁站有200米,距离历史中心的中心有2站路。
Enjoy the tranquility and the "village" atmosphere of this old-time courtyard.Difficult to believe you are in the centre of Athens-200 meters away from the metro station and 2 stops from the heart of the historic center.

房源
该公寓位于历史悠久的中心附近一个安静绝对安全的住宅区,距离Tavros-E.Venizelou地铁站(绿线)步行两分钟,距离狮门站两站(参观雅典卫城纪念碑)。这是一间一卧室/客厅,设有独立的设备齐全的厨房和一个隐藏在传统雅典式庭院中的浴室(淋浴)(现在在中心很罕见)。整个地方在2013年5月 - 6月全面翻新,以"希腊岛屿"的风格,以蓝色和白色为主导色彩。它的装饰结合了旧的和新的,并完成与实际建在平房的双人床,沙发和橱柜跟旧岛传统。 但这个地方应该真正夸张的是庭院本身 - 一个小绿洲,里面有各种各样的树木和植物,包括柠檬树,鳄梨,玉兰和一个白色的大夹竹桃。隔壁邻居的邻近的庭院只是加强了你在一些遥远的爱琴海岛上放松的幻想(照片说明了自己)。 完成广告后,我想你应该知道,我的丈夫,谁的公寓装修,并帮助我照顾客人,是旅行记者。 20年来,这间公寓曾经是他的私人庇护所,他可以在安静的地方远离城市的噪音(然后危机来临 - 故事的结尾!)无论如何,一直是数百个私人公寓和酒店客房的专业旅客和客人在世界各地,我相信我们已经获得了一个经验,知道什么让一个大城市的访客快乐。至少我们希望。你会告诉我们...... 设施 私人停车位。 "内置"双人床(宽1.40米),沙发和橱柜。 免费无线网络连接 2015年安装的高品质空调(冷却/加热至所需温度) 电视(LCD + MONITOR)+ DVD 冰箱,炊具,微波炉和厨房用具 咖啡壶,吹风机,熨斗等 洗衣机 所有的电气和电子设备都是2013年6月新买的 24小时热水独立 亚麻和毛巾 提供肥皂,洗发水,洗衣粉+软化剂等以及卫生间和厨房用纸 还提供过滤咖啡,凉茶等。 欧美电影(DVD)原文 位置 一个宁静而绝对安全的地区,主要居住着几十年来住在那里的家庭。平坦的街道平静,绿树成荫,灯光通畅,通向Tavros-E.Venizelou地铁站(步行不到两分钟)。 公寓不是真正在历史中心(雅典卫城3公里),但附近的地铁站就在绿线上 - 距离THISION(雅典卫城纪念碑)只有两站,三站到MONASTIRAKI,三站到达PHALIRON(从10-15分钟到乘电车到达海滩),并到PIRAEUS港口五站。 在300-400米的半径范围内,有各种各样的商店,您的日常需求包括5个超级市场,4个熟食商店,希腊各地的特色产品,药房,面包店,杂货店和屠夫店和小酒馆。除此之外,Kallithea区是足够接近(Kalithea地铁站步行4-5分钟),这是城市最大的商业区之一(大多数游客不知道),拥有迷人的"旧时代"公园(雅典标准),一个传统的封闭鱼肉蔬菜市场,一个拥挤的广场,所有必要的咖啡馆和酒吧和繁忙的街道密集,商店卖低价的商品,电子和家居用品等
The flat is situated in a quiet and absolutely safe residential area near the historical centre and two minutes walk from Tavros-E.Venizelou metro station (green line)-just two stops from Thision station (to visit Acropolis monument). It is a one bedroom/living room flat with a separate fully equipped kitchen and a bathroom (shower) hidden in a traditional Athenian courtyard (a rare sight in the centre nowadays). The entire place was fully renovated in May-June 2013 in the "Greek island" fashion with blue and white being the dominating colors. Its decoration combines the old with the new and is completed with the double bed, the sofa and the cupboard which were actually built in the flat following the old island tradition.
But what this place should really boast for is the courtyard itself -a small oasis with various trees and plants including lemon trees, an avocado, a magnolia and a huge oleander with white flowers. The adjacent courtyards of the next door neighbors just reinforce the illusion that you're relaxing on some distant island of the Aegean Sea (photos speak for themselves).
After finishing the...advertising I think you should know that my husband, who had the flat renovated and helps me to take care of the guests, is a travel journalist. For 20 years this flat used to be his private shelter where he could work in peace away from the city noise (and then the crisis came – end of the story!) Anyway having been professional travelers and guests in hundreds of private flats and hotel rooms all over the world I believe we have gained the experience to know what makes a visitor in a big city happy. At least we hope. You`ll tell us......
AMENITIES
Private parking space.
"Built in" double bed (width 1.40m), sofa and cupboard.
Free Wi-Fi internet
Top quality air conditionig installed in 2015 (cooling/heating to desired temperature)
TV(LCD+MONITOR) + DVD
Fridge, cooker, microwave oven and kitchen utensils
Coffee maker, hairdryer, iron etc.
Washing machine
# all electrical and electronic equipment were bought new in Jun 2013
24h hot water independency
Linen and towels
Soap, shampoo, washing powder+softener etc as well as toilet and kitchen paper are provided
Filter coffee, herbal tea etc are also provided.
European and American films (DVDs) in the original language


LOCATION
A peaceful and absolutely safe area mostly inhabited by families who have lived there for many decades. The street where the flat stands is quiet, tree-lined and very well lit leading to the Tavros-E.Venizelou metro station (less than two minutes walk).
The flat is not really IN the historical centre (Acropolis 3km) but the nearby metro station is on the green line - just two stops to THISION (Acropolis monument), three stops to MONASTIRAKI, three stops to PHALIRON (from where in 10-15min by tram you reach the BEACHES) and five stops to the port of PIRAEUS.
In a radius of 300-400 meters there are various shops for your everyday needs including 5 supermarkets, 4 delicatessen shops with special products from all over Greece, pharmacies, bakeries, grocery and butcher shops and tavernas. Apart from that, Kallithea district is close enough (Kalithea metro station is 4-5 min walk) which is one of the biggest commercial districts of the city (unknown to most tourists) with a charming "old time" park (for the Athenian standards), a traditional closed fish-meat-vegetable market, a big crowded square with all the necessary cafés and bars and busy streets dense with shops selling clothes, electronic and household goods etc at low prices
---
---
---
HOUSE RULES
Showing respect to the guests arriving after you please don`t smoke inside the flat. Of course you can smoke in the courtyard.
Please do not use air-conditioner with doors/windows open.
Please turn off air-conditioner when you are not in the flat.
Showing respect to the neighbours please keep noise (and voice) down while you are in the yard during the time periods 3pm-5pm and 11.30pm-8.30am.
---
---
I could not recommend this place more to anyone wanting a fantastic stay in Athens. If we come to Athens again we will definitely stay here again. We loved the location, VERY SAFE and less than a 2 minute walk to Tavros metro station and 3-4 minute walk to Kallithea metro station and lots of local shops/bars/restaurants. This is not in the historical centre and we loved that. It's SO convenient to get to the historical centre by the very very cheap metro lines (only 2-4 stops max to the historical centre depending on exactly where you're going) but you can come home away from all the crazy tourist crowds and the tourist restaurants to an authentic Athens suburb where the best (and also cheaper) restaurants are. The apartment is absolutely fantastic, with everything you'll need for your stay (toiletteries all provided, as well as towels, hairdryer, washing machine/washing powder, etc and a nicely stocked fridge of feta cheese, tomatoes, olives, local sausage and Raki!!!) Selection of books and DVDs also. The private courtyard is fantastic and probably our favourite bit of the apartment. Check in and check out was extremely flexible and much much more convenient than a hotel! Itsa's husband Telis came to meet us at the metro station and walked us to the apartment. What a lovely host!! He told us everything we needed to know about Athens recommending some fantastic places! We stayed for just over a week and on one day Telis gave us a tour of the local area and market which was a great experience that certainly all visitors in Athens don't get. Telis was the epitome of Greek hospitality!
---
This is a lovely and comfortable place to stay with a charming courtyard. The neighborhood is residential, quiet, 2 minutes to the metro, and 3 minutes to shops. The apartment reminded me of small homes on Greek islands--lots of white and bright colors, stone, and very clean and comfortable. The hosts are helpful with tourist and practical questions and we appreciated all of this. We hope to return.
---
Thanks to Itza and Telis the best air b&b hosts in all greece. Thats a fact. They were very helpful on giving me instructions on how to get to the appartment. Telis met me at the metro station and offered advice on places to go. Like where to find the best food, pastries, markets. The flat was amazingly clean and stocked with pots and pans. Everything you could need for cooking olive oil, tomatoes, onion, feta cheese, olives etc etc and dont forget the holy water for special occasions. The place is on a secure and quiet area. You are 4 minutes walk from Tavros metro station. They even have maps and excellent tips on how to get around the city. Telis took me on a tour to the local market and showed me where the locals go. I want to thank itza and telis for their hospitality. I will highly recommend the place to family and friends
---
Itsa and Teli are some of the loveliest and most generous people I've ever had the privilege to meet. Itsa came to my aid when I had the misfortune of landing in Athens sans luggage. Accompanying Teli on his weekly trips to the market was one of my favorite parts of the entire trip. The apartment itself is just as beautiful as the pictures depict - just stop looking and go! You cannot afford to miss these splendid hosts and this most charming rental.
---
So happy with our stay at Grigoria's place! This was our first air b&b experience and it will be hard to top! The flat is located really close to the metro in a quiet residential neighborhood, it only took us about 5 minutes to get downtown. The flat itself is beautiful and so relaxing. After a day in the sun it was so nice to come back to a quiet place and relax in the courtyard. Grigoria's husband Pantelis met us at the metro and showed us around the flat, we also shared some "holy water" while he gave us some recommendations for things to see and do in Athens. We will definitely be returning to Athens and wouldn't stay anywhere else!
---
We arrived very late, about 1:30am, but Pantelis arranged to come meet us at the apartment and give an introduction. He was extremely pleasant and helpful; very communicative, offering advice on local spots for food, drinks, and markets. The apartment was well kept and stocked with everything we could need and more; we were provided with all the makings of a Greek salad, including some very good olive oil, as well as bread and pastries and liquor. He also gave us a local cell phone in case we needed to call him. The apartment is in a quiet suburban area just outside of Athens, located 2 blocks from a metro line that takes only 5 minutes to get to the center of the city. It was clean, charming, and cozy.
---
I love travelling and getting to know people of different cultures. Me and my husband are an easy-going but very responsible couple who will take extra care of you. Our love for travelling and our great reviews we have earned are a guarantee that we know your expectations and how to fulfill them.