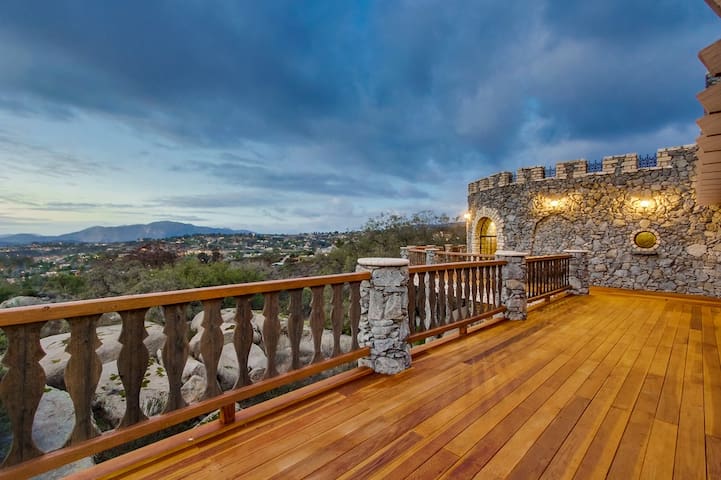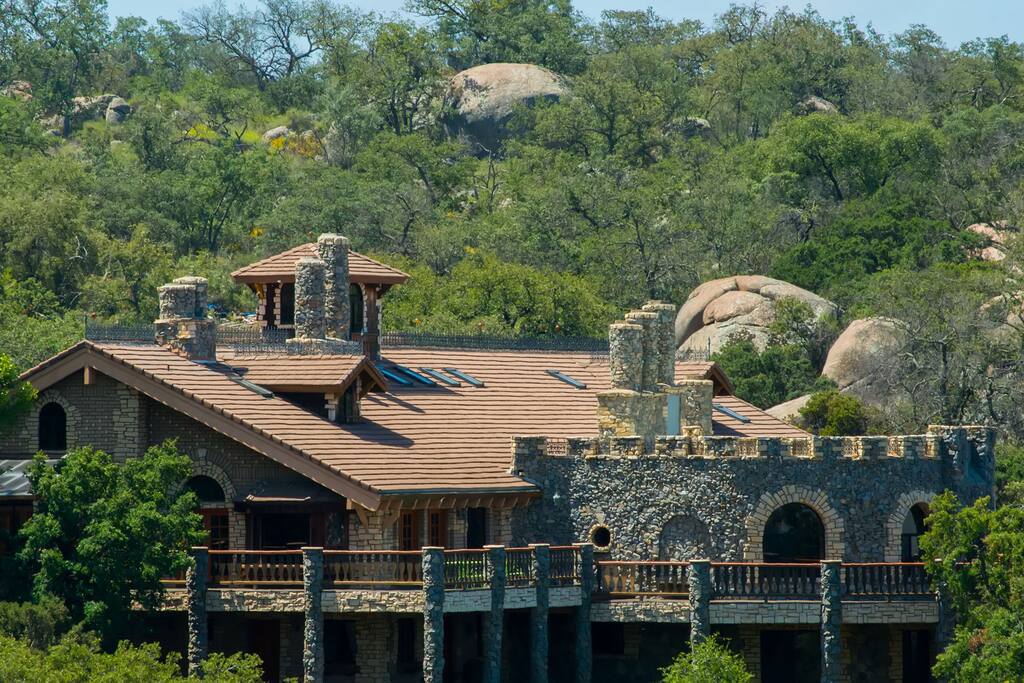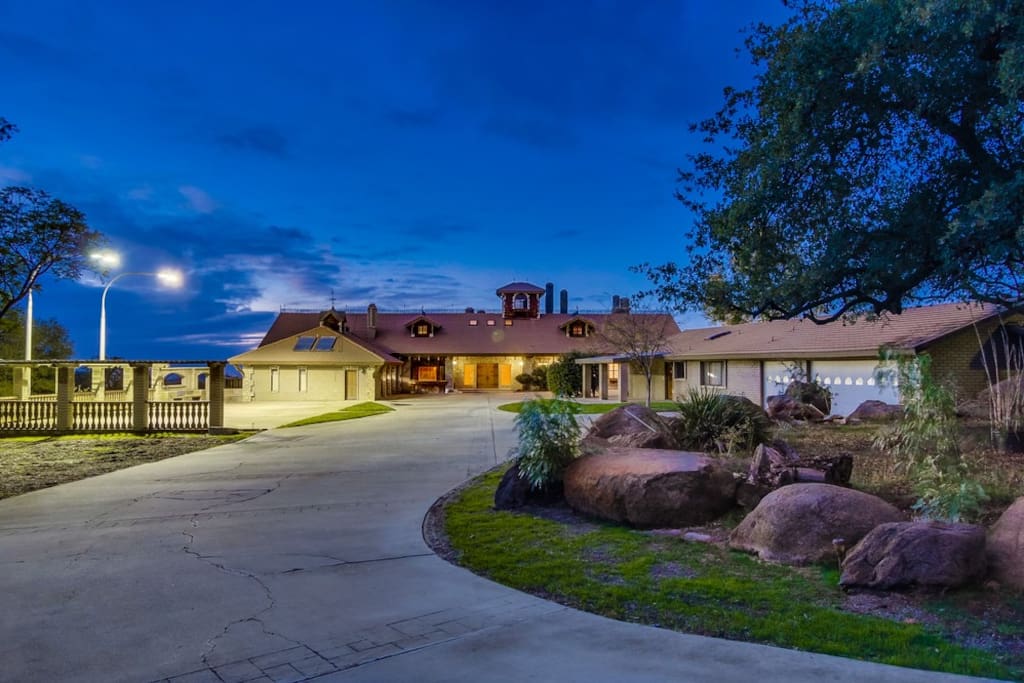 Alpine Castle: Entire Castle
欢迎来到高山城堡。圣地亚哥县最独特的物业之一。加利福尼亚州阿尔卑斯山的标志性住所距离圣地亚哥市中心约30-35分钟路程。 这个家庭坐落在一个安静的社区,拥有约17,000平方英尺的豪华生活空间。有一个4,200平方英尺的甲板放松和采取山区空气。在白天听许多鸟,晚上偶尔过山猫。楼上有4间私人卧室/套房和2间阁楼。
Welcome to the Alpine Castle. One of San Diego County's most unique properties. An iconic home in Alpine, CA only about 30-35 minutes from Downtown San Diego.
Nestled in a quiet neighborhood, this home boasts approximately 17,000 sq ft of luxurious living space. There is a 4,200 sq ft deck to relax and take in the mountain air. Listen to the numerous birds during the day and an occasional passing coyote in the night. There are 4 private bedrooms/suites & 2 loft spaces upstairs.
---
---
---
---
- Absolutely no smoking of any kind (marijuana, vaping, cigars, or cigarettes, etc)
- No Candles (flameless led type ok)
- No open flames
- Events must be approved prior to booking and additional fee will apply
- Additional Liability Insurance required for events where 16+ people staying at or visiting the property (cost is <$200 for entire stay)
- Quiet hours from 10pm to 8am
- Must be respectful of neighbors (noise, parking, traffic, etc)
- Number of guests is limited to the number staying the night (no extra day guests)
---
---
---
---
What a crazy, wonderful space! It was perfect for our big group. It worked out to even drive back and forth to Coronado Island daily. We had a few small gatherings during the week and it was perfect for all that we needed. If I rebuilt the castle, I would make the kitchen bigger - because that's where everyone seems to gather. If you're looking for a fun, memorable experience with your group - this is the place!
---
The "Castle" is about 40 minutes outside of SD in a non-interesting neighborhood. The house is remarkable. It's huge and interesting and fun. We had a corporate retreat with about 10 people, but the house could have easily accommodated 25. In fact, it felt kinda empty with just 10. Since there are multiple spaces for hanging out, we found ourselves moving from one room to another - from the dining room to the deck to the pool room to the cellar to the... - and having a great time along the way. There isn't much to do outside of the house (Alpine is a small, boring town), but the house entertained us for 3 days with no cabin fever. James is great to work with (they are close by if you need anything) and the house is in great shape. All that said, it's a very unusual house. It has some very odd features (like a jail cell and secret passages), but we were up for the adventure and ended up loving it. We will be back!
---
What can we say about James and Fernanda and their wonderful home! There were 13 of us on a business?Off-Site meeting from Los Angeles and the home fit all of comfortably!! We had a BLAST at their castle! The entire place from top to bottom was beautifully decorated and extremely comfortable. Their communication was top notch, the castle was well lit, smelled great, everything was clean and nice and neat, and the accommodations were exemplary!!! The house rules were posted so there weren't any surprises, and they were on top of responding in a good amount of time to any questions we had. This place was A+. THANK YOU SO MUCH JAMES AND FERNANDA FOR YOUR AMAZING HOSPITALITY!!!!
---
This house has many positives. James was highly responsive with email and text, the town of Alpine is adorable (don't miss a meal at Janet's!) and the property/home is very cool in a funky, unique way. The pool table and foosball table were great. Check in was easy and we were able to get into and off the property with ease. As a renter, you should know that the bedroom/bed layout is extremely unusual and you should be really clear if it's what you are looking for. For example, 8 of the beds are in a loft space that has bathroom access down a long flight of stairs and another 5 beds are in subterranean space that cannot be heated and do not provide privacy from each other due to having to walk through them. James told me he is updating the website to indicate this. I have spoken privately with James about our other issues, which he may be able to address/solve for future renters - perhaps ask about the heat (we had some big problems keeping the house warm) and the kitchen (at the time we rented, the kitchen lacked some basics such as functional pans, and enough bowls/mugs). James seemed really open to feedback and is really working improve the property which he and his wife purchased just 6 months ago. So just ask if you have any questions.
---
Ultimately, we rented out Alpine Castle to hold our wedding there, as the unique home is filled with many beautiful locations and features. It also served to house our relatively small number of guests for a few days of socializing (since many of our guests were from out of town and we typically don't see them all that often) before the ceremony. It was a much better bonding experience and probably resulted in fewer headaches than having everyone stay in random hotels would have! We found that the main entry way, which is spacious and filled with amazing wood and stone features, was the best location on the property to hold our wedding ceremony. But it's not the only place in the house that looks great. Pretty much every room is unique and spectacular in its own way. I particularly liked the wine cellar, which was cozy and ornate, with a feeling like a really nice, upscale man cave (it even has stone walls!). The only downside to that room was that its wifi reception was poor, probably due to all of the stone. Wifi was pretty good in most areas of the house, however. We had plenty of space, beds, linens, towels, and dishes for our guests throughout our stay. The property is pretty good for events as the secondary kitchen is mostly open, while providing lots of room/counter space for catered dishes. There's a pretty good amount of parking space, too. James and Fernanda, our hosts, stayed in a guest house nearby on the property during our stay. They didn't intrude or get in our way at all, and they were very responsive when asked questions and accommodating in helping us rearrange a few things for our wedding ceremony. Overall, we had a great experience staying at Alpine Castle, and so did our guests. Fernanda mentioned during my stay that she and James were working on upgrading some spaces, including a separate section of the basement that was partially unfinished and largely ignored during our stay (it's behind a door in some of the stone areas, so it won't be a bother to guests). I'm curious to see how it is developed if we can gather up our friends again and return sometime in the future. :)
Thanks again Trevor for staying with us and choosing our beautiful property for your special day. Your family and friends were great. We are so glad that you enjoyed the extra time with your family by staying a few days before your wedding since the castle is the perfect environment for spending quality time. We hope to see you in the future again since you mentioned making a tradition of visiting the Castle.
---
The Alpine Castle is a dream place with lot of character and great architecture. We rented the place from James and Fernanda for a wedding gathering of around 60 people. All my guests loved the place and it is located in an excellent location overlooking the mountains and the city. The place is mastered with stone walled bedrooms and an amazing deck overlooking the mountains. Everyone loved the place and thanked us for inviting them to the beautiful castle. The castle has a pond, multiple bedrooms, amazing deck which is almost a 360 degree view of the place and everything looks exactly and infact more than what is listed in the airbnb page. James and Fernanda are excellent hosts and we couldn't have asked for more as they provided us great support right before we booked the place. They gave us private tour of the place and answered many questions patiently even before we booked the place. That shows their generosity and the willingness to be good hosts. They let us decorate the place beautifully and guided us with their expertise. Overall, I would recommend anyone who wanted to have a great party or a wonderful holiday stay with friends and family, Alpine Castle will definitely make you cherish your stay. All thumbs up for the place and James and Fernanda :)
---
A professional from San Diego, CA... I love ocean swims, bike rides, hiking, camping, windsurfing, and of course surfing. I'll eat anything in front of me. When traveling, I like to get the local flavor and meet new people while I'm at it.