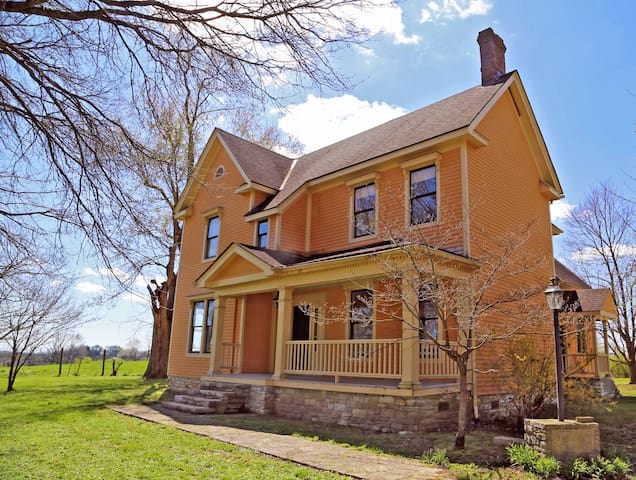 The Peach House: Kentucky's Vineyard Getaway
Create lasting memories in the beautiful Peach House. Classic and charming house perched on top of a hill overlooking grassy hills and the distant mountains. Located on Harkness Edwards Vineyards, visitors are welcome to try the local wine and talk to the vineyard's owners. Humble homes and farms are surrounding the area making for a peaceful and relaxing getaway from the bustling city. Centrally located between Winchester, Richmond and and Lexington. Ask us about hosting weddings and parties!
房源
Our space is an AirBnB meets wine tasting room. We are a quiet tasting room, which is the back room of The Peach House. We rent out the front of the home to our guests.
Travel through and enjoy sharing the tasting room experience with other traveling tasters and the Harkness Edwards family. Truly unique and a fun travel story to tell your friends and family you stayed in a tasting room!
与房客的互动
Guests are encouraged to try some wine and interact with the tasting room. There is plenty of wine and cheese to go around for everyone!
---
Our book club came out here for an overnight. Nini met us at the house, helped us bring in our bags and sat us down for a very fun wine tasting. She was very responsive and super accommodating and easy to work with. There are so many places to sit and chat in the house and outdoors. We had everything we needed. We brought food and wine and games. My only regret is not planning on a second night
---
The location is great. It was 15 minutes from Winchester. Set out in the country among horse farms and vineyards still had access to restaurants and stores as needed. It was quiet and peaceful. Mature trees with expansive shade for chairs out on the lawn. The rooms were large and the place was very comfortable. Everyone enjoyed the sound system. It has the quaint old home look with an upgraded interior and all the amenities you expect in a new home. We will be back again.
---
Perfect place to stay if you want out of the hustle and bustle of a large city. We enjoyed getting up and watching the sunrise with a nice cup of coffee. All guests enjoyed the large open kitchen and sitting area so that we could all talk and cook at the same time. We were in town for the opening weekend of Keeneland horse racing which was so much fun but leave plenty of travel time (about 30 minutes to larger areas) to get to your destination!
---