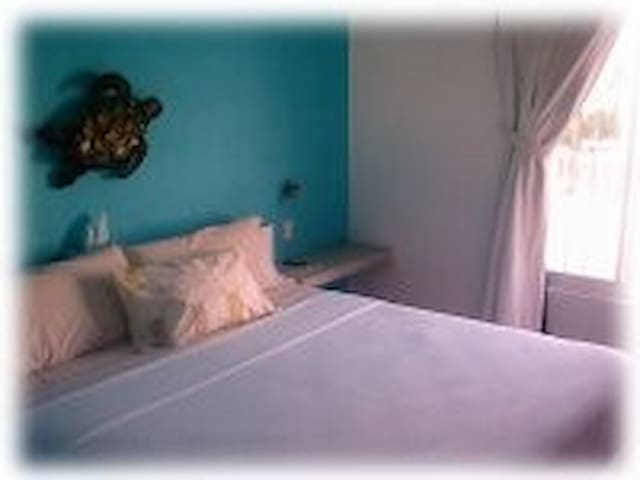 房源
The Coral Reef Inn, established in 2006, was designed and built by Americans to provide guests with affordable accommodations in a comfortable environment. Savvy travelers know that the key to a great vacation is having a place to call home... away from home. The Coral Reef Inn provides everything that you need to rest and relax between your adventures, so that you can get the most out of your vacation.

The rooms are cozy and have pillow top king or queen size beds, quality linens, quiet high-efficiency mini-split air-conditioners with remote controls, cable televisions, mini-fridges & high-speed Wi-Fi internet. Each room has a large bathroom with two-person showers and lots of water pressure and hot water. There are five rooms available, two located on the first floor, and 3 located on the second floor.

There is a shared kitchen and dining area located on the third floor. The kitchen is fully equipped with all the amenities of a modern kitchen, available all the time.

The dining area is an open area next to the kitchen that has an authentic thatched roof. It is a great place to take in the sunrises and sunsets, while enjoying the refreshing island breeze.

Patios and shaded areas are located through-out the Inn if you are looking for a place to just unwind.
The Coral Reef Inn is located 1 KM south of San Miguel plaza in an area of town known as Corpus Christi. The area is named after the neighborhood church. The church is a beautiful Catholic cathedral, the largest on the island, with a large park at its front doors where guests will often find native cultural events taking place.

Corpus Christi is also the location of the largest superstore and shopping plaza on the island, one of two movie theaters and the only bowling alley. There is often a fair or circus in town, located just across the street from the superstore.

The Inn is 4 blocks from the waterfront. World class diving, fishing, snorkeling, golf and white sandy beaches are just minutes away.
---
---
---
Sit back, relax and enjoy!
---
---
Jerry & Leona were wonderful hosts. They are kind and accommodating. The rooms are impeccably clean and the beds are super comfortable. The kitchen on the top floor is truly fully equipped to cook anything. Plus it is fun to cook on a roof top! The location is perfect; the neighborhood safe and friendly.
---
We are a couple of Canadians living the dream in Cozumel.