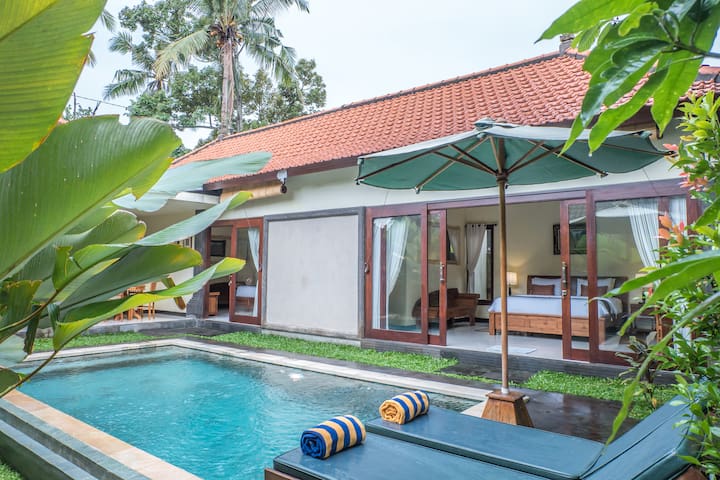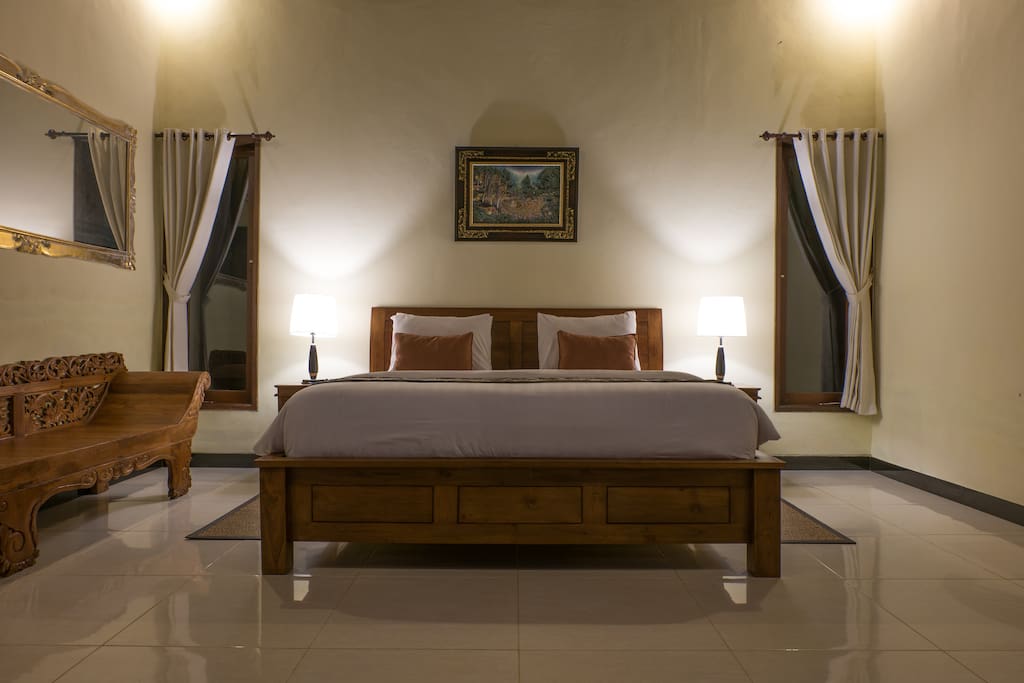 The2卧室Wonderful Happiness私人泳池别墅是在Penestanan Ubud的HOLIDAY的奇迹。结合现代舒适与巴厘岛传统装饰篝火巴厘岛氛围的交通力完全私人,位于容易和安全的访问棕榈美术感觉巴厘岛化合物的和谐传统。方便家庭,夫妻组。 EnjoyDelicious包含早餐。
The2 bedroom Wonderful Happiness Private Pool Villa is Wonder For HOLIDAY in Penestanan Ubud.Combining modern comfort with Balinese traditional decor insfire The TRANGUILITY of Balinese Ambience It's totally private, Located in easy&safe access Palm Fine Art Feel the Harmony tradition of Balinese Compound.Convenient for Family, Group ofFriend& Couple. EnjoyDelicious Breakfast included.
房源
Dana's Place Private Pool Villa one of the peacefull Private Villa in Ubud For HOLIDAY, and is located in Penestanan Kaja Village cloce to Ubud center it is beautiful environment and atmosphere makes it's the perfect place for Happiness Holiday. Offer a perfectly designed Deluxe Villa and deep sense of Tranguility.
*** PLEASE OBSERVE The VILLA RULE ***
The BENEFITS of Villa Price inclusive :
* Welcome young cold coconut drink/fresh juice of the day
* * * Min 5 nights stay free use 1scooter matic to use during the stay for our lovely Guest/ for 2Guest only. Noted will be available on price @785k/night.
* * * Reservation for 1-2guest accomodate with 1 Bedroom private pool villa, 2bedroom preferences add charge Rp.200.000/night pay when the guest stay, We're in Hospitality bussiness reguire operational cost.
* We invited our guest to stay with us, more convenient and flexible service
* Delicious breakfast & compliment drinking mineral water at the kicthent
* Daily maid/cleaning service
* Free High speed 20mbs fiber oftic Wifi entire Villa this is awesome
* Event pool party max 8 Guest
* Available parking space for car
* Daily amenities
* * Delivery service for Lunch & Dinner add service charge fo delivery @ below Rp40k.
* * Pool side Balinese Oil aromatherapy Massage Add charge @ Rp200k/Guest for 90 minute, all you will have to enjoy affordable
* * Additional Charge for Laoundry Service
* availabe baby bed for family with baby/toddler in the room upon request
* 24hours Safety for the private villa
* Available 24hours assistant for Information Tour Day trip Program, we have driver and guide to help you for your trip with add charge.
The property is Extreamely Beautiful in Balinese Ambience, luxury comfort private pool villa, grenery 3x6meter private pool garden, harmony of bird sound in the morning trought the day, large space open living room view to the Private Pool is stunning desind Villa & Affordable reasonable price for how beautifull it is, large doubleBedroom en-suite bathroom with comfort linen, high space wooden ceiling touch of Balinese architecture' we bet you will love your stay @ Dana's Place Penestanan Ubud.
We provide black bali coffee/tea and galloon mineral water in the kichent.
房客使用权限
客人非常容易第一下垂我们欢迎我们的客人解释传统的巴厘岛化合物到别墅,解释生活在别墅的简单,请感觉在自己的私人别墅它是非常舒适和私人的氛围。
The Guest acesss is very easy the 1st droopof we welcome our guest explain the traditional Balinese compound to the villa, explain the simplicity living in the villa, please feel be at your own private villa it's very comfortable and private ambience.
与房客的互动
在您入住期间,我们将欢迎您到达并为您的个人助理提供24小时服务, 我们服务的本质是谨慎,个性化,预期的注意力,在您入住前开始,并在您离开后延伸。品尝最廉价的假期 - 时间。 我们的专业服务"来自我们所有以前的客人的评论": - 永远可用,并帮助客人的需要 - 我们的家庭服务都很可爱,非常有帮助 - 客人非常感谢家中 - 快速反应预留和客人得到及时的回应,这是一个值得欢迎的惊喜。感到特别的是在那里。 - Erek很容易成为我们曾经拥有过的最好的空气净化器之一,他的位置正是我们想像的那样。 - 埃里克令人难以置信。他对我们住宿的一切非常细致。我们非常感谢房间很干净,新鲜。惊人。最好在我们的巴厘岛旅行。 - 别墅是可爱和干净,平静的一天,即使在一个复合的完全隐私。 - 伟大的服务,埃里克是非常好的和有益的。您可以体验巴厘岛的正宗氛围。 我们有激情成为我们的客座主持人
We will welcoming you upon you arrive and available for 24 hours for your personal assistant during your stay,
The essence of our Service is discreet, personalized, anticipatory attention that begins before your stay and extends after you leave. Savor the rarest of affordable holidays —Time.
Our dedicated service "reviews from all our previous guests" :
- always available and helped the guest need
- Our family service were all lovely and so helpful - guest felt very much at home
- The quick response reserv and the guest received a prompt response it was a welcome surprise. It felt special to be there.
- Erek is easily one of the best airbnb-hosts we ever had and his place was exactly as we imagined it to be.
- Eric was incredibly accommodating. He was very meticulous with everything about our stay. We appreciated it very much. the rooms are so clean and fresh. Amazing. Best on our Bali trip.
- The villa was lovely and clean, peaceful in the day and even though on a compound complete privacy.
- Great service, and mr. Erik was very nice and helpfull. You can experience an authentic Bali ambience.
We're passion to be our guest host & countinue,,,
其他注意事项
我们是巴厘岛的热情好客,欢迎世界各地的客人,我们喜欢分享我们的传统文化,欢迎我们的客人在我们家,我们在巴厘岛做很多酒店业,我们给所有客人提供合理的有竞争力的价格。 我们体验到了解客人的需求,我们热忱欢迎所有客人对我们的服务的任何建议"我们喜欢让我们的客人成为我们的家人"
We are Balinese hospitality, we welcome guest around the world, we love it to share our traditional culture, and welcome our guest at our home, we a lot doing hospitality industry in Bali, and we give the reasonable competitive price to all our guest.
We experience to understanding guest need, and we love to welcome any suggestion to our service from all our guest " we love make our guest be our family"
---
---
---
PLEASE CONCERN DEAR OUR GUEST
- Our rule is simplicity your holiday is our priceless so please enjoy your holiday
- Please prepare a copy identity page Passport for Ubud Police official report
- Reservation for 2guest accomodate with 1bedroom private villa, 2bedroom preferance add charge Rp.150.000/night pay when the guest stay.
- Latest check out time 1pm
In additional extra hours late check out
till - up to 6pm due to late night flight detail, extra surecharge 35%of price/night. Or leave the luggage with us until time to airport, while you explore Ubud & sorounding area.
- Update Benefit January @Rp865k base rate (Min 3 night stay Free use matic scooter for our guest )
Nb: No insurance/legal driving lisence/Responsible damage Fee, Be safe.
- A week 6nights stay extra super late check out for
our lovely guest in late night flight detail.
- 24hour check in, & 24 hour airport suttle service is available on request. Contact host in advance to make a confirmation.
- Airport suttle pick up service Rp. 350.000@Day Time. & Rp. 400.000@Up 22.00pm till Morning time.
- Airport suttle return service Rp. 300.000
- Our Rental for scooter we calculated 1 day not for 24hour,
- FREE large space Parking for Private Traveler Using Car, Please parking neatly
- Event pool party allowed only for max 8 Guest, 4Guest Real Stay, & Other 4 Guest will pay for Rp.100k/Guest/12hours/free 1 bottol of medium Bintang Beer
- The family run hospitality care and resfect the private privacy to our guests and rule of source noise from other guests in next villa will be reminder.
- Always turn off the aircondition when you leave
- no candle light is strick no allowed,
- smoking not allowed inside the room outside is open with ashtray
- always be quite in family house compound
- Resfectfull of ceremony accept invitation
- after finish charcging unplug. electric shock.
- Cleanlines & hygiene are esential of your living at holiday time
- The Listing Promotion is own Family Bussines Hospitality in different type service
- We love our guest enjoy their holiday with us.
---
---
---
We coordinated with Erek to pick us up without issue. Upon arrival Erek provided a nice fruit drink and explained all of the amenities. Never had any issues with the wifi, AC, or cleanliness of the place. Breakfast every morning was really good, easy to coordinate with Erek the night before, highly recommend the green pancake! We also were able to utilize the scooter during our stay which made getting around Ubud that much easier. Also had no issues with any of the tour companies that picked us up from the villa, the place is not hard to find. We used almost everything that Erek had to offer the week we were there, the pool, scooter, breakfast, coordinating driver/tour, laundry service, and even takeout. Would highly recommend the villa but I would stay at any property that Erek manages based on our time with him and his service for us.
---
My family and I had a fantastic stay at The Happiness Villa! It was a serene getaway for us. We enjoyed that the location was outside the center of Ubud, but still accessible by a short taxi ride. The private pool was wonderful. The only slight problem we had during our stay was the AC stopped working in the bedroom we were staying in. It was not much of a hindrance, however, because Erek simply put us in the other room with the AC working just fine. The included breakfast served our needs just fine. We picked our breakfast from a small, but adequate menu the night before and specified what time we would like it to be served. The pancakes were our favorite! Cafe Vespa is only a 5 minute walk away and has delicious food! Right next to Cafe Vespa is a taxi stand if you want to venture farther. Or if you'd prefer to stay in (we did!), many restaurants deliver right to the villa.
Thank you so much for your great reviews, and hope to welcome you and family on holiday & wiss have a great time and success for baby born and good luck and happiness, and we already fix the AC, and it's properly cold with properly operate the remote control, best regard@Dana's Place
---
Wonderful experience! Erek and his family had great advice for us while traveling around Ubud. Very clean accomadations. Delicious breakfast. Arranged transport for us when needed and helped arrange day trip and rafting trip. Felt very safe. Location is close to Ubud, but slightly outside of busy city area - provided scooter for us to use. Would definitely recommend this accommodation to anyone looking to stay in the Ubud area! If we come back to Indonesia, this will be the first place we check to stay!
Thank you Emily and Mitch for your wonderful stay, such a great guest we do a appordable price for every activity holiday to our guest and keep countinue to gave great experience holidays, and aswell a convenient on our guest need, have a great time and wiss all the best to you hope to see on your next holiday best regard @Dana's Place
---
Location was great if you like being away from the hustle of Ubud, but still want a nice walk (25 mins) or scooter ride (less than 10 mins) to the city. The local area of Penestanan is nice and safe--lots of great restaurants within easy walking distance(URL HIDDEN) Villa was well kept, pretty, comfortable, and quiet. Pool was also well maintained and water was cool. Breakfast was yummy. No bug issues, only a few ants here and there but harmless. Comfortable, large bed. Shower had great water pressure and lots of hot water. Air Conditioner is on a timer, so be sure to set it long enough for your whole sleep at night, or you will wake up hot. It doesn't take too long to cool off upon your return to the room, but do expect it to be warm immediately following your return to the room. Service (to include airport pickup, laundry pickup and delivery, responses via (SENSITIVE CONTENTS HIDDEN)) was wonderful. Only thing to consider when booking services with Erek is that the driver we had (Waylan, a family member) was very kind, but quiet and English was good but not good enough to be a guide. This meaning that if you book a driving service with Erek, do not expect a guide, only a driver. If you want more history, details, recommendations, and overall a more enriching experience during the drive to and between temples/parks/shows/shopping etc, you may want to consider booking with another driver. We had better experiences with drivers on two other day trips that we took and the prices were cheaper as well. It may benefit you to negotiate transportation prices. Thanks for a great trip, Erek!
Thank you so Much Mrs Jesse and family for your wonderful 5night stay in our Private Villa in Balinese art home compound, we'll give more train and experience to our staff for the driver (a family neigbour) to give a driver and guide for a daytrip and our roomboy attendant for more comunicate in the service during the welcoming, for our future service we'll provide a great driver with exellent explenation for a day trip tour, with appordable price, and have a great time hope to welcome you again on your future holiday
---
Had a great time. Very relaxing. Private little oasis. Erek was very friendly and helpful with anything we needed. The taxi ride was a higher cost than expected due to the late pick up.
Thank you Angelica we so glad to serve and welcoming you we Dana's Place family so happy to see you again on your next holiday, the personal taxi service we offer is private frindly, safe, care and personal service to the villa with wifi in car to enjoy while ride for 1,5hours to Ubud from airport, it such a great service we offer without hesitation,
---
We had the nicest stay here with Erek. He is the perfect host. The space is comfortable, the location is close to everything but far enough away from the town center to be quiet. Erek is very attentive and he made sure our time in Ubud was special.
---
This villa was amazing. We loved everything about it. It is located in a secluded area yet central and walkable distance to a few restaurants and bars that were great! The villa was spotless and cleaned daily. Erek was an amazing host. He would deliver breakfast and make coffee every morning then suggest itineraries for things to do. He facilitated everything from scooter rental to laundry. The pool was clean and well taken care of. I would definitely recommend this villa and come back in the future. We could not think of any areas needing improvement. It was excellent!!!
Thank you Mr Beatriz, for your wonderful holiday at Penestanan Kaja Ubud stay in Our Private Villa, we so glad to hosting you and make your holiday special as what I'm doing to treat our guest like a Disney, thank you for your recomendation and love our private villa, hope we meet in the future real soon thank you so much!
---
Om Swastyastu, Hi dear our guest
We're Dana's Place Family
I'm Erek the owner & host balinese hospitality in Palm Fine Art colection Painting of Abstract & Young artist style at Penestanan Kaja Ubud welknow of it Young Artist style heritage. And I love traveling around the world while working at Disney Company. We are brand new Villa, Dana's Place Penestanan Ubud Family Oriented Service and other property we promote to make experience happiness holiday made of the guest exeed & expectation during holiday stay at our place, consider busy service we're doing every holiday season.
Implemant the service base on 5 Star Hotel service standard & still touch of family service. We deliver the sincere warm genuine Hospitality Service standard to all of our guests.
Sincerely your,
Om Shanty Shanty Shanty Om