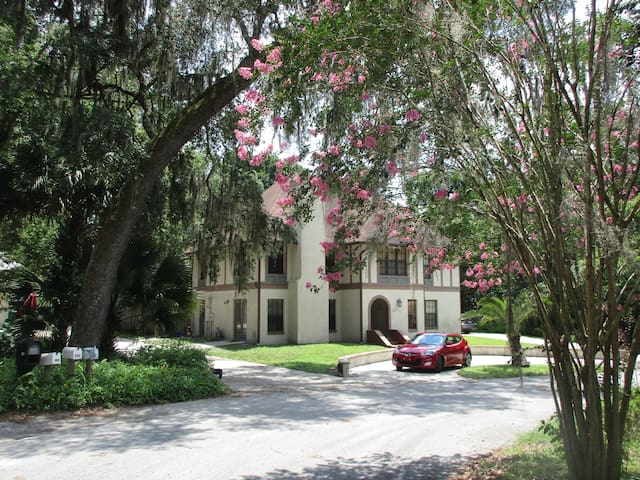 A warm and homey welcome to all of our guests. A beautiful, cozy home in nature, privately located on a quiet street is waiting for your visit. Our home is only 5 min. walk to downtown Deland, restaurants, parades, Stetson University, ice cream places, Knick knack gift/antique shops, night life, hospital and parks.
We offer a large variety for breakfast.
I organize day tours to adventures places. Free use of bicycles/canoe. We offer transportation. The beach is only 25 min. close to our home.
---
SIGHT SEEING_________________________________________
I am a host and therefor available a 100 % for our guests well-being. I do organize day tours to beautiful, exotic, relaxing, adventures and historical places.
In addition, we offer: Bicycle tours, canoe trips, hiking with wildlife observation.
We can give you information about different activities nearby like:
Sky diving, deep sea fishing, playing golf, Bike week, Daytona race 500, Disney/ Universal Studio/Sea-world, shopping malls, flea markets and activities for children.
The city Cassadaga, known for having a large number of psychics and mediums, and has consequently been named the "Psychic Capital of the World".
BREAKFAST_________________________________________
We offer a large variety of warm/cold food and drinks for breakfast (vegetarian/non vegetarian). Enjoy bagels, toast, croissants, cream cheese, cheese, bacon, hash brown, beans, eggs, grits, pancakes, waffles, fruits, cereals, yogurt, coffee, tea, milk, juice etc..
Breakfast is between 7 am. and 9.30 am.
Between 7.50-8.15 am, we might set out a buffet server, as I need to bring our son to school which is nearby.
WHO ARE OUR GUESTS/ FAMILIES_______________________________
Our guests of all ages, come from all over the world. Some guests stay 1-2 nights and others stay long term (3-6 month), like our travel nurses, teachers, writers, Stetson students etc..
Some guest come to us, to re-evaluate their lives after a divorce or a stressful job/life situation. Other guests, just love travelling, are in town for business, need special medical treatments etc ....
Our guests call our house " the United Nation home "
THE BEST THING IN OUR HOME, are our guests, which bring an immense diversity of life experience, language, culture etc.... Some guests have a degree and some don't. This combination of uniqueness, is what brings life and adventure to our Bed and Breakfast. It never gets boring. Stranger can become friends. You can interact with our guests or have your privacy, what ever works best with your personality :-).
We highly respect our guest's culture and traditions as they come from all over the world. Muslims, Hindus, Christians, Buddhists, Jewish people etc…. Everybody is welcome.
Here you are able to fully recharge your batteries...
I love people and I love to talk.