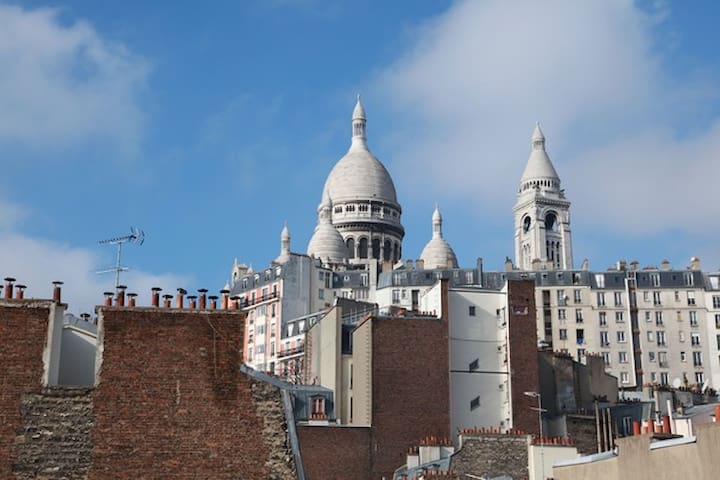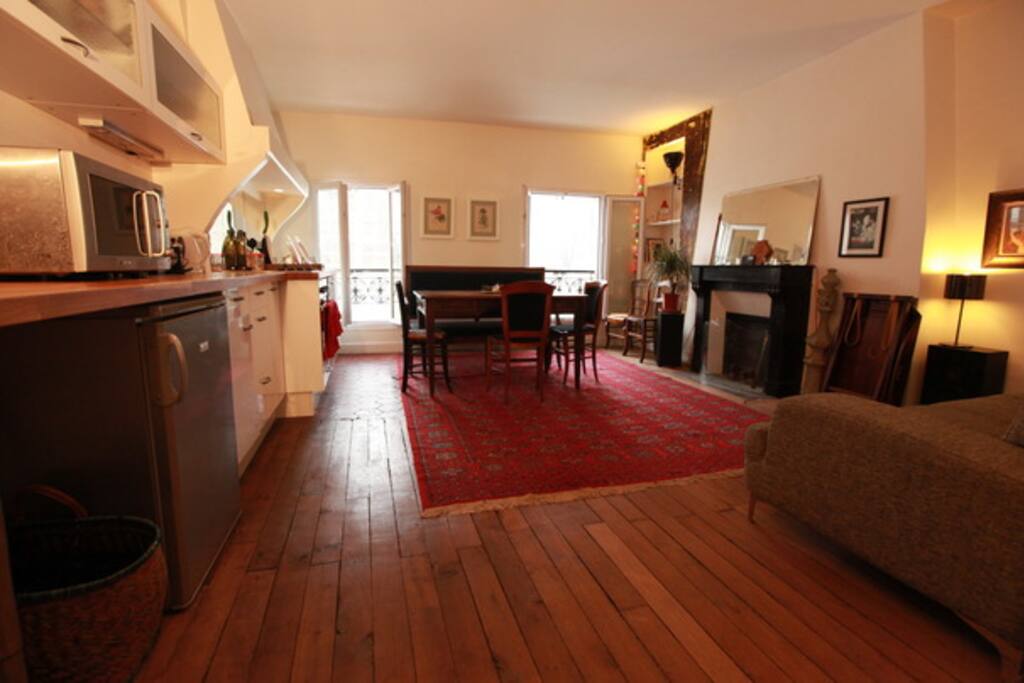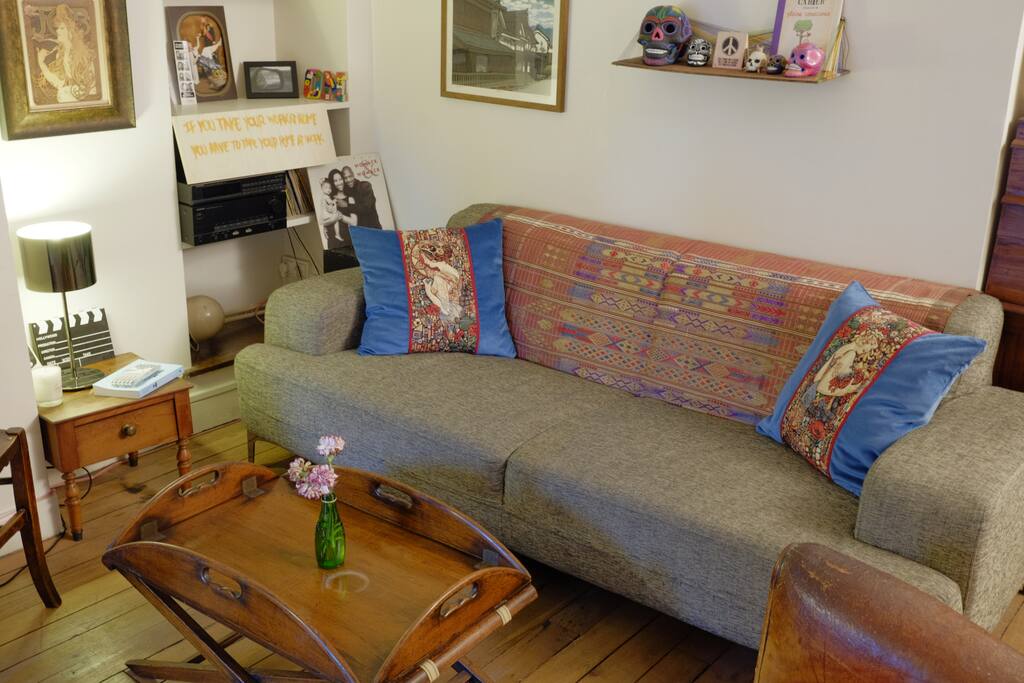 Feel Paris at the foot of the Sacré Coeur
一个完美的地方醒来,以圣心大教堂和正宗的巴黎烟囱。 距离蒙马特的主要购物街仅几分钟路程,靠近良好的餐馆,咖啡馆和交通工具。 一个舒适的公寓,感觉良好的精神。
A perfect place to wake up with a view to the Sacré Coeur and the authentic Parisian chimneys.
Few minutes to the main shopping street in Montmartre and close to good restaurants,cafes and transports.
A cozy apartment with a feel good spirit.
---
---
---
---
---
Dear guests,
Here are the few rules I hope you'll respect during your stay.
Please respect the neighbours after 22:00-08:00
Please collect your trash before departure and dispose them in the bins located in the wood structure in the building's entrance.
Thanks you for washing the dishes before departure.
Have a wonderful stay !
---
---
---
---
We mostly appreciated the character of the apartment. As soon as we arrived at Oddlaug's apartment we felt we "arrived home". Everything seam to be real. From the building, situated on the corner, offering 180 degrees views including to s Sacre Coeur, the living areas left so they are not like some facility for rent, but is a place lived in by real people. The neighborhood dotted with seriously cool boutiques and restaurants, supermarkets etc., added to the charm of Oddlaug's apartment. Thank you Oddlaug, my son and I both felt privileged to have been your guest.
---
Nice, airy apartment on the top floor in an interesting neighbourhood. Sandwiched between the heart of Montmatre and "Little Africa", the apartment is easily accessible by Metro and there is a lot to see nearby. The boulangerie across the street was closed for refurbishment (until 1st Sept), but there are many other very good ones within 5-10 mins walk. The apartment kitchen is well equipped and Oddlaugh (and Marta, who showed us around) was very welcoming. We ate out during the day and at the apartment in the evening as it was easiest with a child. The Carrefour around the corner was very handy (although it's not open on Sundays!). The apartment itself was very comfortable and decorated with many interesting things. We had a good stay and would definitely come back to the area again.
---
Oddlaug's flat is the perfect base to fan out and explore Paris from! Equipped with ALL the amenities, you are just a few minutes walk to several metro lines. After a full day exploring, Oddlaug's flat is the perfect place to put your feet up, listen to some good music, and relax. I give this flat my highest recommendation possible! You will NOT find a better flat at this price point in this location.
---
Oddlaug was very responsive via email, but I'm sorry to say that we did not have a great experience at her apartment. When we arrived, we immediately noticed the sound of jackhammers, and saw that there was a building going up directly across he street from the living room. To make matters worse, Oddlaug's building itself was undergoing renovations on the ground floor, which were extremely noisy as well. I emailed her immediately, as I knew the situation wouldn't work for us, and she didn't seem very willing to do anything about it, so we figured we'd stay the night and perhaps things would improve. They didn't. The apartment was extremely hot from being on the fifth floor with no air conditioning, forcing us to sleep with the windows open, and even after the construction finally stopped, we were treated to a ton of street noise--countless mopeds, trucks and motorcycles barreling down the street at all hours, not to mention loud, drunken groups of people strolling down the street and screaming at the top of their lungs... Just as we finally fell asleep at 4 AM, a bakery right across the way from the bedroom opened up and had a delivery, rolling pallets of flour across the cobblestones, which was loud beyond belief. At that point I just gave up and found another place to rent on Air bnb and we left a few hours later. After I alerted Air bnb to the issue, Oddlaug was kind enough to refund our payment for all but the first night, but I would caution those who are sensitive to noise--and heat--to look elsewhere.
Thank you for a very thorough message of your experiance at my home. But as I said in all of our message history, that I was highly sorry about your inconvenience and this kind of issue is something I did not know about and it was something I could not control or change. When you arrived to Paris there was a also rare heatwave. I have never had a complaint like this before or after your arrival. I was never not willing to help you, it was you that took the decision to stay on the first night and it is not in my power to cancel your stay or pay back, all of these issues are supposed to go through the team of Airbnb as I said in the beginning of your stay. I hope you found something that suited and you had a wonderful stay in Paris. Kind regards Oddlaug
---
The place is well equipped and has all you can ask for and its really artistic. I would definitely stay again. The only issue we had was : The apartment has so many steps and because the building has two sides it feels like 10 floors, and there is no elevator. Wifi is turned off after 1:00 AM till 9:00 AM The neighborhood is central but a little bit dangerous at night. And you should know which side to go if your walking because one side goes to good neighborhood and the other goes to homeless people areas. Make sure you arrange your check in and check out time with the host correctly because we we're suppose to leave at 5:00 AM but our flight changed to 4:00 PM and the host said she already rented the place to other people and made us leave at 7:00 AM, even though the check out time was 11 AM
---
I am from Reykjavik and I love travelling.
Lived in Italy for ten years and now for the moment I live half the time in Reykjavík and half in Paris.
I work as a guide in Iceland when I am at home, so do not hesitate to ask questions of what to do and where to go.
I try to travel as much as I can, as I like to see beautiful places and discover different cultures. I love art and design, and i spend a lot of my time making things.
语言:
English、Français、Italiano