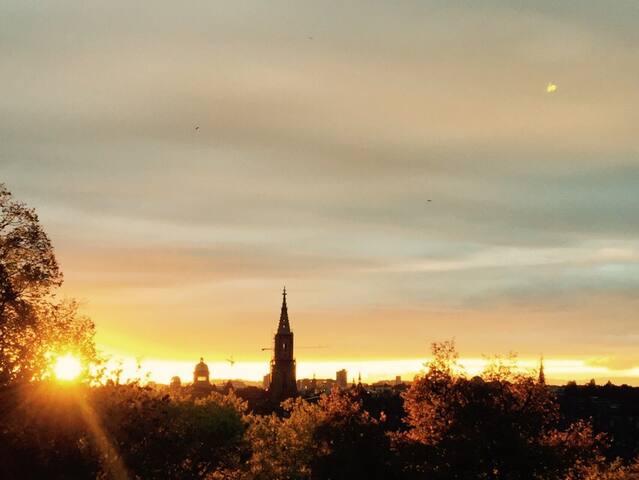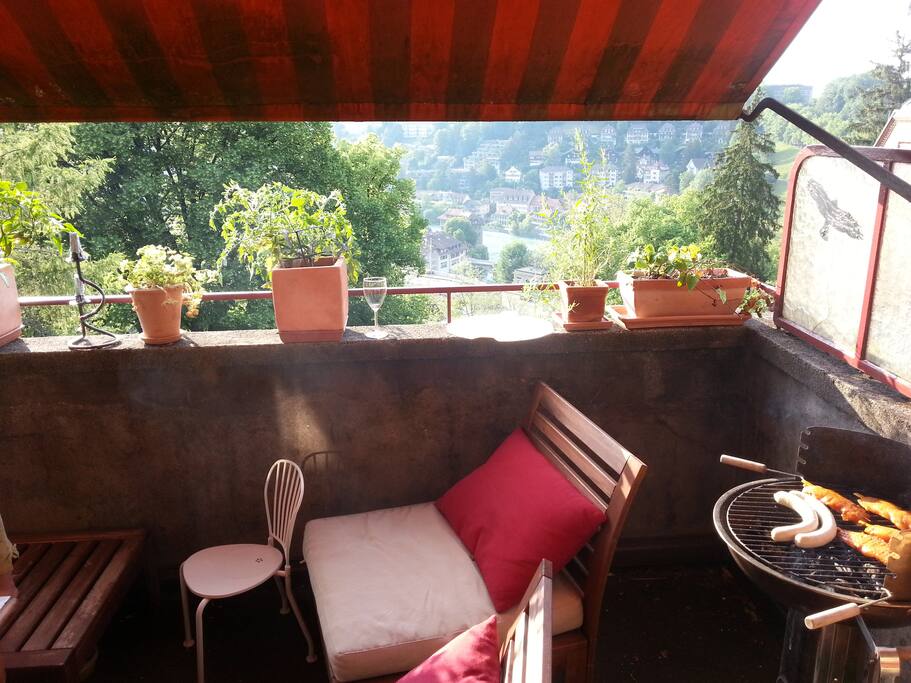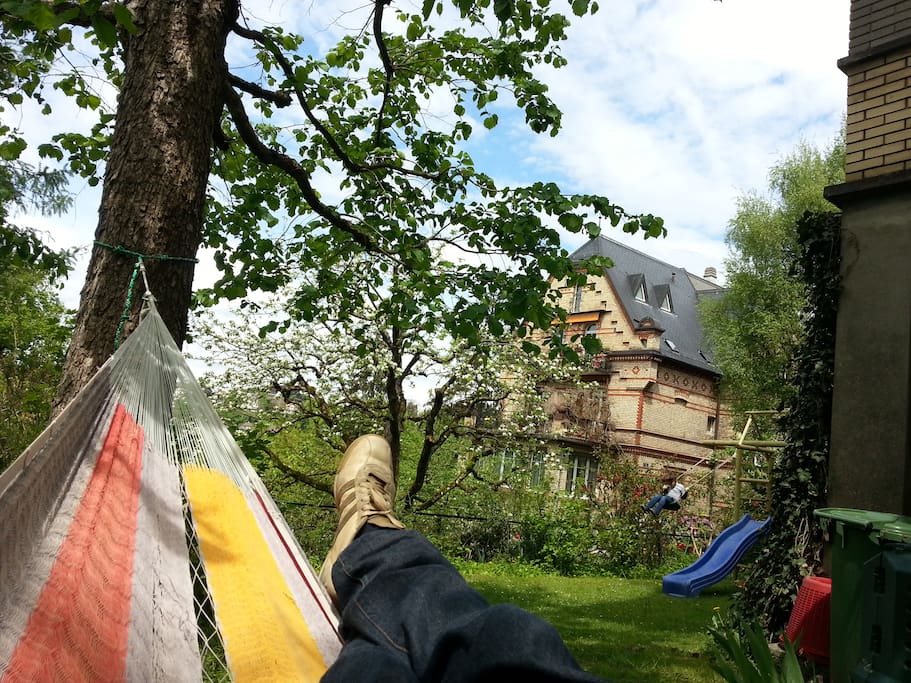 房源
Your choise for a relaxing city trip. Charming 4.5 Apartment (top floor) in the heart of town with a panoramic view over the old town. 5 Minutes walk and you are in the middle of the old town and a stone trough away from all the major highlight of the city, restaurants and bars.
Bedroom 1 with one king size bed, ideal for cupels. bedroom 2 with 2 normal beds. 2 additional beds in the living room = so up to 6 people possible sleeping cosy. fully equipped kitchen, dinning room, bathroom, separate toilet, washing facilities. nice balcony with barbecue facilities overviewing the city. lovely garden. cupels, families and group of friends are warmly welcome.
everything is in walking distance. There is also public transport just around the corner.

check the apartment on youtube (filmed during restoration 2012):
(URL HIDDEN)

discover Bern: (URL HIDDEN)

Bern, Top european destination - believing lonely planet:
(URL HIDDEN)
---
En entrant dans l'appartement autant mon fils de 16 mois que moi étions en extase! Lui a foncé sur la panoplie de jouet (il n'en a pas testé la moitié en 10 jours.. On a de quoi revenir!) et moi j'ai découvert un appartement cosi, pratique, bien chauffé et joliment décoré, idéal pour passer les fêtes en famille. Le voisins nous ont mis a l'aise tout de suite et les indications de Marcel furent très efficaces. Nous passons notre temps à voyager pour le travail et ce n'est pas évident de se sentir chez soi partout avec des lieux adapté à notre vie de famille. Ce fut réussi cette fois! Les petits plus qui ont contribué a notre excellent séjour: le jardin avec balançoire et les "cottes" comme a appris à dire Arthur pour nommer les poules! (Cocottes) Ainsi que le parc aux ours en bas de la rue, les moutons dans la plaine d'a côté, le magasin bio et la boulangerie au coin de la rue, des chats superbes et câlins aux perrons pour se sentir bien accueillis, un grand zoo/espace naturel/jeu pour enfants, gratuit à 5 minutes de là en voiture, le rosengarden avec un point de vue extraordinaire et un espace pour les enfants à 10 minutes à pied, et enfin le plein centre ville aux jolies arcades et boutiques pour flanner à 10 minutes également! Je recommande très très chaleureusement cet appartement! Merci Marcel et toute sa famille!
---
Marcel's place was amazing!! The apartment was very spacious, well equipped and family friendly. We were very impressed with the way Marcel and his family made their home so accomodating to us. He was also easily access able by email if we had any questions. And the view...was just spectacular. It over looks all of Berne, so beautiful. The location of the apartment was perfect for us. It is just a short walk into town or the bus stop is even closer and the bus runs every few minutes. We loved it so much that we tried to extend our stay but unfortunately it was already booked out. My family and I highly recommend Marcel's place for an exceptional stay in Bern. Thank you Marcel & family for letting us stay in you wonderful home. Nancy, David & Sophia
---
Wir haben den Aufenthalt in Marcels Wohnung sehr genossen! Waren zu dritt da, und dank des Zusatzbettes im Wohnzimmer hatten wir jeder einen eigenen Schlafraum, was sehr komfortabel war. Die Wohnung liegt sehr zentral mit einem atemberaubenden Blick auf Altstadt & Aare. Die "High-End-Espressomaschine" haben wir lieber nicht angerührt aus Angst, etwas kaputt zu machen ;) Für zukünftige Gäste, die auch nicht wissen, wie man so etwas bedient, haben wir einen Kaffeefilter gekauft ;) Alles in allem war es ein sehr schöner Aufenthalt, die Wohnung ist mit allem ausgestattet, was man so braucht, und wir fühlten uns sehr willkommen auch dank der vielen kleinen Hinweiszettel und einem netten Mailkontakt vorab & währenddessen. Vielen Dank an Marcel und seine Familie!
---
This apartment is a true jewel. It is the heart of Airbnb .. a private apartment with a lot of private soul :-). We really enjoyed a well working functional apartment, that was shaped for every day living .. and everything was just great working ... including a high end espresso machine :-). Since the weather was hot, we enjoyed the balcony for eating, relaxing, grilling ... great. The view over the river and old town was astonishing. All Marcels small notes around in the apartment, helped a lot on how everything worked - thanks. When we arrived, Marcel had left us a stack of maps, brochures and some small gifts :-), to welcome us .. we really felt welcome :-). If we had questions, he was VERY fast in responding, helping out whatever question foreigners could have in Bern :-). We could in no way have been better off other places in Bern.
---