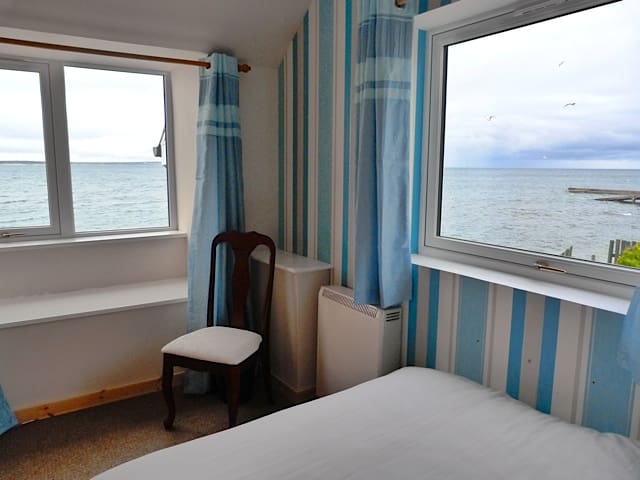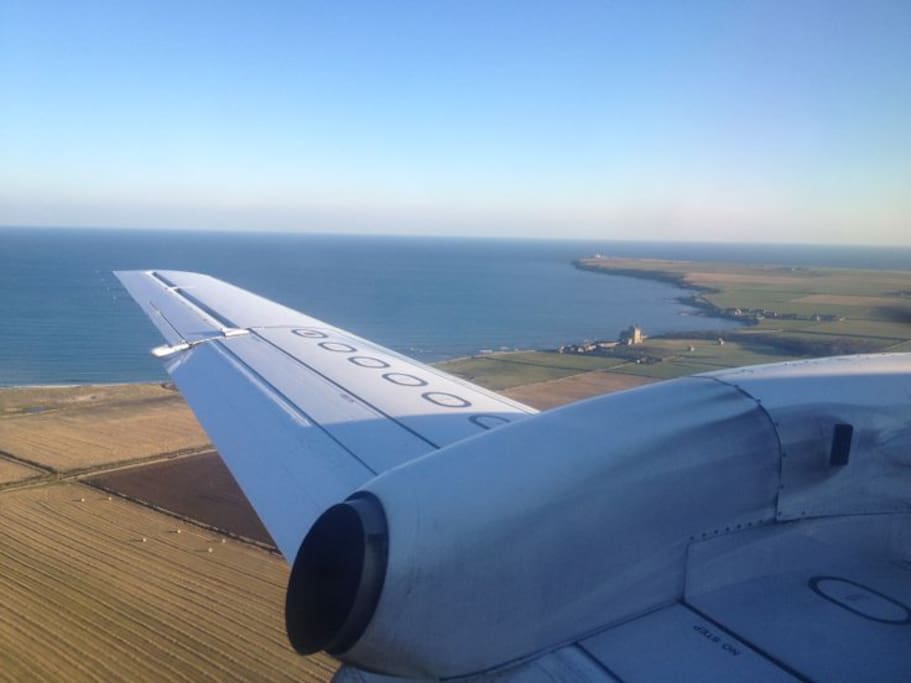 So close to the waves it's awesome
房源
The quite separate annexe to Sea Otter Cottage has now been gutted and totally rebuilt as a separate property.
Looking north towards Orkney and the Pentland Skerries lighthouse, this wonderful holiday location is a fully equipped, foreshore cottage with quite unforgettable sea views. As the tide comes in across the sheltered bay, you could be watching a living oil painting of the ocean surf. The kitchen and living room windows are so close to the high tide that it's hard to believe and the upstairs bedrooms have the same fabulous views across the bay as Sea Otter Cottage next door.
Orcas are regularly visible, seabirds and seals abound.
It might seem far north but it is still south of all of Norway and is well worth the two hour scenic seaside journey on the road up from Inverness. Don't miss the Store House restaurant (M-Sat 9-6, Sun 10-5) just 12 miles north of the Kessock bridge, or Dunrobin Castle near Golspie.
For those who enjoy eating out there are in Wick several excellent local hotels and even a well established gourmet French restaurant (greetings to Andre). McKays friendly hotel (give Rupert's personal greetings to Murray) holds the Guinness book record for the "Shortest street in the world"
Further afield in Scrabster (20 miles) both the Upper Deck and the distinctively ethical Captain's Galley ("Which" Best Fish Restaurant in the UK: 2008) are highly recommended - The Castle of Mey, the Gringoe castle ruin and the Sinclair clan museum are worth visits while the hinterland is a major bird sanctuary. Light aircraft can easily land at the airfield where the Spitfire which found the Tirpitz re-fueled on it's way take it's pictures back to London, and Wick also has a regular sea boat and harbour festival. Thurso has a world class surfing beach.
lf you love the sea and tranquillity this is the place for you to watch the ocean surf, to sit reading while listening to the waves, or to go for carefree and carfree walks along the shore. At high tide, with only the sea and the surf visible; you could even be at sea without the seasickness. Being east coast Scotland midges are virtually never a problem, yet paradoxically facing west, the view of the sun setting over "Ackergill Towers"restored castle (try googling it and compare the prices) with every wave of a high tide being tinged with pink has to be seen to be believed.
lf you in the light of all this beauty you still need the internet, there is free Wi-Fi.
Stop Press: Wi-Fi situation.
We have had Wi-F in both Sea Shore and Sea Otter Cottages for many years and until recently it has been working reasonably well.

Unfortunately we are now sorry to report that this BT service for which we continue to pay, has been getting steadily worse, presumably because more and more people in Ackergill are trying to use the Internet at the same time. We are promised that fast fibre optic cables "soon" but no definite dates so far. Hopefully you will find enough enjoyment of the location for this not to be too big a problem, and for some even an advantage.

If messages are essential good Wi-Fi access is available in Weatherspoons in the centre of town, or in the foyer of McKays or the Norseman hotels.
If needed, an ink-jet printer/photocopier/scanner can be rented at low cost.
Travel: Direct by air to Wick from Aberdeen or Edinburgh and hire a car from Richard's friendly local garage. Alternatively fly to Inverness (direct, low cost flights from Luton, Gatwick, Heathrow, Liverpool, Belfast, Birmingham, Bristol, Dublin, Leeds, Manchester or Newcastle), or else travel more sedately up to Wick by coach or on the comfortable scenic train.
房客使用权限
Rocky coast outside the window, short walk past Ackergill Tower castle to miles of sandy beach one way, easy then difficult walk along in the other direction to Castle Girnigoe Sinclair. Car-free and Carefree in both directions along the coast. Ideal for dog walkers
与房客的互动
Now retired but busy as ever designing and marketing a healthcare paper record to be owned by each individual. See (URL HIDDEN) for further details. Because of this unfortunately having to live near London, but when possible in the off season, I take a less than £100 return visit to Caithness using EasyJet for Luton-Inverness, and Scotrail for Inverness-Wick
---
---
---
---
No smoking indoors.
Pets welcome.

When you leave please: All Taps turned off, All Windows shut, Fridge emptied of Perishables, Fridge and Freezer Doors closed, Rubbish/Trash emptied into correct bins in yard
---
---
---
Lovely cottage. There are a few whiffs from the nearby septic tank or beach never quite sure which but it really wasn't too bad and was occasional. The cottage wasn't quite as remote as I had thought in the pictures as there are lots of residential properties behind it and Rupert also rents next-door as a separate cottage. However it was a real treat to be right on the beach, our children loved pottering down there at all times of the day and if you walk along a bit the beach is really very nice. The views from the bedroom windows were great, the cottage extremely comfortable and Rupert was very accommodating.
Continuing fight to try to get more reliable Wi-Fi - but reliable Wi-Fi is a major problem all over Northern Scotland. The good news is that BT Openreach are paying telephone engineers from as far away as Liverpool to stay and work for 10 days at a time all round the northern coast of Scotland right round from Thurso to Skye.
---
Rupert's cottage is in a lovely scenic location next to a calm bay. The village is quite peaceful and although it does not have any amenities, there are plenty of amenities close by in Wick and a Tesco superstore is a 5min drive away. The location is really great as a base to explore the north of Caithness and the view from the cottage (particularly upstairs from one of the bedrooms) is marvellous. Rupert offers a great deal of information about directions to the place and things to do and see after booking and is contactable in a multitude of ways. Great for a relaxing week away!
---
Location ! Fantastic views of the ever changing seascape- artists & photographers dream with the sunsets here . Watch seals while you are washing the pots! A nice beach walk towards the castle ruins & lighthouse to the right- and seals were gathering on a sand bank there too (you will hear them long before you see them) Beach outside slightly stinky due to waste water pipes but only noticeable while actually on the beach- can't detect a whiff indoors. Kniess beach is lovely- one with the ship steam boiler visible 5 mins in car away. You can also see dolphins, porpoises and whales if you are lucky. Great view of Ackergill Tower- v posh hotel nearby. 5 * deservedly given on strength of cottage being right on sea wall. Will definitely return.
---
Retired specialist in maternity care, gynaecology and medical ICT

Currently working flat out on the WISDAM Initiative
(With each Individual; Social Demographic And Medical)
The globally standardised Medical and Social welfare dataset and record system (always on paper ± electronic) a system which is totally complementary to thousands of incompatible government and commercial electronic systems, since the source data only exists as a unique record personally held by, owned by, checked by and updated by each one of us.
"Wisdam" for more information

Creator also of the Electronic Encyclopaedia of Perinatal Data
Try googling "Perinatal Data" or "Caesarean Proformas"

Daughters and grandchildren live in Vancouver and in New Zealand

Current Motto "Let's Build Bridges, NOT Walls.
语言:
English、Русский