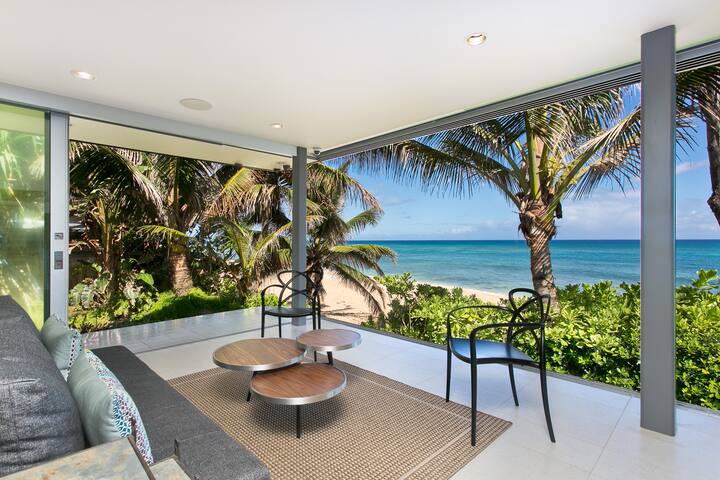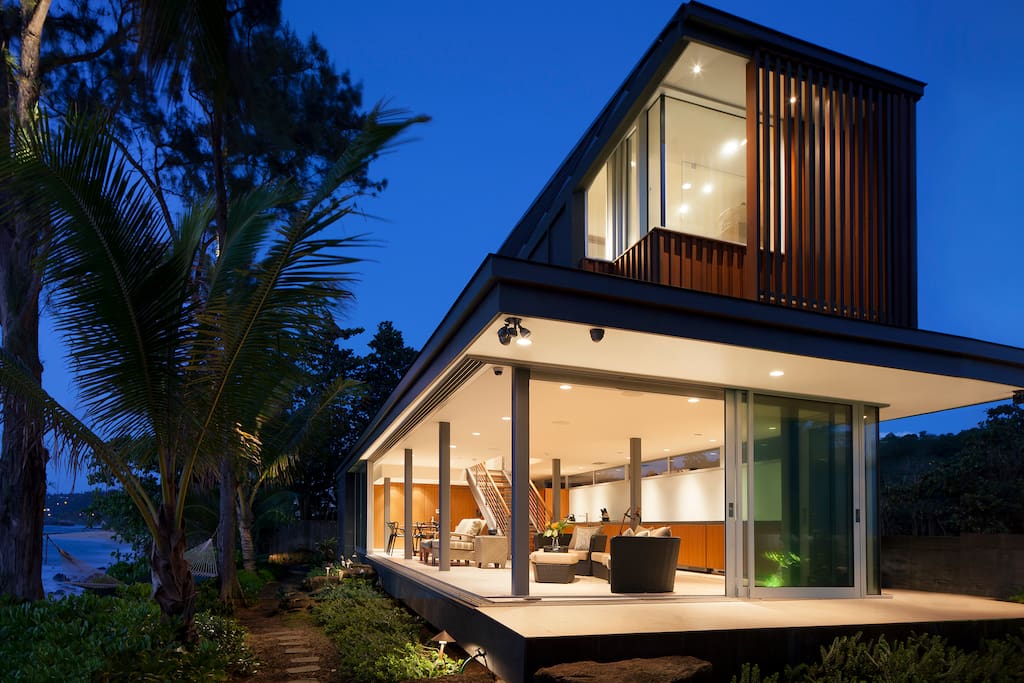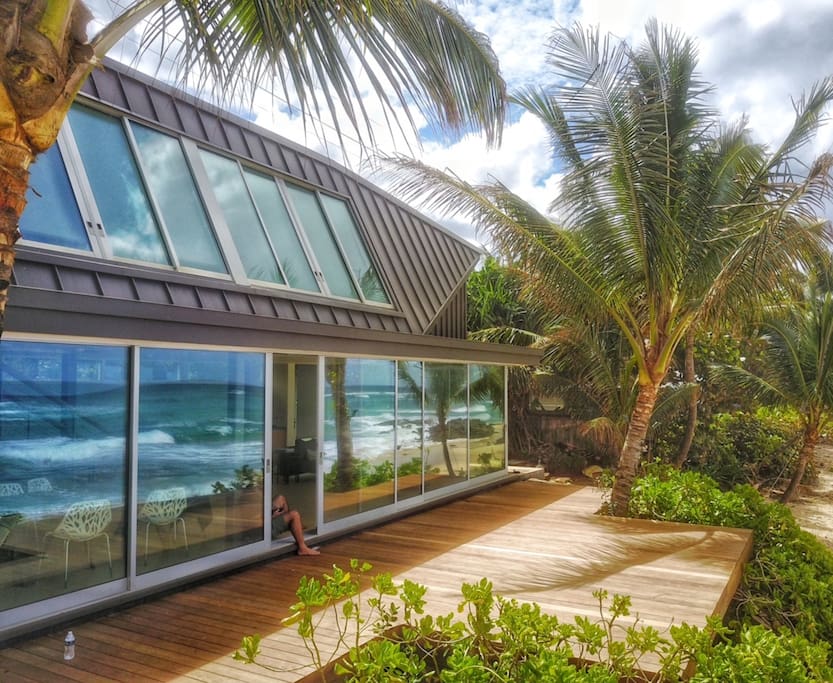 Hale Punanue Modern Beachfront, NORTH SHORE
NO HIDDEN FEES
Hale Punanue is easily the most luxurious 2 bedroom home in all of Hawai'i! This one-of-a-kind modern tropical beachfront home brings luxury to a whole new level. Interior indulgences include large sliding glass doors that transition seamlessly to beautiful white sand and open ocean views and slanted stargazing windows in both bedrooms that provide a nightly stellar show. Come stay with us and find out what true luxury looks, sounds and feels like!
房源
With unobstructed sandy shoreline views of pristine Kawailoa Beach on O'ahu's world-famous North Shore, this one-of-a-kind modern tropical home brings luxury to a whole new level. When privacy matters, this home will provide a quiet oasis. Interior indulgences include large sliding glass doors that transition seamlessly to beautiful white sand and open ocean views, custom architecture with a chefs kitchen, and slanted stargazing windows in both bedrooms that provide a nightly stellar show. Every aspect of this elegantly appointed beachfront home is designed to surround you with mother nature and exemplifies our island lifestyle.
A day at "Hale Punanue" is a day spent in true luxurious paradise. From the moment your eyes first open in the morning, you will be treated with the sights of the world-famous North Shore surf rolling in and the seasonal Humpback whales jumping in the distance, all from the comfort of your luxurious bed. Even the normally mundane task of brushing your teeth will be a treat in the stylish modern ocean view bathroom.
Head downstairs for a cup of freshly brewed Illy coffee and cook yourself a true breakfast of champions in the well appointed chef's kitchen. Open up the downstairs sliding glass doors and watch the living room and nature melt seamlessly into one. Your nose won't be able to decide what smells better - the scent of your edible masterpiece, the crisp ocean breeze or the sweet fragrance of the tropical flowers blooming outside.
Once your thirst and hunger have been quenched, take a few quick steps down the path to the pristine white sands of friendly Kawailoa Beach. With very limited public access, most days you will feel as though you're on your very own private beach. Feel the sand on your bare feet as you take a leisurely morning stroll and watch the lapping surf melt your footprints away. Take a quick dip in the calm, clear blue waters along the shoreline, protected by offshore reefs that create spectacular waves for surfers to paint their own unique lines on the shimmering blue canvases served up by mother nature.
Come stay with us and let the home and the location transfer you and your guests to paradise!
Transient Accommodations Tax ID#: TA-(PHONE NUMBER HIDDEN)% General Excise & Transient Accommodations taxes apply & will be added to all nightly rates.
North Shore, Haleiwa, luxury, luxurious, modern, architecture, architect, Kevin Miyamura, designer, style, stylish, custom, unique, beach, beachfront, oceanfront, ocean view, beach house, waterfront, sandy beach, sunsets, scuba diving, snorkeling, surfing, boogie boarding, stand-up paddling, kiteboarding, kayaking, hiking, vacation rental, vacation home, vacation villa, family gatherings, getaways, travel, adventure, leisure, private, privacy, oasis, tranquil
房客使用权限
You will have full access to the entire property, including the house, garage, yard & (of course) the amazing beach out front!
与房客的互动
We will provide all the necessary access codes & instructions for your stay 2 weeks prior to your arrival. Our greeter will meet you at the house at the beginning of your stay to give you a grand tour & answer any questions you may have about the home & surrounding area. There is a house manual to explain how everything works & we are available by phone, text or email to answer any additional questions you may have or help you with any situations that may arise during your rental.
其他注意事项
All vacation rental homes can be put up for sale by their owners at any time. We always try and sell the homes complete with their booking schedule and market them this way, but from time to time, some people buy a home and do not want to rent it. We give all our clients a 60 day guarantee that if the home is sold, all existing bookings that are up to 60 days out are guaranteed not to be cancelled. If your rental is sold and the booking is outside the 60 day guarantee window, will will inform you ASAP and you will be given other home options if available, or you will have all your monies refunded to you, less any airbnb charges which we do not control. We take no responsibility for cancellations due to the sale of a home. Please, we recommend to always buy travel insurance, which can save you from loss for a multitude or reasons other than just a cancellation. You can secure travel insurance from anyone you want, but here are a few options: (URL HIDDEN) (URL HIDDEN) (URL HIDDEN)
---
---
---
---
不适合儿童(2-12岁)入住,或不能为儿童提供安全的住宿环境
Keep noise levels down. No parties or events without permission from management in writing prior to booking. No loud music or noise before 9am or after 9pm. This is a quiet residential neighborhood, so please be respectful & quiet while enjoying the best of Hawai'i.
TERMS AND CONDITIONS
This agreement is made between the property owner, and above mentioned Guests.
-ALL INDIVIDUALS THAT WILL BE ON THE PROPERTY MUST BE REGISTERED ON THIS FORM. Guest certifies that only the individuals listed on the Registration will occupy the house. Any unregistered individuals will be considered unauthorized and additional fees of $100 per person per day may be charged. Guest may be subject to immediate cancellation and forfeiture of all rents received at the Agent's discretion.
-IF IT IS BROUGHT TO OUR ATTENTION THAT THERE ARE UNREGISTERED GUESTS AND/OR AN UNAPPROVED EVENT ON THE PREMISES AND/OR ANY VIOLATION OF OTHER TERMS AND CONDITIONS, AGENT RESERVES THE RIGHT TO ENTER THE PROPERTY TO REVIEW THE SITUATION AND IMPOSE FINES AND FEES, IF NECESSARY.
- Guest(s) agree to take the property as advertised on the website. Guests are responsible to learn about the area of the rental home. Owner is not responsible for relocating guests once possession of the rental is taken.
- Owner(s) reserve the right to cancel or rescind any rental agreement if it is found that the guests are conducting unlawful activities.
- There will be NO PARTIES, RECEPTIONS, FUNCTIONS, GATHERINGS OR OTHER EVENTS without the written consent of the owners. Guest(s) acknowledges that UNAUTHORIZED EVENTS WILL RESULT IN AN ADDITIONAL CHARGE OF A MINIMUM OF $1,500.00 PER OCCURRENCE.
- Guest(s) shall incur $100 charge for each instance of lost keys and/or garage door openers.
- Neighborhood Noise Restrictions- KEEP NOISE TO A MINIMUM AT ALL TIMES and in particular between 10pm and 8am. Please be extra courteous to your neighbors.
Remember: You are on vacation, but your neighbors live here and are going to work and/or school in the morning.
- Rates do not include daily maid service, gratuities, car rental, food, liquor, laundry, personal items or excessive cleaning upon departure (ie. upholstery or rug shampooing, etc.).
- No landlord-tenant relationship shall be created hereby.
- Guest(s) shall be liable for all acts of the family, invitees, guests present on the property. Should there be any, illegal action, arising from/relating to occupant(s) use of residence, Owner shall be entitled to recovery of all legal fees and costs.
- Owner(s) will not be liable under any circumstances, including substitutions, to refund any unused portion of booked accommodations or Services, except as noted in Cancellation Policy.
- Owner(s) will in no way be responsible or liable for personal property lost due to theft, flood, fire, unforeseen circumstances or natural disasters.
- Owner(s) or its agents may enter the property with a 1 hour notice to make necessary/requested repairs, show or inspect the property.
- Any misrepresentation about the nature or size of the group, use of the property or any other misrepresentation, or are in any way in breach Of any part of the rental agreement will result in fines or removal from property.
- Owner(s) reserve right to switch Guest(s) to another rental, based on availability, or offer refund (if house is not approved by the guest (s) due to an emergency, fire, sale, unforeseen Circumstance or natural disaster.
-ANY additional cleaning charges, damage, or theft of the property will be deducted from the security deposit and may, if necessary, be charged to occupants as an additional expense if the deposit or waiver is not sufficient.
- There will be NO LATE CHECK-OUTS without prior approval.
THERE WILL BE NO TRASH OR MIXED RECYCLABLES LEFT AT HOUSE UPON DEPARTURE. All trash & mixed recyclables must be bagged. Please bring all bagged trash & mixed recyclables down to the bins on the street DIRECTLY BELOW THE HOUSE (NOT AT THE BOTTOM OF THE DRIVEWAY). The grey colored bin is for regular trash. The blue colored bin is for mixed recyclables (cans, bottles, cardboard, paper, etc....). The green bin is for greenwaste only. You must roll the appropriate full bin out of the enclosure to the curb for pick-up by no later than 6am on the scheduled pick-up day (after 6pm the evening before is recommended) & then roll the empty bin back into the enclosure after pick-up. The refuse pick-up schedule will be emailed to you as an attachment with your welcome email 2 weeks prior to your check-in date. Please visit the City & County of Honolulu refuse website at (URL HIDDEN) for more information. Failure to remove all trash from the house before your departure will result in appropriate deductions from your security deposit, or additional charges if the amount exceeds security deposit waiver coverage.

- There will be NO PETS in the home or on the property at any time without written permission of the owner.
- There will be NO SMOKING in the home. If you smoke outside, please put the FULLY EXTINGUISHED cigarette butts in the garbage can.
- There will be NO CATERING OR OUTSIDE MUSIC PERMITTED without the prior written consent of the owners.
- There will be NO FIRES on the property at anytime due to extreme threat of forest fires.
- There will be NO SUBLETTING or ASSIGNING to other parties.
- THE ENTIRE DEPOSIT SHALL BE FORFEITED IF GUEST(S) VIOLATE ANY OF THESE TERMS AND WILL BE LIABLE FOR ADDITIONAL DAMAGES IF THE AMOUNT EXCEEDS THE SECURITY DEPOSIT OR SECURITY DEPOSIT WAIVER FEE COVERAGE AMOUNT.
- SOME HOMES MIGHT BE AVAILABLE FOR SALE AND MIGHT REQUIRE A REALTOR TO SHOW THE HOUSE. IF THIS HAPPENS, YOU MUST ALLOW A SHOWING OR ACCEPT THE NOTICE OF SHOWING. SHOWINGS ARE RARE AND ADVANCE NOTICE WILL BE GIVEN WHENEVER POSSIBLE.
- All Guests are responsible for adhering to the preceding Terms and Conditions.

OCEAN AND POOL DISCLOSURES
Agent hereby discloses that the ocean near the Island of O'ahu constantly changes with the tide, moon phase, time of year, weather conditions and other factors that are beyond any person's control. Agent cannot guarantee that there will be a certain amount of sandy area, nor can Agent guarantee the beach and water conditions during Guest's stay. Guest is hereby advised that the ocean and reefs are inherently dangerous, that Hawaiian waves and currents are much stronger than those existing in other areas and that extreme caution must be exercised by anyone who chooses to participate in any ocean activities. This property has a pool and no life guard, so you must swim at your own risk & supervise children in the pool at all times.
CANCELLATION POLICY/INSURANCE POLICY/SECURITY DEPOSIT
For Guest(s) own protection, it is strongly recommended that Guest purchase travel insurance. Travel insurance is available, and is the sole responsibility of the Guest(s) to secure. There are several companies that provide travel insurance, you should do your own homework, but here are a few that we have no association with: (URL HIDDEN) (URL HIDDEN) (URL HIDDEN)
-Any owner or guest (s) cancellation must be in writing and an e-mail with confirmation will meet our requirements. If the cancellation is at the owners request a full refund will be made to the guests.
-Should a Guest (s) cancellation occur, and the property is not rebooked, and all monies due have been received, all monies are non-refundable except for the security deposit and the cleaning fee.
-Should a Guest(s) cancellation occur and all amounts due have not been received, and the property is not rebooked, all monies are non-refundable.
-No refunds will be made for late check-ins, early check-outs or no-shows.
ADDITIONAL INFORMATION
1. We recommend renting a car / No Honking / Drive Slow and be quiet at all times. Please do not honk your horn at anytime or spin your tires when leaving the driveway or property. Also as a courtesy, please drive slowly in/out and around the surrounding streets.
2. SAND & DIRT - Please make sure all guests wash or wipe the sand & dirt off their feet every time before entering the house.
3. HOSES - Please make sure all hoses are turned off completely when you are finished using them and report any leaks.
4. BEACH & SAND - When going to the beach, please use the beach towels provided. Do not use bath towels for the beach. When returning from the beach, please rinse bodies and feet using the outdoor hose. Please make sure to shake the sand out of the beach towels and beach mats before coming inside.
5. WET SWIMWEAR - Please do not lounge in wet swimwear inside the house.

RELEASE OF LIABILITY AND INDEMNIFICATION AGREEMENT
In consideration for the right to occupy the vacation rental, the current occupants acknowledge and agree as follows:
1. Guest(s) agree to inform any and all people who will be on the property at the request of guest(s) or by invitation of the guest (s), of the terms and conditions, and to monitor compliance with terms and conditions.
2. Guest (s) agrees to hold owner(s) and agent(s) free and clear of any liability for damage to self or property, resulting from accident, injury, loss of enjoyment resulting from events beyond the owner and agents control (e.g., The weather).
3. Guest(s) acknowledges that the release and indemnity provisions in paragraph 2 apply to all claims for injury or damage resulting from any cause, including the negligence of any party released herein. I further acknowledge that this agreement shall be binding on all family members, guests, including minors, guardians, heirs and any executor or personal representative or beneficiary.
4. Guest(s) agrees that this Agreement should be enforced to the full extent permitted by law. If any section or part of this Agreement is held not to be enforceable under the applicable law, the remainder of the Agreement shall be enforced. The release and indemnification provisions of this Agreement do not apply to reckless or intentional acts. Unless such provisions are permitted by the applicable law.
5. This Agreement is subject to the laws of the state of Hawai'i. Any disputes are subject to be settled by binding arbitration in Honolulu, Hawai'i according to the rules of the American Arbitration Association. The prevailing party in any arbitration or litigation shall be entitled to recover reasonable attorneys' fees.
6. I state that I am 18 years of age or older and legally competent to sign this Release of Liability and Indemnification Agreement. I understand that these terms are contractual and not a mere recital. I have signed this document of my own free act.
7. Guest(s) agree to hold owner and agent free and clear of any liability for damage to self or property, resulting from accident, injury, loss of enjoyment resulting from the weather or inoperable appliances or equipment (including hot tub, barbeque, etc)
8. I HAVE FULLY INFORMED MYSELF OF THE CONTENTS OF THIS RELEASE AND INDEMNITY BY READING IT
This agreement is made between the property owner, and above mentioned Guests.
---
---
---
Perfect. We stayed here with our group of 5 (2 adults / 3 kids) for 11 days and everything was amazing. Fully stoked with anything and everything you could need and while the home isn't large, it was spacious and beautiful. The home is gorgeous, the view is awesome and the communication with Craig was fantastic! I highly recommend staying here - great location to feel like you're away from it all, yet so easily accessible to Oahu's beautiful treasures... although you may never want to leave this spot. Honolulu is about an hour away, but there are so many gems nearby. We swim, snorkeled and even saw beautiful sea turtles on the sand. Yes, just like the picture. We strongly recommend snorkeling over at Shark's Cove, just a short 10 minute drive away. Best on the island that we had experienced!
We love nothing more than to hear that our guests enjoyed their accommodations during their stay, so we're thrilled to hear you enjoyed your time at Hale Punanue as much as you did. You & your family were truly a pleasure to host! From your very first inquiry all the way through to check-out, it was nothing but smooth & easy. Thank you so much for choosing our home for your vacation & for taking such great care of our home during your stay. You are welcome back any time & we'd love to offer you a return renter discount if you do come back & stay with us again. Take care & thanks again for being such an AWESOME guest!
---
Live, love, & laugh daily. Get in the ocean, the salt water will cure your daily blues. I love Hawai'i & enjoy sharing these wonderful islands with everyone. Come and visit one of our wonderful properties!
语言:
English