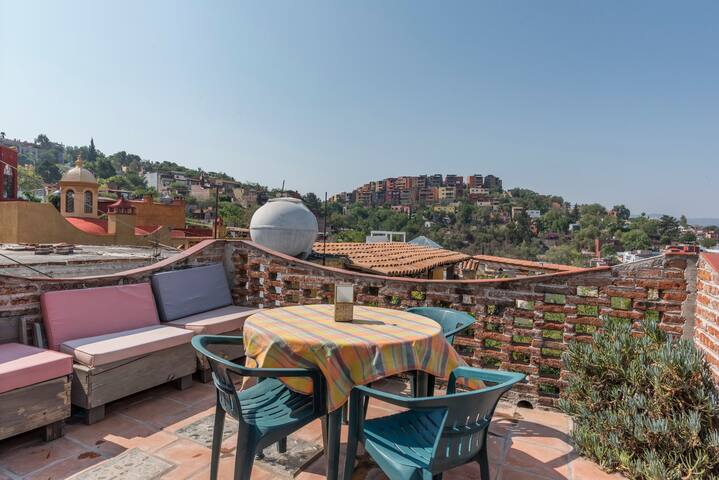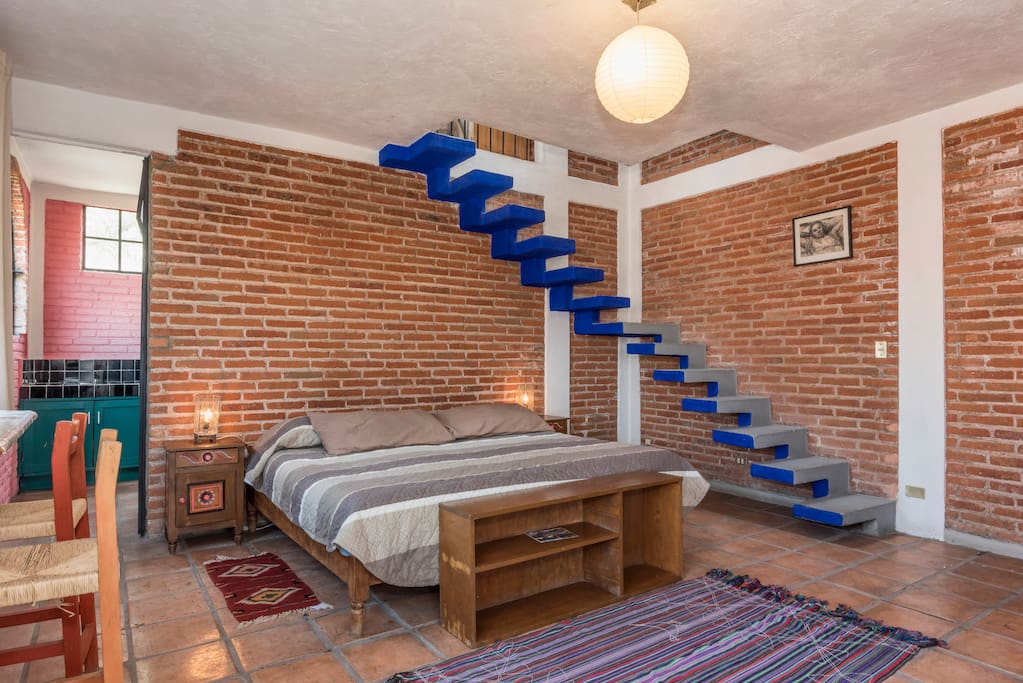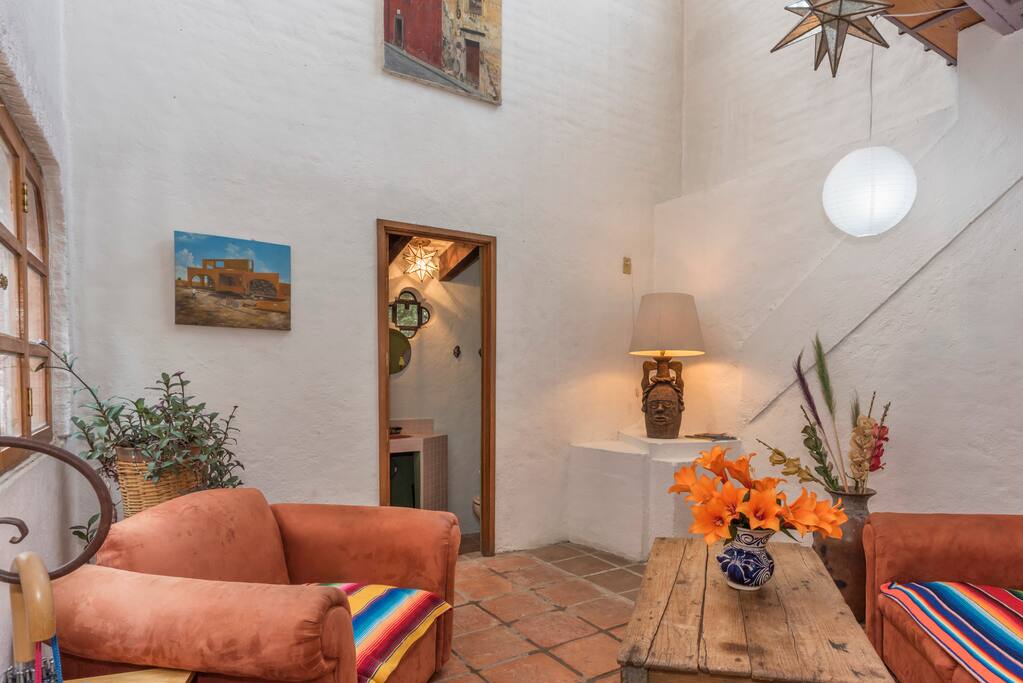 房源
This lovely house is a great opportunity to be near of the Centro. It is very secluded and private and has the most wonderful views over the city and the surrounding countryside. The rooms are full of light and has a lot of vertical space. It is a great place to live in, although it is not big, it is very open plan and the terrace is a real knockout at sunset. It is a three minute walk from the covered market ( a great place for breakfast or lunch) and only another five minutes to the cathedral.
Furnished
It has one very big bedroom and on the second floor a 2nd bid space that could be used as a bedroom because it has to individual beds and/ or a huge studio with its own shower bathroom.
The house is very secure
The living room and dining area are on the ground floor connected to a good-sized kitchen and a guest bathroom
Two bedrooms
2 bath rooms and a guest bath room
Washing machine.
Cleaning service one a week included.
---
The host was nice and communicative! The house is 3 floors and thus feels spacious. None of the floors are private from each other. They are attached by two sets of stairs but- neither which has a proper hand rail and thus may not be suitable for elders, pets, children, etc. It's a bit run down with duct tape holding windows together, tiles missing in places, refrigerator freezer door broken, decor/furniture/linens stained and ratty but most things work well enough. The first floor with kitchen/living room is off a patio which is nice to have with pets. However, the patio has two basins full of murky water that likely were the sources of mosquito infestations in the house and patio. We went thru two bottles of repellent and were often bothered by mosquitos while on the first floor. In addition the patio smelled like cat urine as there are numerous cats, one who got trapped in the house. The main issue is the street - it definitely complicated our stay. It's a one way busy street uphill blocks from the center. It is difficult to walk because the street's sidewalks are very narrow, with constant obstructions that push you onto to the street that is in poor condition - definitely worse than most streets in SMA. The street's houses are also more shaby with an abandoned house next door and a house across with 3 barking roof top dogs. The good news is that up two blocks is a very nice area with real sidewalks. If you walk even further uphill you are at the botanical gardens and Landetta, an open space, but this is a strenuous walk uphill.
Thank you for your words. I think I was always available for you and if you would have sad something about the water I would have helpt you out! The fotos of the house show that the construction is very open as you are saying. But I will see to express my self better in the words ... I'm sorry you didnt want to have the cleaning lady over to clean and take the trash or your dogs po out of the house. All over town the streets are quiet narrow and side walks to. Next time I can suggest you a "better zone" in town were you dont have that many mexican neighbors .... saludos.
---
The house was very roomy and comfortable. Beautiful sights from both bedrooms. The top bedroom had a patio which we took advantage of at night to look out over the city. What a beautiful sight. Cool breezes. A glass of wine. Perfect. Very close to the center. No more than 5 mins. Going back up the hill takes a little longer. Take yor time and you will be fine! There are two little stores a few steps away from the front door that are close by if snacks or drinks or other items are wanted. Very convenient. Yes, this was a good place to be. Thank You!
---
Great place for our family of 4 and our pup. Close to it all, but house it tucked away and private. House is open so we could spread out, but still feel close. House is vérticle - fine for us, but would be a challenge for elderly, walking issues and toddlers. Loved everything about our stay!
---
First off Erendira was a charming, totally hands on host who was just as helpful as she would be. The place was intriguing the architecture was very special with large sunny open spaces. It had basically three levels, downstairs living/cooking area with a lovely garden patio. 2nd floor was bedroom with its own bathroom. Top floor is a separate bedroom whose private roof top patio had a can't be beat view. I would offer this caveat, although its rooms are separate there is little real privacy as sound gravels very easily and if you are older and not into steps this is not for you. The amenities were wonderful like a real home and not minimal as is so often the case with ABB homes. It is near to the centro but like almost every place in Mexico requires a fair amount of walkin on stone streets. We would recommend this place to anyone with a feel for design as well as comfort
---
I´m mexican/german, lived the 10 years in Germany.
Now 5 years in Mexico again! :-) and 4 years working as a host in Casa Eréndira..... time flyyyyyyysssssssssssss
I have two great kids.
I´m : happy, helpful, dinamic, energetic...
I love my Casa Erendira and all the other places we are offering you.
That´s why we try to make your stay a lovley time.
We are very happy to welcome you.
ERENDIRA GORDILLO

语言:
Deutsch、English、Español、Français