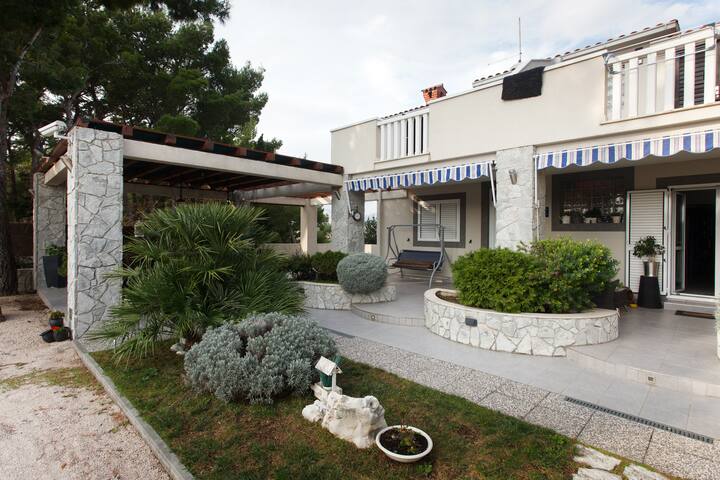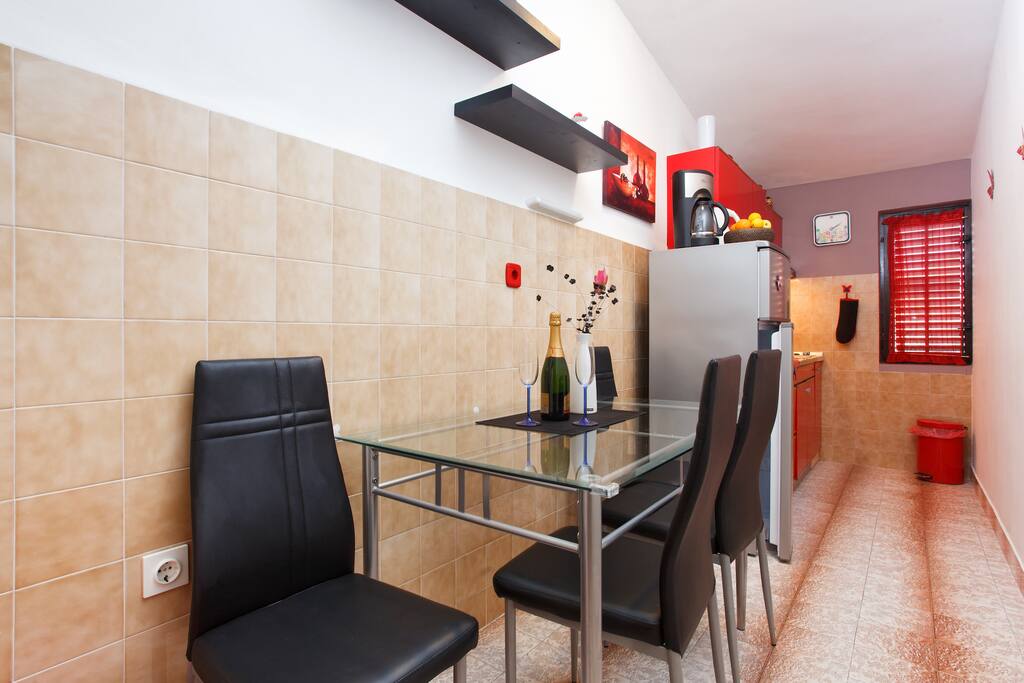 Our big and rilaxing apartment is in family house
in Podstrana and it is ideal for family vocation.
It has big terace with sea view and it is only 2min from the beach.
房源
Apartment are situated in Podstrana,tourist resort only 10 min. drive from Split centre.
In Podstrana riviera are numerous restaurants,pizzerias,markets,casino,bar and lots of sport and leisure activities and all that only 2 min. walk from our apartment.
Apartment are located on second floor of a private house and have a beautiful sea view on island of Brač.Apartment are 54m2 and 12m2 balcony,with a large room,bathroom,kitchen and living room with comfortable sofa that can easily be turn to a bed for two.Apartment have satellite tv,internet access,air conditioning and washing machine.
I front of house is a large garden full of greenery and flowers,ideal for rest in shade.Guests can use barbecue and garden furniture.House also has out door video surveillance and private parking.

---
This is a lovely, nicely-decorated apartment with everything you could need, but best of all is its amazing location. Just minutes walk from the beach in front of Le Meridien, so you can laugh at all the people paying way more for rooms that can't be nearly as nice as this place ;). Walk past the first (gorgeous) beach, past the yachts, then you'll reach an even nicer swimming spot. Pizza Fabio is a short walk away and did a good pizza at reasonable prices. Vlatka was really helpful and responsive. Do yourself a favour and stay here rather than in overcrowded Split!
---
Best vacation ever! The pictures of the apartment totally show the reality, even better. The house and the garden are beautiful. Squirrels are playing in the garden which you can watch from the balcony, they are super cute. Many hidden garden accessories can be found in the garden, which make the place really friendly and like a secret garden :-) The house owners are friendly and helpful, Vlatka as well! She was always available if I had any question. The apartment was fantastic, we had everything. The sea view from the balcony was amazing! The beach, bakery, pub, pizzeria, restaurant, market are only 5 minutes far, we could easily reach them. The whole place was quite, nobody disturbed us. The beach was not crowded at all so it was fun. We had a really nice time, thank you and see you soon!
---
Vlatka est très sympathique. Le logement est très agréable, récent et possède une grande terrasse. Cet appartement est situé dans un endroit calme et pourtant à 2 minutes d'un arrêt de bus (8 km de Split) et d'un petit supermarché. À 2 minutes également, de la mer. Pour faire simple, très bien
---
Truly the most lovely stay we've ever had! As soon as we arrived and met Vlatka we knew that we would have an amazing 10 days holiday. She was very friendly and knowledgeable, giving as a warm welcome and respond all our questions while sitting in front of the apartment and drinking a cold beer she offered. Location of the apartment is perfect, you can reach supermarket, bakery and beach within 3 minutes walk and it's very peaceful. Podstrana has many nice beaches and we prefer most the one after the hotel Lau's marine as there is a nice shadow under the pine trees, shower, nice beach bar with reasonable prices of snacks and drinks + ice cream half way wink emoticon (its about 5 minutes walk from the apartment). Nearby you can rent SUPs, Paddle boats, Jets, etc. There are great bus connections with Split (bus stop 2 minutes away from home), every 20 minutes during the day time and every two hours during the night, so its easy to come back if you go out to party in Split. Apartment has a big terrace with nice view of the sea and Brač island, two rooms with double beds, which was perfect rooming as we were 2 couples. There is also a very well equipped kitchen and spacious bathroom with laundry machine. It's nicely decorated, clean and with good air condition which was more than needed in August! In there you can easily feel comfortable like home and it looks even nicer than on photos! Vlatka's parents (they live on the ground floor) made our stay unforgettable, they were always in a good mood, making jokes, giving us recommendations, made us a reservation for a great restaurant in Split and even show us how to prepare grilled fishes! We can't find enough words to explain how great our stay was, really everything was perfect! Vlatka thank you and your parents for hospitality, we would definitely come back and recommend your place to everyone visiting Split or Podstrana! Kaja, Ines, Borut, Tadej
---
We had one of the best experience with Vlatka. We visited Split during the ultra fest in July, and she gave full information to us on that. She is super responsive on mails. She went out of the way to help us in general - about the city, what to do, how to do. The place is in Podstrana, a suburb of Split. It is very easy to reach split via public transport. The beaches close to the home are beautiful. The house is very well kept - it's clean, has a lot of space, better than what the photographs show you. I highly recommend staying here. Thank you Vlatka for your hospitality, really loved the time spent in Split and with you.
---