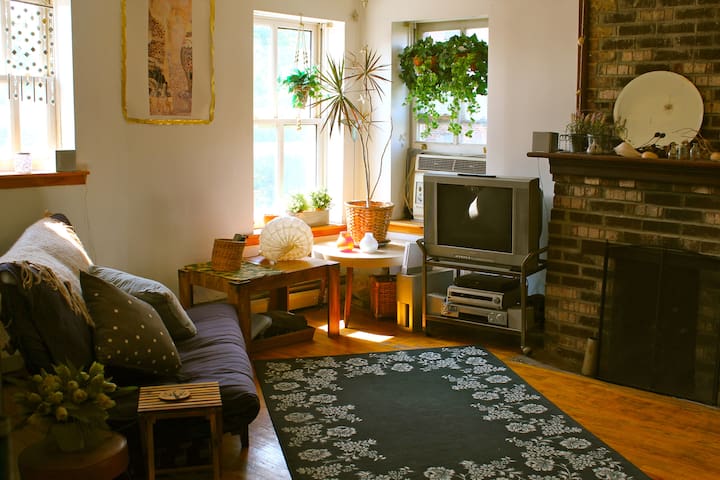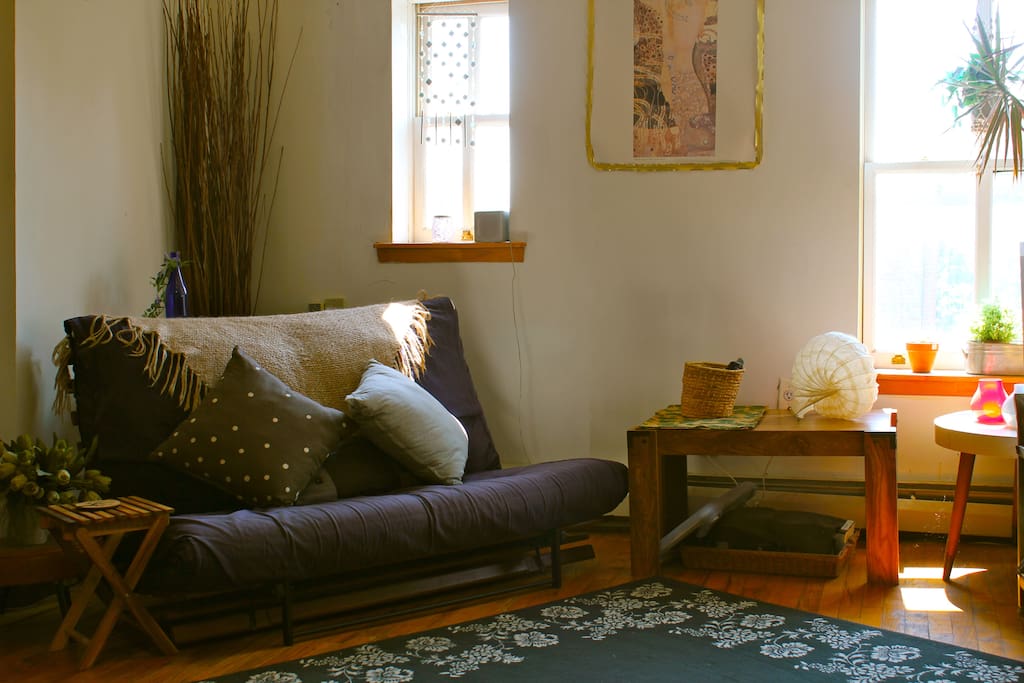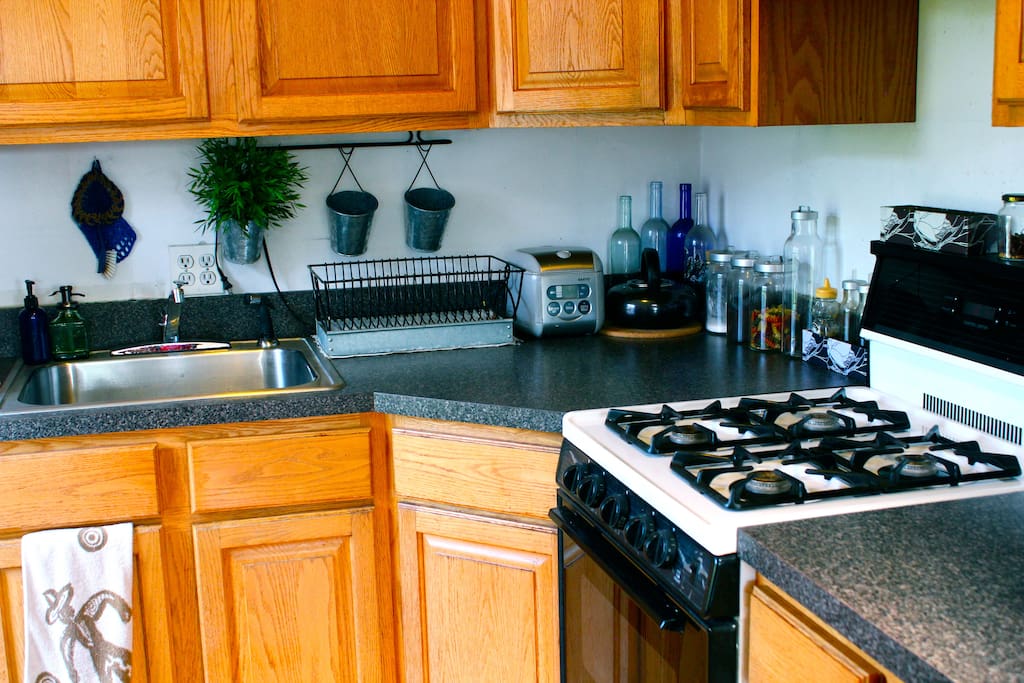 Cute & Cozy Brownstone 2BR Apt!!
The apartment is located on the 4th floor, and every floor has only one apartment unit each. However, since there is no elevator, please expect to use the stairs.
房源
Hip & Convenient neighborhood, Boerum Hill.
Very close to Manhattan, and there are a lot of young artists, musicians, creative people, and families living in this area. It's so quiet, safe and yet fashionable neighborhood!!
This brownstone building is located only 2 blocks away from Bergen St train station on F & G lines. Of course, other trains like A,C,2,3,4,5,B,D,N,R,Q are within 5 ~ 10 mins walk distance.
Also, it's a block away from Smith St. where you can find the great restaurants, bars, and boutiques. Other popular Brooklyn neighborhoods: Brooklyn Heights, Cobble Hill, Carroll Gardens, Fort Green, Park Slope, and DUMBO are all in walking distance!!
It's a non-smoking apartment! Absolutely odor free!!
You can stay in a private bedroom in nice & clean 2 bed room apartment that is located on 4th floor in Brownstone building.
The bedroom is not so big, but there are a full sized futon bed (this mattress is definitely comfortable!), a chest of drawers, a small coffee table, a chair, and a closet in your room. And an AC is installed during summer season and additional room heater is provided during winter.
There is a fully functional wood burning fireplace in the living room. You're also welcome to use kitchen and this small dining space next to the living room.
All the bed sheets and towels are provided. I want you to make yourself at home. Just ask me if you need anything. I'll try to meet your request as possible!
Feel free to contact me anytime if you have any question or concern about the prices and all that jazz!!
I'm looking forward to meeting you soon!
与房客的互动
I'll be happy to be your guide anytime if you need me! Please feel free to ask me anything!
---
MaiMai's place was my first Airbnb experience in New York city, and her place felt like home: cozy, special and particular. For me, feeling home after arriving from a long trip (from Europe) was very comfortable. As soon as I arrived, MaiMai realized that I was tired, and she gave me a warmful welcome, starting with a pleasant conversation, being followed by a detailed walk around her place and the neighborhood. I believe that this personal treatment was exceptional, which gives more value to this AirBNB option. Moreover, the place is very clean, quiet and well furnished. Just to give you an idea, in order to keep the place in its best shape, MaiMai cleans it several times per week, using a vast variety of cleaning products. This is the type of service is normally found in hotels. In relation to the bedroom, it is sunny and it has enough space to stay for a short or long-term stay. In this bedroom, you can wake up with birds singing in the morning, which is not normal in a city as New York. A part of being well cared, MaiMai should put an office table, a chair, and a valance, in order to give more privacy, just in case someone needs to do some work at home. At the end, all the descriptions and other reviews are pretty accurate. It is a lovely place in such an urban area. I will advise you to stay in MaiMai's place. She is a nice host, being always cheerful and helpful.
---
Such a great neighborhood, and a great host. Clear understanding of house rules... ie- which glassware to use, specific places to place bathroom items and other belongings (and plenty of space for all of it in the bedroom, set with an empty closet, a large empty dresser with plenty of drawers, etc.) Note that this is a futon bed, not a regular mattress. Otherwise pictures make the place look perfect and it's lovely, with a lovely, quiet, respectable host.
---
MaiMai was a hospitable and kind host, she made me feel welcome and I felt comfortable sharing the space with her for a week. Her apartment was in a superb location in Brooklyn, right near the Smith St and Court St retail/restaurant/bars, close to the F,G,A,C,2,3 Subway lines, and within easy access of several Brooklyn neighborhoods. The room and apartment itself were light-filled and you could hear birds singing in the morning, which was lovely in such an urban area. MaiMai also kept everything very clean, including the kitchen and bathroom. I would stay here again if the need arose!
---
I stayed with MaiMai in Brooklyn for four weeks during May and June. The apartment is fantastic! Very comfortable and has a lot of character. I like the bedroom because the closet was big enough to hang all of my clothes, there is a 3-drawer dresser, and the bed is plenty big. The bed is not your luxury memory foam comfort style bed, but I never had a problem getting a good night's sleep. The apartment location was perfect for me! VERY close to lots of restaurants/coffee shops, about a 15-minute walk to the Heights, a block away from a very convenient subway stop, Bergen Street. I also always felt safe there. MaiMai is extremely accommodating and sweet. When I arrived she had everything prepared for me, she even had divided the fridge space in half for me! She was very helpful in recommending bars and restaurants, she has great taste! She is willing to be as much or as little involved in your stay as you want. If you want to come home and have alone time, she will leave you alone. If you want to chat or go out to dinner, she will do that. She is a wonderful host. I would absolutely stay here again in my next trip to Brooklyn!
---
I spent more than two months in a private room at MaiMai's place. This was my first time in the US and NY. All in all it was a very pleasant stay. I was commuting to Manhattan everyday and that is very easy being that metro is few minutes away. The neighbourhood is beautiful, peaceful and just a street or two away there was everything I needed like coffee shops, bars, fast food and restaurants. Brooklyn Heights park with a gorgeous view on Manhattan is just 15-20 minutes away. The room is nice and had almost everything I needed and is exactly what I expected from pictures and previous reviews. The only thing I was missing in the room was a table and chair since sometimes I needed to finish my work from home. The living room is nice and sometimes I would spend evenings in the couch working on my laptop. Bathroom was always clean and fresh. The laundry is just in front of the building. I almost never used the kitchen while I was there but that was my choice and there is in principle everything I would need if I wanted to use it. MaiMai was always very helpful and available. When it was super hot she helped me install the AC and there is also a small fan in the room. MaiMai was in a room just next to mine most of time I was there and she is very quiet. There was never any other noise coming from neighbours in the building. I loved the place and enjoyed the stay. It gave me a great base to explore various parts of Brooklyn while I was there.
---
I'm a freelance production coordinator working in the entertainment industry, such as Fashion, Music, TV, Commercial, Theater, and Radio.
I'm very easy-going, laid back, and clean! I like to have fun, but I'd like to keep all the parties outside the apartment. You're in NYC, and just steps away from all the fun and great food!! Go out to have great time and come home to relax!!
I make the apartment quiet and comfortable!!
语言:
English、日本語