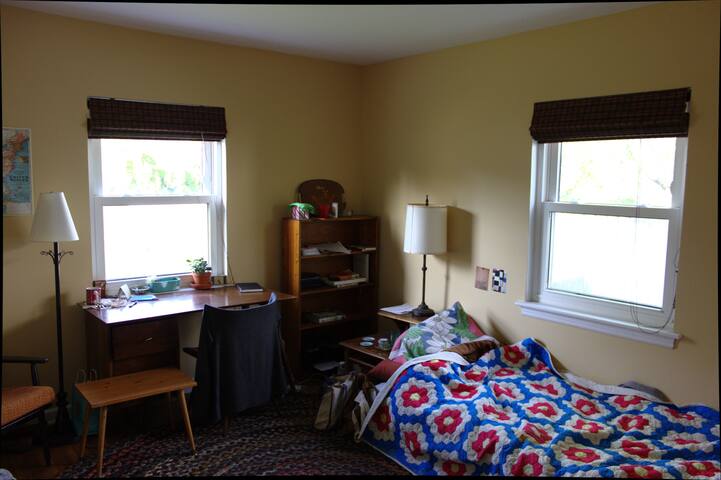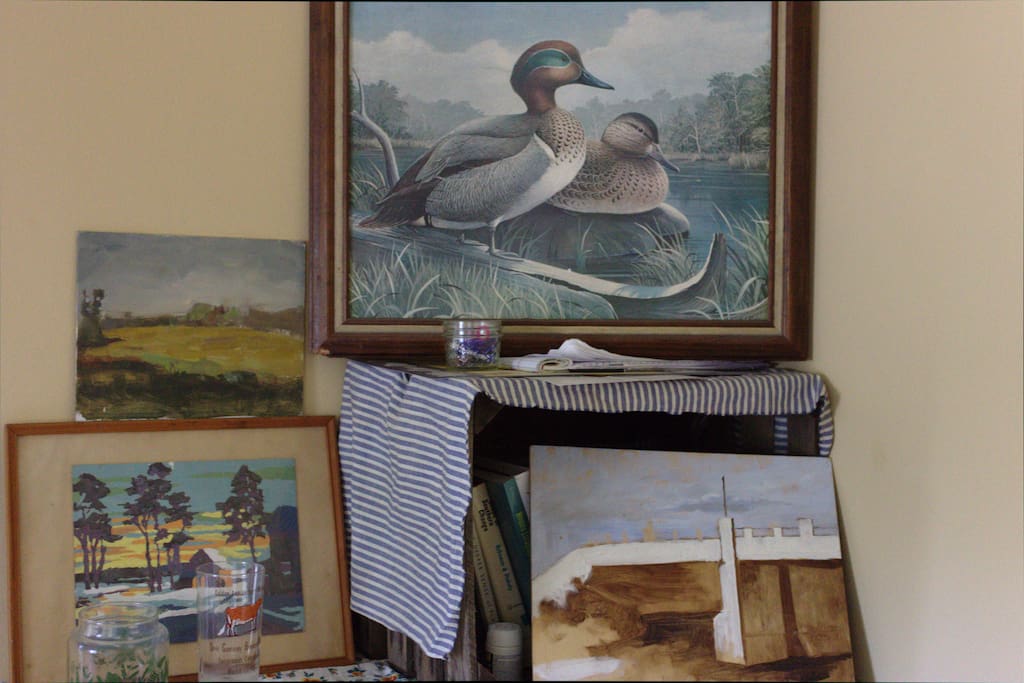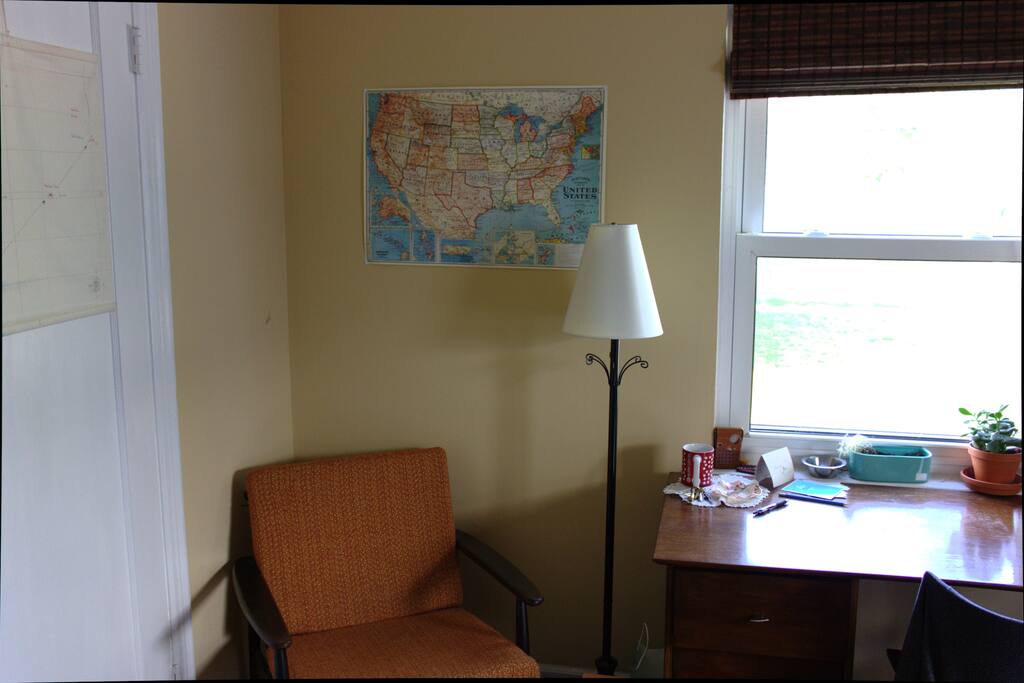 Retro "Duckroom" Den Retreat!
我们在整个房子里最喜欢的空间!一个温馨亲切的小屋,设有中世纪现代古董家具,双床大床垫,复古沙发和全套复古学者/爸爸的书房:计划小组窗台和闹钟,书架,可移动的丹麦桌子和一个巨大的屁股肖像的一个野鸭! :)
Our favorite space in the whole house! A cozy, intimate den featuring mid-century modern antique furniture, a twin-sized daybed, vintage couch, and full retro scholar/dad's den set-up: Planner Group windowside desk & alarmclock, bookshelves, moveable Danish side-tables, and a huge-ass portrait of a mallard! :)
房源
我们房子里最独特的房间,Retro Duckroom Den Retreat结合了一个老式书房/研究的所有魅力,舒适和舒适的紧凑型小卧室 - 舒适的床,方便的梳妆台与您的手提箱的空间,以及伟大的小沙发和老式阅读椅/灯任何休闲需求!对于研究生或MCM家具的爱好者,或想要一个房间的房间,设有很多设施和椅子/桌子/沙发/壁橱/床的隐私在一个复古的空间,这是你的房间!我的兄弟杰克,我们的房子吉祥物鸭子和哥伦布基础设施的原创画将被观看。
The most unique room in our house, the Retro Duckroom Den Retreat combines all the charm of a vintage den/study with the comfort and coziness of a compact little bedroom -- cozy bed, convenient dressing table with room for your suitcase, and great little couch and vintage reading chair/lamp for any lounging needs! For graduate students or lovers of MCM furniture, or those wanting a room that features a whole lot of amenities and the privacy of chair/desk/sofa/closet/bed all in one retro space, this is your room! You'll be watched over by our house mascot ducks and original paintings of Columbus infrastructure by my brother Jake.
房客使用权限
你的房间是一个舒适,全包的复古书房 - 你会有一个膨胀的沙发,舒适的床,书桌,复古坐在椅子,床头柜...作品!我们提供床单,额外的毯子和一套客用毛巾。您可以完全访问浴室(请参阅"房屋规则"中关于香水/化学品的详细信息),以及厨房的限制 - 轻便烹饪(仅素食)和冰箱中储存的食物是可以的,但也请不要涉及,因为这主要是我们的家庭空间。我们还向我们的小狗Isaly提供过滤水和许多免费的拥抱! :)从我们家的街对面的街道上有停车场。
Your room is a cozy, all-inclusive retro den -- you'll have a swell couch, comfy bed, desk, retro sittin' chair, bedside table ... the works! We provide linens, extra blankets and a set of guest towels. You'll have full access to the bathroom (please do see House Rules for details on fragrances/chemicals), and limited access to kitchen -- light cooking (vegetarian only) and storing of some food in fridge is OK, but please nothing too involved, as this is primarily our home space. We also provide filtered water and lots of free cuddles from our pup Isaly! :) Parking is available on-street across the street from our home.
与房客的互动
我们喜欢认识来自世界各地的新朋友,并为我们所爱的城市分享爱和我们的建议!也就是说,我们都在学校和杂耍项目,经常跟随我们在家工作;但是,如果我们有空,我们很乐意出去聊天,甚至出来喝一杯或者吃一口。我们已经将AirBNB的客户理念模仿了我们自己最喜欢的主持人,玛格丽亚特兰大:我们致力于围绕着您,如果这是您需要的,但我们也是完美的内容 - 如内向! - 给你一些非常需要的时间在你自己的空间放松和充电。所以,尽可能少的交互作为你想要的。
We love getting to know new folks from around the world, and sharing the love and our recommendations for our beloved city! That said, we are both in school and juggling projects that often follow us home from work; but we'd be happy to hang out, chat, or even come out for a drink or a bite to eat if we're available! We've modeled our AirBNB guest philosophy on that of our own favorite host, Margie in Atlanta: we're committed to being around and hanging out if that's what you need, but we're also perfectly content -- as introverts ourselves! -- to just give you some much needed time to relax & recharge in your own space. So, as much or as little interaction as you'd like.
其他注意事项
我们有一个可爱的,非常友好的小狗名叫伊莎莉 - 她是一个边界牧羊犬混合,可能不仅要求,而且要求你宠爱她并给她一些肚子擦!我们还没有听到任何过敏反应?但如果您对狗严重过敏,您可能需要在您的要求中加权。她会留在房子的主要空间,睡在我们的卧室里,除非你让她进入你的房间,在这种情况下,我相信她会很高兴无辜的!她可能对一些人有点害羞,有一些有趣的恐惧(大型平面圆形,如人孔盖等),所以我们首先要介绍一下。你会爱上,我们发誓 - 我们只是问,因为我们离街道不远,请问我们是否想带她出去玩在后院!我们还有一个非常甜蜜的匹配的猫,内尔,谁在一些时候;她是一个很酷的猫,但如果你想要她,可能会坐在你的头上:) 我们与邻近的主要公交线路非常接近;但如果您想在住宿期间借用它们,我们也可以使用我们的自行车进行潜在的使用。
We have a lovely and very friendly pup named Isaly -- she's a border collie mix, and will probably not only request, but demand that you pet her and give her some belly rubs! We haven't heard any allergy complaints yet; but if you're seriously allergic to dogs, you may want to weigh that in your request. She'll stay in the main spaces of the house and sleep in our bedroom -- unless you let her into your room, in which case I'm sure she'd be happy to snuggle pro bono! She can be a bit shy around some folks, and has some funny fears (large flat circular shapes like manhole covers, etc.), so we'll want to introduce you all first. You'll fall in love, we swear -- we just ask, since we live not too far off the street, to ask us if you'd like to take her out to play in the backyard! We also have a very sweet matching cat, Nell, who's around some of the time; she's a pretty chill cat but might sit on your head if you want her to :)
We're super-close to main bus-lines in the neighborhood; but we also have our bikes available for potential use if you'd like to borrow them during your stay!
---
---
---
---
不适合儿童(2-12岁)入住,或不能为儿童提供安全的住宿环境
*** NOTE: PLEASE READ THE HOUSE RULES. They might seem long, but, trust us -- all of these things have happened. We regularly get guests who show up and seem shocked when we describe the house rules -- so you need to read them. If you can't or don't agree, then, this isn't the place for you; and it's much better to know that before you book! But, we think you'll love it -- just make sure you can abide by the rules for the duration of your stay! -- MGMT ***
First -- the HUGE stuff. This *should* be 100% obvious to all potential guests, but, due to some recent guests' decisions, we have to put this in writing. Bear with us:
1. ABSOLUTELY no drugs. Don't come here on drugs. Don't BRING drugs. Don't have drug paraphernalia. Of any kind. COME ON, people. This is our house?! What's wrong with you?
2. ABSOLUTELY no drama. If you are having trouble with your marriage and you're offering that to me first thing in the AirBnB message thread? I wish you the best of luck, but this isn't the place for your drama.
3. ABSOLUTELY no offers of physical contact, touching, comments on our bodies as hosts or the bodies of any other guests. THIS CONSTITUTES SEXUAL HARASSMENT, and we take this very, VERY seriously. If you so much as make one inappropriate comment along these lines, you're out. For serious. We've had this happen before, and we're wiser now. We won't hesitate to get AirBnB involved. Again: come on, people.
4. ABSOLUTELY no smoking at the house, in the drive, or on the property. This is a safety concern and a health concern. Butts can cause fires; and, because we're a non-toxic and all-natural house, our guests value being free from the toxins and chemicals that smoke brings. Do it somewhere else.
Short Rules:
1. Shoes Off by the Front Door when you enter
2. THIS IS A VEGETARIAN HOUSE. Stop asking us if you can bring in/cook/eat meat or animal products in the house. Sorry. No!
3. No strong scents, fragrances and absolutely no chemical products or bleach. If you need hairspray, etc., DO IT OUTSIDE. This includes bodywash and soaps. If it has anything artificial or fragrances that aren't 100% from essential oils/all-natural? Don't bring it. We can't risk the migraines. Please respect that this is a health issue for us. And, no: Herbal Essences or your shampoo with pictures of honeycombs on the front? It's probably not all-natural. Read the label, people.
4. We don't use A/C unless there's a total emergency. We determine that. We like windows open in summer. If you have a medical condition requiring A/C, don't stay with us. It's usually very cool in the mornings/nights and we control temps in the summer by opening/closing windows.
5. Your room will be immaculate and your own; but we run our living room and common spaces the way that works for us -- which sometimes can be a little (to some guests) cluttered! You're welcome to hang in the living room and kitchen, etc.; but know these are primarily our working/living spaces, so you'll have to be OK with our spaces the way they work for us.
6. Be awesome, be tolerant, be kind. To us, to each other, and especially to our pup, Isaly.

Be courteous, kind, tidy, and respectful! Alas, we are not crazy partiers; but we do love a good dinner, lively conversation with folks from around the world, our old records, and a really shitty 80s movie from time to time. We expect to treat you, and for you to treat us, with kindness; and we'll do our best to be helpful, generous hosts and welcome you in to our phenomenal city.
Stricter stuff: Unless you make a special request, the kitchen and laundry room are not for use by guests. Light meal prep (sandwiches, cereal, tea) is OK. Similarly, unless you make special requests ahead of time, we're not set up to accomodate guests with fridge or freezer space. Sorry. Have a specific need? Ask us ahead! Regardless, we're an all-vegetarian household. We also ask -- sounds odd, but it matters! -- that you try to minimize use of perfumed and strongly scented products and any chemical cleaners while staying with us :) We both get migraines from chemicals and strong scents, and we do all-natural (vinegar, essential oils, baking soda) cleaners & soaps, so we hope that works for you, too -- and, don't worry: we'll have Dr. Bronner's and local/organic soap available for your stay!
Be courteous, kind, quiet, and respectful; be good to our stuff and our space and to us, and especially, to our pets. We do have a hodgepodge of beloved vintage furniture and dishware, much of which has a long family story and is dear to our heart, so we just ask that you handle our things and our space as you would your own. In turn, we'll treat you with kindness and generosity, respect your space and belongings, and do all we can to ensure you have a wonderful time in Columbus!
Furniture/set-up: We love our house, and kindly ask that guests (especially those considering longer term stays) maintain the furniture and spirit of the spaces in our house, and in your room. We try to provide beautiful and comforting spaces -- and in return we ask you to respect our house. Of course, if you need anything or the room set-up doesn't serve your needs, don't hesitate to ask! We have alot of vintage furniture that we love dearly and have collected/thrifted/(SENSITIVE CONTENTS HIDDEN)ed proudly over the years -- please use common sense, and our coasters, and don't bring any potentially staining foods or drinks into your room with you!
Kitchen rules: We maintain a vegetarian household. You're totally welcome to *lightly* use our kitchen and cookware (see above), but we do ask that you please refrain from cooking or storing meat in the house during your stay, and that, unless we talk first, you not use our foodstuffs. Please be respectful and use your best judgment -- again, this is our home! LIGHT MEAL PREP means sandwiches, cereal, tea. It does not mean making pasta. It ABSOLUTELY does not mean cooking things with meat. We'd strongly prefer, for the low rate you are paying for your room, that you respect our house and leave our kitchen to us.
Please *DO NOT* use any of our dishware in the dishwasher or microwave -- our dishes are almost entirely vintage and can't stand up to these rogue technologies! :P No nonstick sprays; if you need that bring yr own pans. Our preference is that you don't cook, and just store dry foods in the kitchen or store leftovers in fridge if you need to.
Scents/Fragrances/Chemicals: We also ask that you refrain from using strong fragrances, perfumes, or scented shampoos/soaps/hairsprays during your stay with us -- I have very severe chemical sensitivities and allergies, and use all-natural cleaners (vinegar, baking soda, essential oils) and body care products. We're thrilled to be able to provide you with Dr. Bronner's and local-organic all-natural soap for the duration of your stay; in return, we ask that you be kind to our poor over-taxed smell cells and spare us the migraines :)
We also ask that our guests not invite over other guests to the house unless they are on the reservation -- this is our home, of course, and while we know you're awesome and have awesome friends, we just want to make sure we know who is coming and going in our space. Feel free to ask if you have a particular situation; we're reasonable people, but want it to be clear that this is our home, and not a hotel-style detached AirBNB as you may find in some listings :)
Please note that this is our home and we will reserve the right to control temperature to our preference. We prefer natural air and windows open but and largely do not use A/C in the summer; and of course heat in winter! Please just let us know if you are too hot or too cold; there are fans available. We encourage you to open windows (in summer) during the evening and morning. Be sure to always shut and lock windows when you leave for the day. Once again, we DO NOT use A/C most of the time. This is NOT the place to stay if you have medical conditions or bougie preferences necessitating A/C. There are hotels for that, and plenty of other AirBnB's that do pump the A/C all summer long. That's not our style; but we do love a good Columbus breeze and adore having our windows open. If that sounds like you, too, come on down! :)
UPDATE, due to furniture damages: Please also do not leave wet or cold things on wood or surfaces! We have a lot of beloved vintage furniture and we don't love water rings. Please use coasters for drinks, hot or cold; and DO NOT drape wet towels or clothes on tables or chairs! We *will* assess damage fees when this rule is disregarded and if our furniture incurs ring water stains, etc.
For night owls: we do prefer our guests come home before midnight if at all possible, so we can lock up, and so you don't disturb us or other guests. Because we have a dog, coming in late can usually cause a lot of barking and headache. If you'll anticipate being out late, make sure to ask us ahead of time and check in about any procedures. Please don't come to our house drunk.
Other than that, we think we're pretty low-key and easy to get along with -- you can even come fetch with us and Isaly in the backyard or join us for an evening stroll if you like! We hope you'll come back and stay forever -- it's really that kind of place :)
您还必须确认以下情况
房源里养有宠物 - Isaly the Wonder Pup
---
---
---
---
hi there! i'm jess -- a folklorist, oral historian and columbus, ohio native with a really amazing border collie pup, named isaly.

my partner jeff & i are both currently grad students -- he studies the history of industrialization and labor in the u.s. south through a history of science & technology phd. program based in philly, and i'm a folklorist and oral historian who works on the history of sustainable agriculture, food & environmental justice, & everyday perceptions of environmental toxicity. that means i get to road-trip around this fine state alot, asking people questions about how they connect food and environment health, and how they've had their lives shaped around those questions.

as a folklorist and oral historian, i believe in the power of everyday people's embodied and lived knowledge and experience; and my work is in documenting, interpreting and helping to present these powerful perspectives to wider audiences, to create conversations for change. i try to bring these passions to everything in my life.

i'm interested in the ways people connect food, health and environmental concern; and movement histories and futures of activism around the stuff that makes us sick, and the stuff that makes us healthy. basically, if you wanna talk farm magazines from the 1950s or the poisons & boons of various audio recorders or just like food in general, i'm yr grrl!

because of my own history of exposure and chemical sensitivity, we try to keep (as much as possible) a non-toxic home, free of meats, chemical cleaners, and scents. and, if you come in summer or fall, you're free to help harvest goodies from our bountiful yard garden! (the "yarden.") it can get a bit weedy this time of year; but it's all chem-free and very well loved.

columbus, ohio is my hometown (and my favorite city on earth), and we're so blessed to get to do cultural work in and around the good and environmental systems in this lovely place. we absolutely love showing people this city -- from cultural tours to the best nature spots to restaurants (even pokémon)!

our wonderful brilliant border collie isaly will be your prime host -- she loves our guests and will happily throw you some tricks (her newest one is "step up and kisses") and some cuddles. we also have a lovely matching kitty named nella.

we love meeting people from all around the world, and sharing our love for our little city and its wonderful culture. we can't wait to meet you!