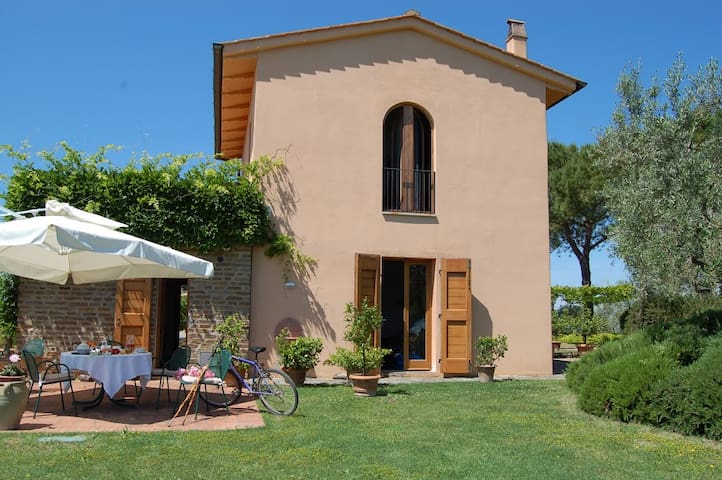 请查看我们的财产的小型影片,请在互联网"MASO WORKS VIMEO"上搜索,并播放名为LA ROCCA MONTALBINO的视频 优雅的公寓由3间带连接浴室的双人卧室组成,大型客厅和带壁炉的客厅和一张沙发床。 从公寓,您可以直接进入SPA。热水游泳池,按摩浴缸,迷你桑拿浴室。 完美的HONEYMOON。
Please have a look at a miniclip video of our property please search on internet  "MASO WORKS VIMEO" and play the video called LA ROCCA MONTALBINO
Elegant apartment composed by 3 double bedrooms with ensuite bathroom, large kichen and living room with fireplace and one sofa bed.
From the apartment you have direct access to the SPA. Hot water pool, jacuzzi, mini sauna.
Perfect for HONEYMOON.
房源
请查看我们的财产的小型影片,请在互联网"MASO WORKS VIMEO"上搜索,并播放名为LA ROCCA MONTALBINO的视频 La Rocca di Montalbino酒店位于Montespertoli周围的山顶之一。这个位置提供了基安蒂风景和托斯卡纳乡村所有宁静安静的壮丽景色。 La Rocca di Montalbino酒店四周环绕着三十公顷的葡萄园,橄榄园和林地,距离佛罗伦萨仅有30公里,位于基安蒂(Chianti)的中心,让您享受真正惊人的全景。最近的装修将这座19世纪的农庄改造成不同大小的典雅舒适的公寓,也可以一起出租作为一个别墅出租。每间公寓都设有私人花园,通往一个大型游泳池,毗邻薰衣草灌木丛和果树。遗产的各个领域已经建成放松,散步和户外游戏。 酒店的建筑环绕着橄榄园,非常适合沿着山坡的漫步,沉浸在这种华丽的自然环境中的气味和颜色上。 该物业很容易raggiuitibile机场的佛罗伦萨,距离只有35公里。此外,该位置可让您轻松访问意大利最美丽的城市:佛罗伦萨市(仅30公里),比萨和锡耶纳。 而对于那些热爱海洋的人来说,只需要半小时才能达到目的。 Montalbino市中心距离酒店仅有6公里,您会发现许多酒吧,餐馆,您可以在那里品尝托斯卡纳美味的午餐。对于那些没有车的人,公交车站只有6公里。 对于那些喜欢葡萄酒的人来说,Castello Sonnino就在酒店附近,提供美味的品种。在葡萄园和橄榄树之间,您可以放松与romatiche散步,喜欢骑自行车的人在山上有许多行程可以发现。 该酒店提供许多附加服务,根据参与者和季节进行组织。 这个房子就在蒙特斯佩托利村外面,所以它是非常私人和绿色的。从窗户和前花园,您只能看到托斯卡纳温柔的山丘,拥有橄榄树林和葡萄园。您可以在树荫下的门廊上清晨茶后,步行到乡间。 只有几分钟步行路程的Montespertoli是一个不错的村庄,餐厅,超市,咖啡馆以及让您保持舒适的一切。该村庄靠近托斯卡纳的主要景点。 35分钟到佛罗伦萨,45分钟到圣吉米诺诺,45分钟到比萨等所有的驱动器到这些景点是自己,在托斯卡纳的意见和道路。 我们还有其他公寓,随时与我联系,我会尽力满足您的需求。
Please have a look at a miniclip video of our property please search on internet  "MASO WORKS VIMEO" and play the video called LA ROCCA MONTALBINO
La Rocca di Montalbino stands on one of the hilltops surrounding Montespertoli. This location offers a splendid view of the Chianti landscape and all the peace and quiet of the Tuscan countryside.
Surrounded by thirty hectares of vineyards, olive groves, and woodlands, only 30 km from Florence, in the heart of Chianti, La Rocca di Montalbino lets you enjoy a truly breathtaking panorama. A recent renovation has transformed this 19th-century farmstead into elegant, comfortable apartments of different sizes, which can also be rented out together as a single villa. Each apartment gives onto a private garden that leads to a large swimming pool, bordered by lavender bushes and fruit trees. Various areas on the estate have been set up for relaxation, walks, and outdoor games.
The buildings on the property are encircled by olive groves that are perfect for rambles along the hillside, immersed in the scents and colours of this gorgeous natural setting.
The property is easily raggiuingibile airport of Florence, only 35 km away. In addition, the location allows you to easily visit some of the most beautiful cities in Italy: Florence city (just 30 km), Pisa and Siena.
And for those who love the sea, in just half an hour to be able to reach it.
The center of Montalbino is just 6 km from the property, you will find numerous bars, restaurants where you can enjoy a good Tuscan lunch. For those who do not have a car, the bus station is only 6 km.
For those who love wine, Castello Sonnino, right near the property, offers delicious varieties. Among vineyards and olive trees, you can relax with romatiche walks and for those who is fond of bikes in the hills there are numerous itineraries to discover.
The property offers many additional services, which are organized according to the participants and the season.
The house is stationed right outside the village of Montespertoli, so it is very private and green. From the windows and the front garden you see only the gentle hills of Tuscany, with olive groves and vineyards. You can take a walk right into the countryside, after your morning tea on the porch under the shade of the trees.
Montespertoli, which is only couple of minutes walk, is a nice village, with restaurants, supermarket, cafes, and everything that you need to make your stay comfortable. The village is close to the major attraction of Tuscany. 35 min to Florence, 45 minutes to San Giminano, 45 minutes to Pisa etc. all the drives to these attractions are a treat themselves, amidst the views and roads of Tuscany.
We also have other apartments, feel free to contact me and I will do the best to satisfy your needs.
房客使用权限
游泳池,花园屋顶私人全景露台,私人花园,内部SPA(额外费用)
Swimmingpool, flower made roof private panoramic terrace, private garden, Internal SPA ( extra cost)
与房客的互动
- 我们的录像机报价: 我生产婚礼和假日视频和照片,具有高度的情绪影响。我实现定制服务。 我提供最好的视频质量全高清和4K。 视频和图片将更加愉快和令人兴奋与壮观的空中拍摄与DRONE。 要求免费报价。 两个剪辑为例: 在VIMEO上通过MASOWORKS在TUSCANY的1-WEDDING VIMEO上的主题2意大利式婚礼 - 我们的私人厨师推荐他的菜单': 菜单'MONTESPERTOLI的晚餐 首发: - 具有芝麻和典型的萨拉姆的迷人的东西,由带有MUSHROOMS和我的GRANDMOTHER SAUCE的东西 -PAPPA AL POMODORO(DISH VEGETARIAN) 或者烤肉汤或者烤肉(CETALDO(DISH VEGETARIAN)) 第一: -PICI CHEESE AND PEPPER(DISH VEGETARIAN) - PICI'BOAR SAUCE 第二: -CH INA CH。。。。。。。。。。。。。 -CAPONATA蔬菜(蔬菜盘) SWEET TUSCANY: - 提拉米苏' CHIANTI在CARMIGNANO的水和葡萄酒* 注意: 我所有的薯条都是按照美国传统和本土生产的零零星定量成分
-Our videomaker offer:
I produce wedding and holiday videos and photos with high emotional impact. I realize a customized service.
I offer the best video quality full HD and 4K.
The video and picts will be made even more pleasant and exciting with spectacular aerial shots WITH DRONE.
Ask for a Free quotation.
Two clips as an example:
1-WEDDING IN TUSCANY BY MASOWORKS ON VIMEO
2-WEDDING IN ITALY BY MASOWORKS ON VIMEO

-Our private chef recommend his menu':
MENU ' MONTESPERTOLI'S DINNER IN LOVE
STARTERS:
-MIXED TOSCANO WITH CHEESE AND TYPICAL SALAMI ACCOMPANIED BY TOAST WITH MUSHROOMS AND MY GRANDMOTHER SAUCE
-PAPPA AL POMODORO (DISH VEGETARIAN)
OR BREAD SOUP OR RIBOLLITA WITH ONION OF CERTALDO (DISH VEGETARIAN)
FIRST:
-PICI CHEESE AND PEPPER ( DISH VEGETARIAN)
- PICI 'BOAR SAUCE
SECOND:
-CHIANINA CHOP MADE IN LIVORNESE GRAVY
-CAPONATA VEGETABLES (VEGETARIAN DISH)
SWEET TUSCANY:
- TIRAMISU'
WATER AND WINE of CHIANTI IN CARMIGNANO *
NOTE:
ALL MY DISHES WILL BE MADE IN ACCORDANCE OF TUSCANY TRADITION AND WITH KM ZERO NATIVE INGREDIENTS OF TUSCANY PRODUCTION
其他注意事项
酒店提供一个新的,神话般的私人水疗中心,由总高度放松的按摩浴缸,deliciuos室内温水游泳池和逆流游泳,以及桑拿浴室组成。 使用Spa不包括在价格(每天150€(最少使用2天)),从第3天起每天100€)。如果您想使用水疗中心,请告知我们,我们将为您提供特别优惠。 品酒 一个雅致的经验,帮助您了解蒙特斯佩托利的遗产和领土:在我们的专家的指导下,您将陪同通过托斯卡纳葡萄酒和油的历史和风味的旅程,包围在令人愉快的乡村别墅的气氛。 葡萄酒之旅 发现的旅程将带您进入农业遗产的心脏:从历史悠久的酒窖到生产维生素的特殊地方,将石油店和美妙的蒙特塞斯托利城堡的秘密房间带到葡萄酒吧在那里游客将会获得优质的葡萄酒和油品尝,并伴随着优质的食品。 历史旅游 除了葡萄酒之旅之外,还有另外一个游客可以发现历史遗迹本身:一个令人兴奋的庭院之旅,蒙特斯佩托城堡的心脏以及十三世纪的塔,您可以在那里参观古老的时钟仍然在工作,享受周围山谷的壮丽全景。 葡萄酒之旅 这次旅游让游客能够发现土地和葡萄园,为托斯卡纳葡萄酒带来生命,说明种植技术,方法和做法。这次访问也是历史悠久的酒窖,葡萄酒酿造场所和生产葡萄山羊的地方,最后在酒吧品尝葡萄酒。 请求我们预约和报价。
A new, fabulous, private spa is available at the property: composed by total high relaxing jacuzzi, deliciuos indoor heated pool with countercurrent swim, and sauna.
The use of the Spa is not included in the price (150€ per day (min use 2 days), 100€ per day from the 3rd day of use. ). If you want to use the spa, let us know and we will make you a special offer.
Tastings
A tasteful experience to help you to get to know the estate and the territory of Montespertoli: under the guidance of one of our experts you will be accompanied on a tour of taste through the history and flavour of the Tuscan wines and oil, surrounded by the delightful atmosphere of a country house.

WINE TOURS
A journey of discovery that takes you to the heart of the agricultural estate: from the historic cellars to the special place where the vinsanto is made, taking in the oil store and the secret rooms of the wonderful Montespertoli's Castle, through to the wine bar premises where visitors will be offered excellent tastings of wine and oil accompanied by outstanding food products.

HISTORY TOURS
In addition to the tour of the wine sites there is another through which visitors can discover the Historic Residence itself: a thrilling tour of the courtyard, the very heart of the Montespertoli Castle, and the thirteenth-century tower where you can visit the room where the ancient clock is still working and enjoy the breathtaking panoramic view over the surrounding valleys.
WINEYARDS TOURS
A tour that allows visitors to discover the land and the vineyards that give life to the Tuscan wines, illustrating the cultivation techniques, methods and practices. The visit also takes in the historic cellars, the wine-making premises and the place where the vinsanto is made, ending up with a wine-tasting in the wine bar.
ASK US FOR RESERVATIONS AND QUOTATIONS.
---
---
INCLUDING:
Visitor Tax
Electricity, water
Final cleaning
Bedroom linen and bathroom towels are changed weekly. Each additional change will be charged 10€. Linen and towels cannot be used outside the apartment and for the swimming pool.
Satellite TV
Wi-Fi connection
Outside garden with furniture
Use of the external swimming pool from May 15 to September 30. Also use of chaise lounge and pool umbrellas. Clients must bring their own pool towels which must be put on the chaise lounge. It is possible to rent on-site pool towels at Euro 10 each.
Barbecue in common area (coal is not provided)
NOT INCLUDING:
Security deposit
Extra cleaning and other services (ironing, cooking)
Heating gas: 7 Euro/mc (cubic meters) for consumption
Wood for fireplace
Babysitter, bicycle tours. Video and photos. On request, will be charged 15 Euro hourly.
Cradle/baby bed 25 Euros weekly. Additional beds 25 Euros daily for each person. Washing machine in common area (4€ per cycle).
The use of the Spa is not included in the price (150€ per day (min use 2 days), 100€ per day from the 3rd day of use. ). If you want to use the spa, let us know and we will make you a special offer.
2) SECURITY DEPOSIT
At arrival and at check in, client/renter must pay in cash 250 Euros as a security deposit without interest. Said deposit will be returned at the end of the contract after calculating charges for any additional expense (extra towels, cleaning etc.), eventual verified damages to the premise, to furniture and missing items due to tenant's fault.
If the total of the damages and the missing items are more than the value of the security deposit the difference must be paid right away to the Rocca di Montalbino. At the time of arrival and check in the client/renter is invited to inspect the premise together with the lessee or his/her substitute.
3) CLIENT/RENTER/ GUESTS' OBLIGATIONS AND RESPONSIBILITY
Client/ renter/guests must move into apartment(s) and use it with the diligence of a good family father according to the contract. Also, client/renter must return apartment(s) and items to the lessee in the same status and conditions he/she/they received it/them, allowing some wear for usage as agreed by the contract.
The refrigerator and dishwasher must be left empty. The trash must be collected selectively and put in the different trashcans outside the premise. A penalty of 15 Euros for person shall apply and charged at the time of departure in case kitchen(s) and bathroom(s) are left in a status of uncleanliness.
Client/renter/guests are responsible for apartments' furniture and furnishings. It is forbidden to move furniture and fixtures in the room or from one room to another or to other apartments or put in communal locations. Violation of this rule will be charged to client/renter, as well as any damage to doors and floor due to moving furniture.
If the client/renter notices any damage to furniture and fixtures, he/she must inform the Leaser within 48 hours from check in.
4) BEHAVIOR RULES DURING THE STAY AND WAIVER OF LIABILITY
It is forbidden to smoke inside apartment(s).
With the permission of Rocca di Montalbino Srl, small animals are allowed in the apartment(s). The owners are responsible for any damage caused by the animals and the cleaning of animal droppings and/or similar. It is strictly forbidden to pick up animals on beds and couches, the non-compliance of this condition will result in a charge of € 50,00 for extra cleaning.
Tenant must refrain from disturbing neighbors, particularly during the afternoon and the night.
Electronic devices shall be kept at a low volume. Loud noise is not permitted.
It is the exclusive responsibility of the client /tenant to use all appropriate means to prevent thieves from entering in the apartment. Each time leaving the apartment, he/she/they shall ensure that doors, windows, door- windows, locks and gates are locked and keep careful control of the keys.
Client/renter/guests must make sure to lock the main door entrance, doors and windows after returning to the apartment.
Objects of high monetary value (jewels, money, computer, any electronic device, cameras and other similar items) belonging to renter or his/her guests shall not be left unsecured inside or outside apartment(s). The Rocca of Montalbino Srl and its associates and dependents will not be liable for eventual loss, thefts, deterioration of items left unsecured. Client/renter/guests waive the Rocca di Montalbino from any responsibility.
It is suggested that the client/renter buy an insurance policy to cover these risks.
The Rocca of Montalbino is not liable for any damages due to any incident, accident, death occurring to client/renter and/or his/her guests in the apartment, park, swimming pool, and entrance area of the premises which are the object of this contract.
The Rocca of Montalbino cannot be responsible for weather conditions.
The swimming pool is unguarded. Therefore, clients/renter/ guests use it at their own risk and responsibility. Children must be continuously looked after. The swimming pool may be closed once a week for maintenance.
It is recommended to not take excursions within the countryside or through the cultivated areas for the presence of unmarked and land-related hazards. Excursion in the exterior areas can and in any case must remain on the site of the vicinal and property roads avoiding any interference with the crops or without going into general in the woody or sloping areas. The Rocca di Montalbino is not responsible for any accidents or damages of any nature that can occur to the Client/renter/guests, due to his inexperience and imprudence.
It is recommended to always accompany children in the outdoor areas and to monitor their proximity to pets, even if they are domestic.
As for the use of the swimming pool, the Client/renter/guests is required to strictly comply with all hygiene and behavior rules , access time to the bathing area as required by the pool regulation (please see the copy attached to this contract). Principal behavior rules are also indicated on the sign placed at the entrance of the bathing area. The Rocca di Montalbino is not responsible for any accidents that occurred in the swimming pool or in its bathing area due to incorrect and dissimilar behaviors, which do not comply with the delivered regulations.
4.1) BEHAVIOR AND SAFETY REGULATIONS FOR THE USE OF THE RELAX AND SPA AREA
For the use of the Relax Area and salus for aquam, the following rules are strictly compulsory:
(a) Access to premises for children under 18 years of age and to persons not in perfect physical or hygienic conditions is prohibited;
b) It is mandatory to wear non-slip slippers for bathing (for internal use). It is forbidden to access barefeet, with shoes or dirty shoes;
b) It is forbidden to carry and use essential oils, bath salts, creams, honey and other natural products within the premises;
d) It is prohibited to introduce drinks or glass or aluminum containers (cans, bricks, etc.);
e) It is strictly forbidden to smoke and consume alcohol and spirits in the Relax areas and SPA;
f) Shower is before entering in the pools (pool and jacuzzi);
g) Diving or throwing violently into the pool is not allowed;
h) the use of any electrical and electronic equipment inside the relaxation areas and SPA is forbidden.
Inside the local relax area, you can find a recall of the above rules and the number to be call in case of emergency.
The Rocca di Montalbino, assumes no responsibility in case if incorrect or irresponsible behavior towards the Client/Conductor who puts them into action.
5) HOSPITALITY RULES
If the number of persons occupying the premises exceeds the agreed on total number, this contract shall be null and void according to art. 1456 icc (Italian Civil Code) and a penalty equal in Euros to the rent for the entire rental period as agreed on shall be charged, according to art. 1382 icc. Also, none of the Security Deposit will be returned.
6) SUBLETTING, AND/OR LENDING OF THE LEASED PREMISES
Subletting and/or lending of the leased premises to third parties are expressly forbidden. In these cases the contract shall be null and void and be subject to penalties.
7) EARLIER DEPARTURE
In case of an earlier departure before the end of the contract term, none of the paid rent will be returned.
8) CONTRACT CHANGES, EXTENSIONS AND/OR ADDITIONS
Any change in this contract must be done with and approved by a written agreement
9) CHECK-IN and CHECK-OUT
Check-in: from 16:00 pm to 8:00 pm
In case of delay please inform Nicole at +(PHONE NUMBER HIDDEN)
Check-out 10 am
The agreed-on check-out time must be adhered to strictly. Penalty for late check-out is 50 euros. However if an extension is requested in advance, property management may give an extension and waive the penalty.
10) CANCELLATION
If for unforeseen circumstances the Rocca di Montalbino have to cancel or modify the contract, the entire sum of the rent paid will be returned without any charge for postal expenses.
Accepting the confirmation of the reservation, it is also expressly agreed to charge the eventual cancellation penalties on the Credit Card given for the reservation.
11) TRANSLATION IN ENGLISH
The Italian version of the contract has validity over the English translation.
12) LAW AND COURT
Any controversy shall be ruled and settled by Italian law and exclusively by the Florence (Italy) Court.
Signing this contract the client/tenant affirms that he/she has read carefully the contract and accepts it and specifically provisions under Term and Conditions: 3. (Client/renter /guests' Obligations and responsibility); 4. (Behavioral rules during the stay and waiver of liability); 5. (Hospitality rules); 6. (Subletting, and/or Lending of the leased premises); 7. (Earlier Departure); 8. (Contract Changes, Extensions and/or Additions); 9. (Check-in and Check-out); 10. (Cancellation); 11. (Translation in English); 12. (Law and Court).
By signing this lease La Rocca di Montalbino, tenants say they have carefully read and accepted each condition mentioned above.
By signing this lease La Rocca di Montalbino, tenants say they have carefully read and accepted each condition mentioned above.
---
The property sits on a remote hill with gorgeous Tuscan views –just like the paintings and movies! There are a number of units that are connected that make up the property - we stayed in the end unit that had a nice patio off the kitchen, a stepped-down lower dining area and 3 brs and baths. All of the units share a beautiful pool that gets great sun. There is a sauna and indoor pool, but we were not given access. La Rocca arranged for us a nice outing to a local vineyard as well as a private chef for one dinner at the house. The reason for the low rating is that while the home and setting are beautiful, we must mention for the benefit of the Airbnb community that we were subject to a very unfortunate burglary on our first night. We awoke to an open wallet on the kitchen counter, the kitchen side door open with the lock barrel carved out, purse contents and passports outside on the lawn and various items in the house moved and rummaged. The burglars took all of our cash and jewelry, including unfortunately two nice watches and a set of wedding rings! Passports, electronics and cameras were left. In addition to sadly facing the loss of our special items, we were quite disturbed about the fact that the burglars ransacked our rooms while we slept there with our children. The police and caretaker were called in the morning. They indicated that these crimes are usually not violent but can be common. The owners have large wooden shutters with significant bolts and an alarm system, if you shutter all of the doors and put on the alarm at night and when you leave during the day you should be safe, but we weren't given that full precaution and thus are including this in our review so that nothing like this happens here in the future. To the owner's credit, their agent came by the next day to apologize and indicated that the owner with our police report would attempt a claim on their insurance.
Dear Steven, all the people reading the previous imaginative story will notice for sure that your "1-star rating" feedback is the ONLY ONE present here. Our property has only 5-STARS RATING and it is simply intuitive for all the guests reading this that you are completely wrong with your declarations. We don't know what really happened during your stay but we have a contract with YOUR SIGN. Steven, you SIGNED a contract where it is written that the private spa is always available for an extra cost and there are written all the necessary precautions and house rules for a relaxing and very safe stay in our property. During your stay we had not any problems with the others guests in the others property houses. This because obviously you and your group didn't follow the house rules and safety informations. We never had problems like that in our property. So it's absolutely clear that YOU ARE COMPLETELY RESPONSIBLE OF YOUR BEHAVIOUR. YOU DIDN'T CLOSE THE DOORS AND YOU DIDN'T FOLLOW THE HOUSE RULES AND INFORMATIONS SO YOU CREATED YOUR PROBLEM and your declarations are COMPLETELY WRONG.
---
Die Reise nach Montepertoli war sehr schön. Wir waren 6 Erwachsene ( 3 Paare) , die gemeinsam einen Urlaub machten. Wir sind sehr spät abends angekommen und wurden direkt von dem Hausmeister/Pförtner freundlich empfangen. Schade war, dass der Hausmeister/Pförtner ein sehr schlechtes Italienisch gesprochen hat. Sich auch nicht bemüht hat, wenigstens es zu versuchen. Sein Englisch war gut. Nach unserer Ankunft wurde uns alles im Haus und im Garten gezeigt und schön erklärt.Das Haus hatte alles, was in der Beschreibung drinnen stand. Der Hausmeister /Pförtner hat auch mehrmals wiederholt, dass er gleich nebenan wohnt und er immer da ist, wenn wir Hilfe benötigen. Die Einrichtung im Haus war schön und das Haus war auf dem ersten Blick auch sauber. Auf dem zweiten Blick gab es ein paar Kleinigkeiten, die nicht zu 100% in Ordnung waren. Zum ersten waren im unteren Bad sehr viele lange schwarze Haare auf dem Boden. Wir mussten das Bad vor der Benutzung herausfegen. Die Armaturen waren gereinigt, aber auch nicht sehr ordentlich. Was uns sehr gestört hat, war in der Küche das Geschirr. Es war zwar ausreichend Geschirr da, aber das Geschirr war teilweise nicht richtig gereinigt und in den Schränken gestanden. Also mussten wir eigentlich jedes einzelene Geschirr was wir benutzten zuvor abwaschen. Die Küchenschränke innen waren auch nicht sauber. Der Rest vom Haus und Garten war einfach sehr sehr schön. Wer Ruhe und Entspannung benötigt ist dort genau richtig. Es gibt drei wunderschöne Terassen mit Sonnenschutz. Einen Grill direkt auf der Terasse. Der Pool war von der Wassertemperatur genau richtig. Der Pool war sauber und die Außenanlagen waren sehr gepflegt. Im Ganzen muss man sagen, dass das Haus sehr zu empfehlen ist, außer ein paar Kleinigkeiten, die man aber immer hat. Ich würde definitiv mit meinen Mann ein zweites Mal hinfahren. Es war ein Traumhafter Urlaub. Vielen Dank Nicole. :-)
---
Overall we had a good experience at La Rocca. Rabal, the caretaker, went out of his way to be accommodating. The location is fairly secluded with a private pool shared among three units. It has nice view of the rolling hills and Tuscan countryside. August was very warm and there are no screens on the windows (to keep the mosquitoes out) so the place was very warm at night. The nearby agritourism Ristorante La Lombicaia was probably the best part of the location for us. We enjoyed a beautiful sunset view while dining on their patio overlooking their vineyards.
---
This villa is amazing! We had a great experience. We did not meet Nicole at the villa but the caretaker, Rabal, was very helpful. The views are amazing and there are plenty of nice private areas to enjoy them from. We paid extra for the private pool and spa which is below the main villa and it was well worth it. The outside pool has beautiful views but it was nice to swim in the indoor pool away from bees and mosquitoes. It can get a little warm at night if you visit in summer time. It's not as bad if you open some doors for a breeze but just beware of mosquitoes. There is a kitchen so you could cook for yourself. But if you are only there for a short time there is a restaurant up the road you can walk to that has great food. Just make a reservation with them ahead of time. Overall a great experience!
---
This is a wonderful place to stay and our favorite of all of our travels so far! And we've been many different places around the world. The villa is nestled in the hills of Tuscany, where every window and terrace has fantastic views. When the sun sets it splashes the color across the valleys and hills and you get that panoramic view. we stayed in the end apartment with 3 bed and 3.5 bath, perfectly comfortable for 4 adults. We enjoyed the swimming pool also, and had dinner on the outdoor terraces, with the endless beautiful view. The management is very responsive and thoughtful. Rabal, the concierge, and his wife made us feel especially welcome, sharing food and good conversation with us. We feel that we have now made friends who will welcome our return. We just wish we had booked a longer period to stay.
---