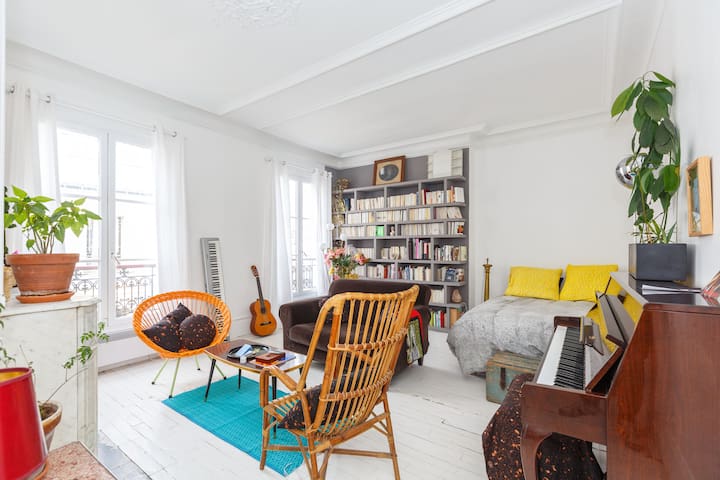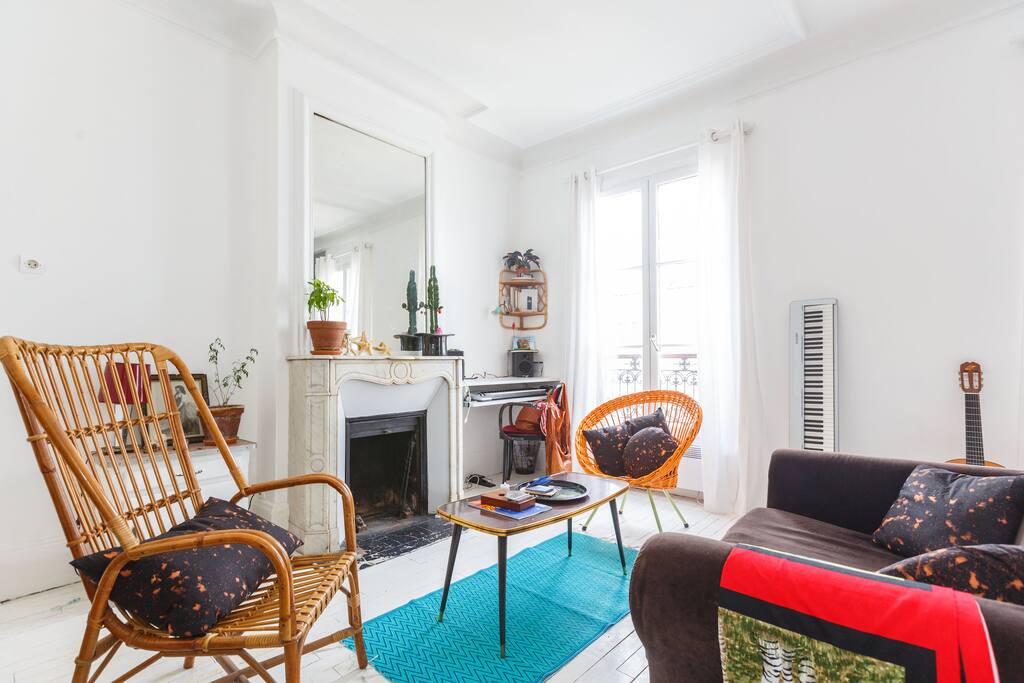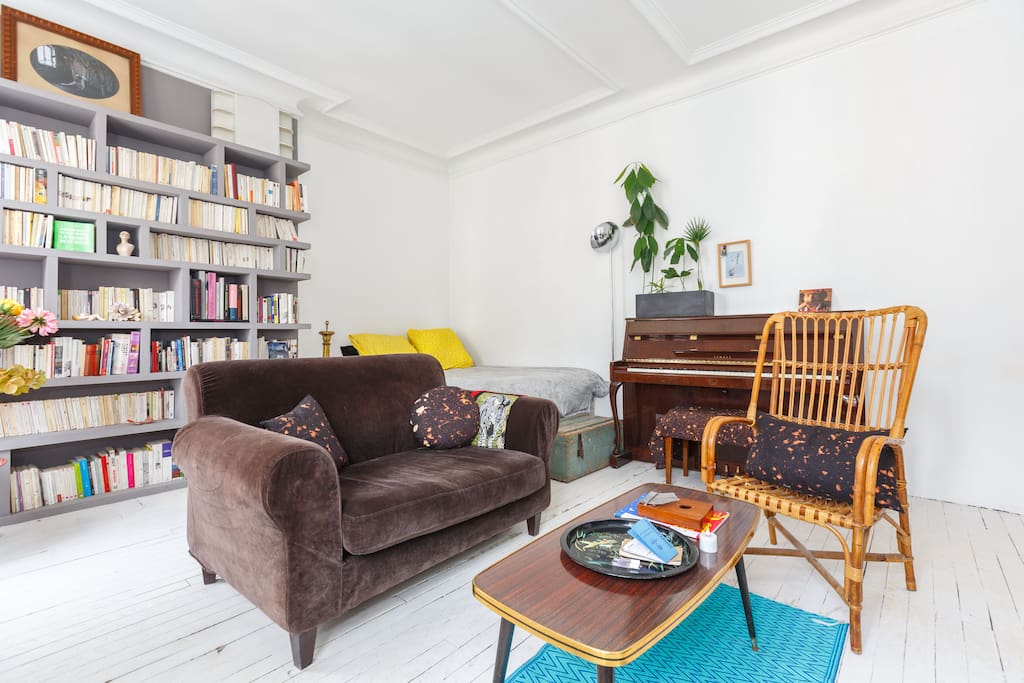 房源
Just four minutes by feet from the Sacré Coeur, this wonderful flat is "THE place to be" if you want to travel in Paris and live the "cool french life".
The place has just been done up, and it mixes an old paris touch kind to a more modern ambiance.
Up the sixth floor, you'll see the sunset and the roofs of Paris.
The atmosphere is very soft, warm, very romantic,calm and quiet.
It is perfect to cook, to read, to relax, to listen some good music, well, to live " la vie à la française"....
The metro station is called "Barbes", it crosses the line 4 and 2 (ideal to go anywhere in Paris).
The station is very lively, there is always lots of people and animation.
It stands at very few steps from the flat, and it is in front of a mythic cinema in Paris: le Louxor, and now, there is a huge french brasserie called "le barbès", where you can have breakfast, lunch or dinner!
Up the boulevard, you'll be in Montmartre, its restaurants, its galeries, its cafés, its artists and musicians...you can do everything by feet, and you can even walk until Pigalle and come back at night! It is absolutely afe, and moreover, so charming!
Well, in few words, i can promise you'll have a good moment. As for me, i do enjoy it every day!!!!!
---
We spent 5 days in the apartment. After 3 weeks in Europe, our stay in Montmarte have us a good opportunity to compare the apartment with previous accommodation we had used on our trip. 1. Value for money: we feel the apartment is best suited for student travelers or backpackers. The apartment is not located in the better part of Montmarte and we were charged a lot of money to stay there. 2. Services: no elevator (difficult to carry your suitcases up 6 stories). Broken shower - we could only use the bath (no shower curtain or working shower head mixer). Plates and cutlery were not clean. There was also dirty washing left in the washing machine. There was no cupboard space for hanging clothes. The owners clothes were hung all over the apartment and chairs leaving little to no hanging space. Wifi was very slow and often we could not connect to it. If more than one person used it, it was largely unusable. The linen and pillows were very uncomfortable. Overall we did not find the apartment in a very clean state -we found a condom in the tissue box next to the bed! We feel the above reasons represented the poor value for money offered. 3. Decor: while quirky and cute, we found the decor of the Apartment to be cluttered and contributed to the untidiness. It did not match the images or the cleanliness we saw on the AirBNB website. We also did not like the "penis" themed paraphernalia that dotted the Apartment. Again this is a matte of personal taste and should be aimed at younger travelers or removed before guests arrive. Juliette was friendly, helpful and was good with communication. If you're looking for an Amelie charming type experience in Montmarte - this is not the ideal place.
---
Wow! An amazing place. The flat is more of an artwork in itself than a practical apartment but that is what is nice about it. It has a character that is all Juliette and is styled well. Don't expect to come here with a clumsy boyfriend or expecting to use the apartment like you might your own home to cook meals etc but definitely apply if you want to experience a real French apartment. Yes there are 6 flights of stairs. You just have to be a light traveller and plan your days accordingly because once you are out, you are out all day. The neighborhood can be intimidating for first timers in Paris too (guilty) due to all the street hustlers. But after a while you get used to it and you shrug them off with the rest of the crowd. The apartment complex is very nice too with a piano player somewhere in the area and people playing music all the time. The location is great. It is a 9 min walk from Gare du Nord if you dont feel like wrangling the Metro on your first day. Once settled in there is a metro only 2 mins down the road. Apply if you want to sleep in a beautiful apartment but do not apply if you are expecting to make home cooked meals. We absolutely loved it but I can understand there are a few issues other people might not like.
---
We enjoyed our stay at Juliette's flat very much! Unfortunately we didn't meet with Juliette, but we could always call. We had a little confusion regarding our arrival time, but everything else was good! The apartment is situated near a metro station which makes getting to any place in the city very easy. The place was exactly as described and as shown. The apartment itself leaves an unforgettable impression. It's filled with creativity and coziness, very stylish and comfy. There are lots of little things that create a special feel which makes us want to come back. We totally in love with this apartment! We'd recommend this apartment to anyone. Thank you Juliette!
---
Je suis musicienne et je réalise des documentaires pour la télé et la radio en France!