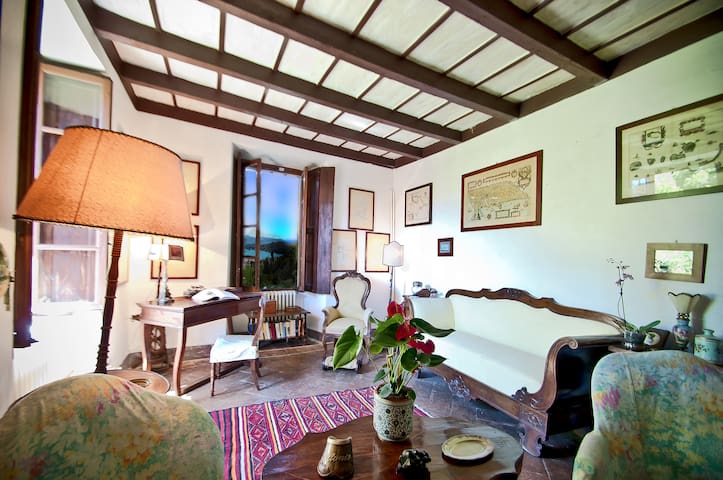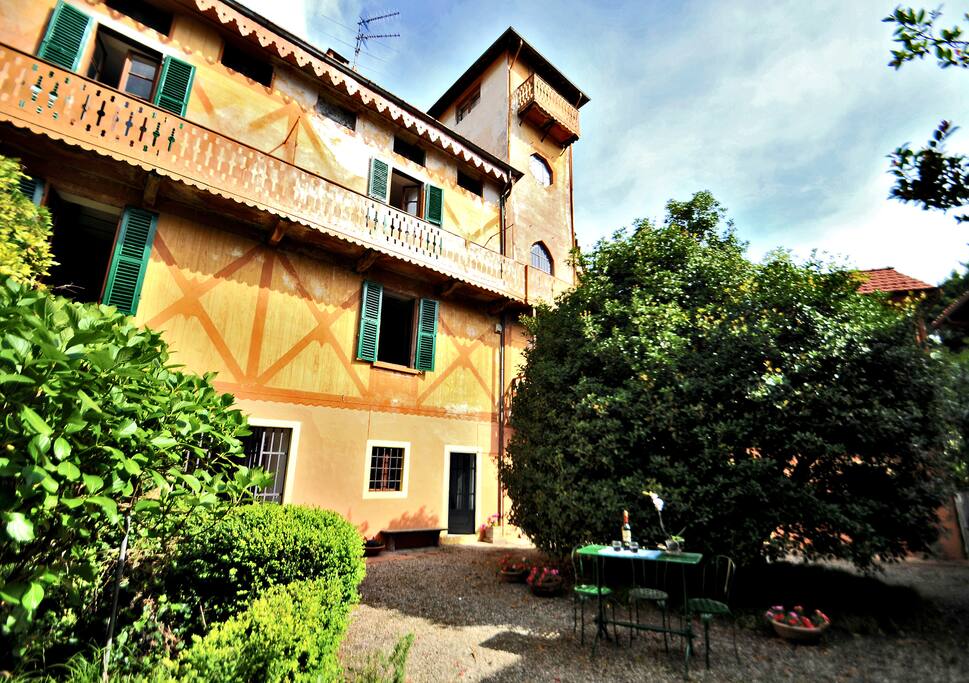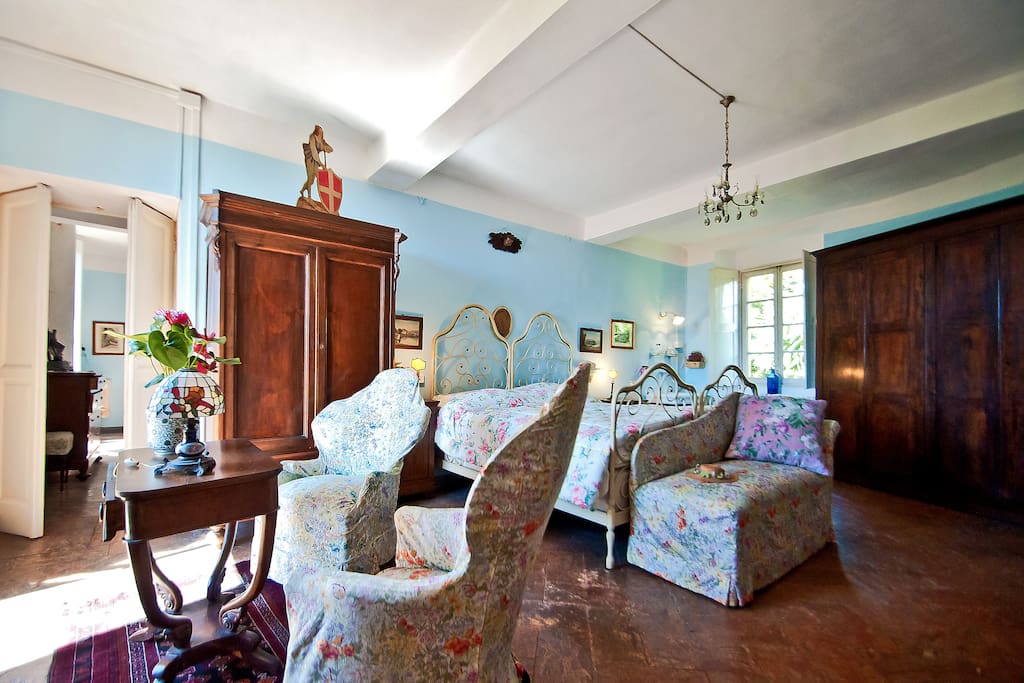 Stunning Villa near Lago Maggiore
Our beautiful fascinating historical Villa lies in one of the most characteristic villages of Lake Maggiore.The flowered and perfumed Garden is ideal to relax after a nice swim in the lake.But if you like Expo and Milano are less then 50 minutes away
房源
The house is an ancient hunting lodge built around 1850; it lies in the picturesque peaceful village of Solcio nearby the lake, immersed in a beautiful private flowered garden.
Camellias, Hortensiae,Roses all over the garden create a feeling of tranquillity and relax.
Although not directly on the lake, our house enjoys a magnificent view of the little gulf of Solcio and a little stream runs along the house boundary wall. The lake is a few yards away and it is possible to swim in wonderful little beaches nearby.
Your car can be parked inside our private garden, or in a little parking lot on the lake shore. In the local village you find a market, a few restaurants, a bar and a tobacconist- all at about 100 yards form the house. Large supermarkets and shopping centres are in a few kilometres range.
Nice walks start from the village and go uphill into the chestnut forest. The second highest mountain of the Alps, the Monte Rosa, is less than an hour drive away. If you like to swim you can find little nice beaches nearby.You can also hire a sail or a motorboat to sail across the lake in a nearby village.
A private sporting club is also close by; it offers tennis courts, a big swimming pool and other facilities. If you prefer to play golf, an 18 holes golf club is a few kilometres away.
The house has a beautiful painted front and in the inside you will revive the charm of an old patrician leisure villa; you will enjoy the ancient furniture, a pleasant dining room with frescoed walls and ancient glass cabinets. In the room there is also a nice led TV. Wifi internet is available.
Next door, you can relax on the comfortable armchairs and old sofa of the drawing room, among a wooden wall library and an 1800's writing desk.
The large kitchen has maintained the old charm with the original working table and cupboards; the big fireplace is still in place, as well as an old wood stove, once used to cook all meals .Besides the old fashioned furniture, the kitchen is clearly equipped with all modern appliances, i.e. fridge, freezer, gas cooker, microwave oven and dishwasher.
On the same floor, facing the garden with a nice wooden big balcony there is a small cosy room with its own bathroom.
The two main bedrooms (king size bed) and adjoining bathrooms are on the second floor, both with a balcony overlooking the garden and the lake.
Each room is also equipped with an individual washbasin – as it was customary in the 1800.
Connected with one of the rooms there is another bedroom , with twin beds, also with a view on a private garden.
From the 15th of november to the 31st of march there will be a small extra charge for the use of heating equal to 1, 5 euro per cubic meter of gas used during the stay.
We hope that this will be a quite romantic way to relax and enjoy your vacation.

---
Wir hatten einen schönen Aufenthalt in der Villa. Der Garten ist sehr schön und das Haus urig und einzigartig. Der Ort ist klein und gemütlich. Seeufer und Hafen sind ein Katzensprung entfernt. Eine schöne Badestelle wurde uns gezeigt, zu der es fünf Minuten mit dem Auto waren. Parken war dort kein Problem. Auf dem Rückweg kam man an einem etwas größeren Supermarkt vorbei, so dass man gleich für das Abendessen einkaufen konnte. Im Haus war alles da und sauber. Die Betten sind antik, aber trotzdem bequem. Das hat uns sehr gefreut. An den Glockenturm gewöhnt man sich. Zwischen 22 und 8 Uhr morgens ist er ruhig. Für unsere Kinder war viel Platz. Das war wunderbar.
---
Il faudrait dire : - que la maison est proche d'une gare avec trains nocturnes et de la route. - qu'elle ne comporte pas de machine à laver le linge (c'est important surtout pour une famille avec enfants...). - que les 3 chambres sont communicantes... - qu' à Solchio, il n'y a rien en dehors d'une supérette et d'un restaurant ouvert en semaine, moyennement bon et pas très accueillant ... Le Lac Majeur est un endroit magnifique. Nous y retournerons avec plaisir, mais certainement pas à Solchio. Dommage, la maison nous a beaucoup déçus, malgré un certain charme désuet que nous avons su apprécier par ailleurs, une vue imprenable côté chambres sur le clocher et un bout du lac et un magnifique jardin.
Regarding Jany review I would like to point out some incorrect issues that could give a wrong impression about the house. 1-the house is near a street: that is incorrect as it could give the impression of a nearby street with lot of traffic, in fact the main street is about 100 meters away ,there are other houses and two big gardens between our house and the street and the traffic is very rare during night time. 2- there isn't any train station in Solcio . A few train pass by during the night as there is a train line that goes through all the villages on the west part of the lake Maggiore but the noise is feeble and soft. 3- the house is an old mansion and a typical feature of these structures is the direct access from one room to another, in fact this is quite fascinating and impressive, having said that ,all the rooms have also a second access, from the balcony or from a second staircase . 4- in Solcio village there is (luckily!) only a small minimarket, but about 2/300 meters along the road there is a large supermarket, if you need it. 5-in Solcio there are 4 restaurants and also a Special Fish restaurant on a barge that works Saturdays and Sundays and is quite original and appreciated, so your critic is unfunded.. 6- In our announcement it is well described that there is no washing machine in the house , so this is not a point on which you can complain. Anyway in the next future we can consider to add a washing machine for the guests. I'm sorry you didn't appreciate the place, luckily many other people who visited Solcio, liked it as everybody can see by looking on the other reviews.
---
An excellent family holiday in a large house full of character and a lovely shaded garden. Solcio is a small village but has a basic grocers and a couple of restaurants but a car is essential if you are going to get the best out of the lake and surrounding areas. Late May was a great time to be there, weather warm but not boiling and not too may tourists. Beaches and pools within easy reach and a wide range of good restaurants and bars in Stresa. The Lake Maggiore Express is a must and a meal at the top of the cable care also recommended - authentic Italian home cooking and the owners grandfather was Churchill's butler. We were very happy to stay at the house as well though.. Lounging in the garden with a good book and a bottle of wine was just what we needed. The church bells next door were a feature! - but we grew to love them in the end. Highly recommended
---
Das Haus in Lesa ist einzigartig, authentisch italienisch. Wir haben einen wunderbaren Aufenthalt in Nicos Haus genossen. Der Garten ist wunderschön und lädt zum geniessen ein. Bei der Übergabe und Fragen war Nico und/oder seine Frau stets erreichbar. Sie sind ganz herzlich und unkomplizierte Gastgeber. Ein super Erlebnis in einer schönen Umgebung. Herzlichen Dank Nico
---
Meitä oli 8 aikuista lomalla Lesassa.Paikka oli vanha viehättävä huvila kirkon vieressä.Joka päivä lähdimme reissuun bussilla tai taksilla.Lesa on pieni paikka,emme löytäneet kunnollista aamiaispaikkaa joten teimme itse.Auto olis hyvä olla jos ei ole,niin bussilla pääsee tunnin välein pohjoiseen tai etelään.Mukava paikka,Nico ja Mario oikein auttavaisia ja ystävällisiä.Maggiore järvi on upea.
---
If you decide to stay here you won't be disappointed. There's a HUGE amount of space so this is a perfect place for a large group. One could very easily just hang out in the villa and its garden and go for a swim in the lake and that would make for a very restful holiday. This place has character in spades, big beds, pleasing nooks to hide in and read a book, big table to sit around, a relaxing drawing/reading room and very pleasant garden. The bells from the local church are quite near, but for us at least, they weren't too intrusive and added to the atmosphere of the place. Nico's friend and assistant is on hand to help out if needed (he speaks better English than he would have you believe ;-) ), but the likelihood of there being any hitches is small. Cool place Nico!
---
Vivo a Roma e sono innamorato di quella città. Amo anche moltissimo il lago e la natura che qui é bellissima e rigogliosa.Ho moglie e quattro figli. Abbiamo anche 2 cani un gatto e una cavia peruviana. Ho una piccola barca a vela e quando siamo sul lago navighiamo moltissimo e facciamo anche le regate. Mi piace anche passeggiare in montagna e esplorare luoghi nuovi, d'inverno andiamo a sciare sul monte Rosa che é bellissimo e affascinante. Amo il verde e cerco di curare i fiori e il giardino nel modo migliore possibile
Mi piace anche leggere, e rilassarmi con un buon bicchiere di vino vicino al caminetto. Se sono qui quando vengono gli ospiti mi piace accompagnarli in delle belle gite o in qualche navigazione sul lago.
语言:
Deutsch、English、Español、Français、Italiano