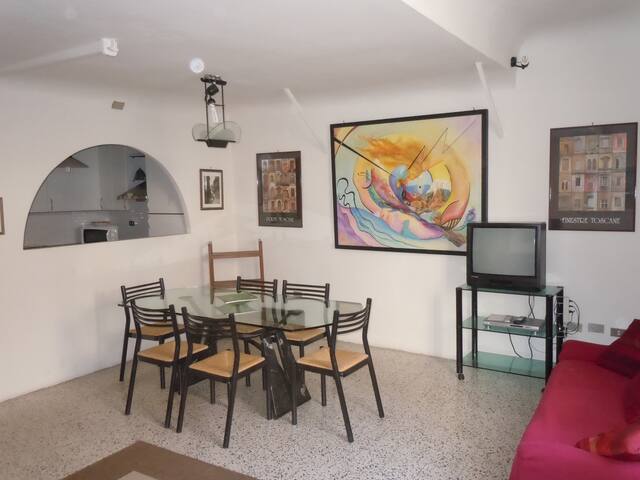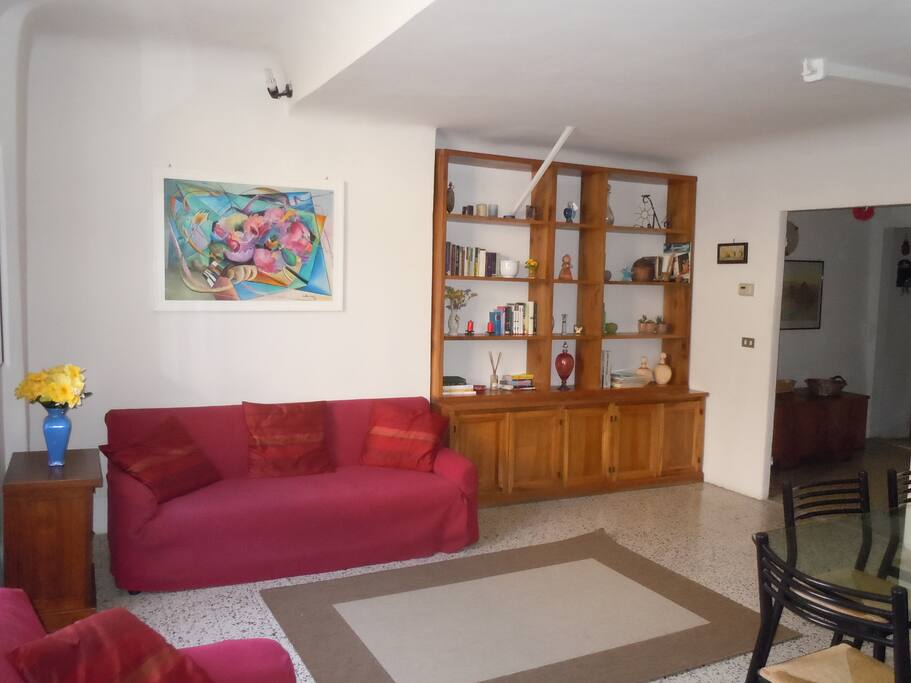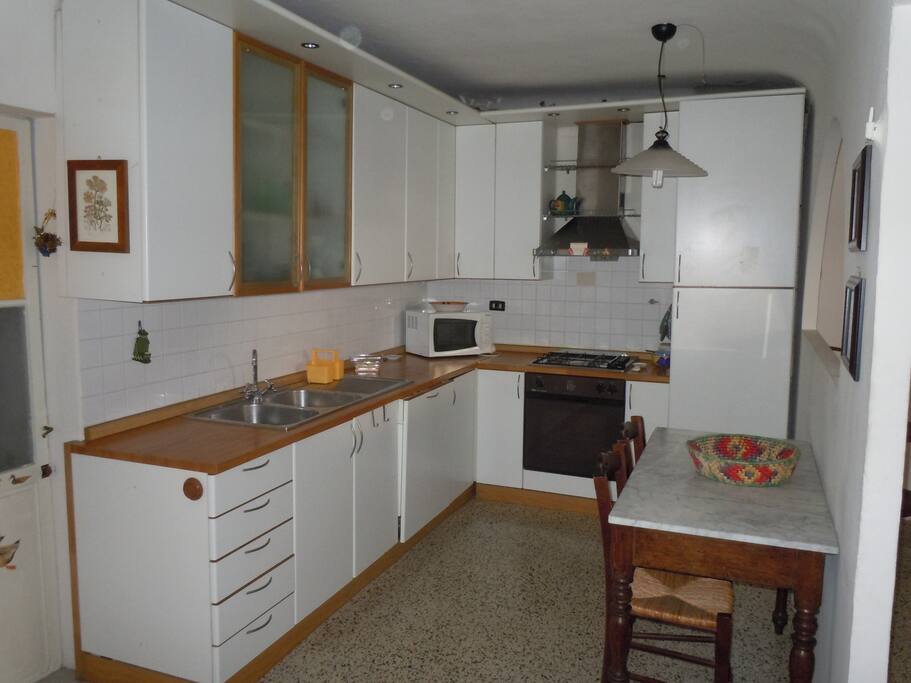 Logement spacieux, agréable à vivre, à 15 minutes à pied de tout (Duomo, Galleria degli Uffizi....ecc). Nous étions 3 et on se marchais pas dessus au contraire. Merci à Nato de son accueil et de ses conseils. Toujours à l'écoute de ses hôtes. Avec des critères en plus qui n'étais pas mentionnés sur le site donc que de bonnes surprises. N'hésitez pas franchement ! A bientôt sur Florence !
---
Great place, great location and extremely kind owner. Me and other two guys have lived in via delle Conce for two wonderful months. The apartment is wide, with three bed rooms a guest room and a very spacious living room, but also richly decorated and with every possible accessory included. The place is in the city center, 2 minutes from piazza Santa Croce in a quite and characteristic area. The owner is professional and available for every necessity.
---
Nato e Elizabeta foram muito cordiais conosco. Foram pontuais tanto na chegada quanto na saída. Atenderam prontamente às nossas solicitações. O apartamento está muito bem retratado nas fotos: é confortável e espaçoso. Fica numa rua estritamente residencial e está perto de praticamente todos os pontos turísticos, assim como de restaurantes e mercados. Enfim, é uma ótima localização. Fica no segundo andar de um edifício sem elevador, mas nada que seja inviável; pelo contrário, auxiliou-nos nos exercícios físicos diários. Aproveitamos a oportunidade para agradecer-lhes a possibilidade de nos hospedarmos neste apartamento. Um abraço. Teresa, Angélica e Lúcia.
---
This fantastic apartment was the ideal place for us to spend time in Florence. It is very spacious and well-appointed, around the corner from Santa Croce and within comfortable walking distance of all of the city's main attractions, and located in a wonderful neighborhood with all the amenities (stores, restaurants, market, etc.) you'll need. And, perhaps most important, Nato and his wife Beta are incredible hosts who have really gone out of their way to make our stay in the city as comfortable as possible. They've made sure our kids have everything they need to sleep comfortably and enjoy our stay and have been very quick to respond to questions and concerns. They also gave us some great tips for restaurants and other local spots. We were in Florence for an extended visit with two young kids (2.5 years and about 1 year old) so space, safety, and convenience were of utmost importance. The apartment is as big as it looks in the pictures and our kids have had plenty of space to roam and play. One has to go up two flights of stairs to reach it but the staircases are well-lit and maintained, and very comfortable for walking up and even lugging stuff up the stairs. The bathroom is spacious with a great shower/tub combination that's big enough for the kids to play in. The kitchen appliances work great and the kitchen has most everything you'd expect to find (pots, pans, corkscrew, etc.). There is a spacious dining/family room with a table and some couches. The couches are lower than "American" couches but do the job. There is a separate living room with a comfortable futon. The bedrooms all have windows, reasonably comfortable beds, and great storage. The heating system has worked well for us this winter. These old brick buildings can get cold but all the windows are new and well insulated so the heating system can get things up to a comfortable temperature quickly. The water heater also works great. There is a washing machine but no dryer - you'll have to hang your laundry out to dry like the rest of the Fiorentines. The neighbors are very friendly and helpful. The upstairs neighbors have a couple of kids that make some noise while playing during the day but it's not too bad in the bedrooms in the back so it has not disrupted our or the kids' sleep. The neighborhood is fantastic. The apartment is less than a 5 minute walk away from Santa Croce and all of the shops, bars, and restaurants around it. There is a great gelateria around the corner too. If you don't want to take the 10 minute walk to the city center, you can take a bus at the end of the block. There is a nice park for kids two blocks down (right by Santa Croce) and another 3 or 4 within a few minutes' walk. Most of the sidewalks are wide enough for strollers though sometimes you...
---
This is a great apartment, very spacious and well equipped. It is situated on a quiet street in a great location, next to the market of S. Ambrogio and the center of town. Couldn't' have been happier. I was there for four weeks. Definitely recommend this place. The hosts are very nice and always concerned for everything to be ok.
---
We spent 4 weeks at Nato's Santa Croce apartment, and our overall experience was positive. The apartment is simple, but extremely spacious, with 3 bedrooms at the back, large bathroom, two living areas, kitchen and dining area, and a small laundry area. I was surprised by the space as a typical Italian apartment is normally much smaller. When I first booked the apartment there was no wifi, but shortly before arriving Nato notified me that he had it installed, for which we were grateful. At times there were problems with the internet coming and going, but this was a minor issue as we were not in Italy to browse the internet, and most of the time it was functioning properly. The apartment location was excellent. It is just outside of the core, so tourists were not walking up and down the front of the apartment, but close enough that in 2 minutes you can walk to Santa Croce, and within 10 minutes you could walk to almost all the important sites of Florence. It is located a couple of minutes from the river and it placed us at a perfect location to view the firework displays celebrating San Giovanni, on June 24th. That was a sight to behold! The only negative was that owners in the unit above had their grandchildren for a couple of weeks, and being Italian, it meant they could get away for making all sorts of noise and commotion. However, from the bedrooms, not a sound could be heard. You may need to take this with a grain of salt because back home I live in a single family home . On a positive tenant note, there is a sweet older lady that would always ask me about our son, and when he was around she would let him pet her dog. One thing I appreciated was Nato's quick response to issues and concerns. One day the clothing iron was leaking and I let Nato know by email, and the next day a new iron appeared. I also needed a small kitchen implement, and that too showed up the next day. This was my first airbnb experience, and Nato made it a positive one. If I go back to Florence I will rent again from Nato. Thank you, Nato!
---