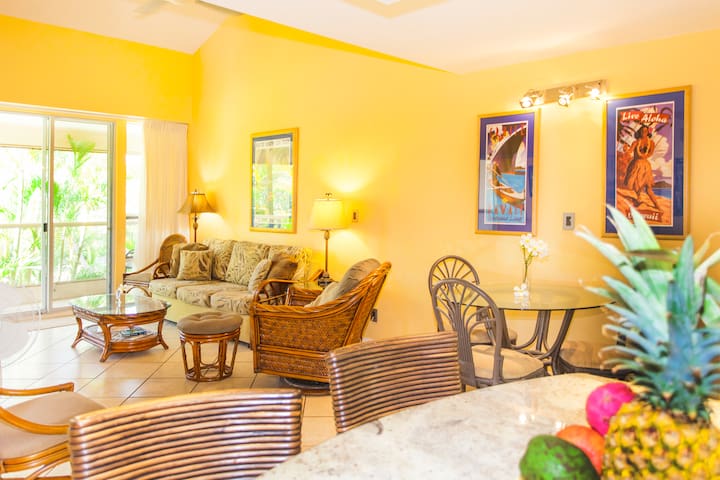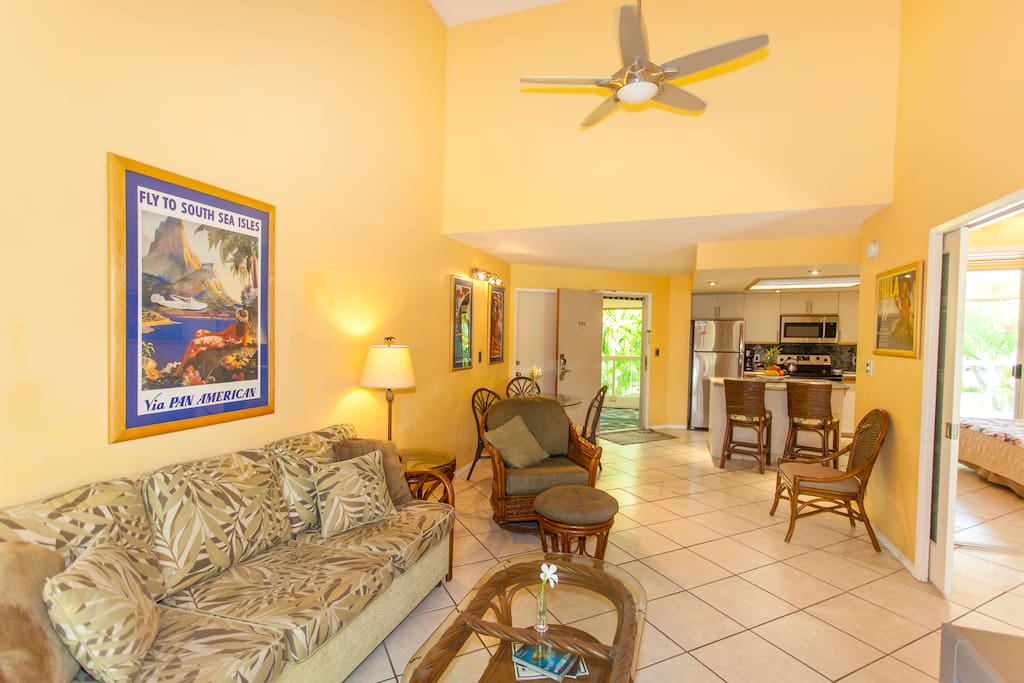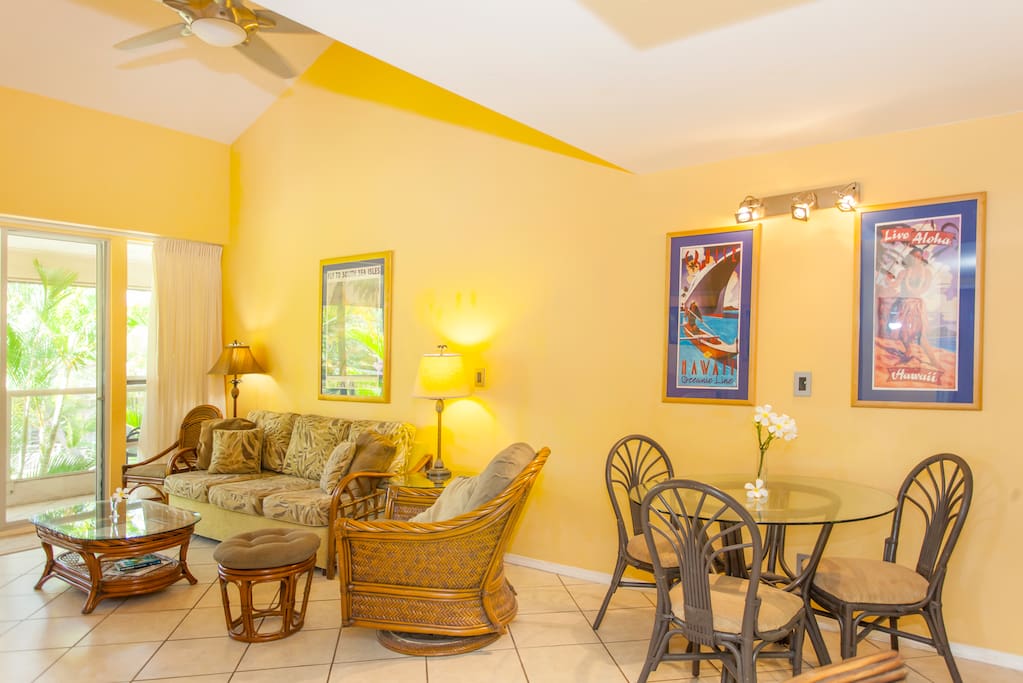 Maui Banyan B-204 - Stylish Condo Close to Beach
**Our pricing already includes the mandatory 13.42% Hawaii State Taxes
Newer renovations and furnishings make this a beautiful home away from home! This condo is a guest favorite, and the reviews speak for themselves!
---
---
---
---
Maui Condo and Car's Airbnb Terms and Conditions
Check-In Time: 4pm
Check-Out Time: 10am
LATE CHECK-OUT - In order to obtain a late departure from the condo/home, you may wish to request the time in advance. Once your reservation is confirmed, please contact our office for more information regarding late departures.
UNAUTHORIZED LATE CHECK-OUT - In order to prepare the space for subsequent guests, standard check-out time is strict at 10am. Failure to comply will result in a minimum fine of $100. Late check-outs must be arranged in advance with the HOST.
LOST KEYS - For our condos that have hard-copy keys (metal keys), GUEST will be provided with THREE (3) keys. One key will be present in the front door lock-box, and two additional keys will be located inside the condo. For liability purposes, there is a minimum $150 charge for lost keys, as locks must be changed if all keys are not accounted for. Please contact our office immediately if there are less than the specified number of keys upon arrival. Condos utilizing electronic keypad entry systems (ie - Schlage or Kaba locks) do not have hard-copy keys, and are exempt from this policy.
LOCKOUTS - GUESTS may be assessed a $50 fine for lockout services. If it is determined that a lockout is caused by a fault of the locking mechanism (ie dead batteries in an electronic lock), fines may be waived. GUEST is responsible for carrying keys to the condo with them during the duration of the stay to avoid accidental lockouts.
PAYMENT - Please refer to the help center for any questions on payment or payment methods: https://www.airbnb.com/help/topic/222
CANCELLATIONS - Maui Condo and Car listings are subject to a strict cancellation policy. For outlines on this cancellation policy, please visit https://www.airbnb.com/home/cancellation_policies#strict
FALSIFIED RESERVATIONS- Any reservation obtained under false pretense will be subject to forfeiture of advance deposit and/or rental money and the party will not be permitted to check-in.
PENALTY FOR VIOLATING MAXIMUM OCCUPANCY PROVISION – Violation of the maximum occupancy provision can result in serious health risks directly related to overuse of the sewer. Therefore, in the event the GUEST allows the premises to be occupied by more than stated maximum occupancy, GUEST shall be responsible to pay HOST the sum of one hundred dollars ($100.00) per person in excess of the stated maximum occupancy per day for each day the GUEST is in violation. Exceptions may be made with prior written consent from the HOST.
POOL AREA - All persons using the pool area to do so at their own risk and sole responsibility. Children under the age of 18 must be accompanied by adults in the pool area at all times. HOSTS assume no responsibility for any accident or injury in connection with such use. Persons using the pool agree with the Owners for and in consideration of the use of the pool, to make no claim against the owners for or on account of any loss of life, personal injury, or damage to or loss of personal property. Do not hang towels, linens, clothing, or other items on balconies or in the yard.
LANAI/BALCONY - GUEST will refrain from hanging items over lanai railings, including, but not limited to, towels and swimwear. GUESTS will refrain from leaving unattended personal items in common walkways or within sight on balcony/lanai.
DAMAGES – GUEST is responsible for any and all damages that occur to the property or its contents by GUEST or traveling companions while registered occupant(s) of the property. Damages will be claimed in accordance with the Airbnb security deposit policy (https://www.airbnb.com/help/article/140) for incidentals including, but not limited to loss, theft or damage. If HOST discovers that there has been damage to the property or its contents during occupancy, HOST will capture an amount from GUEST security deposit through the Airbnb Resolution Center. The amount captured reflects an estimated cost of materials and labor to replace or repair damaged item(s). HOST will provide a statement of the damages and the receipt for the repairs after they have been completed. GUEST and/or HOST will have the opportunity to invite third-party mediation from an Airbnb customer service agent.
GUEST and/or their guest(s) shall not disturb, annoy, endanger, or inconvenience neighbors, nor use the premises for any immoral or unlawful purposes, nor violate any law or ordinance, nor commit waste or nuisance on or about the premises. Loud music systems and other disruptive noises are not permitted.
GUEST agrees that during the term of this lease and such further time as he/she occupies the premises, he/she will keep the leased premises clean and free of trash, garbage, and other waste; and all pipes, wires, glass, plumbing and other equipment and fixtures in the same condition as at the beginning of, or may put in during the term of the lease; reasonable wear and tear and damage by unavoidable fire and casualty only exception.
PETS ARE NOT PERMITTED in rental units under any conditions.
NON-SMOKING POLICY – State Law prohibits smoking in all areas open to the public, including, but not limited to, restrooms, lobbies, reception areas, hallways, bars, vacation rental rooms & lanais, restaurants, retail service establishments and retail stores. All accommodations provided by HOST are NON-SMOKING. GUEST will be assessed a smoke/odor elimination fee of $475 for smoking, permitting smoking, or otherwise causing the odor of smoking in accommodations managed by HOST.
GUEST agrees that any tenant who is found using drugs or allows others to use drugs on the premises will be immediately denied occupancy at these premises, and that illegal activity may result in an immediate cancellation of reservation and forfeiture of any and all deposits made.
INDEMNIFICATION AND HOLD HARMLESS - GUEST acknowledges and understands that each and every guest or guardian is solely responsible for any property damage, accident, injury, or loss sustained to any person while in-residence, and neither the HOST nor the Owner accepts legal or financial responsibility. GUEST and guardians assume all risk of injury or other losses resulting from the use of residence or any other recreational activity while staying at the residence and will hold the HOST and/or Owner harmless with respect hereto. GUEST hereby agrees to indemnify and hold the HOST, Employees, Officers, Contractors and/or Property owner harmless from any claims, including those of third parties, arising out of or in any way a result of GUEST use of the premises or items therein.
GUEST agrees to indemnify and save HOST harmless from all liability, loss or damage arising from any nuisance or harm made or suffered on the leased premises by the GUEST, tenants, or guests or from any carelessness, neglect, or improper conduct of any persons entering, occupying or visiting the leased premises.
GUEST agrees that he/she shall not paint or make alterations to the property, including adding to or changing existing locks, without the HOST'S written consent.
Upon not less than 24 hours' notice, GUEST shall make available to HOST or his agent for the premises of entering to make necessary or convenient repairs and to show the premises to prospective tenants. In an emergency, HOST or his agent may enter the premises at any time without securing prior permission from GUEST.
GUEST may not let, sublet or assign this lease for all or any part of the premises without prior consent of the HOST.
If GUEST abandons or vacates the premises, HOST may at his option terminate this lease, enter the premises, and remove all property.
In the event that any action shall be commenced by either party arising out of, or concerning this lease or any right or obligation derived there from, the prevailing party shall be entitled to receive attorney's fees as fixed by the Court in addition to all relief at law or equity.
Either party may terminate this lease in the event of a violation of early provision of this lease by the other party in the manner and as provided by law.
GUEST assumes full responsibility for fulfilling the terms of the lease for the period stated and assures the HOST full recourse for the payment of any amount outstanding from the total amount due in accord with the terms as stated above including any outstanding or unpaid charges that are the responsibility of GUEST.
GUEST assures the HOST that the tenants will observe all conditions and terms of this lease as to maintaining the premises in good order and appearance and will conduct themselves in a manner inoffensive to neighbors.
GUEST assures the HOST that any tenant who violates any of the terms of this Lease shall be immediately denied occupancy and shall remedy any damages or other expenses, which are caused by the tenant and/or the tenant's guest(s).
The Policies and Procedures above are meant to protect our guests and owners alike. All guests and owners are required to conform to all Policies and Procedures.
---
严格
旅程开始前的7天之前取消预订可以获得50%的退款。如果在旅程开始前7天内取消预订,该预订将不可退款。
---
---
---
The Maui Condo and Car rental experience was a bit trying to say the least. The door to the master bathroom came off the hinge multiple times during the stay and required us to contact the management office to schedule someone to come out. The door between the bedroom and living room was similarly flawed. The couch did not conveniently fit 3-4 people on to it, and was uncomfortable when watching movies. The lock to the patio has been jacked enough times that it seems to imply multiple break in attempts. The management team didn't include multiple parking permits despite my preparation in telling them to do so. My car couldve been towed or fined in the length of time it took to send someone to drop off another permit. The management company only provided enough dishwashing liquid for 2-3 uses, and did the same for the laundry detergent. Seemed quite stingy honestly. Oh, and the place was crawling with ants. Like, crawling. I had to recoil in horror a few times at how many would be out when Id come back to the unit and eventually had to safeguard the kitchen before leaving (although they would still come back). Overall the space was conveniently located and "good enough" but didn't present the polish I was hoping for.
Thank you for your review, Brian. I'm sad to hear that your stay was anything but outstanding with Maui Condo and Car. I'd like to address your review issues one by one, to reassure future guests that we take your feedback seriously. 1) The doors at the Maui Banyan property are problematic across the entire resort. Sadly, the original builders thought pocket doors would be space-saving, but they do come off track, and are quite difficult and expensive to fix. I can assure you, there have been no break-in attempts on the upper floor of this condo building, especially with it's visibility from the security-patrolled sidewalk. We've been able to fix these doors in other units we manage -- and it seems like the expensive fix is due on this condo as well. I'll forward the feedback onto the owner, and hopefully they move forward on the work ASAP. 2) The living room is as pictured, with one queen size sofa, and two chairs. I apologize that you were not able to fit four people on our couch, but most standard size sofas aren't built for that many people. 3) I see no record in our message thread of a request for a parking permit. Are you sure you submitted this request? Regardless, we sent a permit out to you as soon as we could, and in the interim, we notified the property of your lack of permit. They assured us, as we assure guests, that Maui Banyan is not in the practice of fining or towing cars frivolously. They leave several written warnings, over the period of several days, before a fine is issued. Considering the circumstances, we would have gladly taken that fine for you, however that was unnecessary, as a parking permit was delivered within 24 hours of you contacting our office. 4) In your initial confirmation, on the packing list, we outline all of the items we provide for our guests. These starter supplies include: linens and towels, soaps and shampoos, 2 rolls of toilet paper per bathroom, enough dish detergent for 3 loads, enough laundry detergent for 3 loads, 2 garbage liners per bathroom, unlimited kitchen garbage liners, cleaning sprays and supplies (409, windex, etc), 1 roll paper towels, beach chairs, beach towels, and a beach umbrella. We also leave behind any useful pantry items, such as spices, coffee grounds, oils, foil, saran wrap, etc. 5) Thank you for letting us know about the ants. We'll schedule a pest control immediately. Most often, ghost ants are in search of not just food, but also water. We recommend guests keep food sealed, clean up after each meal, and dry the counter tops with a paper towel after washing. I believe the polish you were looking for included daily housekeeping services and unlimited supplies, which you'd be able to find nearby at one of the many hotel resorts on Maui that include such services -- resorts like the Marriott, Fairmont, and Four Seasons are designed to provide these daily services and amenities.
---
It was a pleasant experience . Necessary amenities were all in the unit including stuff for the beach and pool. It would have been better if we had easy access to the hosts or somebody from the group for some queries about tours and the island. We were helped however by the concierge in a hotel nearby. Nevertheless, it was an unforgettable experience! Mahalo!
---
Thank you for hosting us! We had a great time! The condo was very nice as shown in the pictures and location was AWESOME! Easy access to the beach and easy to get around to explore the island. The parking wasn't too bad either, we probably had a hard time one night but that was it. I would definitely stay here again and recommend it.
---
We have a Vacation Rental Company in Maui where we deliver clean units by the beach at a great price. Contact us anytime to get a great deal on Maui!

Maui Condo and Car is an on-island property management company. Our attention to detail is second to none. We have the BEST cleaning service on island, 24/7 emergency services available, and friendly, attentive staff to meet your needs. With an "excellent" average rating of over 1200 reviews, and returning guests year after year, we're confident that you will be happy with the level of customer service you receive with Maui Condo and Car.
语言:
English、Español