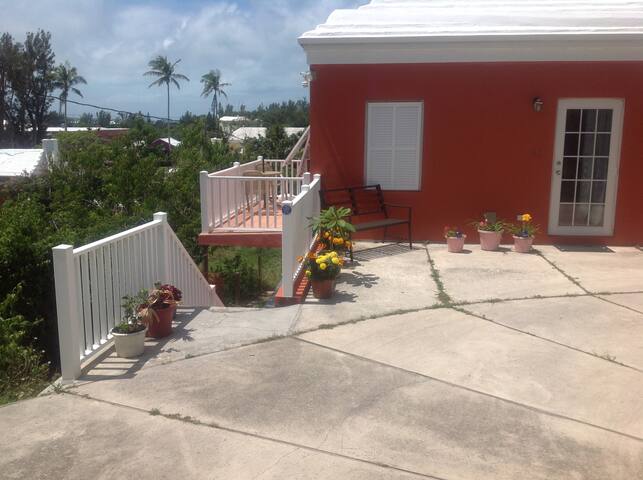 PERFECT FOR THE COOK AND WATCHING SPORTS
"Loquat Too" is the third addition to the very popular "Great Studio in a Perfect Location" and
"Cozy, Self-Contained Garden Studio" .
This apartment has a very large eat-in kitchen, large living room with 50" flat screen TV with cable, a bedroom with a queen-sized bed and a 32" flat-screen TV to watch DVDs. Off the kitchen, is a bathroom with a shower.
In the living room, there is a daybed large sectional couch. Sleeps maximum 5 persons.
房源细节
PERFECT FOR THE COOK AND WATCHING SPORTS
"Loquat Too" is the third addition to the very popular "Great Studio in a Perfect Location" and
"Cozy, Self-Contained Garden Studio" located in Southampton.
This studio has a very large eat-in kitchen, large living room with 50" flat screen TV with cable, a bedroom with a queen-sized bed and a 32" flat-screen TV to watch DVD;s. Off the kitchen, is a bathroom with a shower.
In the living room, there is a daybed and we can supply a blowup bed for the fourth if required.
Complimentary WiFi is available.
"Loquat Too" is definitely for those who want to cook or just want more indoor space.
A small gas BBQ is available for you to enjoy outdoor dining. A cooler bag is available for those snacks you may want to take on your Island excursions. We also provide a small supply of paper plates and paper cups for those guests who do not want to wash the dishes. You can easily replenish this supply by visiting the "Dollar" store at the Heron Bay Plaza.
Maid service will be provided for stays longer than 7 days.
The bedroom is air-conditioned and has a ceiling fan. Heaters are provided should the need arise during the winter.
This studio does not have a dedicated phone line.
If you require laundry service, the owner's will assist you by lending you a laundry card that you top up at Warwick Laundromat with funds to cover your use of the facility. Warwick Laundromat is a short three bus stops from the studio.
NEARBY ATTRACTIONS
Loquat is five minutes to world famous Horseshoe Bay Beach using the Southampton mini bus or a scooter. If you prefer to walk, you can be at Horseshoe Bay in about10-15 minutes. In less than 5 minutes, walk to Heron Bay Plaza with various facilities available such as a restaurants (Island Cuisine is very popular with our guests), bakery, Pizza House, Mr. Chicken, supermarket, Scoops ice cream parlor, yogurt shop and bus stops.
In 10 minutes you can be in Somerset and then on to the Royal Naval Dockyard or 20 minutes to Hamilton.
We are located near Fairmont Southampton Princess Hotel and the Port Royal Golf course. We are on bus route 8 which runs up to 10:45 pm to 11:45 pm depending on which route is being taken. If you are travelling west, the bus stop is in front of Sousa's landscaping. If you are travelling East the bus stop is in front of Heron Bay Marketplace. Both stops are directly across from one another. Bus routes and times are in the local Bermuda telephone book as well. If you are going to utilize the bus services, we recommend purchasing the bus/ferry pass. A taxi to Hamilton (or back again) should cost you no more than $30.00.
Hamilton has lovely places to dine and shop. Experience Harbour Nights on Front Street on Wednesday evenings. The months for Harbour Nights are changed annually. Browse the outdoor market, listen and dance to live music, taste delicious food and purchase locally made items. The street is closed to vehicular traffic and a number of shops remain open. Locals and tourists mingle until 10 pm shopping, visiting the nightclubs, bars and outdoor cafes.
Closer to Loquat, you will have the pleasure of exploring the gorgeous beaches along the South Shore. Horseshoe Bay has a number of amenities (restaurant, bar, toilets, beach chair rentals and so on) and Warwick Long Bay are renowned but you will not want to miss the beautiful trio of coves tucked between those two larger beaches – Chaplin Bay, Stonehole Bay and Jobson's Cove. These three are beautiful and are definitely worth experiencing.
The South Shore Road has wonderful views as you ride along on a bus or a scooter: magnificent cliffs and many secluded beaches for you to explore from Southampton to Paget. The bus service runs along South Shore Road or Middle Road east to Hamilton or west towards Somerset. For the more adventurous, scooters can be ordered online or on arrival (these are paid for by credit card only). Some of our guests see the Island renting pedal bikes! Nearby attractions would have to include The Botanical Gardens as well as Paget Marsh Nature Walk and the meandering trails of the Railway Trail System that you can find right outside your door. Explore Dockyard out in Somerset, with captive dolphins, beaches, pubs, museums and shops to enjoy.
Closer than Hamilton for fine dining are the excellent facilities of The Reefs Resort in Southampton: their open-air Coconuts restaurant overlooking their private beach. They will arrange a table on the beach with candles, full linens and silverware and a delicious meal for your never-to-be-forgotten evening celebration. One must reserve ahead. Lunch is available daily without reservations being required.
For informal dining try Swizzle Inn on the South Shore Road. A very popular spot for locals – you know if the locals are there, you should be too! For more outings there are the dining facilities at the Southampton Princess, Henry VIII. Blu restaurant and Four Ways Inn are also very nice options.
You cannot leave Bermuda without visiting the old Towne of St. George's. In 2000, St. George was recognized as a UNESCO World Heritage Site because of its continuous occupation since the early 1600's and the number and diversity of its fortifications. Stroll down streets with names like Old Maid's Lane, Feather Alley, Shinbone Alley and many more. Visit the museums, forts and Tobacco Bay Beach.
There are several golf courses near the property: Riddell's Bay, The Belmont Golf Course, the Fairmont Princess Golf Club and the Port Royal Golf Course are all within 10 minutes of the property and each offer its own unique challenges,
房客使用权限
You will have a patio immediately in front of your door.
与房客的互动
I am usually on the property to assist with any needs. However, my daughter also lives at Loquat, the family homestead, and has hosted guests in the past.
其他注意事项
As there are three units, you will be meeting guests from all over the world during your stay with us.
Absolutely no smoking inside the unit.
This is a great spot. Josie is a fine host. Close to shopping, bus stops and centrally located to explore all of Bermuda. Strongly recommended as the place to stay. Just a couple of details. We rented the apartment and our friends rented the upstairs studio. We really didn't need the kitchen and felt that the studio is better suited to a couple staying a few days. Buy a multiday bus pass as it also includes the ferries-invaluable for getting around.
---
Josie was an amazing host throughout our stay in Bermuda. She was very helpful with any questions we had and arranging transportation when necessary. Her place is in a very convenient location, super close to great beaches and central to other areas of the island. We would definitely stay with Josie again if we go back to Bermuda.
---
Josie's place was exactly as described. Great location, close to the bus to Hamilton and Dockyard and right near the supermarket. 15 minute walk to Horseshoe Bay or the bus to Elbow Beach. Josie was super accommodating. If you're looking for a quick getaway and a central point to explore, this would be the place.
---
We loved staying at Josie's! It was close to the beach and only a short bus ride/taxi to Hamilton or the Royal Naval Shipyard for sightseeing and tourist attractions. It's so close to a grocery store and several bus stations. The unit was exactly what we were looking for. Josie was great and made sure we were well taken care of. We had a great time and highly recommend!
---
Nice spacious clean apartment within walking distance to the best beaches on the island, Horseshoe Bay and Warwick Long Bay. Two minute walk to supermarket and Middle road bus. I enjoyed running on the Railroad Trail is right outside the door. If you head south on it, a short walk takes you to the Fairmont shuttle. The secret is out.
---