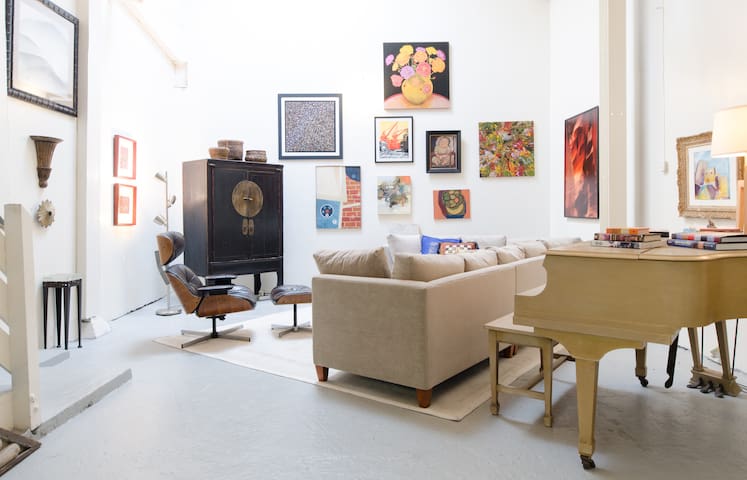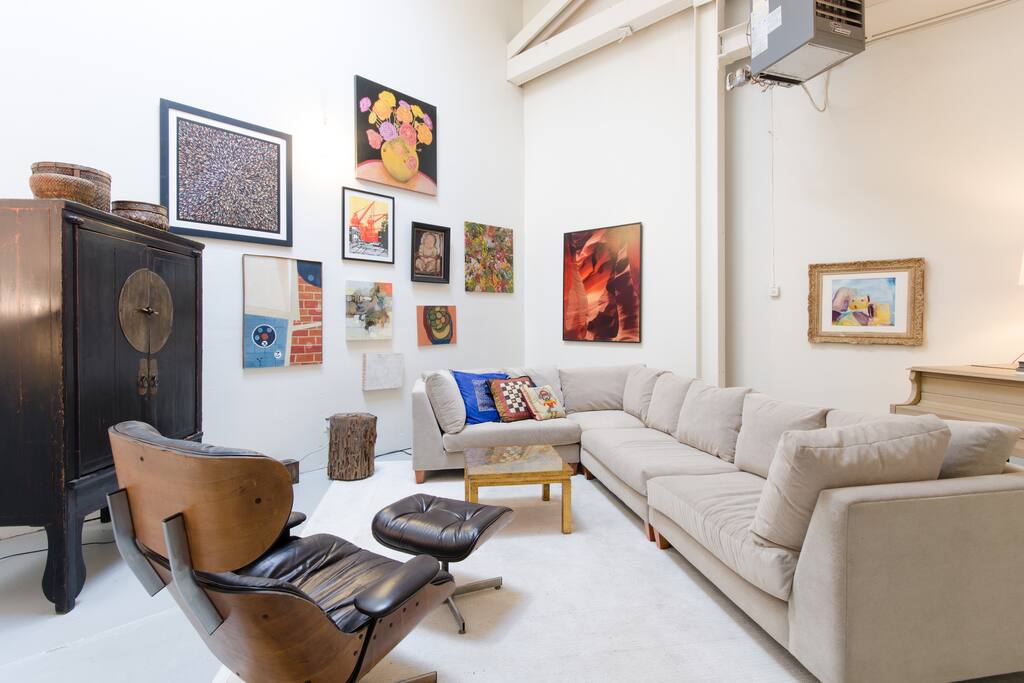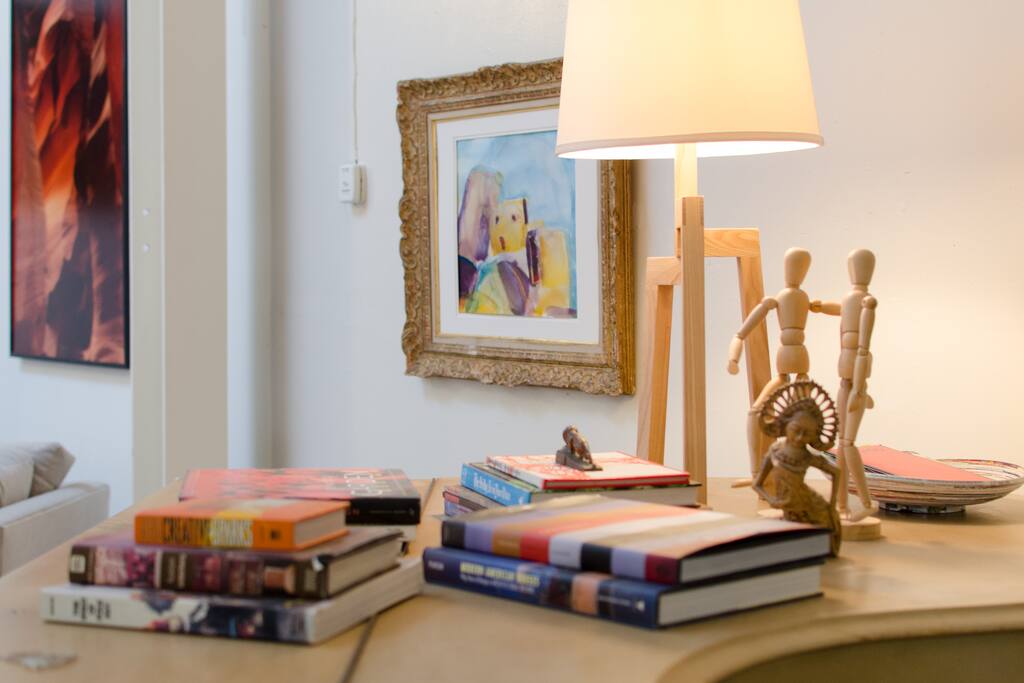 此房源的描述已由谷歌翻译从英语翻译成您的语言,但谷歌翻译并不能保证翻译的准确性。
白色卧室,私人底层,最好是在Live / Work - 艺术家阁楼多天工业区转换为奥克兰的阁楼 - 靠近市中心阿拉米达及其所有设施!夏季/秋季2天至2周,但10月。冬季每月租金。
房源
房间可用 - 白色一楼卧室租金$ 100 /晚私人安静
日期特别适用于整体阁楼租赁 - 包括两间卧室:七月全年可用的阁楼。
整个阁楼租赁的特别定价 - 年内的某些时间将发布
对于房间出租,在这个设计师现场/工作艺术家阁楼中充分利用其他公共空间,靠近市中心的阿拉梅达,其所有设施!减少$$$租金,如每周,每月房租或整个阁楼租金。隔夜客人可以使用客厅,饭厅,浴室,厨房。我们也开放了一天的拍摄,在所有空间都已经很好地完成了 - Photoshoots有特殊的价格取决于使用 - 拍摄船员 - 225美元/天,$ 400/2天。限量使用照片 - 每天$ 150
3层楼,约2000平方英尺,高高的天花板,开放式艺术家阁楼 - 2间卧室,1楼1楼,业主三楼设有多间起居室,设有额外的卧铺,提供开放式转换工业空间的私人和半私人空间。无线上网和有线电视与HBO有空间。有趣的设计师空间与开放的工作室项目。厨房,餐厅和一个浴室(我们过去有4人住在这里没有问题)。洗衣房内并关闭。
我们所在的福特街工作室有40个单位,许多艺术家在居住。我特别的入口庭院有四个伟大的邻居。该地区有许多转换以及新建的充满创意人士的现场/工作建筑。距离通往阿拉米达市中心的公园街大桥仅几步之遥。与健康食品商店等的市场位于三座街道内,多功能电影院有六个街区,许多餐厅遍布公园街,海湾海滩最后。在海湾边缘的湾农场大步走,在奥克兰和伯克利以东的山丘上进行大型徒步旅行。
奥克兰市区附近还有梅里特湖,动物园,奥克兰美术馆。艺术穆尔穆尔是第一个星期五,阿拉米达跳蚤市场是第一个星期天。
BART(奥克兰的Fruitvale车站)距离酒店有3个街区(停车场),您可以在20分钟内到达旧金山市区,并在伯克利更快。
这个地方提供独特的湾区体验。
与房客的互动
我将在2016年的大部分时间都可以在阁楼上住宿。整个空间可以出租,请询问价格。当我在这里和租房时,这是一个很好的分享地点,因为它是如此之大和分散。我也很多。
其他注意事项
我很乐意帮助从最近的BART车站 - Fruitvale BART车站往返我的交通工具。
---
Sudha's apartment is beautifully decorated and brilliantly quirky. The bedroom itself is simple but has everything you need and I slept well during the trip. I really enjoyed taking the BART from Fruitvale to the centre of SF (15 min walk plus 20 min train) as I felt I saw a lot more of the city. The local area is residential and has some interesting independent businesses and artistic workshops. I only saw Sudha briefly on the trip because she was out of town for most of the time, but she kept really well in touch and was very welcoming. I'd wholeheartedly recommend staying here to anyone who is willing to take a bit more time to get around, but be rewarded for making new discoveries along the way.
---
Sudha was a terrific host to me and my friend. My buddy slept on the bed and I actually slept on the couch and it was very comfortable almost like a twin bed. The place has really cool art and pictures and has a nice feel to it. We were there for the Alameda Art and Wine Festival and we could walk to the downtown from where we were. I would love to come back sometime.
---
I stayed with Sudha in December and again just recently. It is so comfortable in her place - private yet everything accessible. I love her sense of design and her friendly helpfulness when needed. She also just left me alone to do my thing. A low key and relaxed environment, it was a great base for all my activities. Our schedules fit perfectly to allow each to have their own experience of the space...And it is spacious. Definitely enough room for our separate lives. A great place to stay. I would recommend it to any one wanting a fun place to stay in Oakland
---
Can't wait to stay with Sudha again! What a wonderful human full of design knowledge and insight.. had so many great chats during our short stay, I look forward to having more! Her place is stunning, bed incredibly cozy, and Jingletown is a really interesting area close to loads of shops and eats. Short uber or about 15 min walk to BART. Definitely recommend!
---
I'm an Interior Designer and Potentiality Trainer living in a live/work loft space in Oakland. After many years in beautiful and tranquil Marin County, I find Oakland to be a fun, vibrant and creative place to live, work and PLAY. I love living here.