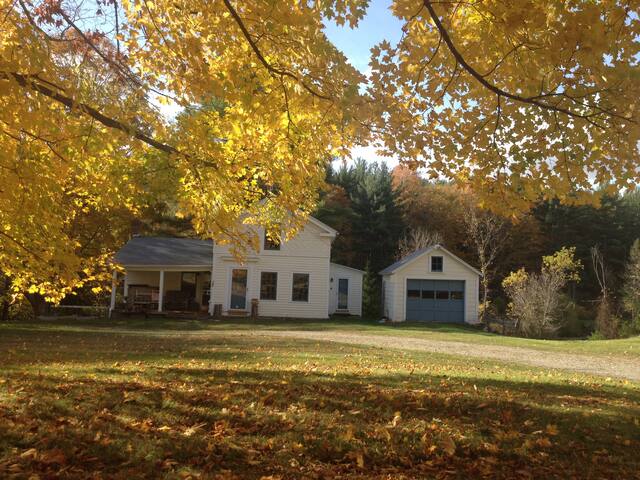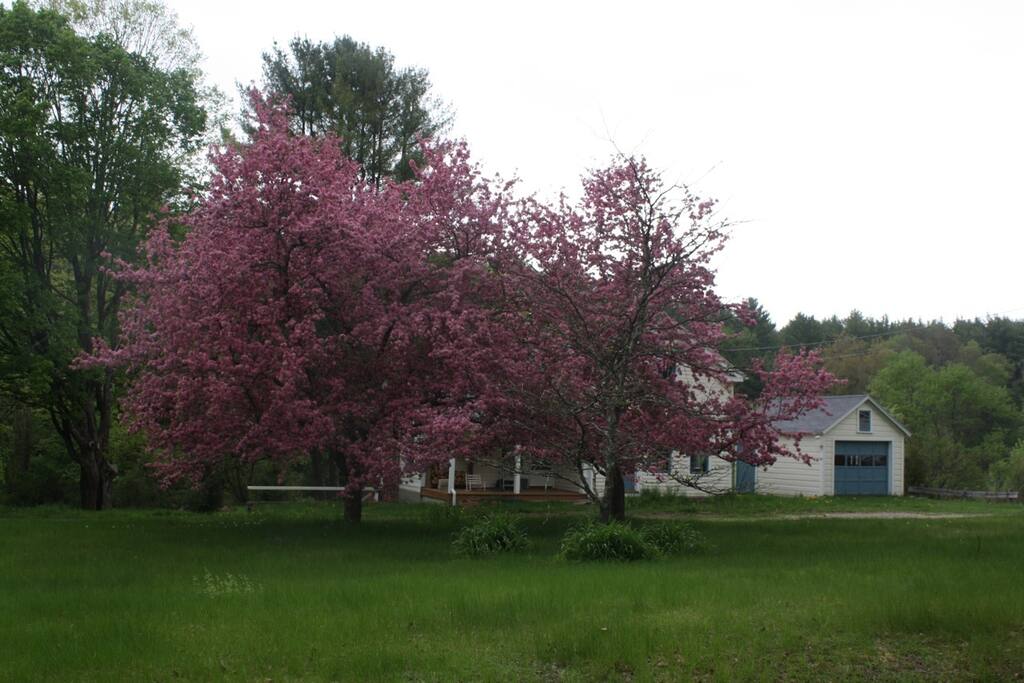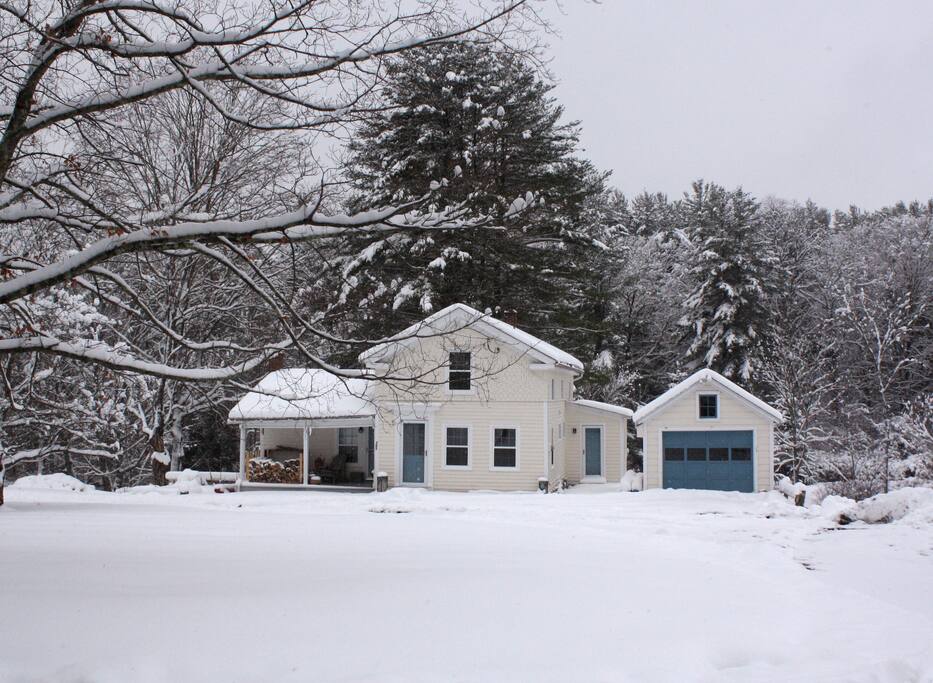 The Mill House, circa 1850
"The Mill House, circa 1850", a perfect setting for a cozy getaway nestled in the village of Mill River in the Southern Berkshire Hills. Those seeking solace can reflect in this peaceful setting by the Konkapot River, with the bustling town of Great Barrington just 15 minutes away. Includes a large office with internet & printer. Cultural seekers have access to theatre, trails, and museums. Whatever you choose to do, a cozy wood stove or a fire by the river awaits you after the day's adventures.
---
---
---
---
NO Smoking
No smoking in the home or on the grounds.
Pets
Pets are negotiable; please contact me directly if you desire to bring your pet.
Children
Children are lovingly welcome! There is so much for them to do. There a family board games, 1000's of legos in the closet in the office, and many children's books on the various bookshelves. Help yourself to any of these items, but please put them back in place upon leaving. I've also listed many children/family activities in the area on subsequent pages. Please have an adult with children on the grounds or in the home, particularly near the river. While generally never higher than 3 ft, after a good rain, the river often flows swiftly. Note: Bathroom is downstairs and bedrooms are upstairs.
River and Fire Pit
There is a fire pit at the river's edge with adirondack chairs, benches and tree stumps to sit on. Feel free to use it and the wood stacked under the bench. It is especially nice at the end of the day when a slight chill is in the air or after dark to sit and take in the hypnotic pull of the stars.
Wood Stove
Follow the directions for lighting the fire and use common sense fire rules. Always wear the gloves provides when placing wood in fireplace and adjusting the wood once the fire has begun. Never leave the living room or house with the door to the wood stove open!You can adjust the flue with the handle at the top right side of the wood stove — instructions are on the wood box to the left of the stove.
Skiers
Please use the mud room to take off ski boots, store ski's and ski equipment.
---
---
---
---
Deanna's place was the perfect country getaway for me and my family. My wife and I stayed for a week with our 2-month old son and my parents joined us for two nights. It was an enjoyable stay for everyone. The house is great– historic 1850s details beautifully restored. The river was relaxing and provided the perfect respite from summer afternoon heat. Deanna and her son Shawn were fantastic hosts and responded to all of our requests/needs right away. We will definitely be back!
---
Beautiful home, in tranquil location, near Great Barrington, Butternut, and other SW Mass locations. Deanna is a very good host. The home is charming, well taken care of, and stocked with books, games, and seasonings. Beautiful scenery and location.
Thank you Glen and Susan! It was a pleasure to meet you and I'm so glad you enjoyed your stay. I particularly loved watching your three boys play with the neighbor's lambs, chickens and rabbits. You were excellent guests with good communication and you left the house in excellent condition. Oh yes - thanks for the ice cream! Would love to have you return. With much joy - Deanna
---
This is a sweet and lovely house. Comfortable, clean and charming. Located close to butternut ski resort and to great Barrington, there's lots to do. The property is lovely and private. Deanna is a great host. She responds to questions quickly and is available if needed but also respects guests privacy. The house was great for our 3 person family but larger groups should note that there is only one bathroom.
Michael, I'm so glad that you and your family enjoyed your stay and particularly happy that you engaged in many activities. Your timing was perfect for skiing as the following week had 60 degree temperatures. It's now snowing again and skiing is back on! I highly recommend you to other hosts.
---
This was a Christmas gift to our son and daughter-in-law. They said it was an excellent stay. The wood stove was charming
---
My family and one other spent new years weekend at the mill house. it was a fantastic trip! the house is perfect for young children - we had 4 ages 3-7. we did some sledding in the backyard, made a bon fire by the stream, and spent time with the neighbors and their farm animals! Deanna was easy to deal with and always available to answer questions. Perfect host.
Thank you Abe and Anne! I am so happy that you and your family enjoyed your stay and I particularly loved that your family used the sleds and made a bonfire. You left my home in great condition and communicated well. You are perfect guests and I would readily recommend you to all hosts.
---
My event staff and I rented this beautiful home for 2 nights so we could have a retreat/meeting day in a focused and comfortable environment, and so folks from afar could make the journey a bit easier. We were very happy with this lovely home - well stocked kitchen, wood burning stove, a cozy living room that allowed us to relax and talk comfortably, and it is a quiet area so we felt very relaxed. This would be a perfect rental for a vacationing family, and we'd gladly also stay here again next time we are due for our retreat. We also appreciated the very kind and quick communication by the host!
Josselyne - I'm so glad you and your group enjoyed staying in my home and that it was an atmosphere to both work and relax. As a host, I appreciated your direct and easy communication. The house was left clean and in great condition. I would highly recommend all hosts to approve and welcome you and your group. And, of course, I would love to have you visit again!
---
I love the country life in the Berkshires. It's the perfect place for spiritual and cultural growth. After working in the corporate world for many years and teaching at Johns Hopkins University, I feel blessed to be close to my children and experience life with them as adults. Writing, walking in the woods, spending time with my grandchildren, and listening to classical music at Tanglewood are some of my favorite activities. Having you as a guest in my home is an honor and a tribute to your desire to explore new venues. The Mill House, circa 1850 has been renovated to keep its historical charm but with modern amenities such as internet and wifi.