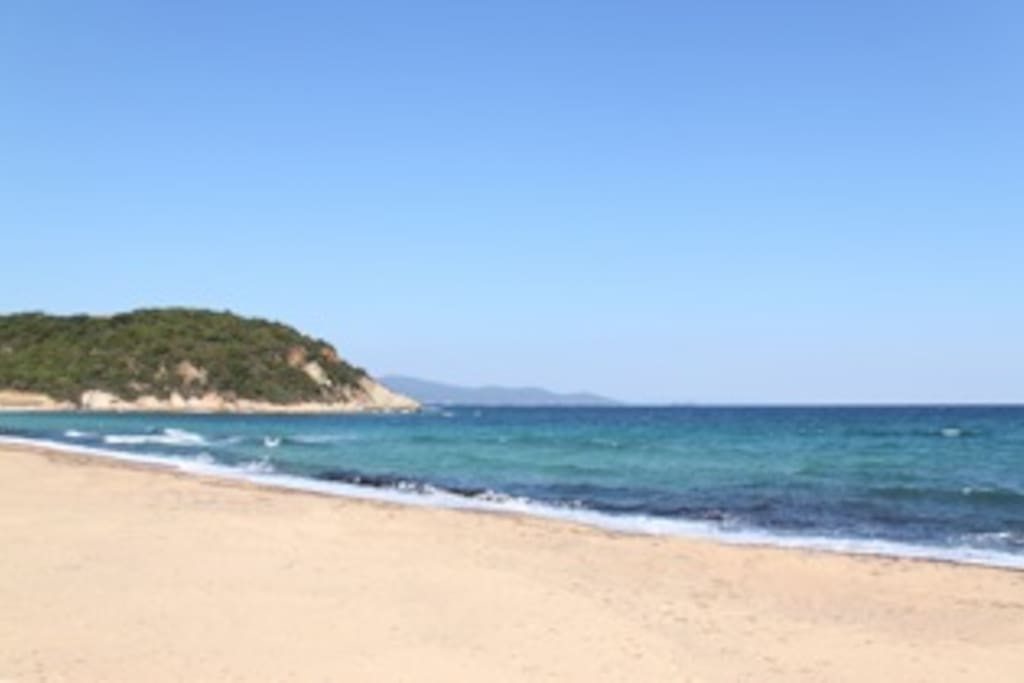 Modern House on the beach.
70 meters from Gavradia Beach with Sea view.
2 bedrooms, 2 bathrooms, well equipped kitchen and living room (2 air-condition). With private garden kiosk and BBQ.
Ideal for family holidays
---
It is a very beautiful and suitable accommodation, especially for families with children. The complex and the beach are very close, clean and quiet. It is very easy to go around and visit another tourists sights, like Ierissos village with lots of places to eat, Amoulliani Island, cruises from Ouranoupoli around the Athos Mountain, and many sandy beaches, like the one from Vourvourou (Karidi).
---
House is in perfect condition, very close to the one of the best & clean beaches in Greece - Gavradia , so the sea is way better than what anyone would expects. It is part of small community of similar modern houses called Nautilus. There is a private ramp, and lots of good places for parking inside. I must to mention it is really calm in the night and the morning, so you can relax and sleep till the noon. The front yard is very good, there is a private grill and very nice bench with shadow. Everything inside was clean, there was no old stuffs. It is perfect for family with small kids, or even 2 families can fit without problem in this place, separate bedrooms, separate toilets. It is 8 min drive till 2 big supermarkets - Lidl and Matsutis (in Lerisos). One important thing - you def. need car to stay here no chase to walk till the city. As a finish - I will recommend this house to anybody who want quiet and nice holiday near the beach.
---
Air conditioning did not work 2 days. Everything is very old and of poor quality. Dirty, kitchen is dirty. Smells of damp! The pillows are old and terrible! Have you ever tried to sleep on them? Everywhere is spiderweb. Electrical sockets falling out. Everywhere wires. The doors creak. Mosquito net torn. The drawers do not open. We were forced to spend our nerves and a lot of money to find other housing. And it is not simple words. I have photos and video to prove it. This is a very unfair from your side! But yes the place and the sea are perfect! We have spent 8 days in your apartments. All the time we were looking for a new apartments in Grecce.
She was the first to report that air conditioning was not cooling the house enough and I send a specialist to fix it the other day. The kitchen oven is 2 years old and the refrigerator 1 year old. There are 2 new closets in the house. The mattresses are new a very good quality and there are 6 pillows in the house. The electric socket is behind a drawer and most likely she pulled out the cable, in any case she reported it to me now and I'll fix it today. The house is in nature and has big garden that makes very normal to have mosquitos etc. The worst guests I ever had.
---
Hi, Alexandros is simply the best host to expect, from the first moment till the last, always reachable & asking if everything is ok even though he wasn't in Greece at the time of our visit. The appartment is perfect for 2 joung families (seperat bathrooms, very nice grill place in the garden, not far from the beach or the city, realy calm in the night & the sea is way better than what anyone expects. The region has many places 2 visit but you difintely need a car.
---
We stayed in Alexander's house in the second week of June. The weather was very nice. The house is very close to the beach and the beach is with nice sand and clean water. We could not meet Alexander but he was always available on the phone. I would like to stay again in his house. / Бяхме в къщата на Александър през втората седмица на юни. Времето беше много хубаво. Къщата е много близо до плажа и плажът е с хубав пясък и чиста вода. Не успяхме да се срещнем с Александър, но той винаги беше на разположение по телефона. Бих искала отново да отседнем къщата му. /Siamo stati nella casa di Alexander nella seconda settimana di giugno. Il tempo era molto bello. La casa è molto vicino alla spiaggia e la spiaggia è con bella sabbia e acqua pulita. Non abbiamo potuto incontrare Alexander ma lui era sempre disponibile al telefono. Vorrei rimanere di nuovo in casa sua.
---