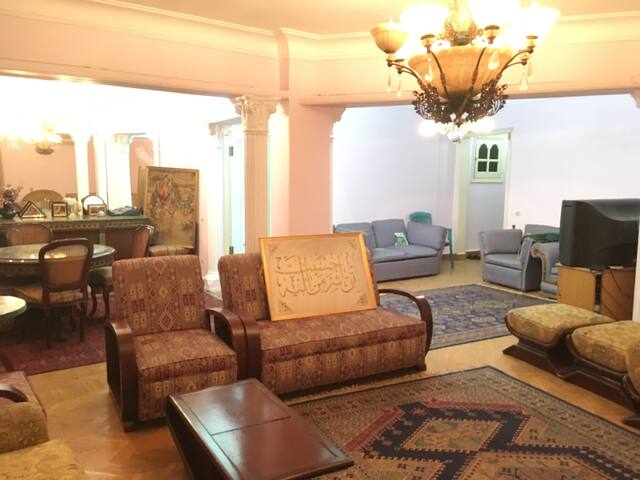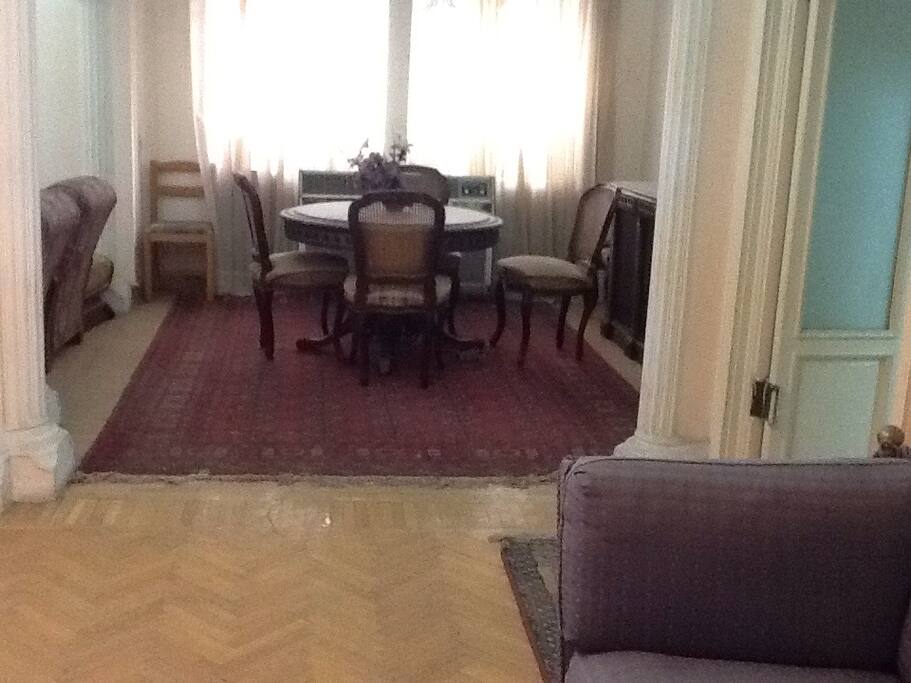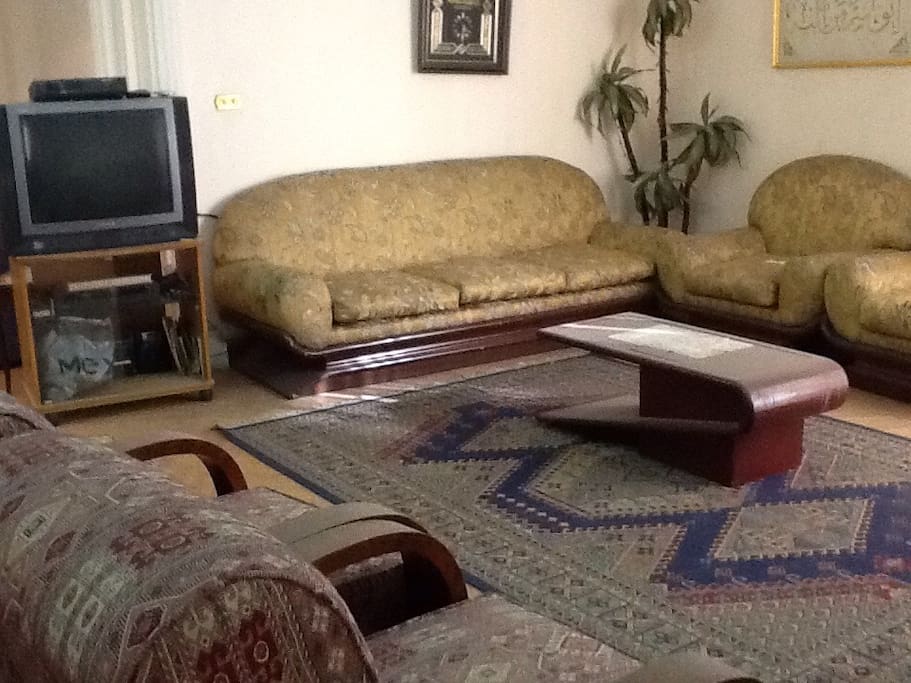 A great Flate next to river
A great apartment, 5 min from Tahrir square, 5 minutes from Mohandsen, river view from the side, TV
Note: We don't Host Un-Married Couples.
房源
The Flate is next to Sheraton hotel, and Sofitel Eljizera, very close to Zamalek. In front of Dokki metro station
其他注意事项
Airport to Flat transportation for 15USD from 8 am to 9 pm. And 20USD from 10pm to 7am.
---
---
---
---
We don't host unmarried couples.
---
---
---
I had to book a place on VERY short notice and Hesham was so accommodating and helpful getting me into his place in a hurry. Hesham's place is great! Doqqi is a great neighborhood with lots of restaurants and nightlife. Hesham's apartment is in doqqi close to the Nile, which also means it has easy access to the corniche, the center of Cairo and the island of Zamalek. Restaurants easily found it when I ordered delivery. The apartment itself is a spacious, comfortable Cairo apartment. This is my third time in Egypt and Hesham's apartment is one of the nicest places I've stayed so far. It has so much climate control. I've never seen so much air conditioning and heat. This made this a great place to stay in July. The kitchen has lots of dishes and a regular gas stove/oven. In Cairo I've always had to light individual burners with a lighter. It was nice to just turn a nob like I do at home. Hesham was so kind to show me around the neighborhood, and the doorman of the building was also very helpful. I would definitely stay here again if I could!
---
So I have really only done AirBnB in Egypt. Hesham has been my best host by far. He was not even in the country my first day there. As soon as he got back, he showed up on a Friday (his first day off on a weekend), with a minor issue with a faulty light switch in the kitchen. He had an accident climbing up to fix and test the bulbs, way above and beyond. A 15 minute errand turned into two hours. He also brought me breakfast from a nice over-priced bakery, Simond's. All of this is to say, really above and beyond. I was embarrassed by all the effort Hesham made.
---
First off, Hesham and Nasser are wonderful people-generous, humorous and responsive to requests. The apartment is well located in a small quiet area about a 15 minute walk across the bridge from downtown and Zamelek. The apartment is also quite old and in poor shape making it not the most comfortable spot to land. The shower was not functioning and we spent the first five days of our stay without warm water. The elevator broke down twice during our stay and trash was often left on the stairs. The dinning room table was broken, as were three out of the five burners on the stovetop, the washing machine and the towel racks in the bathroom. When we arrived the apartment was terribly dusty and not very clean. There was also no wifi. Hesham and Nasser worked with us over the course of our stay to replace the washing machine, eventually get the shower working, the apartment cleaned, get wifi in the apartment and to cover an open drain in the bathroom. They were both very responsive and acted quickly when we asked them to fix something and went above and beyond, letting me borrow a local cell phone during my stay. Choosing to stay here really depends on what you want out of your time in Cairo. If you are seeking authentic connections to wonderful locals, then you will have a great time here. If you are looking for a relaxing and comfortable escape from the hustle and bustle of Cairo, then you may want to keep looking.
Dear Erica, 1- You arrived on the 2nd of December late at night and you inform me on the 3rd about the water problem , and as per your below Message we solve the water problem on the 4th of December the 2nd day you report it to us. (Hi Hesham. we just arrived and met Naser. He is explaining the faucet he installed and the water is working better (thank you!) The apartment smells fresh and looks clean. Thank you! Dec 4, 2016) 2- Concerning the Wifi, I gave you the Broad Band Hot spot Modom the same day you arrived, and it was recharged with 3.5 G although I mentioned that we only provide data SIM for short stay. During your stay 21 days we recharged it 3times. and you were thinking its not functuing just because it ran out off data. 3- the washing machine were also replaced the same day you inform me about the problem and it was connected the 2nd day starting for the 4th of December you were using it as per your below message:- (Hi Hesham. so sorry to bother but we have one other quick question. We are trying to do a load of wash, the machine is running but there is no water. Do we need to turn on a valve. Dec 4, 2016) 4- Concerning the towels we don't provide towels and its indicated on the site but I let you use the one at home as a complementary. Kindly check our communications over the airbnb so you can confirm my information. in accurate review is not good.
---
The apartment was fine and the host was excellent. My plane was delayed by over 2.5 hours and Hesham stayed at the flat until very late at night to receive me and hand me the key. He drove me to a restaurant before he left, so that I could have dinner (even though there is a KFC open through the night 100 meters away).
---
I am electrical engineer. I speak Arabic, English and French.
I live was my Dad and two brothers. they all can speak English and we are very friendly with others. I like learning languages and other cultures and traveling.
and i am studying Korean.
语言:
English、Français、العربية