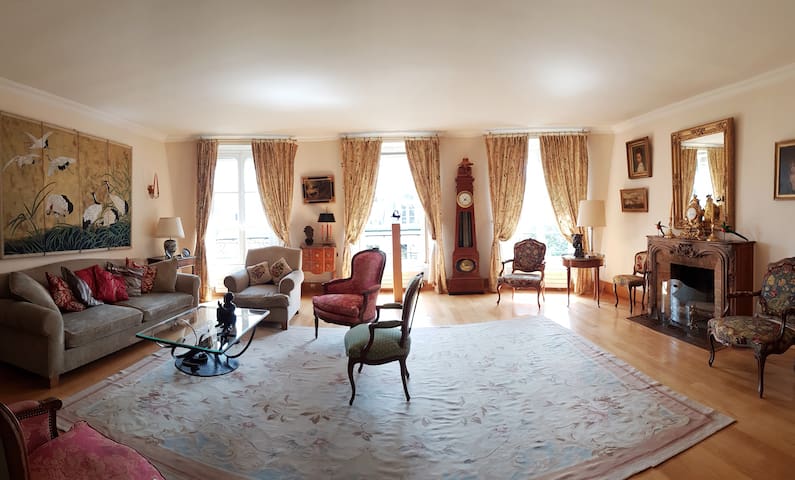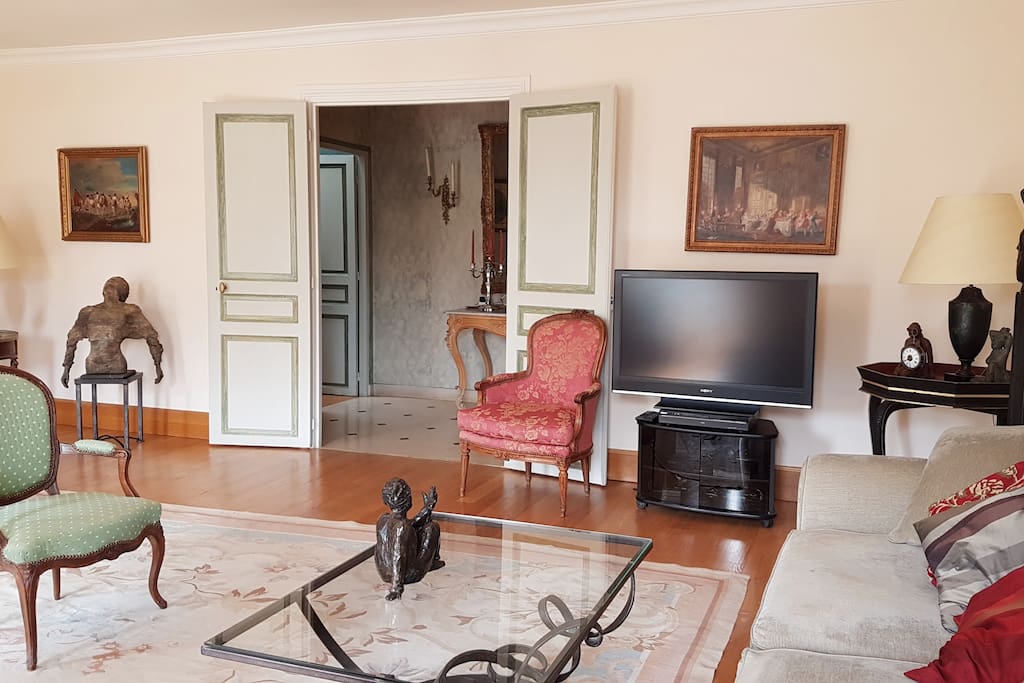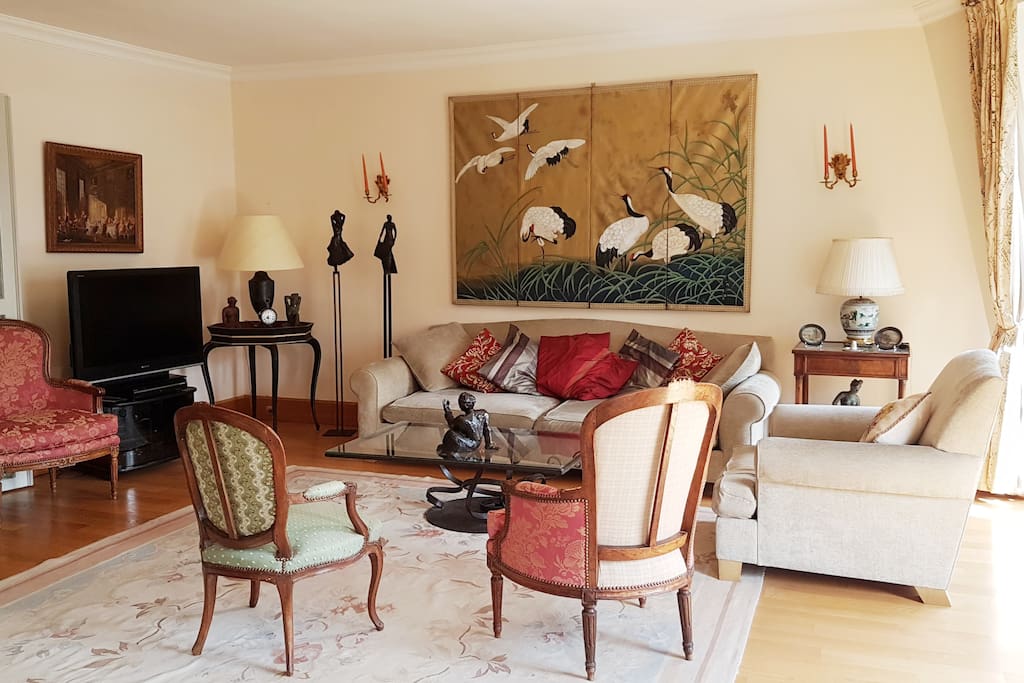 这座雄伟的1700平方英尺的公寓享有美丽而轻松的花园美景,设有圆形大厅和两间卧室的私人豪宅。 这些在18世纪建造的雄伟建筑,毗邻奥赛博物馆和塞纳河畔。公寓就像您参观附近的奥赛博物馆的延长时间一样。但你在家里 餐厅为塞纳河,奥赛博物馆和荣誉军团博物馆提供了有吸引力的视野。
This majestic 1700 sq ft apartment offers a beautiful and relaxing view of a garden and of a private mansion from the rotunda lounge and the two bedrooms.
These kind of majestic buildings which were built in the 18th century next to the Musée d'Orsay and the River Seine Bank. The flat is like a prolongation of your visit to the Musée d'Orsay nearby! But you are at home!
The dining room offers an attractive perspective to the Seine, the Orsay Museum and the Museum of the Legion of Honor.
房源
这座雄伟的1700平方英尺公寓位于巴黎市中心,距离塞纳河仅有几步之遥,是您在巴黎逗留期间可以打电话回到家的罕见的发现。 公寓位于一个辉煌的"Hotel Particulier",毗邻宏伟的奥赛博物馆(Muséed'Orsay)。非常靠近大桥,您可以直接进入杜伊勒里花园和卢浮宫。你会发现这是一个完美的住宿地点。 这个两卧室(加上第三个睡眠区),两间浴室公寓,位于三楼,没有电梯,整个地方都提供精美的法国经典装饰,好像您还在奥赛博物馆。 您将很荣幸入住这间公寓,享有博物馆,塞纳河和杜乐丽花园的景色。 整个公寓的古董,绘画和装饰品都经过精心挑选,是这些家庭住宅的标志,每一代都保持着别致舒适的古典主义风格。 圆形大厅酒廊享有花园和私人豪宅的美丽而轻松的景色。餐厅为塞纳河,奥赛博物馆和荣誉军团博物馆提供了有吸引力的视野。两间卧室都有自己的浴室,适合多位客人入住。 厨房配备齐全,让您想要准备传统的祖母食谱。 巴黎的恋人,这间公寓是为你而设。 新近推出的专业床单,互联网接入(光纤连接)和无限拨号的地线都包括在租金中。 根据要求,我们可能会组织每周清洁。
Located in the heart of Paris and just steps away from the Seine River, this majestic 1700 sq ft apartment is a rare find in which you can call home during your stay in Paris.
The apartment is located in a splendid "Hotel Particulier" and is located right next to the magnificent Musée d'Orsay. Being very close to the bridge, you have a direct access to the Jardin des Tuileries and the Louvre. You will find this the perfect place to stay.
This two bedroom (plus a third sleeping area), two bathroom apartment, located on the third floor, without elevator, offers wonderful French classic decoration throughout, as if you were still in the Musée d'Orsay.
You will feel privileged to be staying in this apartment, enjoying the views over the museum, the Seine river and the Tuileries gardens.
The antiques, paintings and decorations throughout the apartment have been carefully chosen and are the hallmark of these family houses, where each generation has maintained a taste of chic and comfortable classicism.
The rotunda lounge offers a beautiful and relaxing view of a garden and of a private mansion. The dining room offers an attractive perspective to the Seine, the Orsay Museum and the Museum of the Legion of Honor. The two bedrooms each have their own bathroom, perfect for multiple guests.
The kitchen is equipped and makes you want to prepare a traditional grandmother recipe.
Lovers of Paris, this apartment is for you.
Freshly pressed professional linens, internet access (Fiber connection) and unlimited calls to land-lines are all included in the rent.
Upon request, we may be able to organize a weekly cleaning.
与房客的互动
您保证预订时的安全和保障,并为您在住宿期间和住宿期间的任何问题或问题提供协助。 我们的多语言团队将以24/24的方式为您提供帮助
You are guaranteed safety and security in your booking and are provided assistance for any questions or problems you may have both before and during your stay.
Our multilingual team is here to help you in every way 24/24
其他注意事项
这是一间无烟公寓。 对不起,我们不接受宠物。 对于每月租金,请注意以下事项: 租金中不包括电力,燃气和VOD。 根据法国法律,抵达时应支付1个月租金的损毁押金。
This is a smoke-free apartment.
Sorry, we do not accept pets.
For monthly rentals, please note the following:
Electricity, gas and VOD are not included in the rent.
A damage deposit of 1 month rental is payable on the arrival, as per the French law.
---
---
EXTRA FEES
50€ for any late check-in between 7pm and 11pm
50€ for any early check-out between 6am and 8:30am
50€ for any check-in or check-out on Sundays or French Bank Holidays, at any time. Please check the list of French bank holidays on the internet.
100€ for any check-in on December 24th or December 31st, between 12pm (noon) and 3pm.
Not accepted: Parties, pets and smoking.
No check-in or check-out between 11pm and 6am.
No check-in on January 1st, May 1st or December 25th.
No check-in or check-out after 3pm on December 24th or December 31st.
---
How did it go "at Veronique's place"? That's the problem. The place we rented wasn't Veronique's. She's a rental agent who handles dozens of properties. For that reason, I think we may have missed any opportunity for the typical Air B&B experience. Veronique got us into the 4th-floor walk-up just fine. The apartment is located adjacent to the D'Orsay museum with views of the Seine and Montmartre. It has beautiful paintings, clocks, and sculptures. If you like old buildings (we do) this is a great old family apartment with all of the eccentricities that come with it. The description pitches it as if "you were still in the musee d'Orsay". The museum is renovated: this apartment, though beautiful, is tired. Veronique writes that the "kitchen makes you want to prepare a traditional grandmother meal and is perfectly equipped". The kitchen indeed has not been renovated since my grandmother lived but is poorly equipped. Veronique brought us a used, not very clean, microwave which never worked. The bathrooms are from the 70s and the shower struggles. These can be overlook in an old apartment if the experience is good. We have rented in France for decades and have traveled extensively around the world. Our problem with Veronique began when my wife woke up the first morning covered with bug bites. The apartment has no air conditioning so we had to sleep with all the windows open. The local pharmacist said it could be bed bugs. When we told Veronique there might be a problem, instead of concern and a desire to help, Veronique told us that "It would be impossible to have bed bugs. This apartment has been in one of the finest French families for decades. If it does have bedbugs, you must have brought them with you!" We explained to her that bugs know no class distinction and old homes often have issues. Veronique asked us to go to a second pharmacist for a second opinion, but it was clear she would side with the owners who control her paycheck. Each day the bites got worse. As soon as we left Paris they disappeared. We never did figure out the cause. Frustrated, we basically stopped telling her about other issues with the apartment (the clothes washer can flood, the curtain holders fall off in your hand, the control panel on the washing machine falls off, etc.) They need to provide some brand new towels and robes: they were quite old. If you want a real B&B experience, this is not it. When you work directly with an owner, there's bound to be more give and take when something goes wrong. Finally, the description mentions there is no elevator, but doesn't disclose the apartment is on the 4th-floor. Typically, there are 15 stairs per floor. Its 94 stairs up to this apartment. That's equivalent to 6-floor walkup.
I never pretended to be anything else than an agency. It is clearly advertised on my profile and I am sorry that you did not see it. Thank you for your remark about the exact floor. We had written that there was no elevator, but we had forgotten to mention the 3rd French floor. The advert has now been updated. You forget to mention that we went up (without your help) with all your luggage both on your arrival and on your departure. The kitchen is not brand new as you can see on the pictures, but I am sure it has been renovated after your grand mother lived :-). It is not poorly equipped. Only the microwave is missing. This was clear on the description of the flat. I regret to have made some efforts to find a microwave that Jeff, the concierge, delivered immediately. I am sorry that you decided not to inform me that it had a problem after I asked you to see with him how to use it. I also decided to deliver a fan when the days became hot in Paris. I am still waiting for your « thank you ». You point at different problems but I would like to understand why you did not have the courtesy to tell the property manager about water that was flooding from a washing machine. I found the panel control off its position after your departure. This was not the case when you arrived. On your arrival, I explained to you how the machine was working and we used together this panel control. I also explained many other things to make you feel at home, like we do for all our guests. The towels and robes are not fresh new, but perfectly cleaned. We have informed the owner of your remark. I did not accuse you to have come with bed bugs, but you accused us to rent an apartment with bed bugs. This is completely different. I was immediately concerned by such an accusation. I immediately informed the owner who confirmed as well as Jeff, that the mattress was fresh new. I also verified myself this point. I told you that this seemed to be strange as the owner is from an old French family. They don't travel abroad and have 2 persons living in the building to take care of the flat. You were the 1st renters of this apartment and so the risk was very small. Everybody knows that bed bugs travel. So I suggested that it could be either a mosquito, as you were sleeping with open windows, or bugs that arrived with the luggage. I am sorry if there was a misunderstanding on that point. But even when I told you this, you did not stop sending me political long mails or comments. I hereby confirm that no bugs were found in the mattress. There is no social or political consideration in this question. My team and I are completely dedicated to both the renters and the owners equally. They both control our pay check! As property managers, the interest of our position is to be able to find a fair solution whenever there is a problem between an owner and a renter. Please read the reviews we have for other properties : we try our best everyday with our guests. I am really sorry that despite all of our efforts, nothing has been enough to satisfy you during you stay, so that you did not have the courtesy to say goodbye whenI came for you departure. I hope you will have a better experience next time.
---
Nous sommes restés une semaine dans l'appartement. Il est idéalement situé pour pouvoir découvrir Paris très facilement à pied en métro ou encore en voiture, il est possible de se garer le soir dans les rues adjacentes sans problème. Nous recherchions un grand appartement au calme, confortable et sécurisé. La prestation correspond totalement à nos attentes. C'est un bel appartement familial classique dans sa décoration et situé au 3eme étage d'un immeuble bourgeois, donc au calme. Chaque chambre dispose de sa propre salle de bains, la literie est très confortable, les serviettes de bains et draps étaient fournis. Les chambres et le salon donnent sur le jardin il n'y a pas de bruit pour dormir. Certes l'équipement de la cuisine n'est pas du dernier cri mais il est largement suffisant pour se faire à manger ainsi que les petits déjeuners. L'accès est totalement sécurisé avec une porte sur la rue, une deuxième pour l'immeuble puis une dernière pour l'appartement. Il y a des commerces à proximité immédiate, petit supermarché à 50m, boulangerie boucher au bout de la rue...nombreux restaurants dont un vrai Italien que nous recommandons ! Nous revenons l'année prochaine. Dominique
---
I am the manager of Paris Rental Services, a friendly, multilingual agency that is based in Paris, that gives our guests safety and security in their bookings, with no hidden costs. We are an agency that manages both short term and long term rentals in Paris on the behalf of t…
语言:
English、Español、Français、Italiano