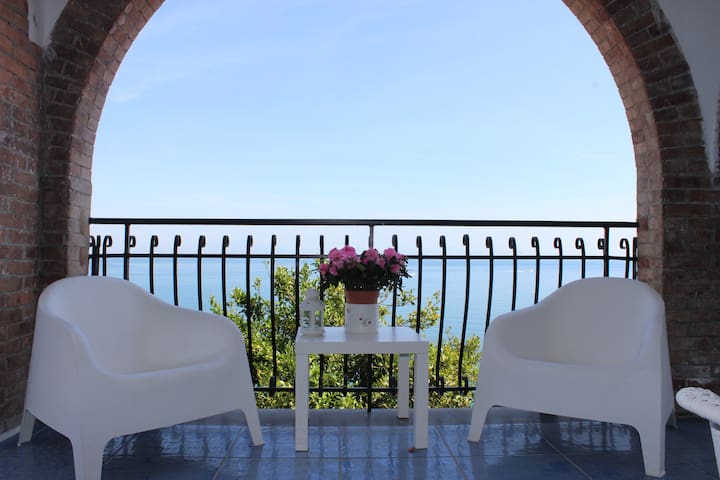 Fantastic view in Vietri sul Mare
Fantastic apartment on the Amalfi Coast, located in a magnificent panoramic location with sea views, Vietri sul Mare, a small town very famous for its pottery, located at the beginning of the wonderful Coast of AMALFI
房源
The apartment on the first floor, about 70 square meters, can accommodate up to 6 people. E 'consists of two bedrooms, two bathrooms with shower, kitchen and covered terrace of 40 sqm. The master bedroom has an en suite bathroom; the second bedroom has two single beds and two trundle beds. The kitchen, living space, is equipped with hob, oven and microwave, fridge and is equipped with a sofa that converts to a bed. The rooms are connected by an interior corridor where is the other bathroom, and all overlook the covered terrace, with sea view.
The apartment is equipped with TV, Wi-Fi, air conditioning hot / cold.
其他注意事项
After 8pm you have the pay 35€ to late check-in
Please, don't leave lights, water valves and air conditioners turned on when you are not in the apartment; in Italy the electricity consumption is really very expenses !
---
Stayed five night with my husband and 3 children ages 22, 20 and 18. The house was very clean and comfortable Air conditioning worked great Miss Allesandra who lives downstairs was extremely helpful and tentative to our needs Day one we walked to Vietri Sul Mare which took about 25 minutes The walk down the road to the public beach and restaurants was not easy as the house is located on the side of the mountain but we enjoyed it and appreciated the exercise The view from the house was truly fantastic! Day 2 we went to Capri We had a driver, arranged by Ms. Allesandra take us to Salerno and enjoyed a 2 hour ferry ride to the island and we were able to see the beautiful Amalfi coastline along the way Day 3 and 4 we had a private driver take us to Pompeii and then we hiked Mt versuvius followed by wine tasting The next day we went to Sorrento, Positano and Ravello The location of Vietri Sul Mare is not as convienent as staying in Sorrento but we loved that it was not touristy and we were among the locals Would highly recommend this air bnb Looked exactly like it did in the pics!
---
Communication with Dorotea was excellent and very helpful in making our arrangements. This villa was everything we had hoped for. Spotlessly clean, very comfortable and wonderful tile throughout. Beds were very comfortable and linens were very nice. Kitchen had everything we needed including some staples. We certainly appreciated the cake Alessandra left us for our breakfast and the bottle of wine!! The wifi worked well and the bathrooms were beautiful. The very best part was each of the 2 terraces. Each room accessed the wonderful terrace with the sea view. I can't say enough about Alessandra and how helpful she was. She even met us an hour and a half earlier than our checkin time as we arrived earlier than expected. The private garage was very much appreciated as we arrived by car, but once we arrived we walked down the path each day to the beach and the restaurants in the small town of Vietri sul Mare. In particular the "slow food" restaurant Pascalo was excellent. All locally caught, very fresh fish. There is also an agriturismo restaurant further away that is very good and they will deliver your food, but they will also send a shuttle to pick you up at the villa and take you to the restaurant. I highly recommend the trip as the food was local and amazing, but the trip there was more than exciting. The walk each day to the beach was about 10 minutes each way and moderately challenging for my husband and I in our early 70's but got easier each day. We were there the first week in June before the start of the high season so there were very few tourists around which was very welcome as we had spent a week in Florence, a week in Venice and a week in Positano so we were tired of the crowds. We just chilled and ate well and walked. We hope to be back to the same villa next year!! Well worth the money.
---
Beautiful fully remodeled two bedroom, two full bathrooms and full kitchen one level home perfect for our four night stay in Vietri. Mrs Aleesandra was wonderful and welcomed us and gave us a full explanation of property, and useful information, not to mention that she greeted us with a large delicious cake, bottle of wine and 6 large waters, all very thoughtful gifts that came in handy, gift from owners. Since no one was renting lower level we were able to use full lounge chairs, otherwise you have patio furniture, what's in photos. Property is a first class property, as described and with every amenity provided, full kitchen with gas stove, so we ate I'm several nights, and every breakfast. Two full oversize showers with both full bathrooms with bidets. 2nd bedroom beds are smaller than main master bedroom but for a couple with older children, would work very well. Pull out sofa in kitchen. Very secure home with full new steel shutters, new doors and hardware, not to mention locked gates. Very close, walking distance, a few hundred steps down to main beach area as well as multiple grocery stores, coffee shops and excellent pastries. Location central to public transport. Vietri Sul Mare is a very quiet town, but unfortunately not as clean as other Amalfi towns visited, much stray trash on roads, sidewalks, dog droppings seen often, other Amalfi coast towns visited Amalfi, Praiano, Ravello, Minori, much cleaner. Vietri has virtually no tourists during time we were at home in late May. Vietri beach swamped on weekends according to locals, and based on close to 1,000 beach umbrellas, I would seem to agree. Perfect location to explore a very old, rustic town, if you really want to get into the local culture and restaurants are excellent, well known for fish which is caught daily. Home is down a very small tight road that must be carefully navigated if coming with a private driver as you must have Mrs Aleesandra there before to great you as she will open garage allowing driver to turn around vehicle, no exit at bottom! In summary, villa is spectacular (only washing machine is an old room, but still works well!) would definitely return.
---
have been living for many years in Turkey and Argentina where I started up a consultancy company for foreign investors in the tourist sector.

Since returning to Italy in 1999, I have built-up a superb portfolio of luxury rental apartments in Rome, high-class villas in Amalfi,country-houses all over Italy and boats and yachts for international visitors.

Surf my website to discover my best estates and feel free to contact me to request a free, personalized offer or if you want to propose us your house or your boat.

I have in fact a wider list of luxury apartments that I can offer you adapting it to your specific needs.

During your staying, my team and I will be at your complete disposal for making your sojourn unforgettable (advising cars with drivers, restaurants, theatres, etc.).

Dorotea Morlicchio

+
语言:
English、Español、Français、Italiano、Türkçe