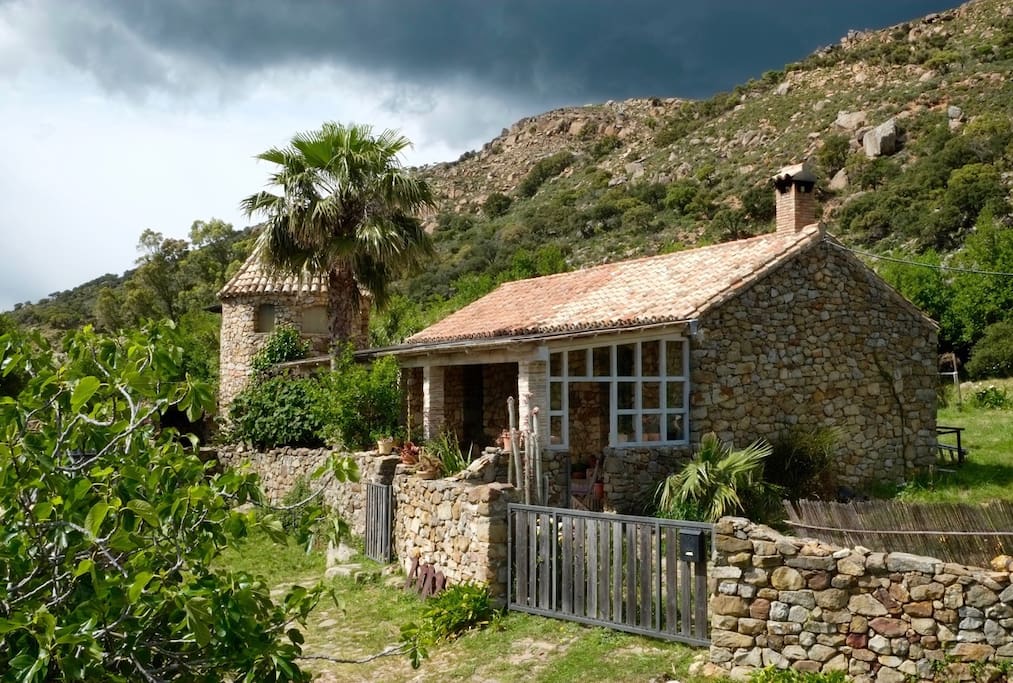 Our farm is located in the "Natural Park Alcornocales" with a view over the Atlantic to the coast of Morocco. The house is surrounded by a large garden, which is traversed by a small stream.
Very idyllic and relaxing !!!!
19 km away from Tarifa
---
Inga's place was a magical place with lots of positive energy in the middle of nature. From the moment you enter the house, you feel in a different world and very lucky! The house is very nicely located: with the car, you can reach the beaches in 10 min (also very suitable for kite beaches!) We were 3 persons, and had lots of space. The house / the bathroom and sleeping room were very clean, and very well decorated. The kitchen was also very good equipped for cooking. The place is very suitable for families with kids but also for romantic couples, as it combines the unique romantic style with nature. Besides, the cats and dogs are just soo lovely and we will really miss them. So, taken together, it is the best Airbnb place that we have stayed so far. Thank you very much Inga, for your great hospitality and for providing us such a magical place!
---
Unser Urlaub bei Inga und Henri war ein Traum: wohnen in dem liebevoll eingerichteten, wunderschönen Haus inmitten der Natur, schlafen in einem romantischen Turm mit Blick auf's Meer und die Küste Marokkos, spielen mit den drei Hunden und den Katzen und sich erholen in dem verwunschen Garten oder auf der gemütlichen Terrasse. Schon nach einer Stunde möchte man nie mehr gehen. Das Haus ist ein Paradis für diejenigen die Ruhe und Natur suchen. Inga und Henri sind wirklich super-hosts: sehr herzlich, hilfsbereit und diskret. In der Nähe gibt es wunderschöne Strände, Berge zum wandern, kleine Dörfchen zum einkaufen oder essen gehen und für mehr Action ist Tarifa nicht weit. Eine Yoga-Stunde mit Inga und die Koma-Kulo von Henri sind absolut empfehlenswert! Wir haben es sehr genossen und hoffen bald wieder zurück zu kommen!
---
We had a great stay at Inga's and Henrey's guest house. We came from Malibu California mostly to kitesurf and all was perfect. Inga and Henry were both very kind and helpful, our two boys really enjoyed the country atmosphere and their great pets, neighbors cows, horses etc. My wife really enjoyed Yoga with Inga. Great location to all the good kite beaches and not far from Tarifa as well. Thank you again for the great stay !! Scott, Ilene, Luke and Patrick !!!
---
Inga and Henry's house is a bit of paradise on Earth. The place is idyllic, where you can only hear cowbells and birds singing. Very peaceful, time slows down a little. You feel really in contact with nature. One of my favourite moments of this trip is sipping tea in the garden in the early morning sun listening to the birds chirping looking over at the mountain. The national park is just in front of the gate and it's beautiful to go for a hike. Water comes freshly from a spring and you feed the chickens your leftovers. The dogs and cats are so sweet. And there are cows and horses just outside the property. Many beautiful beaches are also a short drive away. It's a place to restore and recharge your batteries! Everything was clean and the wifi worked very well when I had to do some work. The kitchen is also well equipped to make any type of meal. Inga and Henry are kind and lovely people who it was a pleasure to get to know. Inga is also a fantastic yoga teacher. She is very knowledgable, fun and deep. She teaches at a hotel that is just on the beach (so you can go for a swim just after class!) and also in the back garden in her Shala which is beautiful. Can only recommend this beautiful place!
---
Die Tage in Inga`s Turm waren traumhaft! Die Lage, das Licht, die wohnliche Einrichtung, Inga und Henri, die Hunde und Katzen - ein Ort um sich wohl zu fühlen. Es ist alles genau so, wie man es braucht: perfekt ausgestattete Küche, kuschelige Bettwäsche, herzliche Gastgeberin und ein verwunschener Garten. Morgens blickt man vom Bett direkt auf ein Panorama bis ans Meer. Sehr sehr empfehlenswert.
---
We had a great stay at Ingas' place and Inga is super cool and friendly! We felt ourselves at home the same moment that we arrived. The room in the tower was very cosy, the bathroom was clean, the kitchen very well equiped. The place is ideal for those searching for peace and romance as well as for those who want to escape busy city life, but stay rather close to wonderful beaches and places of interest. Ingas' three dogs and two cats are adorable; I would say, they (as well as dozens of horses, cows, chicken and other animals living in the neigbourhood) are a kind of anti-stress therapy for anyone who loves animals and is open to receive lots of love and positive energy. All in all, we had a fantastic stay and would deifitely like to go back some day for a longer stay. Highly recommended!
---
Not only the tower, but the entire place is absolutely magic and unique. Domesticated wildness in a holistic and harmonious way. Ideal for nature lovers, adventurers and peace-seakers. Its very close to phantastic beaches and if you need a little more entertainment, beautiful Tarifa is close too. Inga is always helpful, easy to contact also via phone. She keeps the place continously looking nice and clean and she is very good and professional yoga-teacher too, absolutely recommendable! A great experience, I'd love to repeat!!
---
We are a couple from Germany - Berlin, based in Saladaviciosa- Facinas since more than 18 years!
I'm a Full-time Yoga Teacher and my partner is an Photographer- Artist , we like very much nature, art, the sea and people.
We love people and make new connection, so we decided to share this amazing place here in the south of Spain with others. This is a beautiful place, full of nature, sun and life!! That's why we decided to stay here!!
We live on the same property.
语言:
Deutsch、English、Español