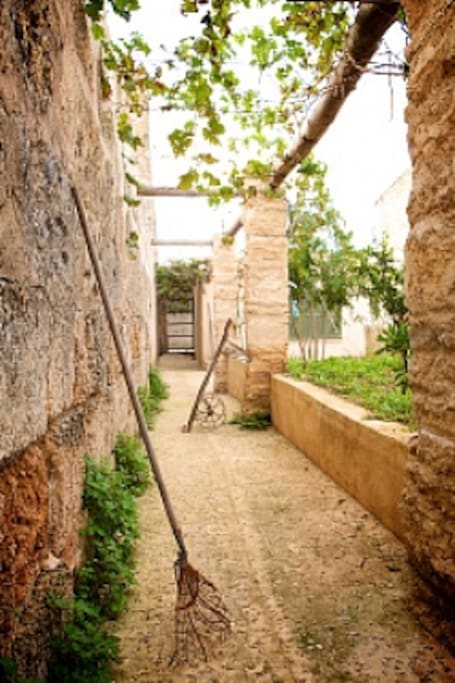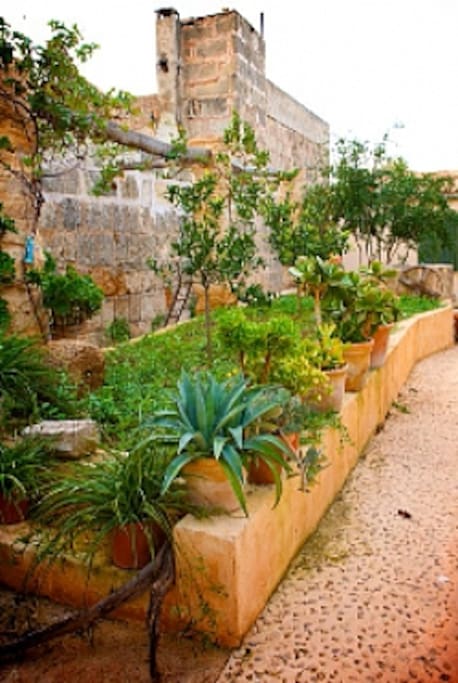 Ray is one of the loveliest hosts you will probably ever meet. He couldn't do enough for us. The children loved him and considered him part of the family. Ray is most accommodating and gave us a rather generous early check-in and late check-out due to the ridiculous BA flight times. He introduced us to our neighbours, one being a 88 year old Spanish lady who just loved the children. When we left, everyone was in tears saying their good-byes to this lovely little old lady. Ariany is what we would describe as España profunda - a real taste of Spain. The location is great for easy access to almost the whole of the island within 45 mins. One of the most fabulous beaches is only a 20 minute drive and has a selection of beach bars right on the beach, where you can enjoy a drink and a meal, whilst watching the children on the beach and in the sea. Bliss. There is also a great restaurant down the road, probably a 15 min walk from the house, which makes great food and is so reasonable you probably won't believe the bill when it comes. Needless to say, we cooked very little. Thanks Ray! See you again soon. xx
Rema, all I can say is that it's not the same without you! You guys were so upbeat, laid-back, down to earth and clever-funny, that your visit will live on in all our memories for many years. Antonia shakes her head at how dear and loving the kids were to her, and gets a little misty when she asks about you. You were our Easter present, but we'd like to see you again well before next Spring. Take care, big hugs, xx
---
Es un encanto! Ray ist ein wunderbarer Gastgeber! Er hat uns selbst empfangen, alles gezeigt, uns Wein hingestellt und sogar Blumen! Er hat uns der Nachbarin vorgestellt und den Laden gezeigt. Und auch das Haus ist sehr besonders. Es ist kunstvoll umgebaut und Ray hat versucht möglich viel von den alten Steinen, den alten Fussböden (TOLL!) und dem Charme zu erhalten. Trotzdem sind hinter Türen und Klappen Waschmaschine, Trockner und Klimaanlage/Heizung untergebracht. Die Heizung haben wir trotz Regen und kühlen Temperaturen nicht ausprobiert.Lieber haben wir Rays Angebot seinen Kamin zu nutzen in Anspruch genommen. Nachdem wir den Salon mit dem Esszimmer tauschen durften, hatten wir ein paar sehr schöne Abende mit Drinks am Kamin. Dank der Sonne und des tollen Wetters auf Mallorca haben wir aber auch den Pool getestet und viele Ausflüge aus von Ariany gemacht. Das Dorf liegt im Landesinneren eher im Norden. Das Dorf ist sehr klein uns ruhig, eine Bar, 2 Mini Läden eine Apotheke… Wer einen Marktplatz braucht oder buntes Treiben ist hier falsch. Man kann aber nachschauen wo der nächste Markt ist (zb. Sineu oder Artà) und einen Ausflug ins Getümmel wagen. Das Haus ist groß und großzügig, allein die Menge der Wasserhähne ist beeindruckend! Wer allerdings sehr viel Platz im Bett braucht oder ein XL-Bett gewohnt ist, sollte lieber allein in einem der 4 Schlafzimmer schlafen. Um überhaupt etwas zu finden, was man besser machen könnte, wären noch Leselampen am Bett toll, und evt einfache Kleiderstangen statt Schränken, da diese doch sehr nach Oma (abuela) riechen, und so die Kleider leider auch diesen Geruch annehmen. Ansonsten können wir Ray nur viele tolle Mieter für dieses schöne Haus wünschen! Ray is a marvelous host. Upon our arrival, he warmly welcomed us with wine, beer and even a bunch of flowers! He showed us around the house, introduced us to the neighbours and even showed us the little corner shop. The house is exceptional and unique. It has been skillfully renovated as Ray kept the charming features of the old brickwork and the artful floor finishes, which are most beautiful. Yet, you´ll find all modern amenities behind those antique and artful doors: washing machine, dryer, air-conditioner and heater. Even though we had some rain and cool temperatures for a couple of days, we didn´t use the heater. Instead, we enjoyed a sparkling open fire! Ray had even organized some firewood for us! Following Rays inspiration, we swapped the furniture of the dining and the living room and were then able to enjoy some lovely evening drinks sitting around the open fireside in the "new" living room. Thanks to the wonderful sunny weather during our stay in Ariany, we even had a go at jumping in the pool! And we enjoyed some excursions to different places around the island of Mallorca. Ariany is a small, tranquil village with only two corner shops, one bar and one pharmacy. It is located in the heartland of the island, kind of north-easterly. If you desire the hustle and bustle...
---
We had a very enjoyable two week stay in Ariany. The house is large and cool, with lots of character, and interesting furniture - the antithesis of a modern apartment block. It's an old building but has a good washing machine, dishwasher and there is air conditioning in all the bedrooms. The pool is not huge, but is a great size for cooling down in, and perfect for our kids [though might be quite deep for people with younger children]. Some of the photos on the website could do with being a little more up to date, not all the rooms were furnished exactly as shown - the garden especially was more mature and less green and well maintained than the pictures suggest. It's still a very nice place to stay, though. Ariany is a small, working village with useful shops, bar and restaurant nearby, and is a convenient distance for many parts of the island. The coast can get quite busy in July/August, so it was good to come back to somewhere more quiet and authentic after a day out. Ray is a lovely and interesting host - I'm sure he would do his utmost to sort out any guests requirements. Knowing that I'm an artist he'd put an easel into the house in case it was needed - it wasn't, I was on holiday! - but such a thoughtful gesture.
Roland and his own family are terrific people, very bright and alert to the zeitgeist, funny, enthusiastic and relaxed at the same time. AND they had a mirror family of friends to stay for a week in the middle of their holidays who were pretty much cut from the same mould. So the original cohort was doubled, and became a very fine group of 8 in all. I'm very lucky to host people like Mark, his family and their friends. I hope when you come back you'll have a greener garden. The photos on the website were taken several Springs ago when the citrus trees were small and the garden bursting with chlorophyll. Thanks for coming, regards to your friends. Come again!
---
Wir hatten unsere Gäste bei Ray untergebracht. Ray ist stets sehr hilfsbereit und war bei Problemen sofort zur Stelle. Die Unterkunft war sehr schön. Teilweise sind die Möbel sehr alt, aber das gehört wohl zum Stil des Gesamtkonzeptes.
---
房源
*Please, check with us availability before booking*

With Private Plunge Pool, Located in a Tiny Secluded Village, Relaxed and Quiet, 20 Minutes to the Beautiful Northern Beaches, Sleeps 9 (5 Bedrooms)

This delightful and original row house with walled garden has been carefully restored using materials and techniques favoured by mallorquin builders for centuries. At the time the house was built (late XVIII) this little hamlet, then part of the nearby historical village of Petra, was home to prosperous farmers. Their "corrals" or back gardens were large enough to stable cattle and mules, and had back gates opening onto a parallel street behind. This house has been restored and enlarged, keeping the foundations and carefully preserved rough sandstone walls of the outbuildings, to extend the sleeping quarters. The plunge pool (measuring 3m x 5m or 9ft x 15ft) was formerly the "aljibe" or reservoir. The furniture is a mix of local antiques acquired over the years, and late 19th Century family stuff, shipped over years ago from our farm in the US. The aim has been to provide total comfort and convenience in a traditional setting. Visitors invariably remark on the aura of upbeat, peaceful wellbeing the house radiates.

Bedrooms:
Bedroom 1 ground floor with double. En-suite bathroom.
Bedroom 2 ground floor with double. En-suite bathroom.
Bedroom 3 upstairs with double. Washbasin. Fireplace.
Bedroom 4 upstairs with double. Washbasin. Fireplace.
Library ground floor: Single bed

Bathrooms:
Bathroom 1 en-suite to Bedroom 1: wc/bidet/shower/basin.
Bathroom 2 en-suite to Bedroom 2: clawfoot bath/wc/bidet/shower/basin
Bathroom 3 serves Bedrooms 3 and 4: clawfoot bath/wc/bidet/shower/basin
Bathroom 4 (for Library bedroom) with shower/wc/basin

Kitchen:
Kitchen with gas cooker, electric oven, microwave, dishwasher, Combi refrigerator with big freezer, espresso machine, assorted small appliances and full range of pots and pans. The kitchen also has an open fireplace with sandstone benches on either side.

Utility Room:
Big Bosch 8 kg. washer and 7 kg. dryer. Brooms, mops, brushes.

Living Rooms:
1. Living room seats 9 with auxiliary seating in place.
2. Library can take 6 readers/viewers (Sky TV), with 2000 paperbacks for visiting fiction fans.
3. The dining table can seat 9 (made for 8).
4. The scrabble table seats 5 on upstairs '50s landing.

Cleaning/Towels/
linen/maid service:
The house is cleaned after guests leave in preparation for the next people in. Bedlinen and bathtowels are provided. Guests are asked to bring their own beach towels.

Interim cleaning can be arranged and charged at Ariany's going rate of 9 euros/hour.

Amenities/Facilities:
Barbecue PrivatePool Parking Garden

Dishwasher FridgeFreezer HobStove Iron Microwave Oven TumbleDryer WashingMachine

Cot HighChair InternetAccess RoomFans Satellite

Notes on prices
Guests may book for one night if desired although there is a 3 night minimum charge. For rentals of longer than 7 nights, the reduced weekly rate is extrapolated to cover the entire stay on a pro rata basis. Further discounts are negotiable for longer rentals, especially during low season, depending on availability.

The property's ex-corral is now a private garden with citrus trees and grapevines. The plunge pool is the former water reservoir. There are canvas director's chairs and terrace tables and a portable barbecue in the garden. There's a large terrace one flight up, overlooking the garden and pool, with seating for either 6 or 9. At the top of the house is a small terrace with views over the land. On a clear day the Mediterranean coast is visible from there, specifically the beach at Son Serra de la Marina.

For hikers, or just strollers, the walks round the area are very beautiful and especially satisfying. The island government has designated certain country lanes as "ecovias", green alternatives to the roads, and these are used by walkers and cyclists.

In fact the area round Ariany has been used for generations by champion cyclists preparing for competition. The local road system's excellent surfaces and gently rolling rises and descents are apparently an ideal training ground.

You can drive to the beautiful Porto Cristo beach in less than 20 minutes. The Drach Caves are nearby, drawing lovers of natural beauty from all over the world. But the favourite beach with local residents is the one at Son Serra de la Marina, natural and unpretentious, about 15 minutes by car. A few miles farther takes you to Ca'n Picafort and Puerto de Alcudia which, like the others, has limpid, transparent, turquoise water. And to the NW of Ariany, 45 minutes away, is beautiful Formentor.

Golf
The exquisite Vall D'Or 18 hole golf course at S'Horta is 14 miles from the house through beautiful countryside. Green fee is just under €100. And the Reserva Rotana, just outside the town of Manacor, is a private 9-hole-golf course with driving range and practice green with a €55 green fee.

Palma's Son Sant Joan airport is a 45 minute drive from the house and instructions are provided for reaching the property by car, rental of which is recommended for at least part of the stay. But cycling fans will also find many bike routes threading between the tiny villages in this beautiful rural area. And the local government has recently revived the Palma-Manacor train service with an Ariany bus that meets most trains.

Further Details
There are two cafe-bars with shaded tables on the leafy Ariany town square, as well as a savings bank with an ATM. Two well stocked food/general stores, one of which doubles as post office and tabac and is round the corner from the house, also sell the fresh local produce. At the foot of the hill is a big, friendly, all-you-can-eat buffet roadhouse, known island-wide for its good food, local vibe and low prices.

Nearby Manacor acts as a service hub for the surrounding communities. There are banks, internet cafes, and restaurants, two big supermarkets, tree-shaded street cafes, a hospital with an excellent ER, as well as the famous Majorica pearl factory.

Petra (walkable in 20 mins, bike-able in 7, or 2 by car) is an exquisite little village in an aesthetic time warp, where you can tour the tiny house where myth has it that Fray Juniper Serra, the Franciscan monk who sailed with the Spanish mission to the New World, was born in 1713. Recent research proves it's actually where the Serra clan moved to 5 years later. It was Junipero who gave saints' names to the mission towns he founded all along the California coast: San Francisco, Santa Barbara, San Clemente and so on.

Sineu, 10 minutes away, has bloomed since the reintroduction of rail service, and boasts more than a dozen new restaurants in the winding streets and lanes around the Medieval church square. It has another claim to fame that goes back further. Historians confirm that a weekly street market was well established in Sineu in the early XVth century. It has been held every Wednesday since then, save during the Civil War years, or when it rained on the day. The market serves the local community but also attracts tourists from round the island. You can buy excellent fruit, vegetables, local cheeses and sausages at the little stalls in the church square. The broader tourist market surrounds the railway station and has an acceptable selection of souvenirs, fringey bags and carved olivewood salad bowls.
---
---
---
---
---
---
严格
旅程开始前的7天之前取消预订可以获得50%的退款。如果在旅程开始前7天内取消预订,该预订将不可退款。
---
---
Hola! Guests who come back season after season include painters, writers, teachers and photographers. There may be flats for holiday rental in the Old Town with stainless steel and white plastic furniture resting on blond parquet floors, but as nice as that sounds these flats aren't it. And the two houses in the village? It took years to make them look beautifully old and well-used, shabby and chic.
I hope you like my properties and I wish you a nice stay in Mallorca.
语言:
English、Español