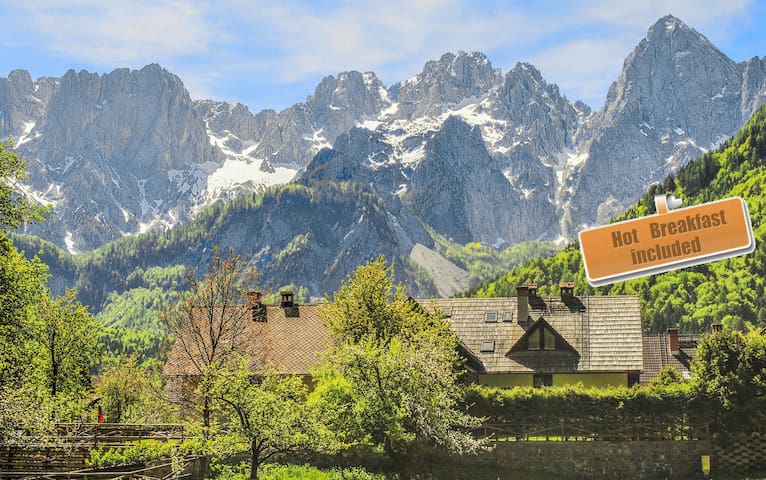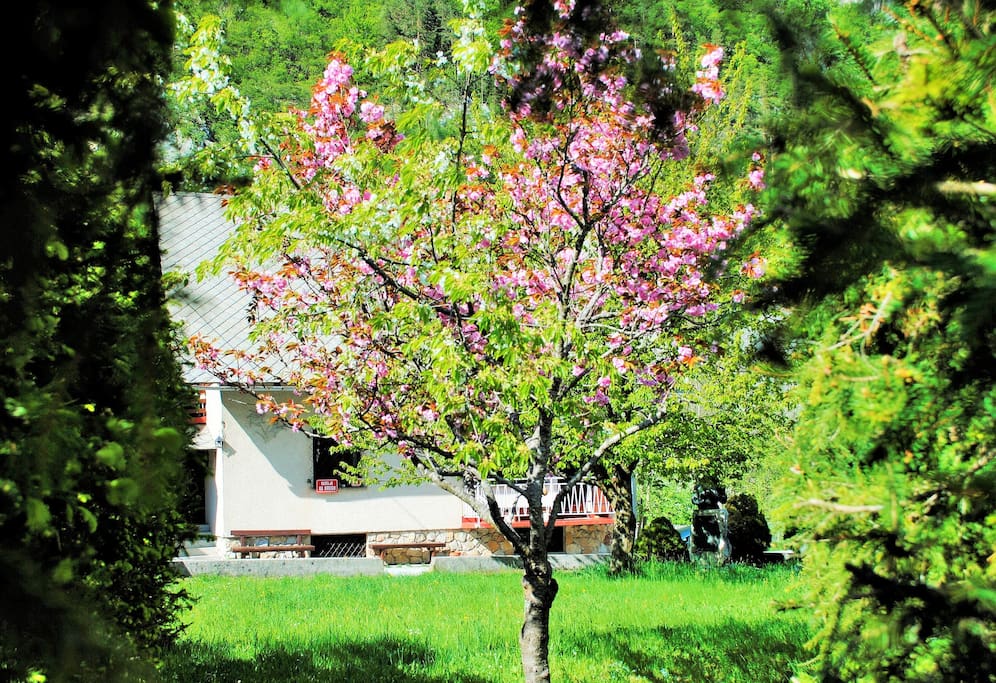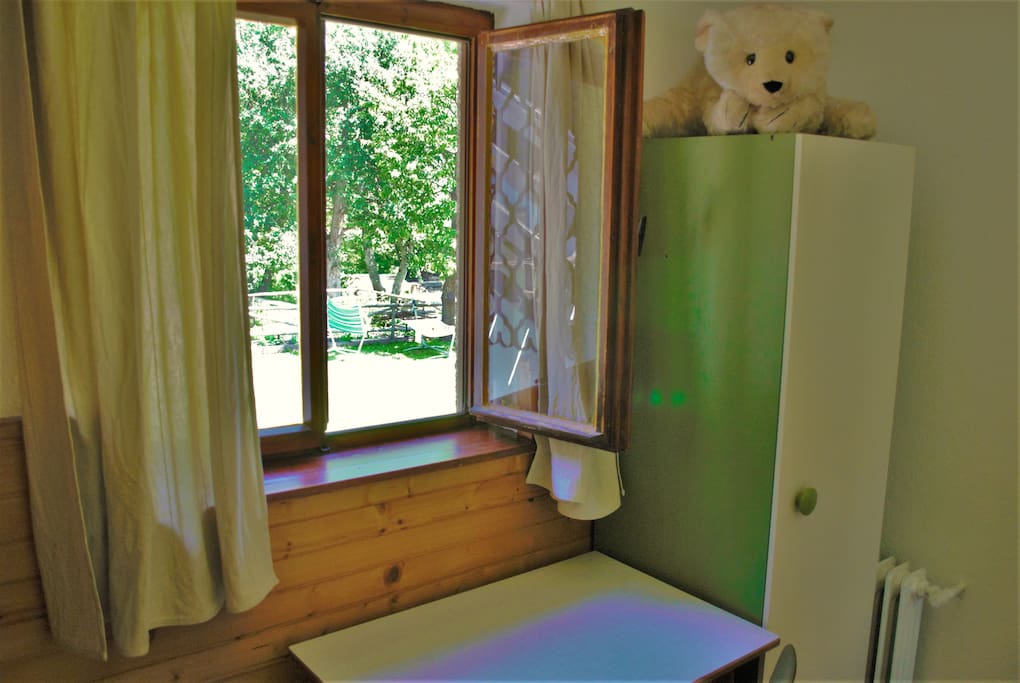 We live in one of the most beautiful regions of Slovenia, in three kilometers from the ski resort of Kranjska Gora (four kilometers away from the ski lift), in the alpine village of Gozd Martuljek.
If we need to describe our hotel in two words, it would be "quiet & beautiful"...
And we really love to receive guests, and we consider our work to be the best in the world!
房源
Our home hotel "Kakoste" stands on a bank of the mountain river Sava Dolinka. Right behind the house, there is a small wooden bridge over the river. The forest paths starts there leading directly to the top of the mountain Srednji Vrh and to the town Krajnska Gora.
In the village of Srednji Vrh there is a family slovenian farm. They`ll gladly offer you alpine semi-hard cheese (that actually tastier than that we have ever tried), homemade yogurts, sour cream and other ecological products from milk of alpine cows.
From the windows and the verandah of the house opens a breathtaking view of snowy peaks of Julian Alps.
房客使用权限
Our house is two-stored, in total there are 5 guest rooms for 11 people. On the first floor we have a shared kitchen, dining room and a living room with a balcony with a amazing view of the snowy peaks …
Your bedroom is also located on the first floor. The room has a single bed, a wardrobe, a bedside table and a table with a chair. From the bedroom windows overlooking the Alps. And the room has a soft warm blanket, wrapped in which it is so nice to sit in the evening on the veranda, admiring the sunset in the mountains!
Shared bathroom with shower and washing machine is separated of the toilet.
Whole planning your vacation, you do not need to think about such little things as towels and, especially, bed linens! By your arrival we will make your bed, dried under the sun and the fresh Alpine air. You will find ironed towels in the room too.
There is a pantry for skis and snowboards in the house, three mountain bikes to rent will already be waiting for you in our garage.
In the backyard you can cook a barbecue, enjoying the rest in the hammocks and deckchairs under the clear sky, listening to the sound of the river and the rustle of trees in the forest
与房客的互动
We enjoy the fact that we live in such a beautiful place, and we are very glad to share this happiness with our guests!
And the part of our work we love most – is to sit in evening, drinking wine, discuss with our guests tomorrow's routes and share our own experience about beauty of Slovenia!
Come – we promise, this trip will become one of your best memories, and you will have new friends in our small but beautiful country!
其他注意事项
Attention! Tourist tax is included in the price of your reservation!
You can rent mountain bikes directly from us!
If you need a transfer, or you would be interested in our author's excursions to the most beautiful, secret places in Slovenia or the neighboring regions of Austria and Italy, just write us about it ;)
---
The perfect place to stay. I felt like home at Kakoste. :) Beautiful scenery. Very clean house, comfortable beds, great(!) breakfasts. And Oless was the kindest host I have ever met! He showed me the most beautiful places, and they cooked these really Amazing dinners. I absolutely loved staying with them. I will send all my friends here! Thank you for everything, Oless and Katia!
---
The village the house is in is very scenic with many hiking trails in the area. Very good value with breakfast included, though room was basic. Nice hosts also share dinner, drinks etc. with guests (additional contribution appreciated). Great place to stay especially if new to Slovenia/this area, as hosts have lots of travel tips to offer.
---
I stayed for a week and loved this place very much. It is surrounded by picturesque landscape. You can admire mountains when you wake up and while lying on a hammock in the backyard you can breathe in fresh air & watch thousands of stars. What I loved most was the two wonderful hosts(and adorable cat) I've ever met. Oless is always there to give you the best advice such as what places to go, where special routes are hidden, and which restaurants serve good foods. He puts his guests first and would dedicate his time to make sure that people can leave Slovenia with the best memories in their heart. I definitely recommend this place. You will get the best memories here.
---
Needed a place to crash, cos I was bikeing from Ljubljana to Vrsic and back. The place is great, just what I expected, located 15 bike minutes from Kranjska Gora... PERFECT and then I met the owners... I never expirienced such hospitality... They also live there and they re always there for you, suggesting hiking, bikeing, sightseeing tips... They prepare great food and I also learned a few russian drinking toasts :) Had a great time.
---
Открытое - закрыть,
Грязное — помыть,
Голодного — накормить,
Грустного — обнять.
语言:
English、Русский