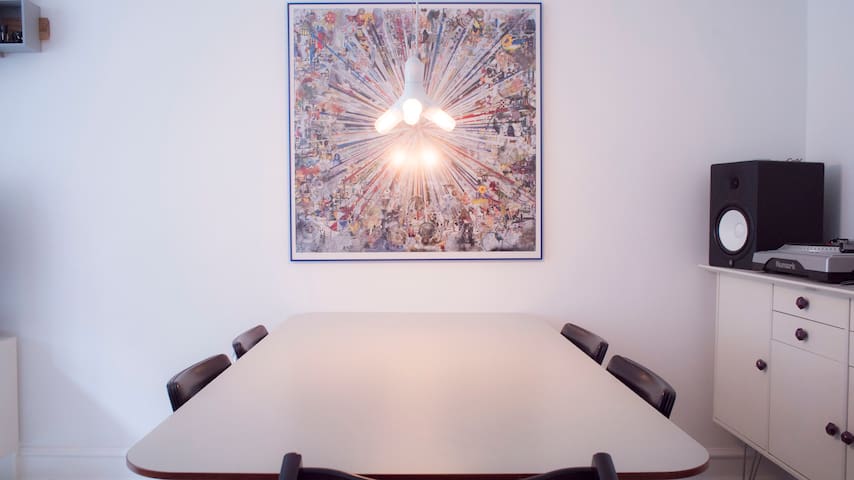 Located in a quiet street, in the cosy, yet vibrant part of Vesterbro, this spacious apartment is perfect for families, couples or groups of friends.
Ideal for 4 people but will fit up to 6.
Very close to everything Copenhagen has to offer. Welcome
We were 5 grandmas making our first trip to Copenhagen. We had clear directions to get to our home. There was a clitch getting in as we didn't know we had to get the key at a store. A very helpful neighbor was able to call Marie and get the information. Glad the apt was ground floor. We located the information about wifi etc on the fridge. Our home was very clean with all needed kitchen equipment. Beds were cozy, shower water hot. Very helpful to have WC separate from shower laundry room. We often walked 20 minute to Central train station or continued to other sites, so location was great. We had a great time!
---
Marie's place was lovely! Exactly like the pictures, comfy beds, with a great kitchen and dinning area! Great location and located on the first floor so no stairs! Having the playground in the back was nice and they were generous enough to allow my son to play with all the toys! This made the trip and hanging out at the apartment fun and enjoyable for all. Communication with the hosts was so easy and they responded quickly. Highly recommend this apartment especially for families!
---
The last stop of our northern Europe trip, and we saved the best Airbnb stay for last! We had great and friendly communication with our gracious hosts. Check-in was simple, and easy-to-follow instructions were provided in English. Our family of five slept very comfortably. Notable perks include a washing machine, fast WiFi, and hot water for showers. This is a beautiful, well-appointed home in a good neighborhood, close to the train station, shops and cafes. We highly recommend this home and hosts; it was everything we were hoping for and more.
---
Marie's place was fantastic! The beds were very comfortable, the rooms much larger than expected given the apartment is in the city. The neighborhood is awesome- we had great food each night within walking distance. Its about a 15 min stroll to the main train station and city center. Marie was so thoughtful and put out a highchair and pack-n-play even though we didnt ask her to, but she knew we were bringing our 2 year old. This home is excellent for families and I highly recommend!
---
Marie's place was very nice and in a great location. The apartment is within walking distance to Central Station and Tivoli Gardens. Six of us slept comfortably and had plenty of room. The kitchen is equipped with the basics needed for preparing a meal. The shower works well. The washing machine and drying rack are great. There is a cute courtyard with picnic tables in the back. The only complaint we have is that the trash truck parked out front and dragged trash cans back and forth for an hour one morning. Normally that wouldn't be an issue for us, but it was 6:30 A.M.. I would recommend Marie's place.
---
The apartment was absolutely amazing! A beautiful little neighborhood and a beautiful home. We didn't want to leave! It was very convenient and easy to get around with our 2 kids. The apartment was super clean, comfy, well organized, and very hip! I kept taking notes on the decorating so I could try similar things at home. We had a great time in Copenhagen.
---
Hi everyone!
We are Marie Lærke and Jonas - welcome to our home and to wonderful Copenhagen!
We live here with our son Carlo who was born in February 2012.
We both work in the TV industry and enjoy our weekends and vacations in our summerhouse just outside Copenhagen.

We are service-minded and friendly hosts, who will assist you with any questions you might have. Please visit our guestbook for further details about our neighborhood.

语言:
Dansk、English、Svenska