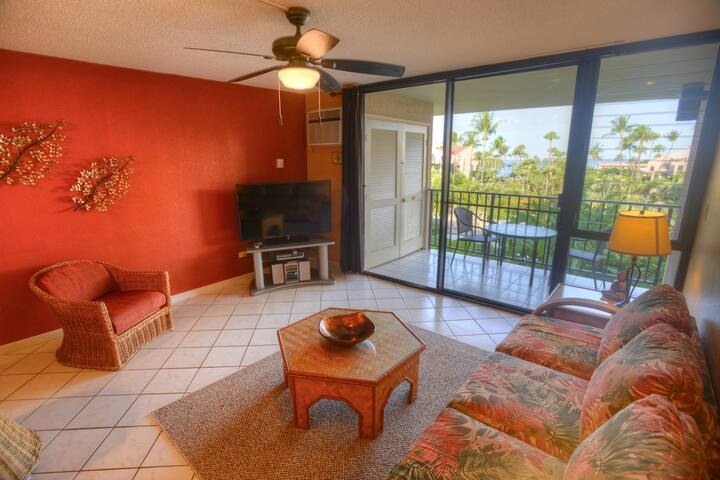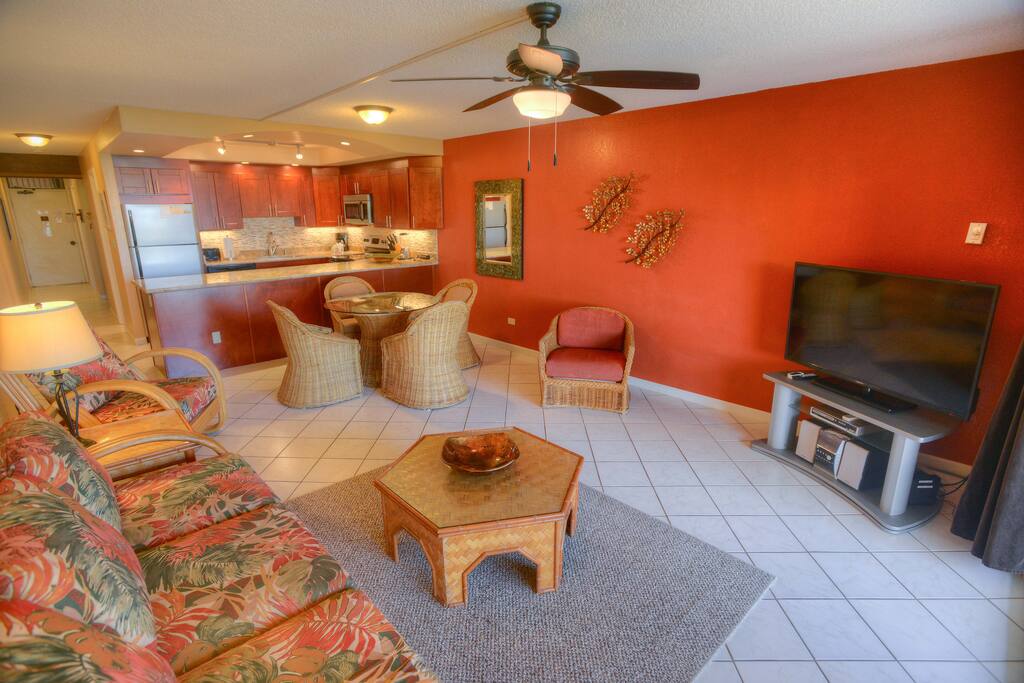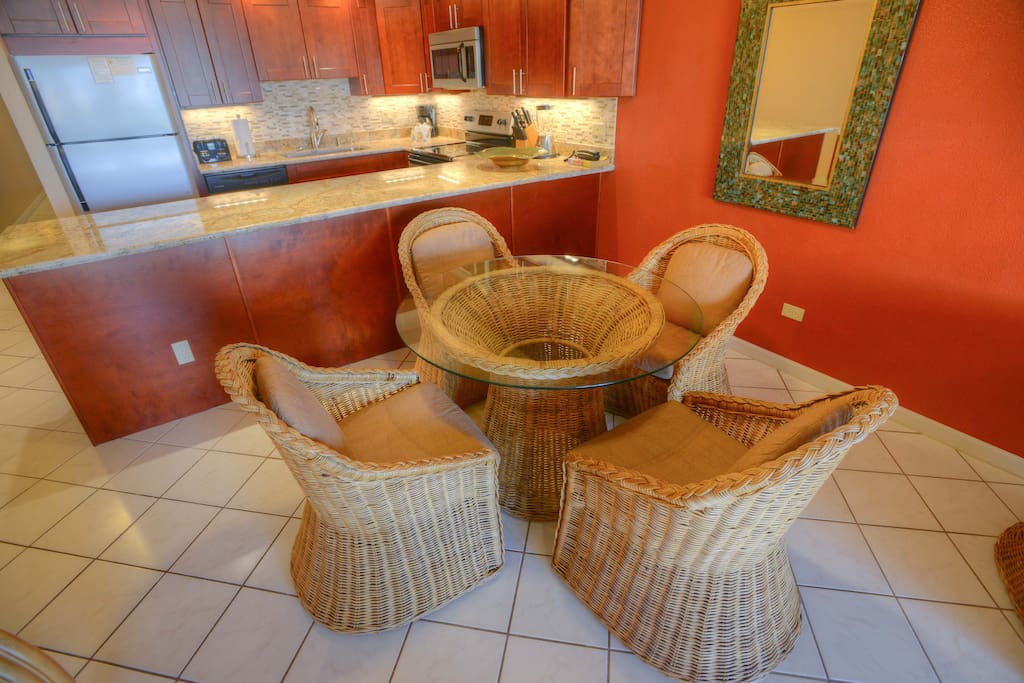 Renovated ocean view condo across from Kamaole Beach III, one of the best white-sand beaches in South Maui.
房源
PROJECT NOISE NOTICE: Kamaole Sands will be painting buildings #1, #2, #3, #4, and #10 from April 2017 to December 2017. While your building may not be directly affected, please note that during daytime working hours there may be painters, scaffolding, and general project noise present on property.
Beautiful ocean view from this one-bedroom unit at the pool-end of Kamaole Sands in South Kihei. The condo units bed layout consists of one comfortable king bed and a sleeper sofa great for children or overnight guests. Additionally for your comfort there is air conditioning in the living room for those hot afternoons after the beach. The condo also features great beach access, a fantastic pool, hot tubs, and a fitness center. Everything you need to have a enjoyable vacation!
房客使用权限
This is a vacation rental, or a home away from home. We provide you with all of the entry and exit instructions in your confirmation, and allow you privacy during your stay. There is a full kitchen, along with all necessary cookware and utensils for your use. We will also provide you with beach chairs, beach towels, and a beach umbrella. If you need to reach us while you are a guest, there are contact numbers in the condo book on the kitchen counter.
与房客的互动
After booking, we will send you all of your check-in instructions. You do not need to check in with us, however you may need to stop by the front desk to register your car or retrieve a parking permit. Some resorts do not require this. There will be detailed instructions provided to you when securing a reservation.
其他注意事项
The guest reserving this property must be at least 25 years of age and must occupy the property throughout the duration of the reservation. Our cleaning fee includes a damage protection fee that covers up to $1500 of accidental REPORTED damages to the rental property and its contents. This fee does not cover intentional damages, theft, or unusually excessive cleaning required after guest departure.
Note: $35 One time resort fee paid to the resort upon check-in
Managed by Maui Condo and Car; MCW LLC CHO #287
W40884748-01
---
---
---
Maui Condo and Car's Airbnb Terms and Conditions
Check-In Time: 4pm
Check-Out Time: 10am
LATE CHECK-OUT - In order to obtain a late departure from the condo/home, you may wish to request the time in advance. Once your reservation is confirmed, please contact our office for more information regarding late departures.
UNAUTHORIZED LATE CHECK-OUT - In order to prepare the space for subsequent guests, standard check-out time is strict at 10am. Failure to comply will result in a minimum fine of $100. Late check-outs must be arranged in advance with the HOST.
LOST KEYS - For our condos that have hard-copy keys (metal keys), GUEST will be provided with THREE (3) keys. One key will be present in the front door lock-box, and two additional keys will be located inside the condo. For liability purposes, there is a minimum $150 charge for lost keys, as locks must be changed if all keys are not accounted for. Please contact our office immediately if there are less than the specified number of keys upon arrival. Condos utilizing electronic keypad entry systems (ie - Schlage or Kaba locks) do not have hard-copy keys, and are exempt from this policy.
LOCKOUTS - GUESTS may be assessed a $50 fine for lockout services. If it is determined that a lockout is caused by a fault of the locking mechanism (ie dead batteries in an electronic lock), fines may be waived. GUEST is responsible for carrying keys to the condo with them during the duration of the stay to avoid accidental lockouts.
PAYMENT - Please refer to the help center for any questions on payment or payment methods: https://www.airbnb.com/help/topic/222
CANCELLATIONS - Maui Condo and Car listings are subject to a strict cancellation policy. For outlines on this cancellation policy, please visit https://www.airbnb.com/home/cancellation_policies#strict
FALSIFIED RESERVATIONS- Any reservation obtained under false pretense will be subject to forfeiture of advance deposit and/or rental money and the party will not be permitted to check-in.
PENALTY FOR VIOLATING MAXIMUM OCCUPANCY PROVISION – Violation of the maximum occupancy provision can result in serious health risks directly related to overuse of the sewer. Therefore, in the event the GUEST allows the premises to be occupied by more than stated maximum occupancy, GUEST shall be responsible to pay HOST the sum of one hundred dollars ($100.00) per person in excess of the stated maximum occupancy per day for each day the GUEST is in violation. Exceptions may be made with prior written consent from the HOST.
POOL AREA - All persons using the pool area to do so at their own risk and sole responsibility. Children under the age of 18 must be accompanied by adults in the pool area at all times. HOSTS assume no responsibility for any accident or injury in connection with such use. Persons using the pool agree with the Owners for and in consideration of the use of the pool, to make no claim against the owners for or on account of any loss of life, personal injury, or damage to or loss of personal property. Do not hang towels, linens, clothing, or other items on balconies or in the yard.
LANAI/BALCONY - GUEST will refrain from hanging items over lanai railings, including, but not limited to, towels and swimwear. GUESTS will refrain from leaving unattended personal items in common walkways or within sight on balcony/lanai.
DAMAGES – GUEST is responsible for any and all damages that occur to the property or its contents by GUEST or traveling companions while registered occupant(s) of the property. Damages will be claimed in accordance with the Airbnb security deposit policy (https://www.airbnb.com/help/article/140) for incidentals including, but not limited to loss, theft or damage. If HOST discovers that there has been damage to the property or its contents during occupancy, HOST will capture an amount from GUEST security deposit through the Airbnb Resolution Center. The amount captured reflects an estimated cost of materials and labor to replace or repair damaged item(s). HOST will provide a statement of the damages and the receipt for the repairs after they have been completed. GUEST and/or HOST will have the opportunity to invite third-party mediation from an Airbnb customer service agent.
GUEST and/or their guest(s) shall not disturb, annoy, endanger, or inconvenience neighbors, nor use the premises for any immoral or unlawful purposes, nor violate any law or ordinance, nor commit waste or nuisance on or about the premises. Loud music systems and other disruptive noises are not permitted.
GUEST agrees that during the term of this lease and such further time as he/she occupies the premises, he/she will keep the leased premises clean and free of trash, garbage, and other waste; and all pipes, wires, glass, plumbing and other equipment and fixtures in the same condition as at the beginning of, or may put in during the term of the lease; reasonable wear and tear and damage by unavoidable fire and casualty only exception.
PETS ARE NOT PERMITTED in rental units under any conditions.
NON-SMOKING POLICY – State Law prohibits smoking in all areas open to the public, including, but not limited to, restrooms, lobbies, reception areas, hallways, bars, vacation rental rooms & lanais, restaurants, retail service establishments and retail stores. All accommodations provided by HOST are NON-SMOKING. GUEST will be assessed a smoke/odor elimination fee of $475 for smoking, permitting smoking, or otherwise causing the odor of smoking in accommodations managed by HOST.
GUEST agrees that any tenant who is found using drugs or allows others to use drugs on the premises will be immediately denied occupancy at these premises, and that illegal activity may result in an immediate cancellation of reservation and forfeiture of any and all deposits made.
INDEMNIFICATION AND HOLD HARMLESS - GUEST acknowledges and understands that each and every guest or guardian is solely responsible for any property damage, accident, injury, or loss sustained to any person while in-residence, and neither the HOST nor the Owner accepts legal or financial responsibility. GUEST and guardians assume all risk of injury or other losses resulting from the use of residence or any other recreational activity while staying at the residence and will hold the HOST and/or Owner harmless with respect hereto. GUEST hereby agrees to indemnify and hold the HOST, Employees, Officers, Contractors and/or Property owner harmless from any claims, including those of third parties, arising out of or in any way a result of GUEST use of the premises or items therein.
GUEST agrees to indemnify and save HOST harmless from all liability, loss or damage arising from any nuisance or harm made or suffered on the leased premises by the GUEST, tenants, or guests or from any carelessness, neglect, or improper conduct of any persons entering, occupying or visiting the leased premises.
GUEST agrees that he/she shall not paint or make alterations to the property, including adding to or changing existing locks, without the HOST'S written consent.
Upon not less than 24 hours' notice, GUEST shall make available to HOST or his agent for the premises of entering to make necessary or convenient repairs and to show the premises to prospective tenants. In an emergency, HOST or his agent may enter the premises at any time without securing prior permission from GUEST.
GUEST may not let, sublet or assign this lease for all or any part of the premises without prior consent of the HOST.
If GUEST abandons or vacates the premises, HOST may at his option terminate this lease, enter the premises, and remove all property.
In the event that any action shall be commenced by either party arising out of, or concerning this lease or any right or obligation derived there from, the prevailing party shall be entitled to receive attorney's fees as fixed by the Court in addition to all relief at law or equity.
Either party may terminate this lease in the event of a violation of early provision of this lease by the other party in the manner and as provided by law.
GUEST assumes full responsibility for fulfilling the terms of the lease for the period stated and assures the HOST full recourse for the payment of any amount outstanding from the total amount due in accord with the terms as stated above including any outstanding or unpaid charges that are the responsibility of GUEST.
GUEST assures the HOST that the tenants will observe all conditions and terms of this lease as to maintaining the premises in good order and appearance and will conduct themselves in a manner inoffensive to neighbors.
GUEST assures the HOST that any tenant who violates any of the terms of this Lease shall be immediately denied occupancy and shall remedy any damages or other expenses, which are caused by the tenant and/or the tenant's guest(s).
The Policies and Procedures above are meant to protect our guests and owners alike. All guests and owners are required to conform to all Policies and Procedures.
---
I've stayed at Kamaole Sands previously but this unit has been nicely remodeled and made our stay in Maui quite enjoyable. This is a quiet and well-managed condominium community across the street from the beach. We had no trouble checking in with the reception, and the condo was clean and ready for us. The management company has been very responsive, they even have an after-hours support line. Air conditioner works well but is quite noisy. Wifi speed was perfect and allowed us to watch TV online.
---
My husband and I loved our stay at this condo, and especially loved the room. The description of the room and amenities couldn't have been more accurate and spot on. Not to mention, the view from the lanai was absolutely beautiful, especially at sunset. Maui Condo and Car was very accommodating to our needs, and went above and beyond to make sure our stay was comfortable and enjoyable. This was our first experience booking a condo through any company, and we'd definitely do it again. It was extremely helpful to have a kitchen and be able to cook meals and save money on food. Also, the starter kit amenities they provided lasted us (two people) our entire trip (nine days). Finally, the beach gear they provide is a god send. Having chairs and an umbrella to use made our beach excursions that much more enjoyable. It's so nice not having to find rocks to shove your stuff on, but being able to lay out in the sun and enjoy the view and weather. If we return to Maui, we'd definitely stay here again!
---
My friend and I stayed in Kamaole Sands for 5 nights, it was a great stay! The deck was our favorite part, a great view and a great place to relax after exploring. The bed is big and comfortable, there are two nice bathrooms and a nice kitchen as well. The condo kind of gives off a model home vibe but it doesn't really matter. The property is beautiful and the pool is big and has a deep end (6 feet) which is nice for jumping in and actually swimming around. Great beaches right next door and a quick walk to shops. All in all a great stay.
---
As a frequent traveler of the world... Here are a few notes for this space. As my first AirB property, I was a bit worried, but this experience made me a fan for life! The property is perfectly located for travel to the things on Maui (Hana, Haleakala), 5 mins to lush Wailea (a bit fancy for me - but beautiful) and far enough away from airport area to feel paradise. The unit itself has everything.... Absolutely everything - beach stuff (chairs/umbrella), cooking items, spacious layout. Also upgraded kitchen and new TV not pictured. 2 bathrooms for those sharing the space and TV/DVD in both rooms. Here are the "*". They are NOT negatives - just noteworthy. Ocean view is limited but visible in the distance. Since its in a complex set on the other side of the ocean road, it's a bit blocked. Sunsets are beautiful however as the lanai faces west. The unit does not have central air (living room has a wall mounted unit) while good for the main room, it does not reach the bedroom as efficiently (esp for those that are used to central air). However I came in AUG (hottest time) and wasn't uncomfortable at all. There is a timer on the unit so it kicks off every 6 hours. The property is lush (like a resort). Tennis, hottub, pool, barbecues, workout room, ping pong, etc. Def worth the minimal one time "property fee." Awesome space indeed!
---
We have a Vacation Rental Company in Maui where we deliver clean units by the beach at a great price. Contact us anytime to get a great deal on Maui! Maui Rental Group is an on-island property management company. Our attention to detail is second to none. We have the BEST cle…
语言:
English、Español