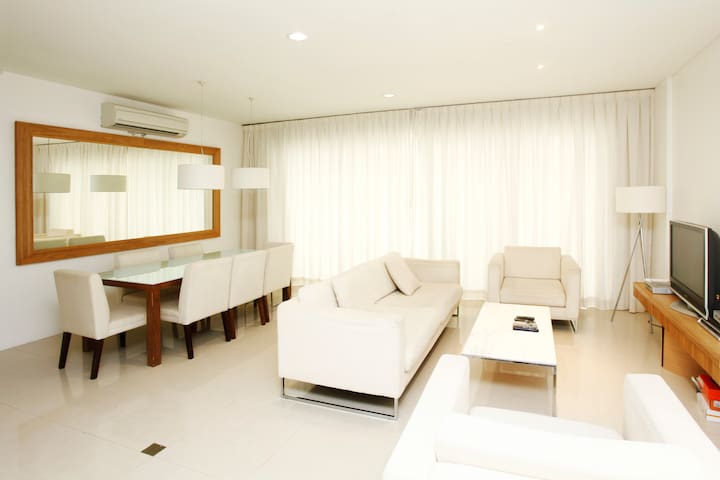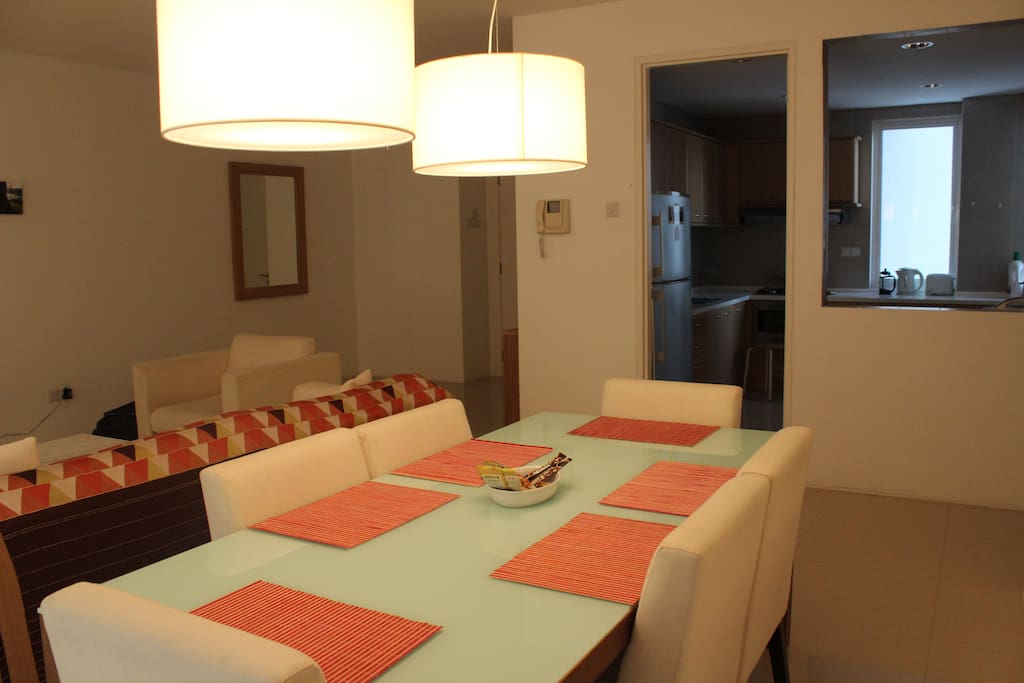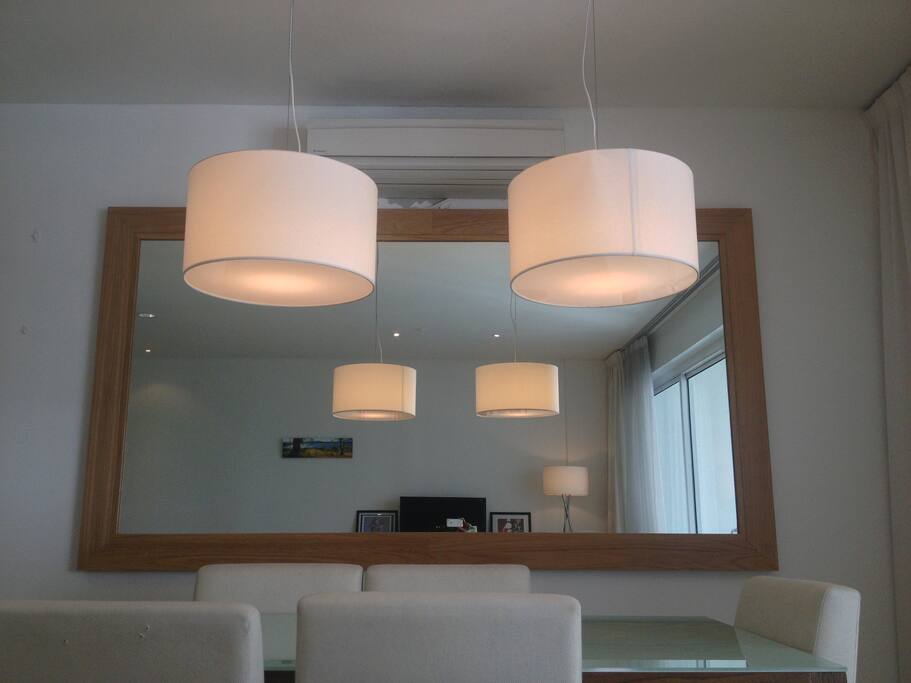 In the heart of KL! Close to lots of eateries, live with both locals and expats, enjoy good cheap and expensive cuisines! Be close to Pavilion Mall, Fahrenheit Mall, Lot 10, KLCC, Bukit Bintang and Jalan Alor!
房源
BRIGHT COMFORTABLE LUXURIOUS 2 or 3* BEDROOM IN APARTMENT RESORT STYLED CONDOMINIUM

* We will charge extra US$20 per night to open the 3rd bedroom and provide towels, linen and service

(URL HIDDEN) WHY SHOULD YOU STAY WITH US?

1. LOCATION! LOCATION! LOCATION! – this unit is next to to Malaysia's TOP hospital Prince Court and Beverly Wilshire Wellness center. It is also located at a 5 minute drive to pavilion mall, lot 10, fahrenheit mall, restaurants and bars on changkat. We're a 10 minute drive to to KLCC and KL tower. This location is most convenient if you have a car, or want to take a taxi since there is no monorail stop nearby yet (one coming up soon).
(URL HIDDEN)would stay here with my family if I wanted to be in the heart of downtown, but also if I wanted a spacious home to relax and be a little isolated from the hub.
2. CLEAN, COSY UNITS WHICH FEEL LIKE HOME & FLEXI CHECK IN CHECK OUTS - it is super important to us that we provide clean & cosy units to our guests. Also, if there are no guests checking in the day you leave, stay all day! If you need to check in early, let us know; we will always try to accommodate you.
3. ALWAYS DO OUR BEST/ BE HONEST – we have taken guests to hospitals, driven them to other guest's houses, baby-sat kids, looked for digs and dives, taken guests out with friends, taken 3 am calls for directions. We're nowhere near perfect, but will always be honest, try our best to do it right, and keep it real with guests.
4. REALLY GOOD VALUE FOR MONEY – the space, facilities and luxury is at very good value. We are doing this for this unit to build our reputation. The location of our apartment is next to the five star Golf Course, Prince Hotel and Hospital and the Embassies are all close to us.
5. EXCELLENT WIFI CONNECTION WITHOUT ANY HASSLES - our number one frustration is fussy WIFI when we go anywhere. Therefore, we've made it a point to provide good WIFI w/out any hassles! This properties' facilities are exclusive, with a rooftop hydrotherapy pool, gymnasium and steam bath. There is a beautiful spa-like ambience here, which is relaxing and therapeutic.

The condominium is strategically located in Kuala Lumpur's golden triangle, within reach of the commercial hubs of KLCC, Jalan Sultan Ismail and Bukit Bintang. It is also in the vicinity of the diplomatic enclave housing the American, French, British and Indonesian Embassies. Directly next to it is the Passage Through India, an Indian restaurant offering both north and south Indian cuisine. Bintang Goldhill is also sandwiched between other international and local restaurants that offer the best of many worlds. Its close to the local chocolate factories which are becoming so popular with visitors to KL and has a unique strip of lovely restaurants in its back street including the French Bakery Lavinia, Japanese Restaurants, Middle Eastern restaurants just in the street behind the building.

With its central location, Bintang Goldhill is easily accessible via Jalan Tun Razak, the Sungai Besi highway, Mahameru highway, the KL Smart Tunnel, the Ampang-Kuala Lumpur Elevated highway, KL-Putrajaya highway and the Federal highway. It takes a mere 35 minutes to reach the Kuala Lumpur International Airport via the KL-Putrajaya highway. It is also close to Rapid KL LRT and monorail stations. However, it is most convenient for those travellers who are willing to walk, take a cab or drive their own cars; its a 2 minute drive to Pavillion Mall, 5 minute drive to KLCC and across the road from Prince Court Medical Centre, Royal Selangor Golf Club, Beverly Wilshire, a five start cosmetic enhancement center .

If I was visiting KL, I would stay here because its a unique luxury property which is separated from the downtown hub, but also situated right next to it. Its bang in the middle of the Golden Triangle of KL, but has resort facilities, feel and surroundings. This makes it an amazing holiday destination - its a luxurious pad I would enjoy to wind down with my family during the day, indulge in the facilities, go shopping in Bukit Bintang and go out at night to Changkat . All less than a 10 minute cab ride. Its also a great base to visit other local attractions and destinations such as Genting Islands, Port Dickson, Melacca and Cameron Island. Why? Because it has easy acceess via SMART Tunnel, KL-Putrajaya-KLIA and the Sungei Besi North-South Expressway. Yet, the apartment is not noisy.


房客使用权限
The Entire Apartment, Pool, Gym, Unlimited WIFI, Cable TV, Laundrette, Dry Cleaning Service in the Lobby, Car Park in the Building (at a cost - pls arrange with us)
与房客的互动
We mainly provide property management services but are always available to help!
---
---
---
HOUSE RULES
Normally, we provide one elevator access card for the apartment. Additional access cards can be arranged, though a deposit must be left for each one. Upon departure, these have to be returned.
On the day of departure, guests must ensure the suites are left tidy. We can arrange a maid to do a final clean-up for RM 80 (about US$ 26). There is a clean-up fee of RM 50 (about US$ 17) for stays of 2 days or less.
Windows may be opened solely for the purpose of ventilating rooms. For safety reasons, it is not permitted to lean out of windows, to throw anything from them or sit on their sills.
A security deposit will be retained by us for access cards amongst others. This will be reimbursed minus any potential costs arising from damage & losses.
Upon departure, each suite will be inspected
We assume no responsibility for the costs of fire alarms set off by illicit smoking or manipulation of smoke detectors willfully manipulated by Guests. These costs can be deducted from the security deposit.
Bringing illegal substances and weapons into the suite strictly forbidden and will lead to immediate eviction and possible prosecution by the authorities
IN CASE OF EMERGENCY
The fire alarm rings as a loud signal. Once the alarm sounds, it is no longer permitted to remain in or return to the apartment. Please leave the building immediately via the closest exit. In this case, elevator usage is strictly prohibited; please use only the stairwells and emergency stairwells instead. All emergency exits are designated accordingly. Upon evacuating the Building, please go to the designated outdoor meeting point, which is either in front or in the back of the Building, depending on the situation. Building security will cooperate & coordinate exit & return.

---
---
---
I feel blessed to live my life conscientiously! A lot of consciousness came through travel experiences! I grew up in Hong Kong and am of Pakistani descent. Seeing the world makes love bigger, the world smaller, humanity connected and has given me a unified view of life and people...

I fall in love easily! Colombo, Koh Samui, Phuket, Sydney, Bombay, Dehli, Singapore, Kandy, Islamabad, Victoria, New York, Montreal, Rome, Napoli, Paris, - the list goes on! Trinidad & Tobago, Caribbean, Mexico, Nigeria, South Africa - so much more to explore...

My husband and I are foodies; we maintain a list of shacks and five star places we've eaten at: Cafe Versailles in Miami; Thai, Japanese, Fusion, Peter Luger Steaks in Brooklyn, classic pastrami sandwiches at Kat'z Deli, Ethiopian and Argentinean Meats and Grilled Corn with Mayo at Cafe Habana, Coffee at Gitane all in New York City!; dim sum and seafood favorites in Hong Kong are tried and tested; we've tried Portugese, Cuban, Italian and Malay food in Kuala Lumpur. My food, travel and writing love affair keep's growing -

Workwise, I've been an academic at Universities and consultant to the US government more recently. At the moment, I'm working on writing my own collection of short-stories based on Pakistan.

I love people - its my default setting! As your host, I really want to give a WSYWIG experience - WHAT YOU SEE IS WHAT YOU GET! I myself have dragged suitcases from hotel to hotel, because of dodgy advertisements and want to avoid that for my guests. My apartments are very centrally located therefore my guests are mostly short-term and I don't meet many. However, my objective is to never be missing in case of any issues my guests face.

For places to go, eat, meet, party in KL and broader travel in Asia - I come with some solid recommendations! If you want to hang with me and my friends in downtown KL, do let me know!

Really looking forward to welcoming you to this neighborhood, community, city, country and hearing your stories too. Airbnb has been a wonderful community and I'm grateful for all the amazing people I've met!
语言:
English