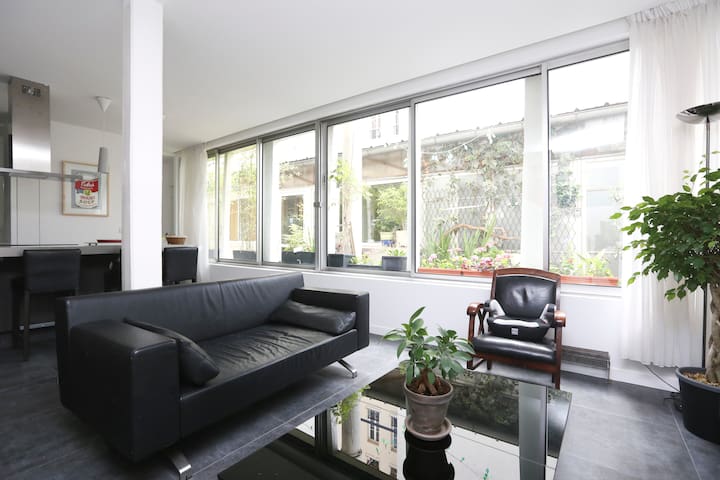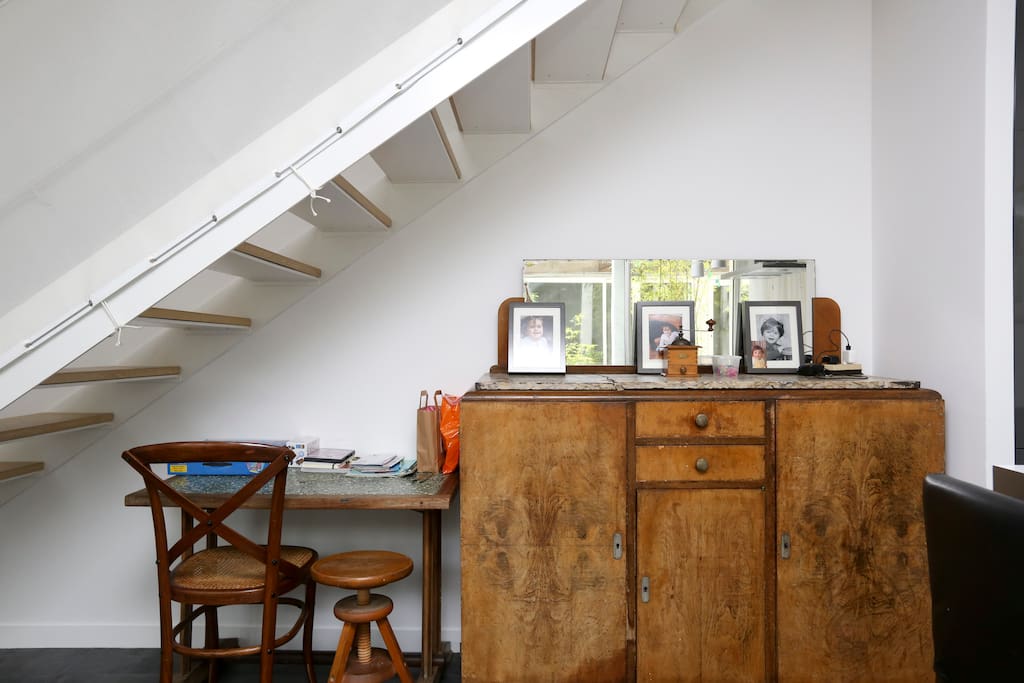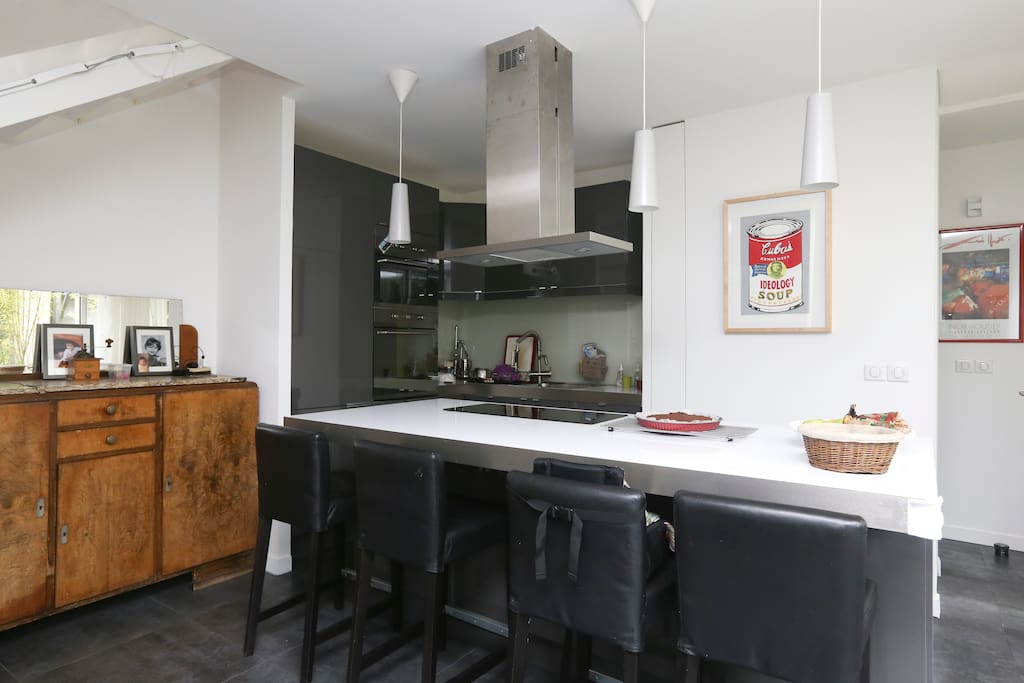 We are relocating to San Francisco and would love to host a family in our fantastic home in a great neighorhood for a long term (1 year lease minimum preferred).
If by any chance you are relocating from San Francisco we could consider house swap.
房源
It's not just a tagline ! But our Duplex apartment feels like living in a townhouse.
Right in the heart of the Oberkampf area, at the end of a dead end street and in an isolated area of a small courtyard in our building block, you walk in directly to our house which is a a one story building (we own half of the ground floor and the full first floor).
We used to own the first floor and bought the ground floor 2 years ago. Rather than just put a stairway between the 2 decided to tear down everything and remodel all of it with an italian architect to create this unique townhouse feeling we love.
You can hang out during the summer days in the outside space for morning coffee or pre-dinner drinks, walk back in to have dinner around the bar in open plan kitchen downstairs and then continue upwards later in the evening to read a book or watch a movie before calling it a night in either one of the 3 bedrooms.

Downstairs (ground floor) is a large 40 square meter space with fully equiped kitchen and eat-on bar + if needed a more traditional eating table.
Even if it's on the ground floor, it is full of light (the previous owner was an artist painter) due to large floor to ceiling sliding windows which open to the small courtyard isolated from the rest of the building - (no one passes by).

Upstairs is composed of :
- large living room with floor to ceiling bookcase and home entertainment system. You can from the living room go up yet an other floor to a large mezzanine which has a desk and computer (in case you forgot iPad/tablet or laptop) and a comfortable reading space.
- Adjacent to the living room is our "transformer" guest room with its own bathroom (shower). We call it the transformer because you can either put a bed or just fold the doors to have a very large living room.
- Kid's room is where all the action is ! It is currently equiped with a crib for our 1 year old son but can be switched to a one person bed. It has a lot of space for play whilst leaving enough room for our daughter as she can walk up a flight of stairs to an isolated mezzanine where she can sleep tight and hide all of her secrets. Mezzanine is big enough to hold a large twin bed futon if needed. Needless to say our house is child friendly and with a 1 year old child proof !
- Master bedroom is large and comfy it has ensuite bathroom with confortable bath, 2 sinks and large sliding mirror which opens up to the room.

What else to say : We love the place and I am sure you will love it to !
---
I loved how quiet the house is at night. There is no noise from neighbors or from the street. If you need to work, the internet is very fast. The grocery stores on Rue Oberkampf are also great. Tip: the farmers market on Breguet Sabin on Sunday (not far from the place) is awesome. Finally, Laurent was a great host!
---
I live in Paris but travel quite a lot for both work and pleasure. Together with my wife Elsa have 2 lovely kids 7 and 2 and love to travel with them.