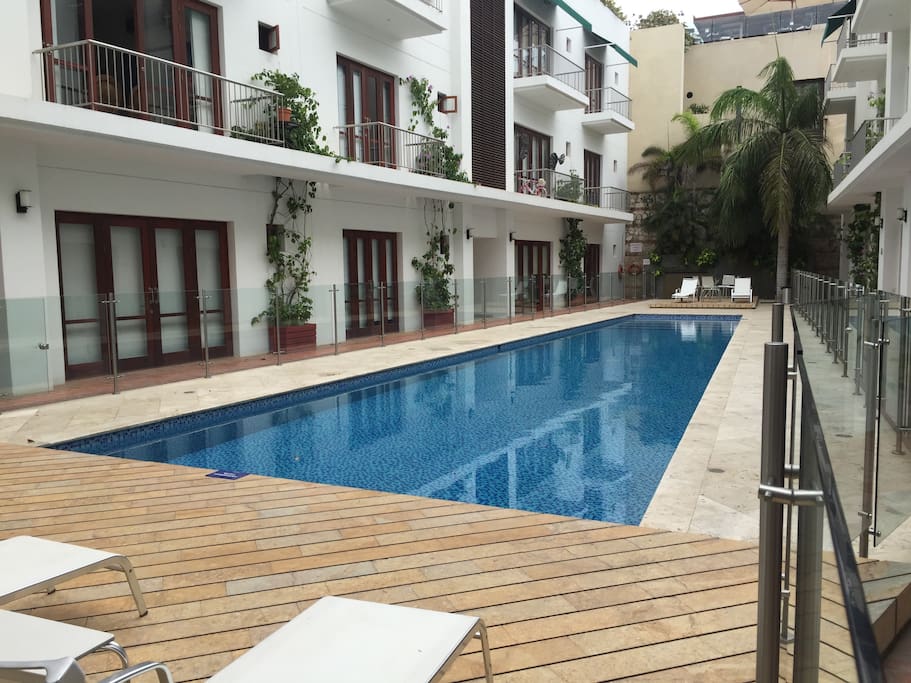 In the center of the of the Old City, this luxury 1 bedroom apartment is perfect for your vacation. Steps from all the amazing sites and delicious restaurants the historical city has to offer. Luxury amenities include a gym, 2 pools and a roofdeck.
---
Our stay here was perfect! Mark and his team made for a seamless check-in and checkout and were responsive to any questions that came up throughout. The apartment had everything we needed and was extremely clean, well-maintained, and comfortable. The grounds and complex are beautiful, quiet, and had a great atmosphere overall. This place is in a GREAT location - close to everything (within walking distance or taxis frequently pass just outside the complex), yet in a quieter part of town where you can relax and sleep like a baby. There are at least 2 stores just a few blocks down that are open late (and one is a 24 hour Exito) if needed and this part of town was super safe to walk around (even a female alone late night) and it's always comforting that the friendly guards at the complex are there to help as well. They also accommodated a late check-out, which was a lifesaver! I would highly recommend this place without reservations!
---
Everything was great. The only downfall was that the internet was down for a day but it wasn't the host's fault. It was down in the entire building. This place is in a quiet, secure area just past the city wall. It's far enough to be very quiet and close enough to all the action. There's a market nearby where you can get essentials for the house if need be. Thanks Mark!
---
I'm an English teacher and live in Santa Marta. I have a week vacation for semana Santa and started it off in Cartagena. My boyfriend and I had a wonderful stay. We have family in Cartagena and wanted a special night away, close to everything, yet quiet and exclusive. It was our first experience with air BB and I cant wait to book with Mark again! The apartment was clean, and beautifully cozy, the pool was perfect and relaxing without many people. The sauna was amazing. The only minor flaw was that when booking I asked if the jacuzzi was in service and was told it was, but upon arrival I saw that it was not in service. Otherwise we absolutely loved our stay and wish we could have stayed more than one night! I'll definitely be booking here again!
---
I was born in New York City but now live full time in beautiful Colombia. I love hosting people and showing them all my favorite parts of different amazing cities Colombia has to offer. Whether it be restaurants, bars or general tourist attractions, I have extensive knowledge o…