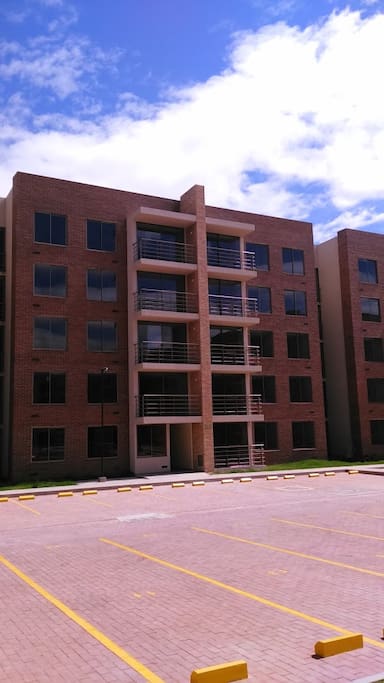 Confortable flat close to the airport!!
Comfortable room with private bathroom located 20 minutes from El Dorado Airport, close to city attractions and 5 minutes away from the beautiful Savannah of Bogota. We offer the service of transportation between the airport and the flat in case it is required and transport services, local and national.
If you rent at least one night you have a local trip completely free.
---
I had the pleasure of staying with this lovely married couple for slightly over 6 months at their flat in Funza, Colombia. Angelica and German were both very amicable and great to live with. They were always happy to give me advice about where to go and things to see, chat to me in Spanish (to help me learn!), and answer any questions that I had. The flat itself is clean and modern, but not too clinical - it feels homely and lived in which was nice. For entertainment there is a large TV with many channels and Netflix, as well as a fast Wifi internet connection. On the more practical side of things there is a well equipped kitchen, washing machine, and space for drying your clothes. There is also a cleaner who comes once or twice a week and keeps the place very tidy. The room itself is not enormous, but very comfortable, with a double bed and lots of storage space. The flat is part of a new development contained within a secure complex which is guarded 24 hours a day. Given that the area can be unsafe at night, this certainly made me feel much better when living here. The main north-south street - Calle 15 - is within a 30 second walk of the complex and runs straight up to intersection with the Carrera 9 where buses can be taken into Bogota or to Madrid in the opposite direction. There are several small shops, a mid-sized supermarket, a green grocers, and a chemist within 5-10min walk up Calle 15. This was very convenient, and prices in Funza are much better than those in Bogota. If you are in need of more substantial shopping facilities, Funza does have a small shopping centre (around the Calle 16 #13) where you can find a decent sized supermarket (Olypica), lots of clothes shops, and some fast food restaurants. Although in general Funza is not much to look at, there is a small but very picturesque town square about a 20min walk up the road (around the Calle 14 #13). Here you can find the town hall, a beautiful old church, and several nice cafes and bars. If Funza does not cater for your needs then Mosquera is only a 10min car journey away (probably around a 40min walk from the flat). Mosquera has a much larger shopping center with many shops, big brand names, a sizeable food court, a large Exito supermarket, a cinema and much more. For all other needs, Bogota is only a bus ride (or two) away. I had to make this journey many times during my stay here and it is not too difficult, although depending on the time of day it can take from 20min to over an hour to reach Portal 80 (the main bus hub on the north-west side of Bogota). From here you can easily take Transmilenio buses, or taxis to anywhere in Bogota.
---