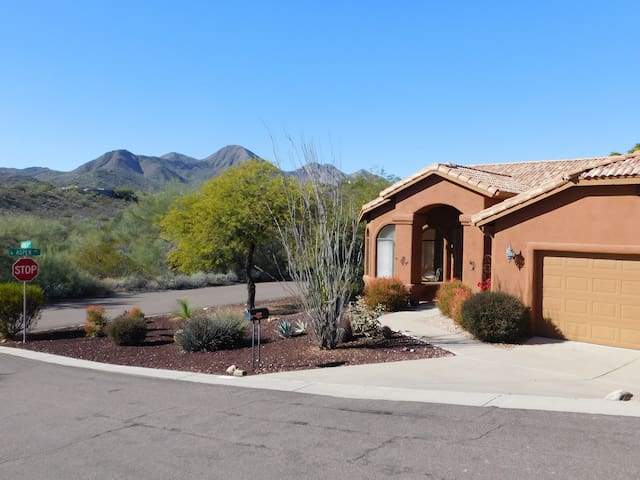 I love the spaciousness of the floor plan, it is elegant while being comfortable and the best part is that it is located across from a huge desert draw with the McDowell Mountains as a backdrop. There are neighbors but is so quiet! Minutes to town.
---
---
Pets are accepted on a case by case basis. Smoking outside please. Large parties need to be approved by owner. Please treat my home as your own and leave it tidy when departing. Keep garage door closed during the day.
---
I love to travel, but also am in love with this beautiful location so near the mountains and Yellowstone Park. Every evening my husband, Gary and I enjoy the changing light in the sky and on the mountains. I am easy-going, enjoy people, desire to do my best at whatever course that might be. It's pleasing to me to provide a place of respite during people's travels. I have travelled all over Europe, a few places in Mexico and Canada! I have a "sleeper" movie that my husband and I always share with our friends, Last of The Dogmen, which features a Montana location and mixes some Native American culture in to an interesting plot. We like country music, much of it connects with my love for classic rock of the '70's. A wonderful musician named Willie K from Hawaii is phenomenal! What a range of talent from Pavarotti to Willie Nelson and Patsy Cline! I love to cook and share good food with friends. A nice glass of wine is always a nice compliment to a good meal! I am from the Seattle area originally which was a very fun place to live! I used to snow ski and sail on Lake Washington, bike and hike a little, play racquetball. Here we hike, enjoy wildlife, snowshoe, and love art. My husband, Gary, is an artist, a painter, and I will be taking time to creative endeavors this winter. I recently retired from the State of Montana where I worked as an appraiser of real estate. Loves in my life, besides people and pets, are real estate, art, travel and a curiosity and enjoyment of other cultures!