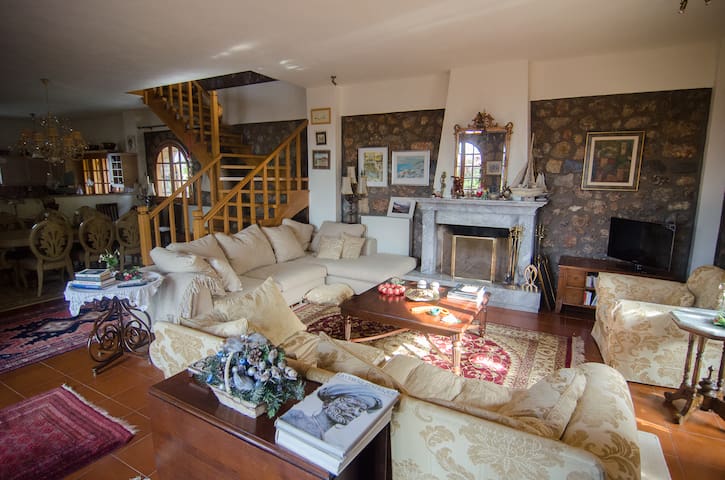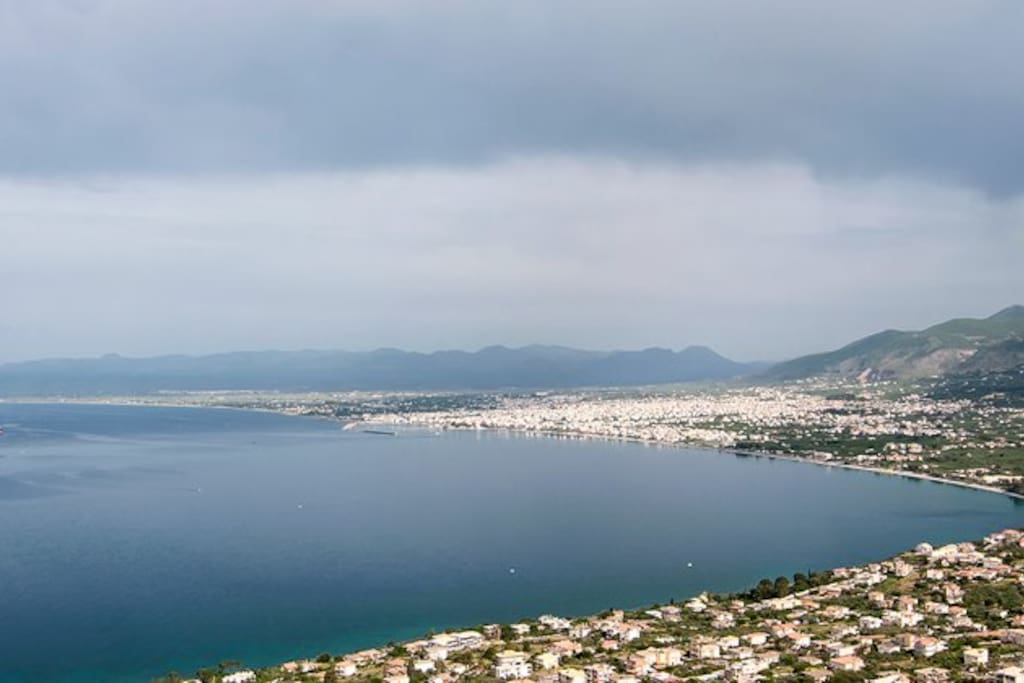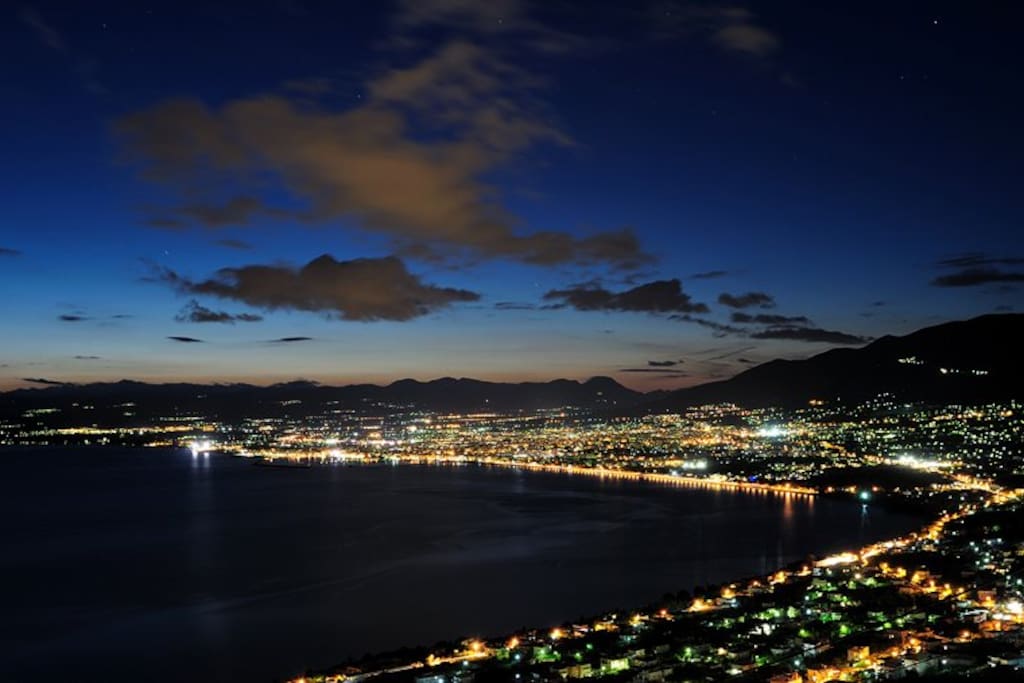 This tradidional stone built elegant villa(220 s.m.) is located 4km out of Kalamata. Built in the most expensive suburb of Kalamata this villa offers stuning view to the Mesinian Gulf as also a very quiet and relaxing residence enviroment.
Free wiFi
房源
This tradidional stone built elegant villa is located 4kilometers outside Kalamata.Built in the most expensive suburb of Kalamata this villa offers stunning view to the Messinian Gulf as also very relaxing and quiet residence enviroment. From that villa you have easy acces to all the amazing beaches of Kalamata within 5 minute drive..This elegant villa of220 sq.m house has two (2) big bedrooms on the first floor. The entrance door of the house leads to the ground floor sitting room with with its superb fire place, the dinning room and the fully equipped kitchen. The interior wooden staircase curves up to a landing opening on to two big bedrooms equiped with bouble beds. Bathroom en suite, wash basin and wc extra. There is a very big verand (covered) on the first floor apart from the balconies surrounding the bedrooms, with breathtaking magnificent views of the Messinian bay. This veranda makes a sleeping space for those who enjoy the night noises and the singing of the crickets.
The house is set in a private olive grove suspended between the sea and the mountain reflecting the beauty of the Messinian Mani. You can enjoy spectacular views either from your bedroom, or the first floor verand or the ground floor terrace where you can enjoy your meals and drinks.
There are many places of outstanding natural beauty and great historical interest to visit ranging from monasteries and churches of Byzantium to medieval stone villages in Mani, to the magical Diros Caves, Cape Tenaro -which is believed to be the entrance to the underworld by ancient Greeks. The extraordinary ancient Messina, Olympia, and many other archaelogical sites near by.
Leisure Activities: beach combing, horse riding, scenic drives, sight seeing, walking. Sports and Adventure activities: hiking, mountain biking, paragliding, pier fishing, sailing, diving snorkelling, bay fishing, caving, swimming, and all water sea sports.
Unlimited tourist Attractions: bay, caves,churches, forests, restaurants, winery tours, ruins/archaelogical sites.
THEME: AWAY FROM IT ALL OR NEAR EVERYTHING!!
房客使用权限
The serenity of the enviroment, the feeling that one is away from it all but in ten minutes one is in the middle of everything.
Located 4 km from Kalamata you are very close to everything you will need( Pharmacy, Super Market , Gas Station). All the beaches are within 5 minute drive from the villa.
In summer all the nightlife of Kalamata is just under your feet.
The best restaurants and coctail bars are just above the villa.( Arosa, De Luxe Etoile, Kastraki).
Many traditional traverns are all around the villa area.
Kalamata's airport has direct flight connections with most of the European countries from March till October.With regular flights and charter, the Messinian capital returns tourist destination from countries of Europe, as well as from Cyprus and Israel.
The cities will be connected this year with Kalamata are: Moscow (Aegean), Vienna (Austrian), Munich (Aegean, Condor), Frankfurt (Condor), Dusseldorf (Aegean), Paris (Aegean, Entair Air), Lyon (Aegean, Travel Services), Lille (Jet Air Fly / TUI), Nantes (Aegean, Travel Services), Amsterdam (Transavia), Bratislava (Travel Services Sl), Prague (Travel Service, Travel Services Sl), London (British Airways, Easy Jet , Thomas Cook), Manchester (Thomas Cook), Birmingham (Thomas Cook), Katowice (Small Planet), Stockholm (Aegean), Copenhagen (Primera), Billund (Primera), Milan (Aegean, Mistral), Larnaca (Aegean, Cobalt Air), Tel Aviv (Arkia).
Besides, Olympic Air has scheduled daily connections to Athens and Thessaloniki from June 1 as of September 30, and from March 25 to 31 May and from 1 to October 28 only with Thessaloniki.
The program of international flights, as announced is:
Monday: Aegean Lyon from June 5 as of October 9, Condor Frankfurt / Munich from June 5 as October 23, Transavia Amsterdam from April 24 as of October 9, Entair Air Paris from July 10 as of September 25, Cobalt Air Larnaca from July 17 to August 28 , Travel Services Nantes from May 8 to October 2
Tuesday: Aegean Moscow from May 2 as of September 26, Travel Services (Sl) Bratislava from June 20 as of September 26, Travel Services (Sl) Prague May 30 as of September 12, Easy Jet London from March 29 as October 24
Thursday: Aegean Munich from June 1 as of September 28, British Airways London on May 4 as of September 28, Small Planet Katowice from June 1 as of September 28, Easy Jet London from June 22 to 26 October Transavia Amsterdam from 20 April to 5 October Primera Billund from April 22 to October 19, Primera Copenhagen from May 18 as of October 19
Friday: Aegean Larnaca from 4 to August 25, Aegean Milan from 4 to August 25, Aegean Dusseldorf from March 24 as November 17, Aegean Stockholm from May 19 to 21 July 1 to September 29, Condor Munich from May 5 as of October 20, Travel Service Prague from June 9 to September 22
Saturday: Aegean Nantes on May 20 as of September 30, Aegean Paris from May 20 as October 7, Aegean Stockholm from 1 to April 29 and from October 7 as November 18, Arkia Tel Aviv from May 27 to August 26, Transavia Amsterdam from July 4th as of August 26, Transavia Amsterdam from April 22 as of September 30, Jet Air Fly / TUI Lille from April 1 as of October 28, British Airways London from April 1st as October 28
Sunday: Aegean Moscow from June 11 as of September 24, Aegean Munich from February 19 as November 19, Austrian Vienna from July 2 as of September 17, Mistral Milan from June 4 as of September 17, Thomas Cook Manchester from May 7 as October 1, Thomas Cook Birmingham from May 21 as October 1, Thomas Cook London from May 14 as October 1, British Airways London from May 7 to 22 of October.
其他注意事项
The house is available all year.
---