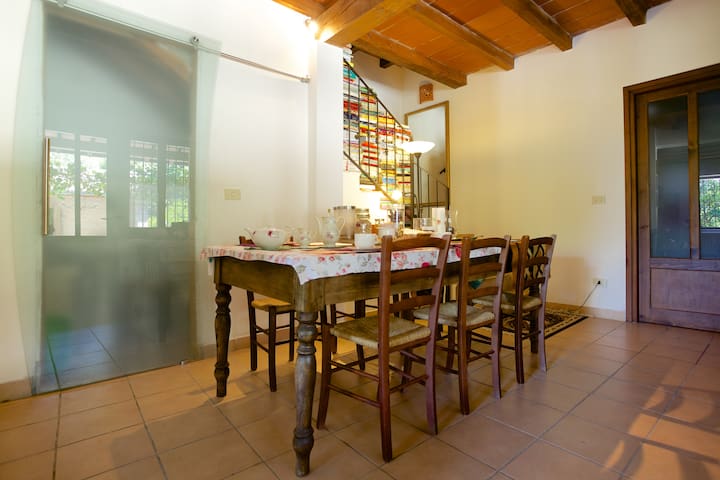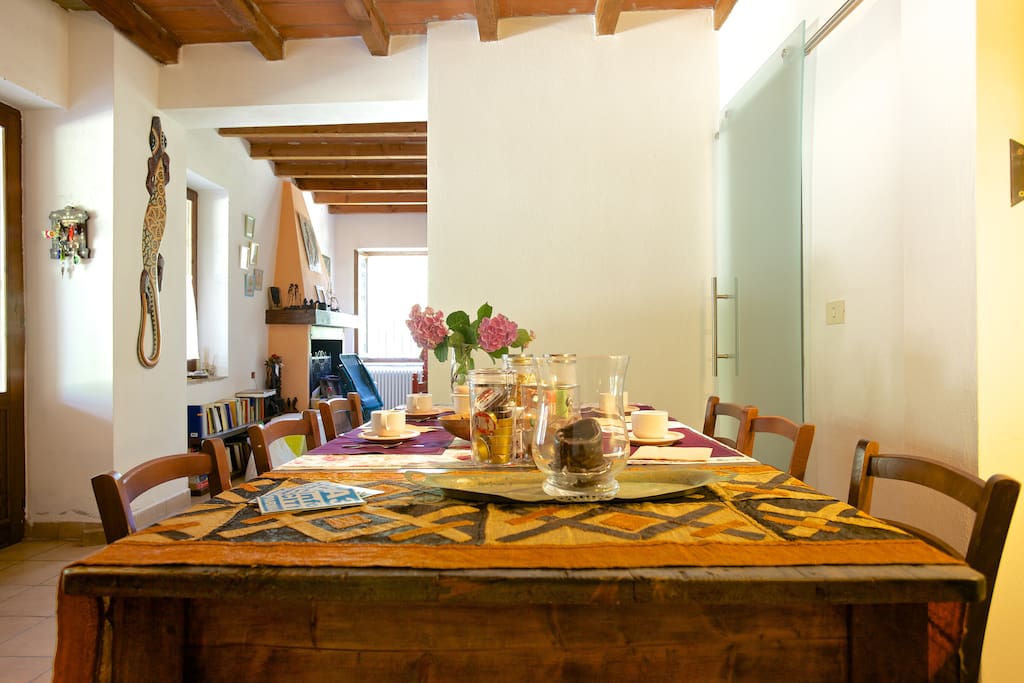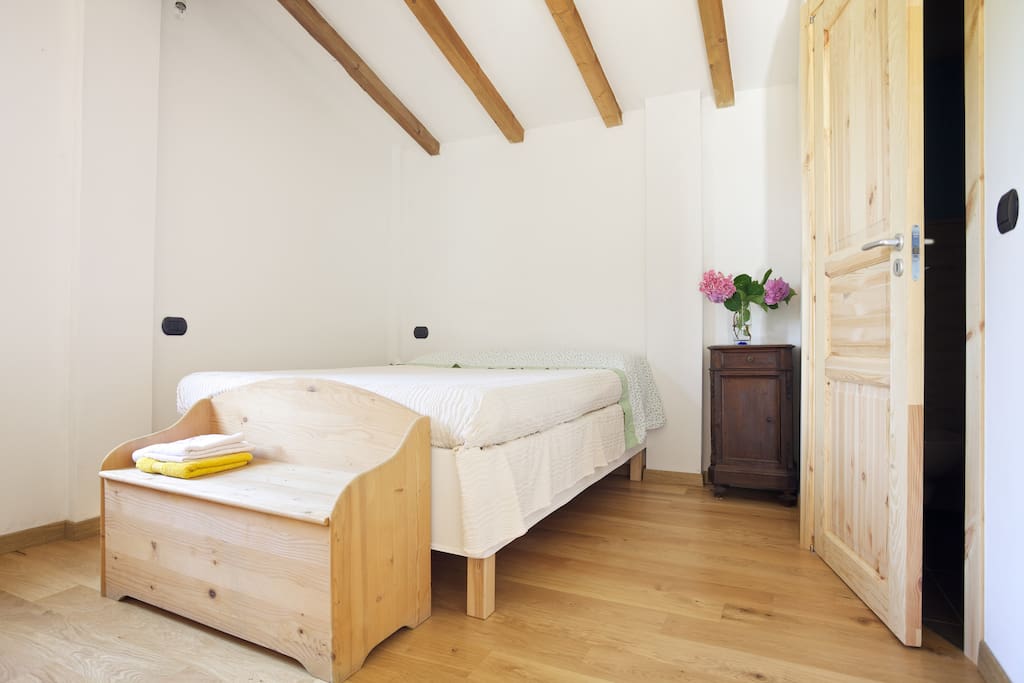 Albero Cavo BB, countryside in city
房源
"Albero Cavo"住宿加早餐酒店位于帕尔马(Parma),是最近装修的小屋的一部分,位于两层,周围环绕着一个带果树和葡萄藤草莓的大花园。主要特点是在城市内的宁静乡村感受。老房子的温暖气氛,与今天的所有舒适。它有房间,独立,每个都有私人和独立入口,以优雅和舒适的风格装饰,并配有网络连接。汽车可以在私人花园内停放,就在房间外面。 战略位置靠近中心,距离出口至南环路50米,距离展览会(Cibus等)15分钟车程,使得B&B'Albero Cavo'成为停车参观的理想场所帕尔马,艺术,文化和商业之城。 早餐包括我们地区的有机食品和产品,在由古色古香的家具和火炉放松的餐厅里,或者在门廊外面,俯瞰着花园。客人确保最大的自主权,分配钥匙。在夏天,我们可以提供自行车到达中心,没有车。
The Bed and Breakfast 'Albero Cavo' is in Parma, in a portion of a recently renovated cottage, on two floors, surrounded by a large garden with fruit trees and grape vines strawberry. The main feature is to feel in the quiet countryside whilst being within the city. The warm atmosphere of the old houses, with all the comforts of today. It has rooms, self-contained, and each with private and independend entrance, furnished in an elegant and comfortable style, and equipped with internet access. The car can be parked right in the private garden, just outside the room.
The strategic location, close to the center and 50 m from the exit to the south ring road, a 15-minute drive from the trade fair (Cibus etc. ), make the B& B 'Albero Cavo' the perfect place to stop for visiting Parma, a city of art, culture and business.
Breakfast includes organic food and products in our area, is served in the dining room made cosy by antique furniture and by the fire set, or outside under the porch, overlooking the garden. Guests are assured maximum autonomy with the assignation of the keys. During the summer we can provide bicycles to reach the center without the car.
---
We arrived and were greeted by a friend of the owner he gave us the keys and showed us the room, (would have been nice to help with luggage). For us it was a bit difficult to find, next to highway and a large billboard, but location as described.There was no real problem, parking on site and a separate building where the room was. The chickens and rooster can be a nuisance for some? This is advertised as a B&B, so in our experience the breakfast should be one better than provided. We had coffee, tea, milk, yogurt and there was cereal and many wrapped breads or pastries but from a B&B we expect some fresh bread, cheese and an egg some days. It was early October and the room was very cold in the evening or early morning, heat would have been nice for those times.
---
During our stay, Marcello was on a vacation so we did not get to meet him. However, he had his friend Luca took care of us. We absolutely loved Luca! He is such a gentleman, a true artist and a wonderful sincere person! He showed us the true Italian Italian hospitality. We arrived in heavy rain. He offered us wine and homemade bread. He give us best recommendations on restaurants (The best meals we had in Italy was from Luca's recommendation). He helped us on getting a great deal on rental car....can't say enough thanks. The room is nice and clean, has everything you need. If you are looking for a green and fresh countryside experience but don't want to be far away from the city, here is the place to be! Recommended!
---
The B&B is located in the immediate outskirts of Parma, along one of the main streets that permit to reach the city center easily. The room was very nice, well furnished, and cozy. Marcello's wife is very kind and she gave us suggestions about a few places where to eat good, typical food without spending too much. Breakfast was simple, but good and quite varied: a small buffet is at the customers' disposal with cookies, yoghurt, milk, coffee, fruit, cereals and toasted bread with jam/butter/honey. On the whole, my friend and I had a very nice stay, and we would wholeheartedly recommend Marcello's B&B to other people.
---
Marcello and his wife Daniella were wonderful hosts and our room was very comfortable. They were very helpful with recommendations for touring and dining in Parma, a wonderful city. We used our car to visit the city, but there is a bus line close to their establishment. We highly recommend their B&B.
---
L'alloggio e' molto pulito e piacevole da vivere. Nonostante traffico vicino non si sente assolutamente alcun rumore. La socia di Marcello ed il Signor Luca sono molto gentili, disponibile ad accontentare le richieste degli ospiti e, soprattutto, ho avuto con loro mattutine interessanti e piacevolissime chiacchierate.
---
My husband and I adored our stay in this lovely B&B in Parma. It is a beautiful place, perfectly situated. On top of this, our host was so nice and thoughtful, and made us feel at home. We were very lucky to stay in this great place and would strongly recommend it. Thank you for a great stay!
---
My name's Marcello, I'm 38 and my main work is... to skipper sailing boats.

I organize sailing weeks during summer in Mediterranean sea during summer, and some weeks during the winter in warm pleces (Caribbean, Thailand, Seychelles and so on...)

I manage a 'Bed and Breakfast' in Parma, the city where I live when I'm not sailing, and I have a house on the Garda lake that I have a very few time yo live... so I offer it for rent to my beloved guests.

I like to travel, meet people, read, learn and... dream :-)

---

Mi chiamo Marcello, ho 38 anni ed il mio lavoro principale è lo skipper su barche a vela.
Organizzo settimane estive di crociera in tutto il mediterraneo, e in inverno una settimana o due al caldo (Caraibi, Oriente, Seychelles, Africa...)

Ho una casa sul lago di Garda, che non uso quasi mai, dunque propongo in affitto.

Nella città dove vivo (Parma) ho un Bed and Breakfast ricavato in un antico casale; un ambiente semplice e sincero, dove accolgo i miei ospiti con entusiasmo!
Ogni tanto organizzo qui i ritrovi per i miei amici e compagni di equipaggio.

Adoro viaggiare, leggere e... sognare! ;-)

语言:
Deutsch、English、Español