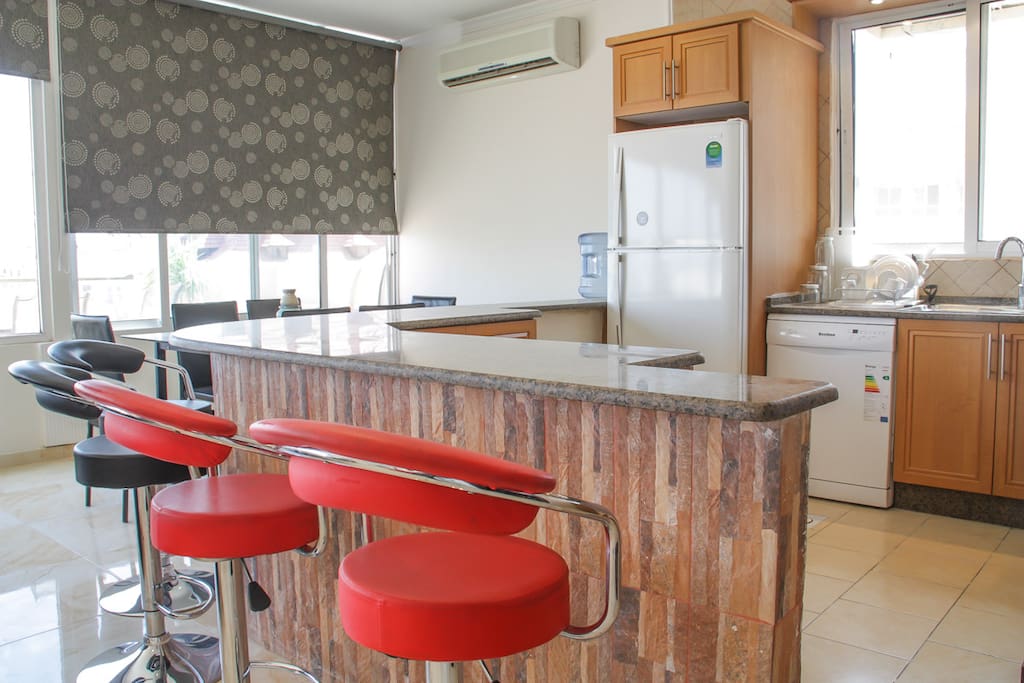 Modern fabulous rooftop, with amazing panoramic view of Amman. The apartment is fully furnished with a modern furniture, hight quality appliances, private terrace & located in the best & safest areas in Amman. Surrounded by Embassies & 5 star hotels.
其他注意事项
Internet Optional for small extra charge " Please advice me 2 days in advance to rent it "
1 JD per day , 30 Jd per for basic internet
1.5 JD per day , 35 JD per month for fast internet
---
---
---
Water and electricity included with fair use policy .
Limit of electricity per day is 5 USD . Which should be more than enough unless you keep heather , AC on most day .
---
---
Three of us had a wonderful experience liaising with Sama'n and (EMAIL HIDDEN)munication was incredibly easy - before, during, and after our four-night visit; he helped one of us reunite with a wayward bag that was lost at the airport; and made himself available to answer any questions and offer resources + advice at all times. And the house was gorgeous, well-stocked, and in perfect working order :) Thanks, Sama'n!
---
I am different and trying to make a difference ..

In my search for happiness and inner peace I changed a lot .. After 10 years working hard for one of the world's largest companies .. I finally woke up and realized money and position wont give me happiness and life is so short to spend it collecting money and then maybe not have time nor health to spend it . So I quitted my job and started an amazing 3 months trip to Brazil were I learnt a lot about myself , life , relations , and people. Now back home thinking of my next step in life.
- I like to enjoy life, small , and simple things .. You'll be unlucky if you did not see me happy and smiling , I try not to allow small things or details to upset me.
- I enjoy meeting new people and making new friendships , I use CS to make new friends not to find or offer a free couch .. Please keep this in mind if you wana meet me , ask me for a couch or even host me.
- My Golden rule in life is " Treat each person you meet as you would like him/her to treat you " I believe we should try to leave a nice impact or touch the life of each person we meet .. Imagine how wonderful our world will be if we all left each person we meet happier and better.
- I believe in peace & think we can make it happen in our world when each one of us starts with himself , I believe the best way to defeat ur enemy is to love him because when you love him you will transfer him from an Enemy to a friend.
- Lately I am becoming more and more interested in saving our planet , and as an X -Training manager , I wana try do anything to educate the new generation to be more environmental friendly.
If you think you will enjoy meeting me .. Just drop me a line ..

Smile : )
语言:
English、العربية