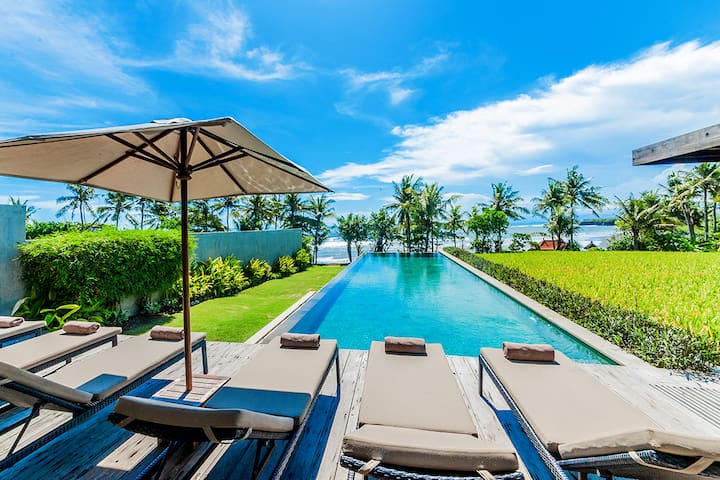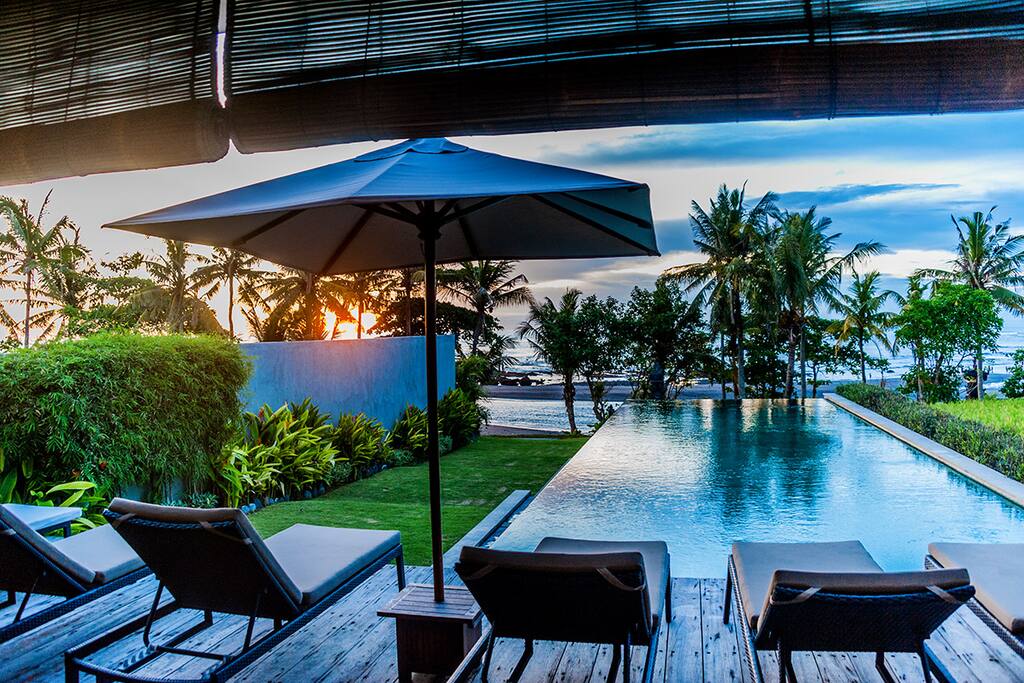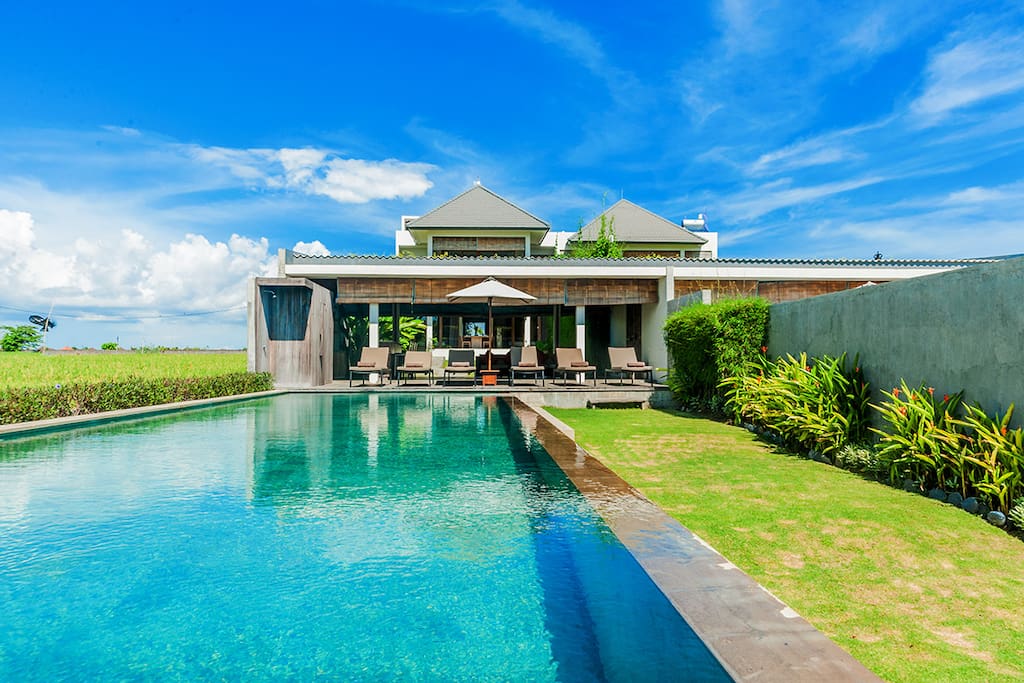 欢迎来到bali Mengening别墅,一个绝对的海滨别墅在壮观的巴厘岛 租金包括: - 机场接送(双程) - 个人厨师(他会用你喜欢的任何产品烹制任何你喜欢的食物)。 - 个人驾驶员每天8小时针对特定目的地。使用10点后,将收取额外费用100.000IDR /小时。 - 1名额外的客人不收费,但加床,额外收费US $ 30 /晚
Welcome to bali Mengening villa, an absolute beach front villa at mengening bali
RENTAL PRICE INCLUDES:
- Airport transfer (both ways)
- Personal chef (he'll cook any food you like with any products you prefer).
- Personal driver 8 hours daily for some specific destination. After 10 PM use, there will be extra charge 100.000IDR/hour.
- 1 extra person no charge but extra bed with additional charge US$ 30 /night
房源
如果他厌倦了虚荣心,那个人想要什么呢,变得纠缠在本地城市的混凝土丛林里?点击手指,找到自己在天空拥抱海洋的地方,创造惊人的日落...在空气中可以感受到异国情调的花朵的芳香,温暖充满爱情的风轻轻地悬挂着棕榈树的顶部。似乎没有人在旁边,但这并不麻烦,它是和谐的孤独。简而言之,你只需点击你的手指 - 发现自己在巴厘岛! 最好留在一个宽敞的豪华别墅,如巴厘岛梦想1,没有什么可以打扰你的和平的感觉。它的优点是什么?首先,它的位置!沿着Mengening海滩舒适地拉伸,这个阳光明媚,充满了火山的沙滩。在它周围,你只能看到海洋和凉爽的绿色的稻田!别墅靠近巴厘岛动脉有趣的地方和脉动的生活。只要想想,40分钟的愉快的游览,你在塞米亚克生活中爆发。步行十分钟,您可以欣赏到古老的神奈川寺庙,海面上方有巨大的岩石墙壁。同时又要到达独特的沙漠Batu Bolong海滩或着名的"Nirwana bali高尔夫俱乐部"的道路。城市餐厅和俱乐部Canguu邀请您度过一个傍晚的疯狂节奏和舞会,这是没有距离这个气氛! 巴厘岛孟加宁1的第二个优势是建造它的生态天然材料。毕竟,来到巴厘岛,你和大自然相遇,豪华别墅只会加强这种关系。 想象一下:1 200平方米的舒适和方便,你不想离开!沉入海洋的水晶之中,放松身心,在舒适的休息区放松身心,放松身心,回到家中,放松身心。有3间客房,其中两间在一楼。第三个是皇室放在第二个!除了和谐的室内装饰,你一定会来到毗邻浴室里的按摩浴缸。它提供了海洋和稻田的美丽景色。这被称为"皇家假期"!在舒适的阳台上,您可以梦想着幸福,在晚上,一个温暖的公司应该在屋顶上聚集一览绿色植物"海"的全景,那里可以看到微风。 巴厘Mengening 1的另一个无可争议的优势是顶级服务。您随时可以每天(根据自己的意愿更频繁地)清洁,而且还可以随时使用当地美食杰作来品尝个人司机,厨师厨师。此外,别墅全天候由专业团队守卫,无视眼睛,让您不要考虑物品的安全和人身安全。您可以向对象管理员申请,谁将乐意协助您安置在一个新的地方,并制作个人娱乐节目。 这里有很多!最浪漫的一个是沿着Mengening海滩沿海骑马。只要告诉你想要什么,选择适当的时间,你会得到一个良好的马,准备好风,并给你一种自由的感觉。不要错过与当地人一起去钓鱼的机会。如果你幸运(你一定会幸运的),你会捕鱼,我们的厨师将准备晚餐。海洋海岸也是冲浪的理想场所,所以户外爱好者将会很高兴! 预订了Villa Bali Mengening 1,您可以忘记所有问题:当您在机场遇到问题时,您会感到安心,将其精心的送到住宅门口,您的人生将会改变。欢迎来到巴厘岛! 对于那些梦想在热带地区举行婚礼的人们,我们有一个独特的报价,即由最好的国际机构组织婚礼。
What does the person want if he got tired of vanity, became entangled in the concrete jungle of the native city? To click fingers and to find yourself in the place where sky embraces sea, creating breathtaking sunsets ... Where in the air can be felt the aroma of exotic flowers, and warm and full of love wind gently lulls the tops of palm trees ... It seems like there's no one around, but that doesn't bother, it's harmonious loneliness. In short, you can just click your fingers - and find yourself in Bali!

It is desirable to stay in a spacious luxury villa such as Bali Mengening 1, where nothing can disturb your sense of peace. What are its advantages? First of all, its location! The villa is comfortably stretched along the Mengening Beach, which is sunny and is full of volcanic sand. Around it you can see only the ocean and cool green of rice fields! The villa is in close proximity to interesting places and pulsating life of Bali arteries. Just think, 40 minutes of a pleasant excursion, and you're in Seminyak bursting with life. A walk of ten minutes, and you can admire the ancient Tanah Lot Temple, with monumental rocky walls above the water surface of the ocean. The same time takes the road to the unique desert Batu Bolong Beach or to the prestigious «Nirwana bali golf club». Restaurants and clubs of the city Canguu invite you to spend an evening in a crazy rhythm and dance parties, and it's no distance to this atmosphere!

The second advantage of Bali Mengening 1 are the ecological natural materials from which it is built. After all, coming to Bali, you and nature run into one another, and a luxury villa will only strengthen this relationship.

Just imagine: 1 200 m2 of comfort and convenience, which you do not want to leave! Having plunged into the crystal waters of the ocean, relaxed in the pleasant lounge area with a bar and relaxing music, you come home, and relaxation continues. There are 3 guest bedrooms, two of which are on the ground floor. And the third one is royally placed on the second! In addition to harmonious interior, you surely will come to the delight of a Jacuzzi in the adjoining bathroom. It offers a beautiful view of the ocean and the rice paddies. This is called a "royal vacation!" In the cozy balcony you can dream of happiness, and in the evening a warm company should gather on the roof with a panoramic view of green plants' "sea", where the breeze can be noticed.

The another indisputable advantage of Bali Mengening 1 is the top category service. At your disposal is not only daily (at your will it can be more often) cleaning, but also personal driver, chef cook, who is ready to treat you with the masterpieces of local cuisine at any time. In addition, the villa is guarded round the clock by a professional team invisible to the eye that will allow you not to think about the safety of belongings and personal safety. You can apply to the object manager, who will be happy to help you settle in a new place and make a personal program of entertainment.

Here are plenty of them! One of the most romantic is the horse ride along the coast of Mengening Beach. Just tell what you want, choose the appropriate time, and you will get a well-groomed horse, ready to race the wind and give you a sense of freedom. Do not miss the opportunity to go fishing with the locals. If you're lucky (you will certainly get lucky), you will catch fish, which our chef cook will prepare for dinner. The coast of the ocean is also a perfect spot for surfing, so outdoor enthusiasts will be delighted!

Having booked Villa Bali Mengening 1, you can forget about all your problems: you feel comfort when you will be met at the airport, carefully delivered to the doorstep of housing, and your life will change. Welcome to Bali!

For those who dream of a wedding in the tropics, we have a unique offer, namely organization of the wedding ceremony by one of the best international agencies.
房客使用权限
BALI MENGENING 1 这个壮丽别墅的整个二级是致力于宽敞的80平方米的主卧室。它包括充足的阳台,门厅和伟大的浴室。特大号床与网,空调和32英寸电视等离子。 豪华的大浴室配有特殊的户外jacuzy,让您享受在洗澡时欣赏海洋的乐趣。 屋顶是享受美丽的露台稻田的壮观的地方。建在海边另一边的大石头上的印度神社pura gede batu ngaus的有趣点是令人难忘的观点。 这间别墅的一楼设有两间卧室,面积为4m x 5m,配有空调,吊扇,32寸等离子电视。回收的实心柚木用于床上和大衣柜。这两个卧室肯定有自己的连接室内/室外浴室,内部有丰富的新鲜自然阳光。露天淋浴和大型立式浴缸确保了浴室的豪华风格。 30平方米的用餐区可容纳6位座位,位于台湾风格的形式,露天到私人绿色花园。在后面服务区的厨师的专业厨房将支持餐饮。 生活区和酒吧是露天区域,是您感受海洋,享受朋友和家庭聚会的最佳体验的绝佳场所。这个空间覆盖了85平方米的面积,也直接延伸到露天木地板,在游泳前作为日光浴点。 一个私人无限风格的游泳池,5米x 14米,1.5米深,完成每个别墅设施,以确保你最好的住在别墅巴厘岛。 每个海滩别墅的设施包括免费网络连接,卫星电视,DVD播放机,音响系统。 巴厘岛Mengening别墅靠近许多巴厘岛的主要景点,包括丹那许多寺庙和Nirwarna高尔夫和乡村俱乐部(投票在亚洲最好的高尔夫球场之一) 我们的菜肴包括印度尼西亚和西方菜肴以及杂货系统 如果您决定在别墅内吃饭,我们将为您准备早餐,午餐和晚餐。 我们的厨房工作人员将代您进行购物。 我们以成本收取杂货费用。 如果您有任何特定的饮食要求,请让我们的厨师知道,他们将努力相应地准备您的食物。
BALI MENGENING 1
The whole second level of this mengening villa is dedicated to the spacious 80 m2 master bedroom . It consist of ample balcony , foyer and great bathroom. The king size bed with net, air conditioner and 32 inch tv plasma .
Luxurious large bathroom equipped with special outdoor jacuzy allowing you to enjoy the pleasure of viewing the ocean while bathing.
The rooftop is the spectacular place to enjoy the beautiful terrace rice field. The interesting point of hindu shrine pura gede batu ngaus built on the big rock of the other side of the sea is an unforgettable view to see.
There are 2 bedrooms in the first floor of this villa, sizes 4m x 5m, installed with airconditioner, ceiling fan, 32 inch plasma tv. Reclaimed solid teakwood used overally to the bed and large wardrobe. Both of these bedrooms surely have their own ensuite indoor/outdoor bathroom with abundant fresh natural sunlight coming inside. The open air shower and big standing bathtub ensure the luxury style of the bathroom.
The dining area of 30 m2 size caters 6 seaters in a table island style formation , open air to the private green garden. Professional kitchen with the cook at the back service area will support the dining.
The living area and bar is the open air area , the huge spot that gives you the best experience of feeling the ocean, enjoying friends and family gathering . This space covers 85 m2 area which also extends directly to the open air wood decking flooring that serves as sunbathing spot before swim.

A private infinity style swimming pool of 5m x 14 m, 1,5 m depth completes each villa facility to make sure your best staying at villa bali mengening.
Facilities at each beach villa include free internet, satellite television, dvd player, sound system.
Bali Mengening villa is close to many of bali's main attractions including Tanah lot temple and the Nirwarna golf and Country club (vote one of the best golf course in asia)
Our cuisine includes Indonesian and western dishes as well by groceries system
We will cook your breakfast, lunches and dinners if you decide to eat at the villa.
Our kitchen staff will do the food shopping on your behalf.
we charge the groceries at cost.
If you have any particular dietary requirements please let our chef know, they will endeavor to prepare your food accordingly.
与房客的互动
汽车和驾驶员 汽车和司机每天连续8小时不含汽油。 额外的时间将直接支付给与司机同意的每小时的费用。 出租别墅包括从机场接机返回机场。 员工和房屋管理 我们的Villa经理在知名酒店的酒店业有超过5年的经验。 他也非常了解巴厘岛文化,并将帮助您组织岛上的任何活动或访问。 厨房人员1人厨师和1人管家,请参阅食品和饮料部分 HOUSE KEEPING 3人,一天24小时保安,每周7天。 园丁和游泳池维护1人。
CAR AND DRIVER
A car and driver is available for 8 consecutive hours a day excluding petrol.
Additional time will be paid directly to and at a rate per hour agreed with the driver.
Pickup from and return to the airport are included in the rental villa.
STAFF AND HOUSE MANAGEMENT
Our Villa Manager has over 5 year's experience in the hospitality sector in well-known hotels.
He is also very knowledgeable about the Balinese culture and will help you to organize any activities or visits on the island.
KITCHEN STAFF 1 persons Chef and 1 person butler, see Food & Beverages section
HOUSE KEEPING 3 persons, Security cover 24 hours a day 7 days a week.
GARDENERS and POOL MAINTENANCE 1 person.
其他注意事项
一群人努力使您的逗留愉快和轻松自由。 如果你看到某些工作不正常(Wi-Fi,电视,AC等) - 只是让我知道asap,问题将立即被修复。
Bunch of people working to make your stay pleasant and hassle free.
If you see that something working not proper (wi-fi, tv, AC etc) - just let me know asap and problem will be fixed immediately.
---
---
After 11pm loud parties prohibited.
We charge 50% from daily price for a late check-out, by request.
---
Warmest greeting from Bali where I have been living for more than 4 years :) My name is Costa, and I own a travel agency in Bali. I also manage a number of Villas. Take a minute to browse my profile; all the villas you will find there are under my personal management. I work tog…
语言:
Bahasa Indonesia、English