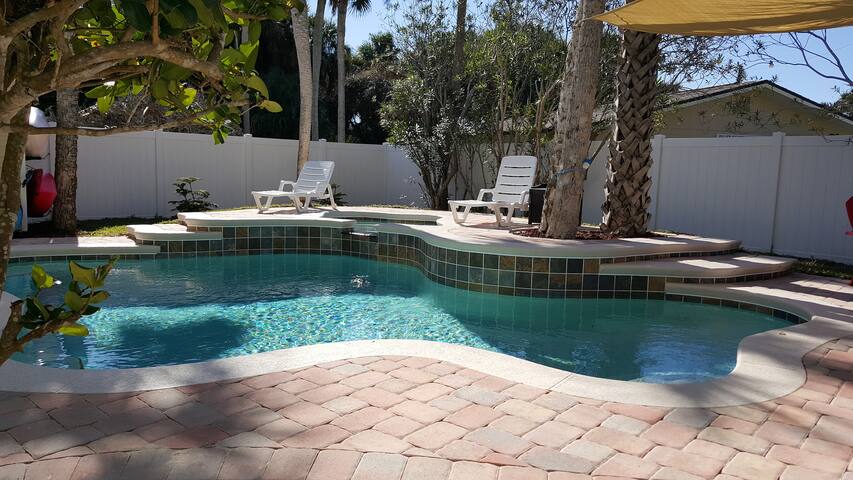 4 Bed Home with Private Pool & Spa
4 Bed Home with Private Pool & Spa
This beautiful 4 bedroom home is both kid and pet friendly. With a fully fenced yard, baby gates, pack and play, etc. But this home doesn't stop there, it offers a private pool and hot tub, 2nd and 3rd floor decks with endless views of the area, etc.
---
The house was lovely - great updated kitchen and living space, lots of room, comfortable beds, and a 5 minute walk to a secluded beach we had nearly to ourselves for the whole week. Great mexican food right down the road, pool was relaxing, would definitely recommend (and may book again next year)!
---
Super kid friendly and well equipped. Clean and a perfect place for a relaxing beach vacation! Only down side was that beach access was about a mile away.
Hi Lauren - Happy you enjoyed your stay. I am sure with kids in toe and hauling beach gear it seemed like a long haul but its not a mile away here is a review from another guest -It is a great location just use the pedestrian cross walk across A1A go straight to beach. It only takes 5 minutes. Hope with that said you will come back and visit us again soon. We really appreciate how well you took care of the home and your stay
---
Glynis was very easy to deal with and always accessible. Great property and very well-appointed for families with supplies galore from a high chair, kiddie toys to extra Pack-n-Play sheets! Perfect location just a few minutes' walk from the beach across A1A. The house has a gorgeous pool and spa area, a stocked garage with all beach necessities, a lovely porch and front yard, books to read, televisions, DVDs, fully-stocked kitchen (but BYOB knives!). Just a few downsides: there is only one comfortable bed (upstairs), the furniture in the upstairs living room is uncomfortable, and the downstairs A/C unit was broken during our stay. Living here in Florida with two stories, we know that extra A/C unit is a necessity in the summer heat, so we basically couldn't use the downstairs living area at all, which was a disappointment.
---
Real Estate Broker/Property Manager
New Smyrna Beach Property Management
Passionate about hosting guests in our beautiful beach town.
Personal interests -I like standup paddleboarding, kayaking, golf, bike riding and Gator and Packer football, swimming, and travel.
语言:
English