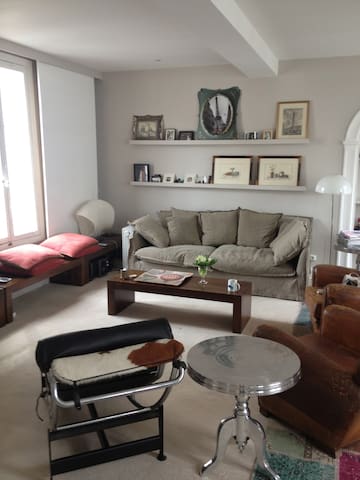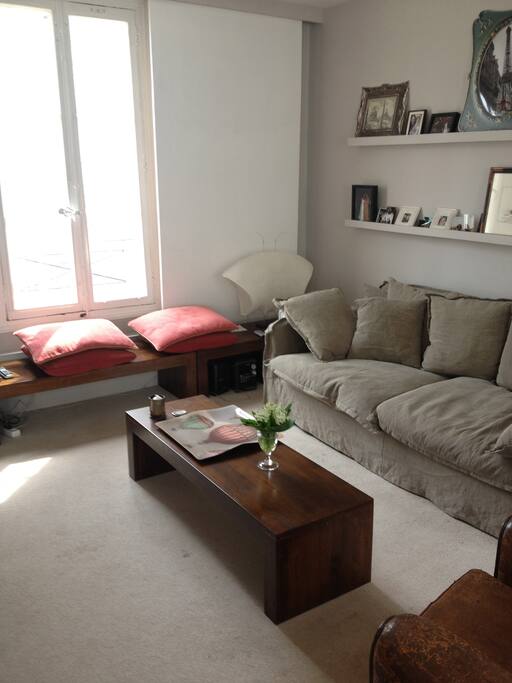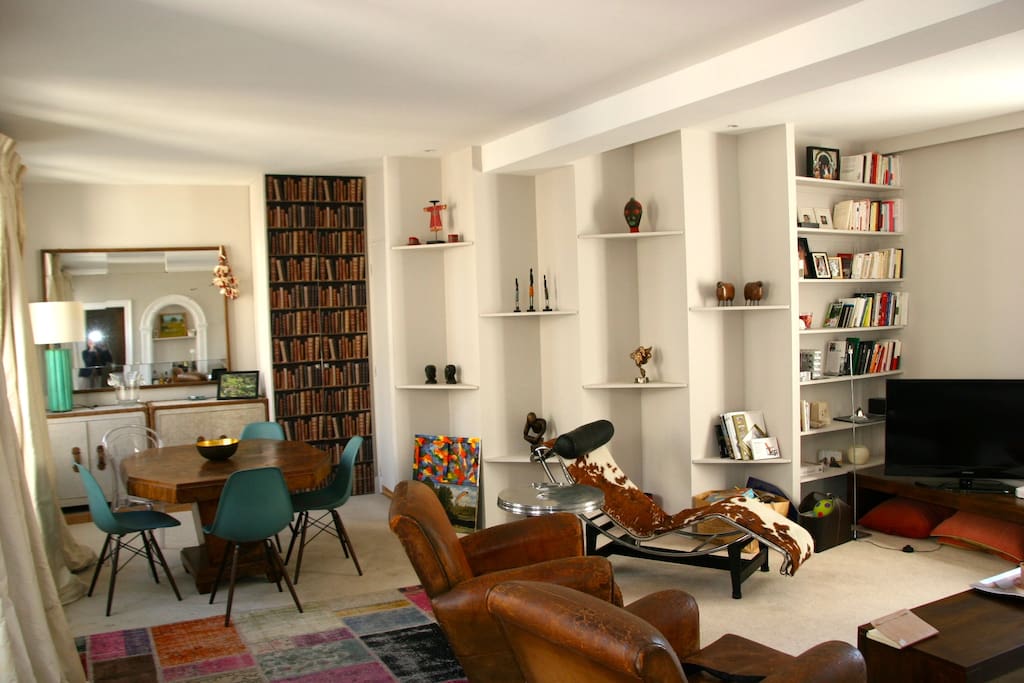 房源
Planning a trip to Paris? Want to experience the real Parisian life? Come and stay this lovely and luminous 2BD apartment, near Odéon, right near Ecole des Beaux Arts. This charming 2 BD apartment is located at the heart of Paris, in the central 6th arrondissement, between the River and Bd Saint Germain, half way between Odéon and Pont Neuf. You'll feel "real local life"... once inside, you'll be in a peaceful courtyard.Once you get in the apartment, you have a small entrance that gives on the first bedroom with double bed, a small (fully equipped) kitchen, a bathroom (with bathtube). Enter the spacious and luminous living room (with windows on two side giving on lovely and quiet courtyard. A huge linen sofa and big armchairs will host you after your tiring days in Paris and a dining table will enable you to have your breakfast and meals home if you feel like it. Another bedroom with double bed ends the apartment... The apartment is urnIshed with a mix of contemporary furniture and antics which make it both comfortable and authentic.WIFI access. 4th floor with elevator.T
here are no extra fees. The rate includes linens and towels, and house cleaning upon leaving as well as house cleaning once a week for stays of more than 10 days.
I can offer you more and give you a taste of the real Paris like only one native of this city can. I will give you the keys to plan an unforgettable and personally tailored vacation, everything from lodging to dining to entertainment to shopping. A bientôt!Amandine
与房客的互动
Our guests can reach us by e mail or phone all throughout your stay
---
How have you been Amandine?:) It has been almost 2 weeks passed!@@ Time is fly I am very thankful to Amandine about good and warm greeting , last minute to leave comfortably. This is my first experience of Airbnb and Amandine gives me good impression :) Good location to reach Louvre! and also grocery store, nice bakery, laundry, michelin star restaurants! I and my family had good experience at french style interior. I definitely recommend Amandine's !
---
Amandine and her staff Isabelle were fantastic hosts. Amandine answered all the questions beforehand, and Isabelle welcomed us at the apartment with unexpected hospitality (baguette, jam, butter, pastries to get us started). Everything was clearly explained and the apartment is beautiful and very well kept. The street where it's located is very calm and yet the bustling parts of St. Germain des Prés are just steps away. As a family of 4, this apartment offered everything we need (quiet bedrooms, washing/drying machine and elevator very helpful). Isabelle recommended Huguette seafood bistro on rue de Seine and Joséphine bakery around the corner on rue Jacob that are both excellent. It was a lovely walk to Notre Dame and the Louvre, etc; also pleasant walk to RER train at Orsay to get to Versailles, and there were always taxis and uber cars available nearby. We highly recommend Rue Amandine and this apartment in Paris!
---
My experience with Amandine's apartment was wonderful. The apartment was very clean and cozy. It looked exactly as pictured in the listing. Amandine was extremely helpful in providing external resources for the trip, which tremendously improved the quality of our stay. I would recommend Amandine's listing to anyone of our friends and future families that are looking to stay in Saint Germain.
---
Everything about our stay in Paris was amazing. Renting the apartment for a month was a little nerve racking and we didn't know what to expect but the minute we met Amandine outside the apartment building we knew we were in good hands. Once we chose this apartment online , the communication with Amandine was excellent. She answered little questions promptly (is there a blow dryer in the apartment) and big questions (what is the deal with the washer) even faster. We also dealt with Isabel and she was fantastic too. Handy for us, their english is perfect and they are both pretty, young and hip and know what is going on in Paris. Great company to work with. Extremely knowledgeable. If you are coming for Paris for a "real" Paris experience, then this location will be the best part of your trip. It is about 2 minute walking distance from the Seine and 5 minute walking distance from the metro. Their was a bus stop about 30 seconds from us and the 95 takes you over to The Louvre, Palais Royal and Jardin des Tuileries in 6 minutes, although, you can walk there in 13 minutes and the walk is gorgeous. And that is how you really experience Paris, walking. This location is so peaceful. Just off the beaten path on a quiet street that is full of galleries. The Beaux-Arts school is at the end and take a peek inside this beautiful school. There are tons of places to eat nearby and of course, the famous Cafe Les Deux Magots and Laduree are what you pass everyday on the way to the metro. One of the most special gardens in the world is Jardin du Luxembourg and it is also walking distance and probably my favorite park in Paris. The shopping was incredible, all the big designers are near the apartment but we liked all the boutiques that had items that we don't have in the United States. But the Louis Vuitton by Cafe Deux Magots is incredible and has a book store- the only one in the world. The apartment was so lovely and quite large which surprised us when we walked in. Very nicely decorated, immaculate. With some nice touches, like a home, as if we lived there, not visiting. There is a washer/dryer in the apartment and all the conveniences of home. Sometimes we would buy a cooked chicken from an outdoor market and some pre made food items and eat at the apartment and those were some of our favorite meals. My two teen daughters were able to navigate the city and come and go as they pleased and we always felt like they were safe here in the 6th arrondissement. We were all taking french classes in different locations and we would travel separately each morning. Everyone we met in our classes said that their favorite quartier in Paris was St.Germain-Des-Pres. Perfect in every way.
---
A Parisian at heart…
I was born in Paris 38 years ago (not so easy to find a Paris native in Paris!) and grew up in a milieu where French art de vivre is key.
I love Paris, where I have my habit but where I always keep room for surprise.
I'm the one, friends have always kept calling asking « where could I take my parents for dinner » « what would you suggest for an anniversary  », « It's so sunny today, where can we have a brunch ?
Just like you…
I love travelling, discovering new parts, going out to concerts, movies, exhibitions, partying or spending quiet times with family and friends by the fire place in a sunny park .
I love good food, good wine, and I feel truly sorry when I see disoriented tourists sitting in a tourist trap where I wouldn't go even if paid.
I decided it was time !
After studying in HEC management school and working for 10 years in big advertising agencies, I left the top management position I had achieved, deciding that it was time that I launched my own business, make something that I really liked. That's how I founded my own business, with this ambitious project of making you experience Paris like only a Parisian can.
Looking forward to seeing you in Paris ! :)

语言:
English、Español、Français