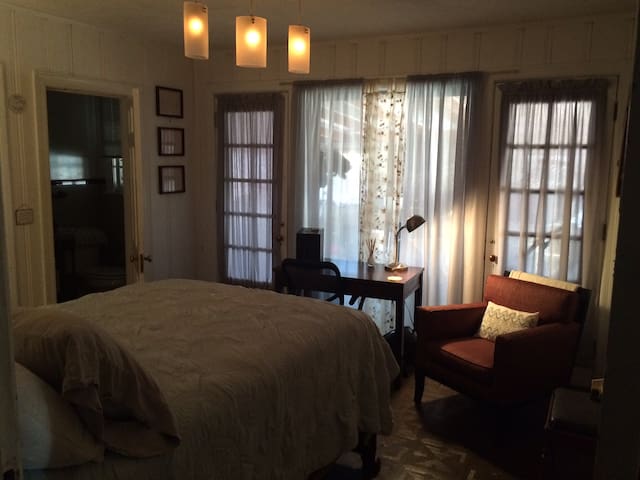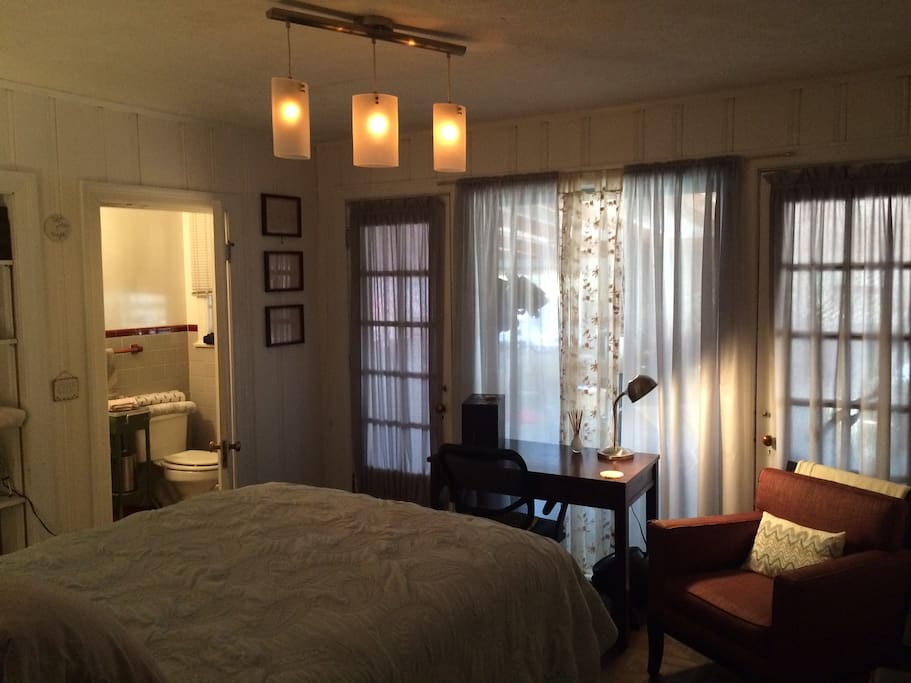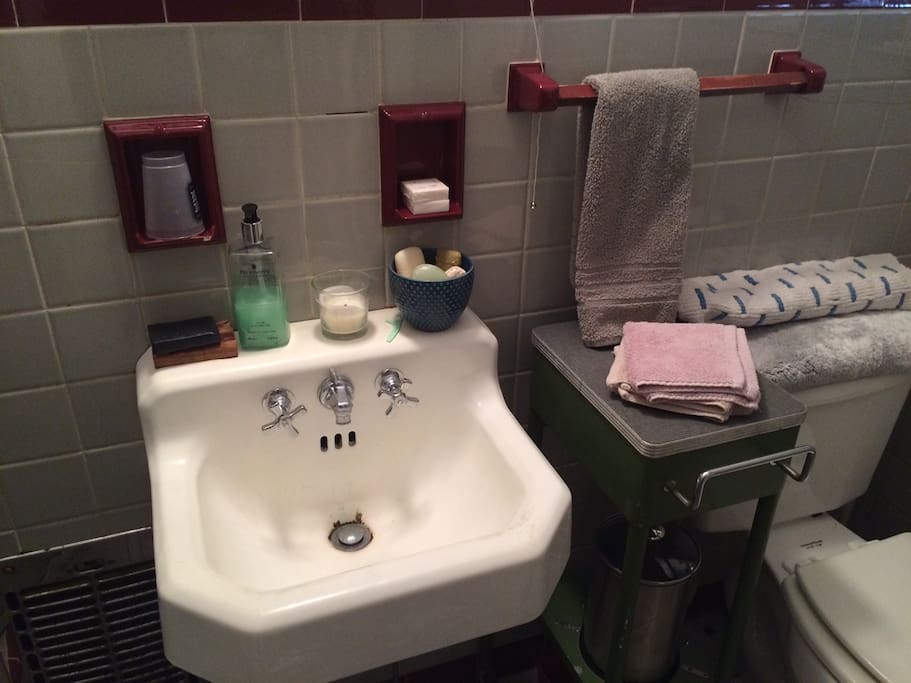 This is a deluxe room previously only used for upgrades now available for short or long term use. The bed is incredibly comfy and the bath is private with a wonderful walk-in shower. If I have an influx of people suddenly wanting to book I will often make this room available as an upgrade.
房源
Large 30's house off of historic west end. 5 minutes from downtown. Easier to get to than most hotels. Bus is right outside the door. Community minded people who enjoy travelers. Main living space is common. Large grand piano and wonderfully cozy vibey kitchen. House is right next to the Greenway and beautiful sidewalks in the historic home district. there is nothing posh here so if you're looking for that please book elsewhere. the charm and warmth of this is that it is not without its eccentricities and fun foibles. We like it that way. come if you like vibe and are kind. If you're not kind (and unfortunately I'm finding this is more and more common), I will kindly ask you to find another place to be.
房客使用权限
Cold storage, bedroom, bath and common areas. Wifi. Kitchen is vegan only.
与房客的互动
I play by ear. If guests would like to hang out, then if my schedule is free, I enjoy hosting and showing folks around.
其他注意事项
I love to make breakfast. If I'm here and you're interested, I'll be happy to visit with you over breakfast.
---
---
---
---
不适合儿童(2-12岁)入住,或不能为儿童提供安全的住宿环境
PLEASE READ GENTLY AND FOLLOW DILIGENTLY:
House rules are meant to protect the environment of the people staying here including you. Please respect and adhere closely.
DO NOT TOUCH THE THERMOSTAT - you will lose your security deposit.
When you arrive.. the Front Door is for you. The back door is for me. DO NOT come to the back door or pull your car into my back driveway. Its bad manners and its intrusive and not cool. I don't know you yet.
Spread out in your room, not in my house. You are renting a bed not a time share. Don't come into the kitchen and start moving things around. Won't fly.
Doors are not for slamming. Gently open and close.
Do not disturb other guests.
Clean up after yourself.
Keep room tidy.
Keep dirty luggage OFF clean bed. GRACIOUS its ridiculous that I have to even say this at all. SORRY.
Loud phone conversations that disturb guests are not allowed. It's rude. GOSH and here we go again.
No haters, no complainers. Grateful, kind people need only apply. If I hear from other guests or my assistant that there was problem with you, you will lose your deposit and likely will be asked to leave. If you are kind and your mother is not, LEAVE HER AT HOME!
If you book other guests besides yourself and they don't adhere to the guidebook, you and all in your party will be asked to leave.
10PM to 10AM are the Quiet hours. If you come in late, come in quietly. You'll want to say hello to the dogs when you come in. Not kidding.
No guests in my home other than those in your party. No overnight guests who have not booked or been pre-approved. This is not a party house, it's a place of rest and warmth and love and kindness with intentional efforts made at keeping the energy peaceful. Please respect this and come be a part of it.
If you stay the night out elsewhere, please communicate with me. Coming in at 4am is NOT acceptable behavior.
My refund policy is strict so that does mean I will not refund you if you come to my house and make a fool of yourself are asked to leave.
Last minute bookings must sign an electronic waver stating they will not give negative review based on readiness of the environment. In other words, don't come last minute expecting 5 STAR environs. There may be dishes to be washed and the maid might not have come to clean the basin. We are accommodating you. Respect that and be gracious.
i don't guarantee satisfaction. I do guarantee warmth and love and acceptance. if you're rude, we can visit about it and perhaps i can help. if you persist, i will THROW you out. read my page and my reviews and see that i am kind. but if you insult me or my people or my house or my dogs, know that i am fiercely loyal. still, please forgive it. i ONLY add this house rule from some rare but unfortunate experiences.
meaning:
i no longer accept "all-comers." i do however do my best to get a vibe on people and see if they are a fit for this house:
that said:
I WILL NO LONGER ACCEPT RESERVATIONS FROM PEOPLE WITHOUT REVIEWS, BACKGROUNDS, SOCIAL MEDIA PAGES, AND OR SOME WAY TO KNOW WHO YOU ARE AND WHAT YOU STAND FOR. I DO ACCEPT KIND EMAILS IN EARNEST, EXPLAINING WHO YOU ARE AND WHAT YOU'RE ABOUT, THAT IS, IF YOU LACK REVIEWS.
ENTITLED PEOPLE, AND SNOBS ARE NOT ALLOWED.
this is not a hotel. clean up after yourself. If you don't clean up after yourself, I will. It's disrespectful to trash what I've worked hard to provide.
And as for the innocent, thank you for hearing me knowing full well that you know all about the very common sense stuff above because you are already excellent people.
oh and please USE DESIGNATED COASTERS. YOU WILL BE CHARGED FOR WATER DAMAGE TO FURNITURE.
AND with that, AGAIN my apologies to the innocent, we really do
look forward to you being here! :)
---
---
---
---
Josh was amazing. My mom and I were really in a bind. We won CMA tickets and had to extend our stay in Nashville. We moved our flights everything but couldn't find a place we could afford anywhere and everyone else said hey were booked or couldn't accommodate us on such short notice. But that's where Josh came to the rescue! He actually ended up cleaning out his room so we could have a place to stay. Otherwise we would have had to sleep in our car. I am so so so appreciative. We loved the room and Josh is the sweetest and most kind guy ever. We truly enjoyed our stay and if we are ever in Nashville we will definitely see if his place is available.
---